Vinyl is one of the hardiest flooring options you can have in your home. Vinyl flooring requires less maintenance than hardwood floors and, like laminate, is attractive and long-lasting. As it is such an easily maintained material, a homemade vinyl floor cleaner is a perfect option for keeping your floors clean while saving money.
Making your own floor cleaner recipes not only helps you save on your household bills, but it also allows you to use natural ingredients that are safer than those typically used in commercial cleaners. This means you can be confident that your homemade cleaners are reliable to use in homes with children and pets.
Our favorite floor cleaning recipes for vinyl also use simple household ingredients that you likely already have sitting around the house and for which you may be searching for uses. By mixing just a few primary products, you have cleaning solutions that clean up grime and scuffs, leaving your vinyl floors sparkling like new.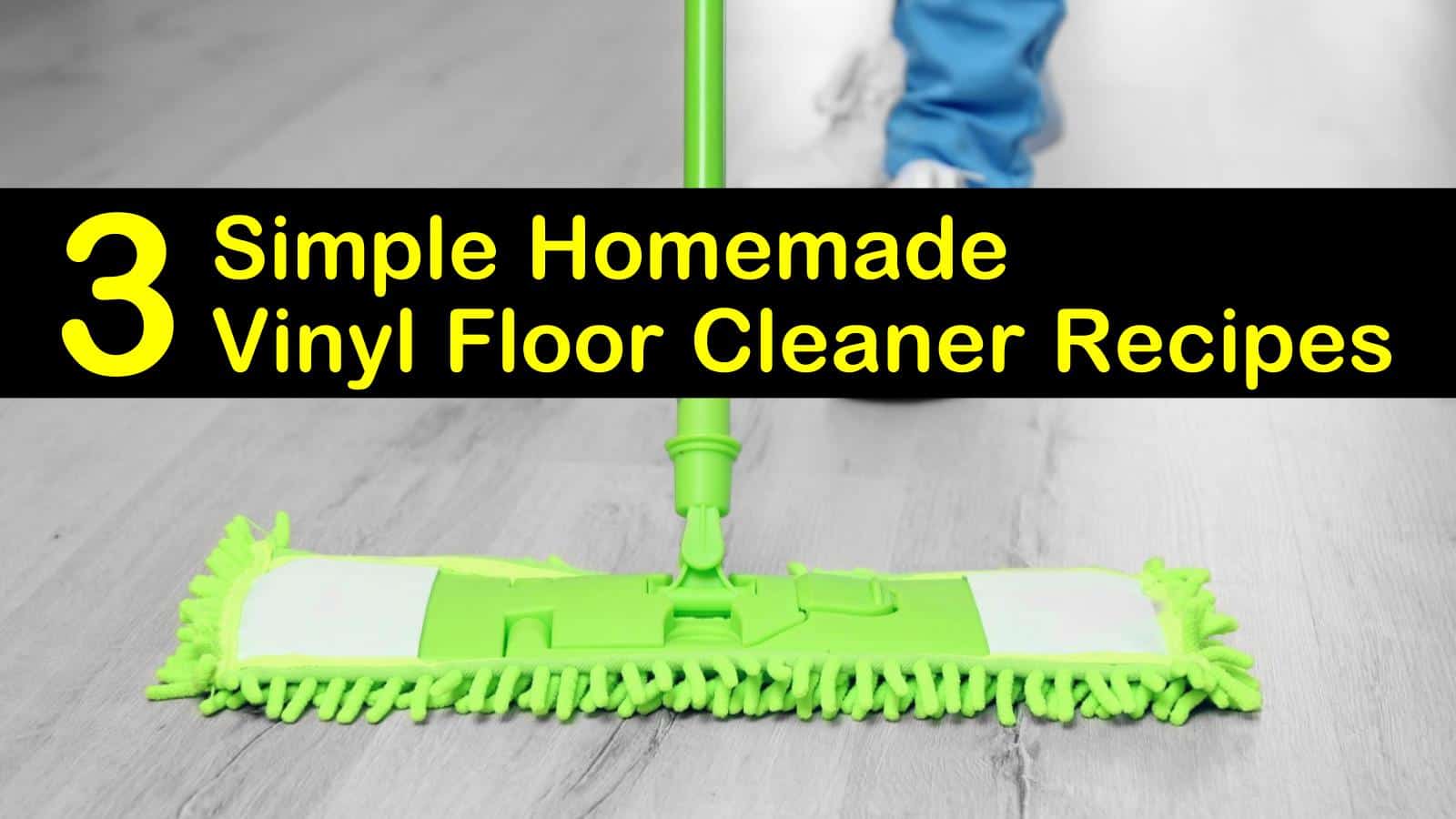 Easy-to-Make Vinyl Floor Cleaners
Mild soap solutions make the best homemade floor cleaner for vinyl floors. Regardless of the recipe you use, there are a few tips you should follow to ensure your vinyl surfaces stay clean.
Caring for vinyl floors is similar to maintaining tile floors or laminate flooring. First, you should sweep or vacuum at least once a week to ensure dirt doesn't build up. Second, you should wipe up small spills right away using a cloth or paper towel dampened with warm water.
When it comes to mopping up dirt that the broom or vacuum can't get, use a wet mop and one of our vinyl cleaning recipes. Additionally, never use hot water to mop vinyl floors, as it is too harsh. Similarly, many cleaning products that are not explicitly intended for vinyl flooring may do more damage than good.
Homemade Vinyl Floor Cleaner
One of our favorite things about vinyl floors is that they don't require much to get them clean. One of the most effective cleaners for vinyl flooring is also one of the simplest cleaning combinations around – water and vinegar.
The best way to clean vinyl floors is simple but quite effective. Combine a cup of either distilled white vinegar or apple cider vinegar with a gallon of hot water. Let the water cool and wet a mop with the mixture. While apple cider vinegar works to clean away dirt, white vinegar disinfects your floor at the same time.
The vinegar and water combo washes your floors without wiping away shine, leaving your home looking fresh and clean instead of dull. This powerful combination is eco-friendly, so you know it is safe for children and pets. Though the cleaner might sound simple, you will be shocked by just how effective it is at cleaning your vinyl flooring.
If you don't like the smell of the vinegar, you can always add a few drops of your favorite essential oil to the mixture. It will mask the vinegar scent and leave your floors smelling fresh.
DIY Vinyl Floor Cleaner
Similar to the previous recipe, this DIY vinyl floor cleaner recipe is one of our favorites because it requires only three simple ingredients. It cuts through dirt, removes grime, and the extra ingredient leaves behind a beautiful shine.
In a bucket full of hot water, pour in the apple cider vinegar and baby oil. Stir the mixture and allow the water to cool slightly. Dip your mop in the cleaning solution and wipe your floor.
In a separate bucket, pour in some hot water. Rinse your mop often to get rid of the dirt and residue from your floor. This easy-to-make cleaner is useful because the acidity of the vinegar cuts through and removes dirt without leaving a soapy residue behind.
Additionally, baby oil serves as a floor polish that leaves the surface shiny. Always use baby oil instead of a paste wax polish, as the wax leaves a film that builds up over time.
Natural Cleaning Solution for Vinyl Floors
Like our favorite siding wash, this natural cleaning solution for vinyl floors uses vinegar to wipe away dirt and grime. If you have neglected your vinyl floors and need a heavy-duty cleaner, then this is the one you want.
The dish soap and rubbing alcohol in the recipe disinfect the surface while the essential oils leave behind a sweet scent and sparkling shine. As a bonus, this vinyl floor cleaning recipe can also be used to clean a laminate floor without streaks as well as linoleum and tile.
For this linoleum floor cleaner recipe that also works on all kinds of floor surfaces, mix all ingredients in a large bowl or glass spray bottle. Use whichever essential oil you prefer, as it is mostly there for the smell. Citrus scents are particularly effective. If combining in a bottle, shake well.
Spray the solution on your floor and mop it up with a damp mop. If you use a large bowl or bucket to combine the ingredients, dip your mop in the cleaner, and wipe your floors. Using a bucket might not be the most economical solution, as any unused soap should be discarded.
Do not replace the liquid dish soap with Castile soap, as the oil-based cleanser could leave your floor with smears and streaks. This only requires additional cleaning and adds more chores to your to-do list.
With any of these floor cleaning recipes, if you encounter a particularly tricky spot of dirt, grab a microfiber cloth and some baking soda. Apply the cleaning solution and then, the same as if you clean a shower curtain, wet the cloth and dip it in some baking soda. Scrub the stubborn spot and then rinse the area with a clean, damp cloth.
Regularly cleaning your floors is an essential part of keeping your home looking fresh and presentable. With these simple vinyl floor cleaner recipes, your floors look good as new without having to resort to harsh commercial cleaning products. All of these cleaning solutions are safe to use in houses with children and pets that may spend a lot of time on the floor.
Recipe for Homemade Vinyl Floor Cleaner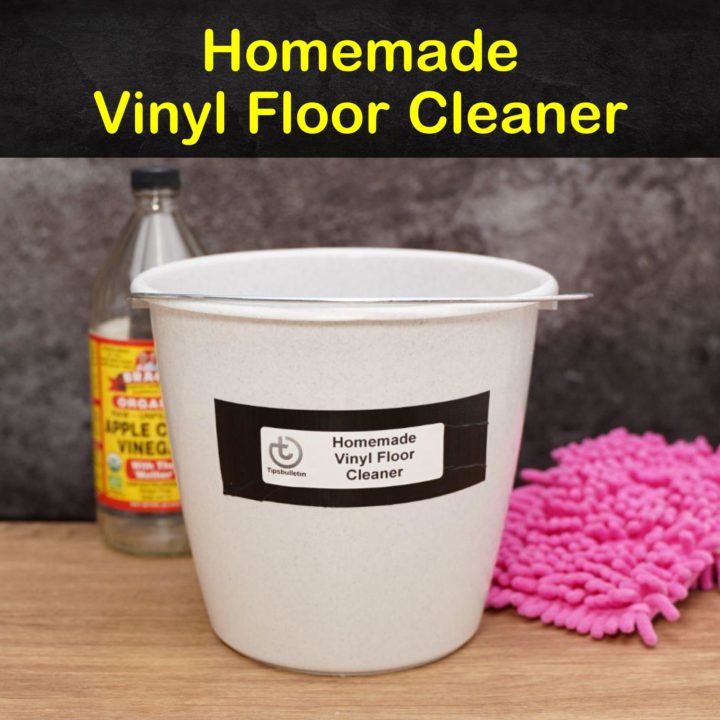 Homemade Vinyl Floor Cleaner
Clean and polish vinyl flooring at the same time with this easy recipe.
Materials
1 gallon of hot water
4 drops of baby oil
8 ounces apple cider vinegar
Rinse bucket filled with clean hot water
Tools
Measuring cup
Cleaning bucket
Mop
Instructions
Add the water, baby oil, and vinegar to the bucket.
Swish around to mix.
Dunk your mop into the vinyl floor cleaner and swipe the floor, starting in one corner and working your way outward.
To rinse, dip the mop into the clean water and wipe over the floor again to eliminate any residue and lingering dirt.
Notes
Baby oil is an excellent substitute for floor wax; it does not leave a pasty film behind.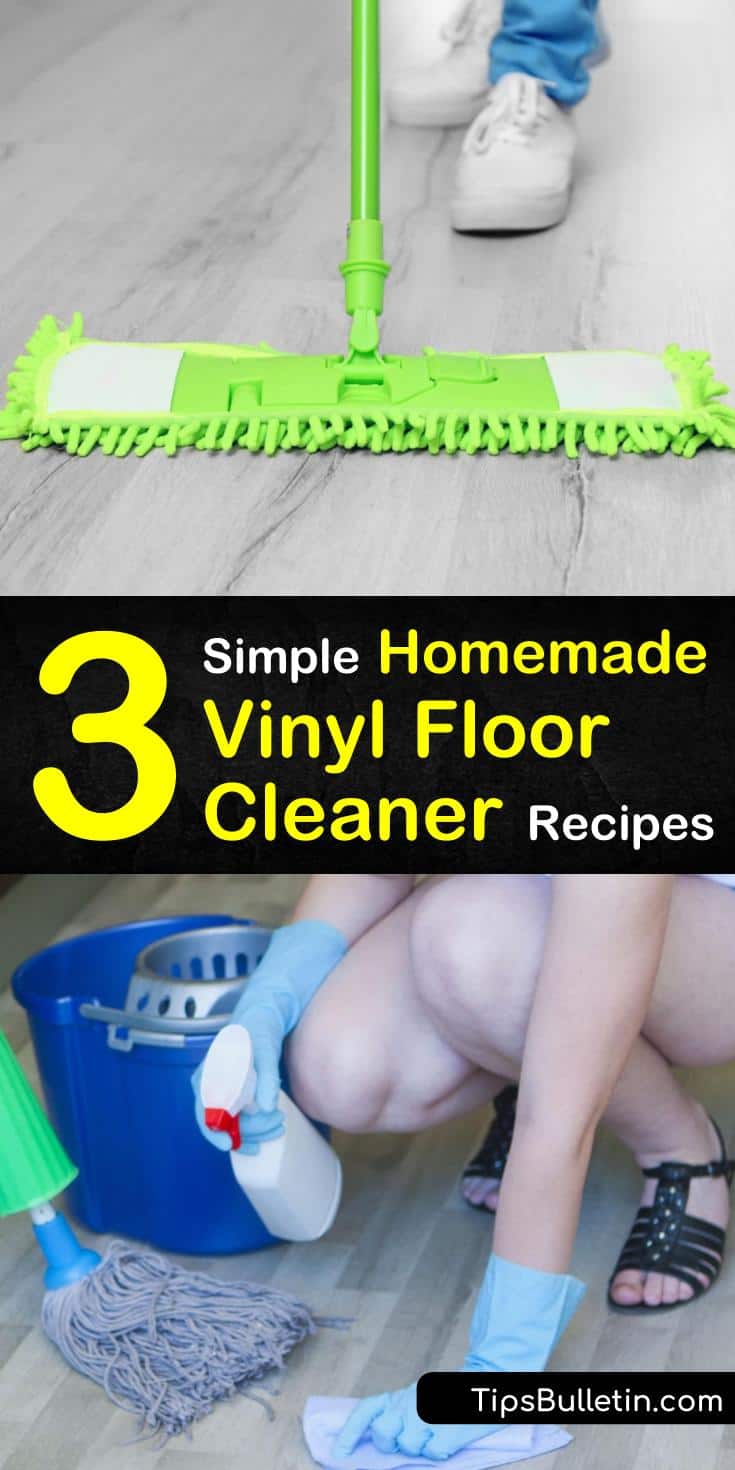 If you found a homemade vinyl floor cleaner that you love in this article, then share these floor cleaning tips with your friends and family online.