Vinyl siding is intended to be a low maintenance material, but unfortunately, that doesn't mean maintenance free. Just like everything else, it gets grimy and may even grow mold, mildew, or green algae. But, don't worry, we are here to tell you precisely what you need to do to keep your vinyl siding clean and shining.
We are going to give you some good cleaning solutions to use for the most common problems you will encounter. First, let's talk about a few precautions you should take while cleaning your vinyl siding.
The cleaning solutions you use can be harmful to your landscape plants, so cover ground cover plants near the siding with plastic while you work. Then, remove the plastic as soon as possible when you finish so that the plants don't get overheated.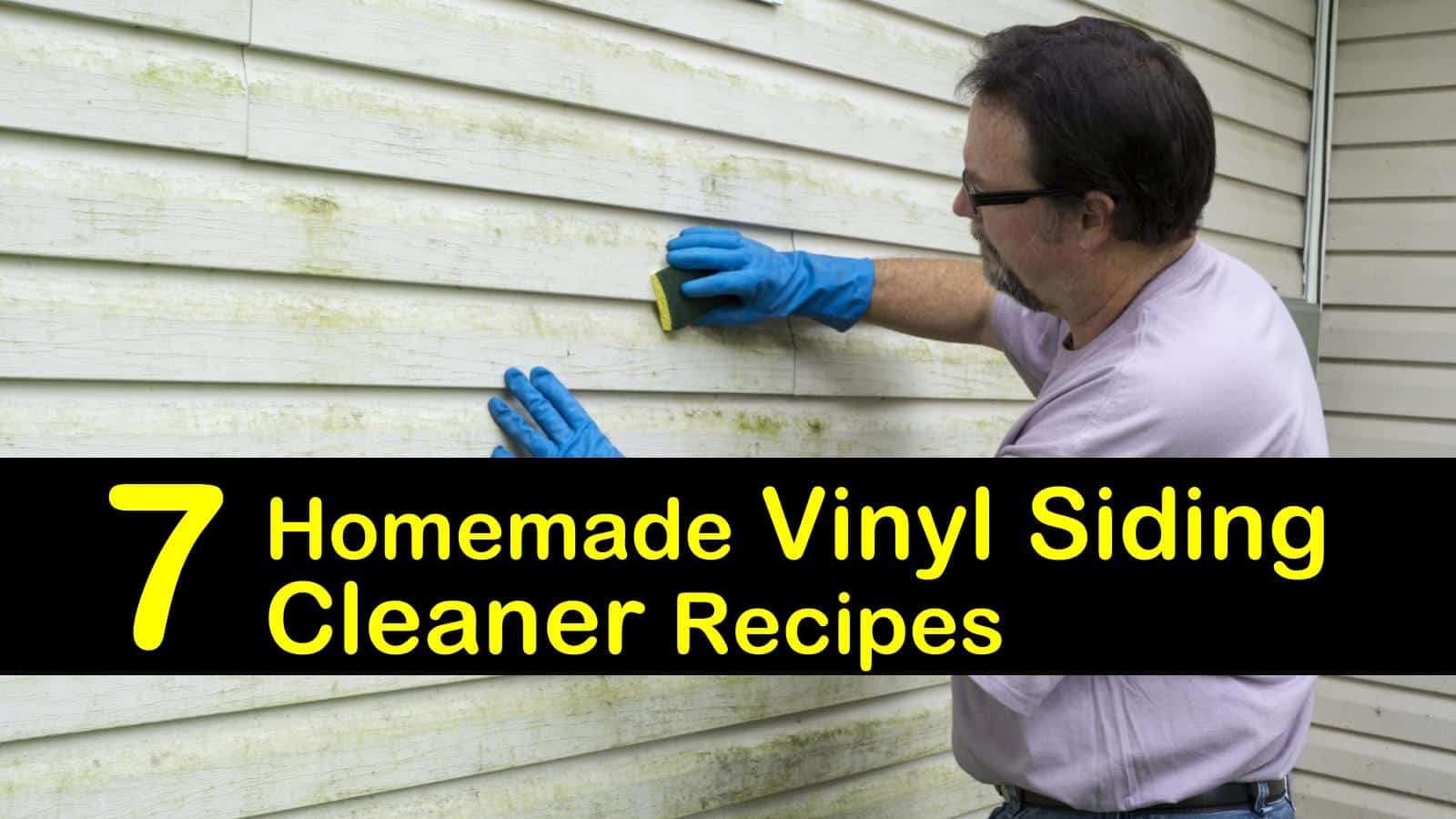 How to Clean Vinyl Siding
Another important point is to spread out the spray if you are using a pressure washer. Too much force in one spot can crack the siding. Keep the nozzle moving and work in the direction of joints.
You don't want to force water behind or between the siding pieces. When using bleach or chemical cleaners, always wear protective clothing, including eye protection and a face mask.
Homemade DIY Vinyl Siding Cleaner Tips and Recipes
While these recipes are ideal for attacking dirty vinyl on the exterior of your home, you may be able to adapt some of the solutions to make vinyl floors shine on the interior, as well. A vinegar or baking soda mixture may be just what you need for those floors.
Ordinary Dirt and Grime Cleaning Tips
If your siding is not stained, rinsing with a garden hose and spray nozzle may be all you need. Start at the bottom and work your way to the top, then rinse starting at the top and working to the bottom.
Hopefully, this will be enough to dislodge the dirt and grime. If not, proceed to use detergent and a power washer if you have one.
This is also one of the best ways to clean a metal roof. Use care with the ladder.
Homemade Vinyl Siding Cleaner
This homemade vinyl siding cleaner is great to use with a hose, pressure washer, or with a bucket and brush. Mix it up and brush it onto stubborn stains. Allow it to sit for a minute or two before rinsing it off.
For best results, use hot water, especially when using a bucket and brush, but cooler water workstoo. When using a power washer or hose, apply it from bottom to top, then rinse the DIY vinyl cleaner off a few minutes later from the top down.
Homemade Mold Cleaner for Siding
There are some commercial mold and mildew cleaners on the market, but in my experience, the easiest and best mold and mildew cleaner for vinyl siding is a bleach-based solution.
Our homemade mold cleaner for vinyl siding does the job without much scrubbing. While there is a difference between mold and mildew, cleaning them requires the same methods.
You may need to apply a little elbow grease if the stains are severe. If your siding has cracks or crevices, make sure you kill any mold and mildew thoroughly. You may need a second application. Apply this solution and allow it to sit for about 10 minutes before rinsing. Don't let it dry on the siding.
How to Clean Vinyl Siding without a Pressure Washer
In most cases, a pressure washer with an adjustable hose nozzle will have enough pressure to get the water and detergent mix to the top of the first floor. If you have a multi-storied home, you will need a ladder.
Spray the solution on the siding in sections. Use a long-handled soft brush to scrub the section, giving particular attention to the dirtiest spots. Use one of the homemade vinyl siding cleaning formulas above and rinse off all solution after scrubbing.
Clean Vinyl Siding with Vinegar
Another way to clean your vinyl siding without a pressure washer to use a white vinegar and water solution. Starting at the top of the section, apply the vinegar and water solution with a long-handled scrub brush. Work in sections so that you can complete the entire section before the solution dries.
Vinegar is almost a miracle worker for cleaning so many different surfaces inside and outside your home. In addition to tackling mold and mildew on your vinyl siding, vinegar is what kills moss in your lawn or between brick pavers in your walkway. It is so versatile.
Baking soda, the same as for the DIY grout cleaner, acts as a cleaner and as an abrasive to remove tough dirt and stains.
Once the vinegar and water solution is in place, use a small scrub brush dipped in the baking soda paste to go over heavily soiled areas. Rinse the entire section from top to bottom. This all-natural cleaner is based on our homemade floor cleaner recipe.
Clove Oil for Killing Mold Spores
If you have tough areas of mold that don't respond to bleach or vinegar, this environmentally friendly method kills the spores so that you can wash them away. It also prevents the mold from coming back by killing the embedded mold spores.
You can also use this clove oil mixture on lawn furniture and cushions that have become moldy. Try it before you spend the money to buy new furniture.
Clove essential oil needs time to work. For this method, spray the mixture onto spots of mold and leave it overnight to kill the mold. Rinse the area the next day and use one of the detergent-based cleaners above to scrub the spot.
The mold should be completely eradicated. This method uses only a tiny amount of clove oil, but it is powerful.
Borax Solution for Cleaning Mold off Vinyl Siding
Another cleaning recipe that is highly effective at cleaning mold and mildew from vinyl siding is a Borax solution applied with a soft brush. Borax can also be part of a permanent remedy for black mold treatment on vinyl siding or to clean mold from wood on your deck.
Mix household Borax (not boric acid) in hot water and use it to clean and scrub areas with mold or mildew.
As a spot treatment, this Borax solution quickly kills mold spores and prevents the mold from returning to the area if used regularly. Keep a box of Borax around the house to use for cleaning or for a great natural remedy to get rid of ants.
The homemade siding cleaner and homemade mold cleaner for siding recipes I've given you here should work for cleaning even the toughest vinyl siding messes.
The real trick is to clean your siding regularly, about once a year or more often if needed. By cleaning the siding regularly, stains don't have time to soak into the vinyl and dirt and grim clean up much easier.
Recipe for Homemade Vinyl Siding Cleaner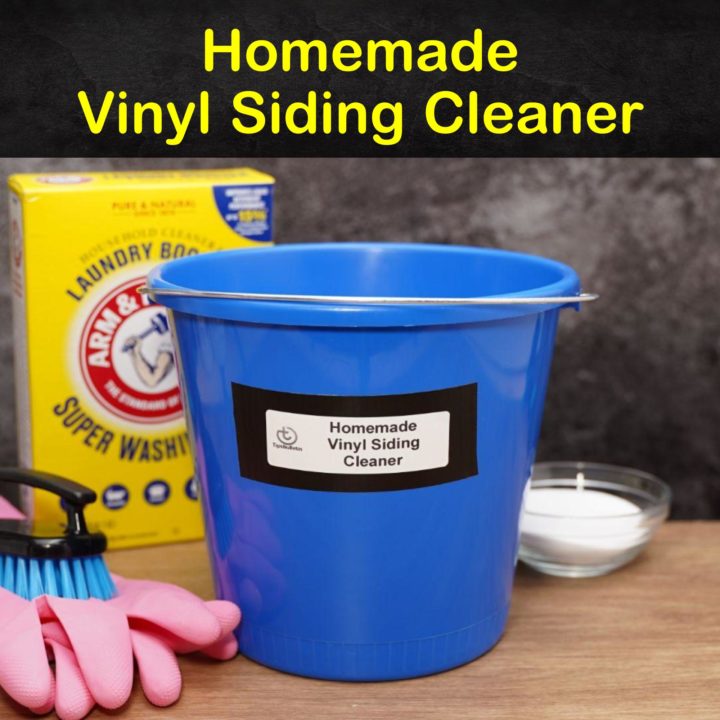 Homemade Vinyl Siding Cleaner
Your siding will look brand new again!
Ingredients
Bucket
Brush with a long handle
2 gallons of hot water
2/3 cup laundry detergent powder
2/3 cup TSP (trisodium phosphate)
Instructions
Mix the laundry detergent, TSP, and hot water in a bucket.
Apply to siding with the brush from the top down.
Rinse with the hose.
Notes
Hot water works better than warm or cold water.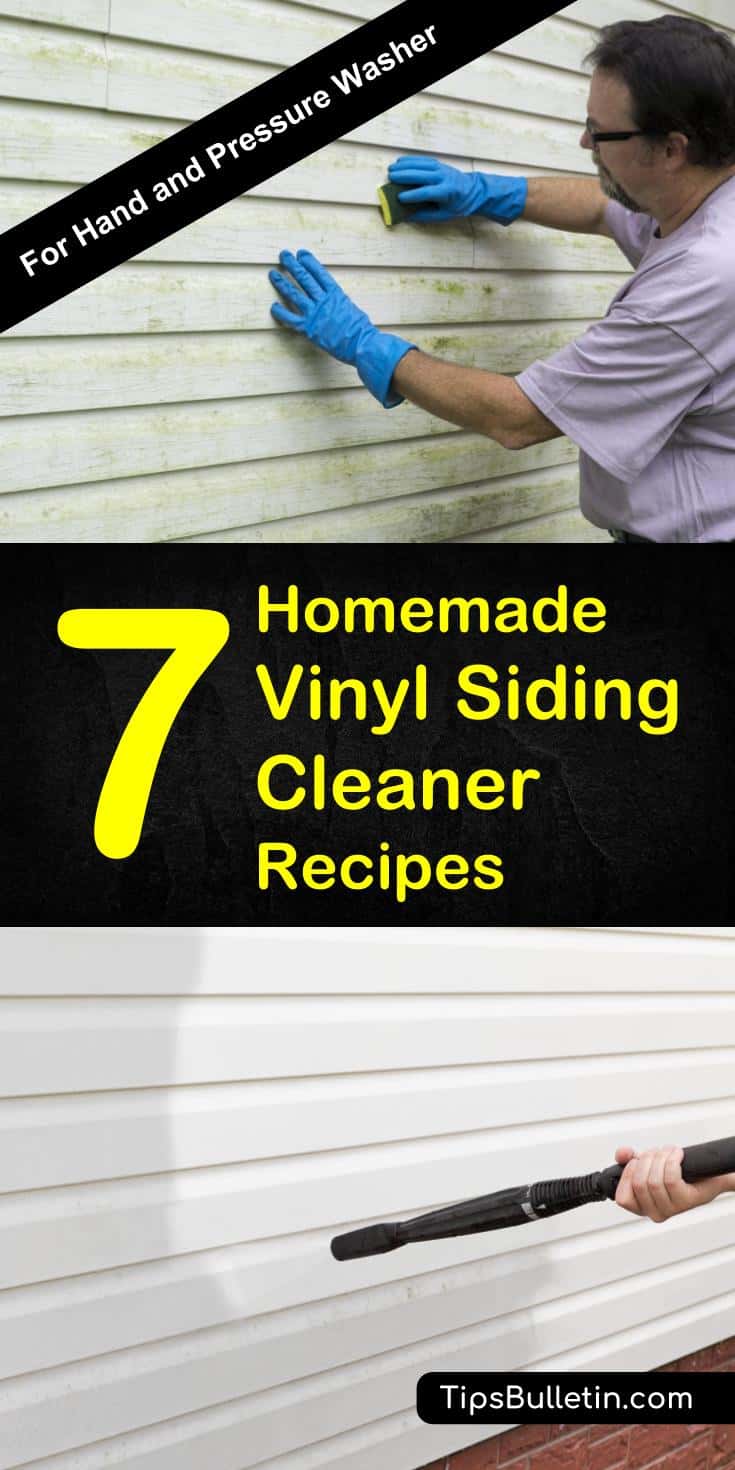 I hope these tips work for you. Let me know in the comments which solution worked best for you or if you have a vinyl siding cleaning solution that works for you. By sharing our successes, we all learn, and we can make our work easier and our homes an oasis for our families. Please take the time to share this article on social media so that everyone can benefit.