One of the hardest aspects of homeownership is constant maintenance. You want to take pride in the look and condition of your home, and that means near-constant cleaning. Buying household cleaners for your floors, kitchens, bathrooms, and walls can start to add up, and that's why we love to make our own homemade wall cleaner recipes that we know can get a specific job done.
Cleaning walls can be a tough job. Dirt and grime can accumulate before you know it, and stubborn stains can appear seemingly out of the blue.
It becomes even more complicated once you learn that there are different techniques and cleaners you should use depending on what type of paint or material covers your walls. To help, we've put together this list of tips for cleaning all kinds of dirty walls, with essential DIY wall cleaner recipes that you can make at home.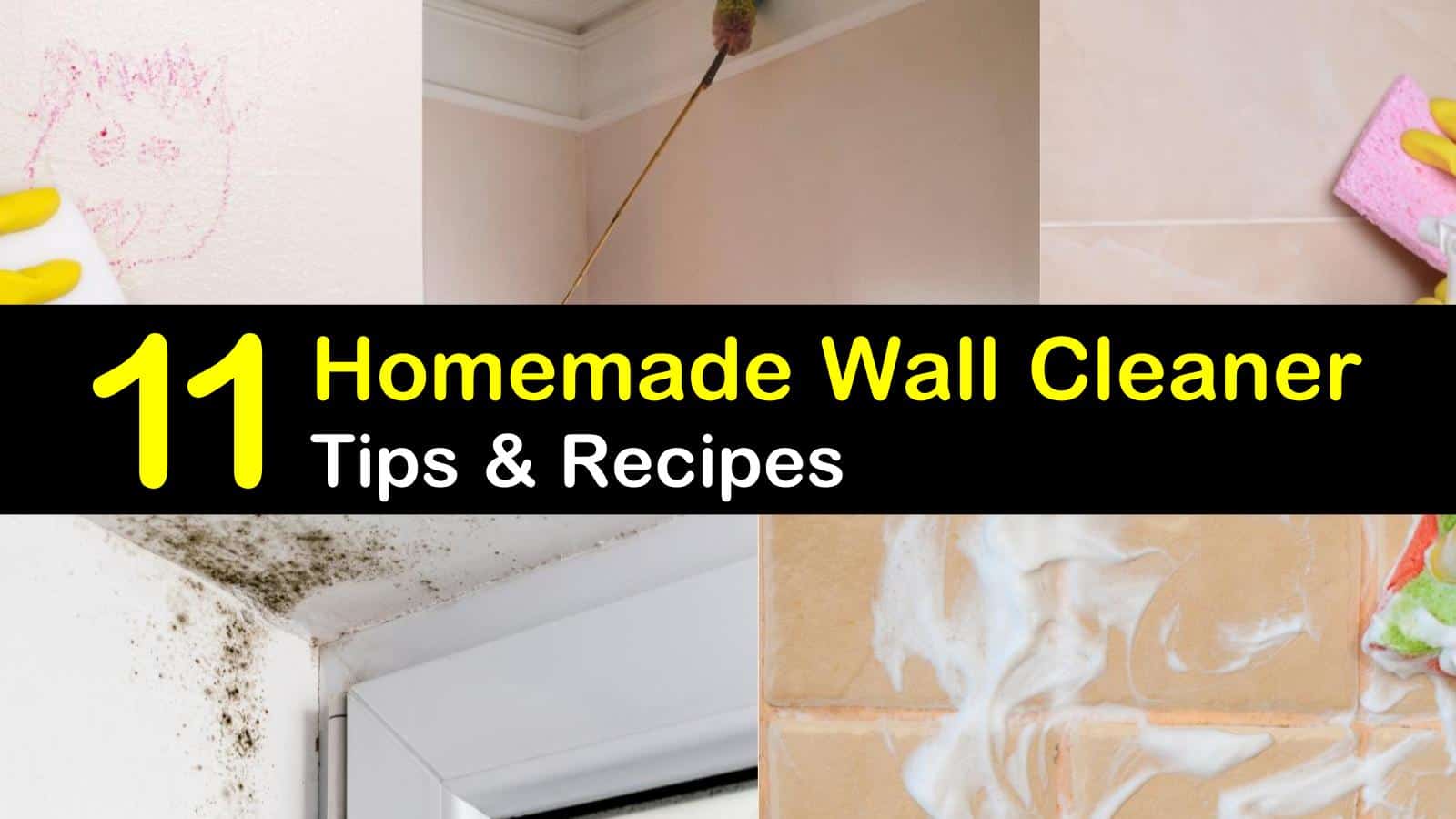 Simple DIY Wall Cleaner Tips & Recipes
Knowing how to clean walls the right way can save you a lot of time and effort. Here are a few recipes and techniques to help you get the job done so you can go on to do the things you enjoy.
Simple Homemade Wall Cleaner
This simple homemade wall cleaner is one of our favorite DIY cleaning solution recipes. It only calls for three ingredients, and you probably already have them in your kitchen pantry!
In a large bowl, add all the ingredients, stirring until mixed. Dip a soft cloth into the wall cleaner and scrub the walls. If there are any tough spots, use a soft sponge instead.
Clean Your Walls with a Vinegar Solution
If your walls are a more heavy duty material, then this vinegar solution is a must-try. This recipe is one of our favorite homemade vinyl siding cleaners, so it is perfect for most exterior walls, as well.
Mix the vinegar with the water in a large bucket. Using a scrub brush, start at the top of your wall and work in sections until you reach the bottom. This simple DIY cleaner also works great on floors.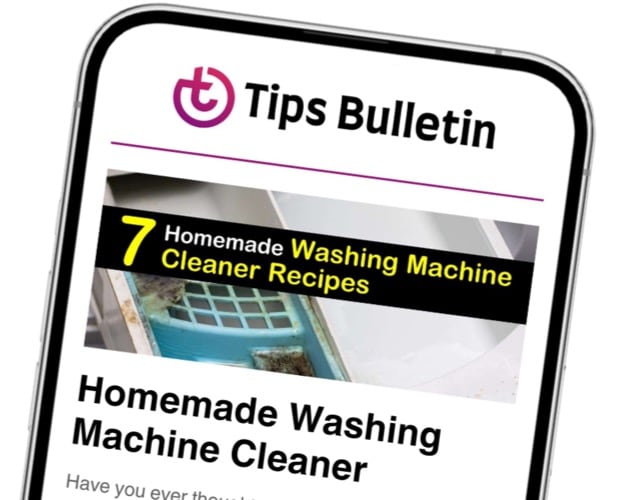 Finally, an email that Transforms Your Home.
Get the latest home and garden tips from our experts, delivered straight to your inbox.
Get Rid of Crayon Marks
If you have kids around the house, then you've probably had a crayon mark or two magically appear on your clean walls. Luckily, there are easy ways to remove these blemishes!
Try using a pencil eraser or an art gum, rubbing it in a circular motion over the mark. If that doesn't work, you can try wiping the marks away with baby wipes or sprinkling a damp sponge with baking soda. If none of those cleaning tips work, try rubbing the crayon marks with non-gel toothpaste.
All-Purpose Cleaner for Tile Walls
This all-purpose solution not only works on walls but tile floors and siding as well, making it an excellent cleaner for your shower wall.
Combine the vinegar, dish detergent, and the essential oils in a glass spray bottle and give it a shake before use. Spray the homemade cleaning solution generously on the wall or tile surface and allow it to sit for five to ten minutes. Wipe with a clean rag or sponge.
This cleaner is suited for bathrooms and damp spaces due to the ability to remove water stains, cut through scum, and prevent bacteria from growing in moist creases. If you don't have the essential oils, you don't have to include them, though they do provide adequate protection from mold and mildew.
Remove Water Stains from Interior Walls
This wall cleaning solution is a beneficial mold and mildew killer, making it perfect for removing water stains and preventing further damage to your interior walls.
Combine bleach and warm water in a large bucket. Rinse the stains with the solution and thoroughly dry the area with a hair dryer or fan.
If the stains remain after the water dries, then you may have to re-do your paint job. Be sure to use a stain-killing primer if this becomes necessary.
Baking Soda Wall Scrub
This baking soda scrub is another of our favorite natural cleaning recipes. While it cuts through grease and grime, it is also gentle, so it's suitable for painted walls, whether semi-gloss or latex paint and grimy tiles or kitchen backsplashes.
Combine ingredients in a small dish to make a paste. Add more or less water as needed. Using a rag, gently scrub walls. Using a separate cloth and clean water, wipe the dirt and rub paste away. Continue to wash walls until clean.
DIY Wall Cleaner for Grime Buildup
You may not think that your walls are subject to the same oil and dirt buildup as other surfaces like floors and counters, but they are. To wipe off this collection of dirt, use this DIY wall cleaner.
Using a sponge or cloth, wipe the solution over the dirty walls and then rinse with water. Be sure to clean baseboards and wipe down the edges of light switches and around your fireplace if you have one.
Tight crevices and cracks are easy to neglect but also need cleaning. For areas that are hard to reach, use a Q-tip with rubbing alcohol.
Vacuum Your Wallpaper
If your walls have wallpaper, the easiest way to keep them clean is by vacuuming. A soft brush attachment is most effective, especially if the paper has a texture of any sort.
Start at the top of your wall, working downwards and paying attention to corners to suck up any cobwebs. You should do this once every couple of months.
If you're tired of your wallpaper, you can use a homemade wallpaper remover recipe to get rid of it and put up new wallpaper or paint the walls. Be sure to clean walls after removing wallpaper to have a smooth surface free of adhesive residue.
How to Clean Greasy Kitchen Walls
Your kitchen walls can quickly accumulate grease stains and residue just from cooking daily meals. With this simple homemade wall cleaner tip, grease doesn't have to be an issue any longer. Wet a sponge such as a Scotch-Brite and then place it in the microwave for approximately 30 seconds.
Using a spray bottle, apply vinegar or any citric-acid based spray to any greasy area of the wall. Wearing rubber gloves, grab the hot sponge and wipe off the vinegar spray. The grease should come right off.
Natural Wall Cleaner for Wood Paneling
If you have wood paneling that you need to clean in your home, you want to pay extra attention to the solution you use. The oil in this recipe helps protect the wood and adds a beautiful finish. This recipe also works nicely on hardwood floors.
Mix the ingredients in a small bucket. Using a dry, clean cloth, apply the cleaning solution to the wood paneling. Dry the wood using a separate clean rag.
Use solution sparingly so as not to saturate the wood, and ensure ingredients do not separate before wetting your cloth each time.
DIY Magic Eraser
Magic Erasers are a favored cleaning product when it comes to removing stains from surfaces such as walls. The good news is that you can make them at home more cheaply than you'd pay for the brand name!
Combine Borax and baking soda in a small bowl. In a separate cup, heat the water and then combine with the dry ingredients. Stir until blended.
Place the sponge in the bowl until it has soaked up the cleaner solution. Gently squeeze the sponge to remove excess liquid and then clean walls.
These easy homemade wall cleaner recipes will help you keep your house sparkling while also saving you a pretty penny. They are quick to make and can cut through any dirt or grease.
Recipe for Homemade Wall Cleaner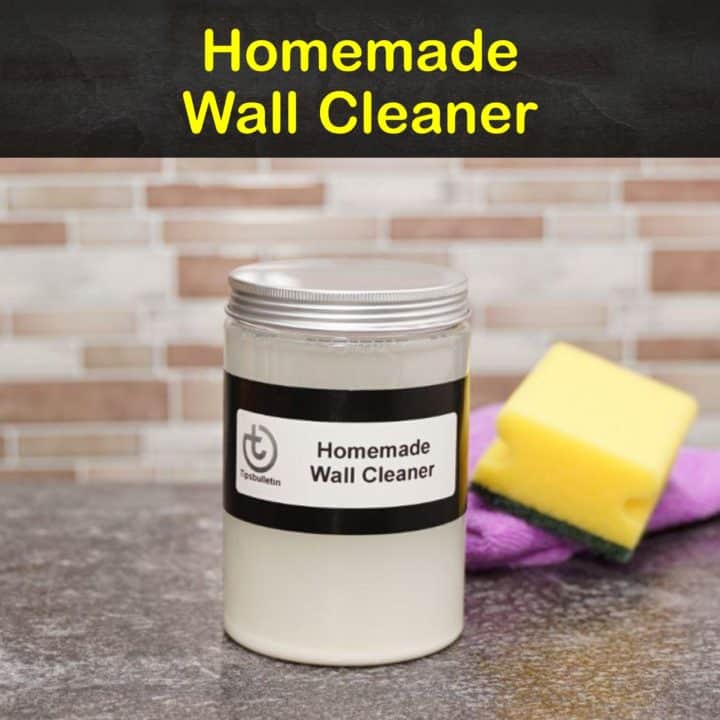 Homemade Wall Cleaner
Eliminate stains and bring back the shine with this simple wall cleaning solution.
Materials
1-quart water
2 teaspoons vinegar
2 teaspoons dish soap
Tools
Measuring cup
Teaspoon
Plastic or glass container
Sponge
Instructions
Mix the soap, vinegar, and water in the container.
Dunk in the sponge and wring it almost all the way out.
Wipe the wall in one section at a time.
Rinse the sponge periodically.
Allow to air dry.
Notes
Either white or apple cider vinegar works well.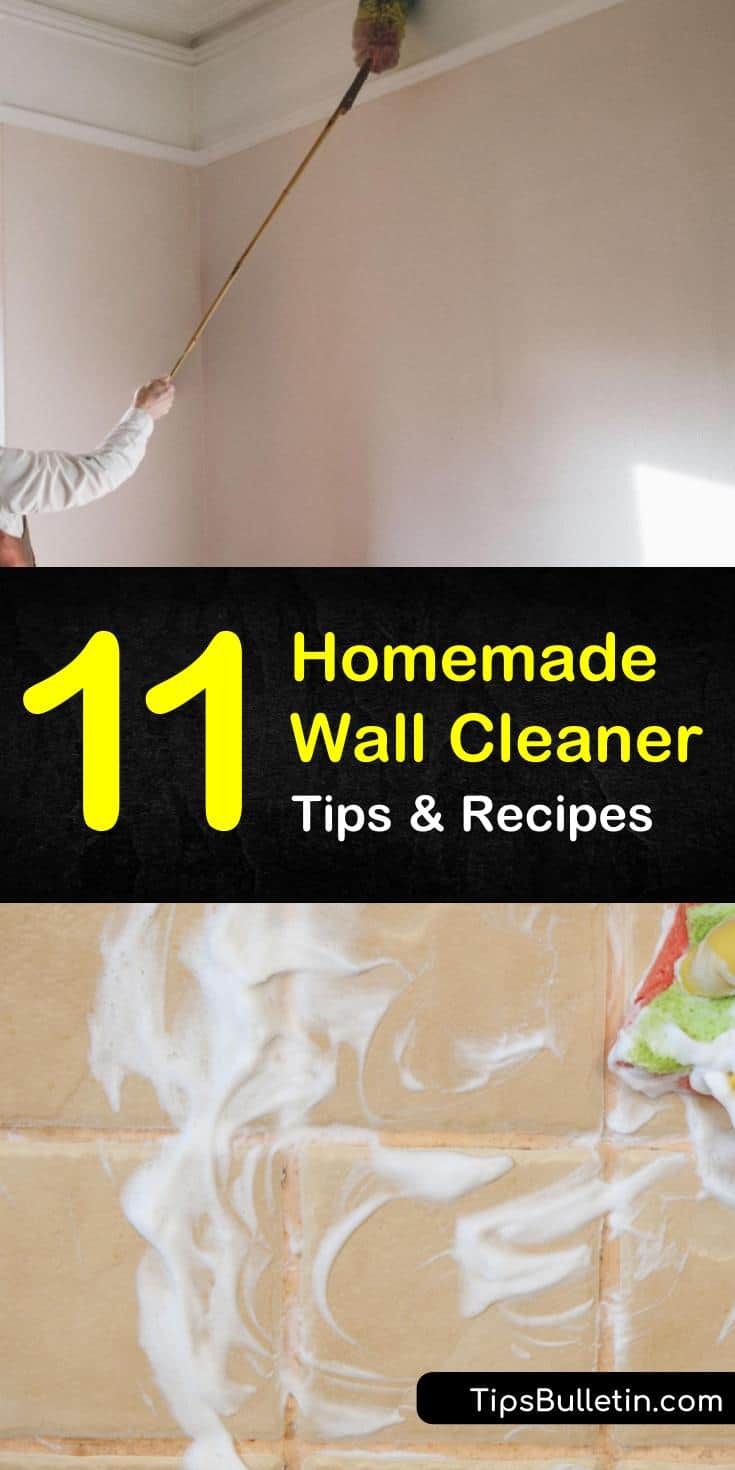 We hope you learned how to clean your walls with these recipes and tips. If you want to help your friends and families clean their homes with natural wall cleaning products, then please share this article online!