Is it that time of year again? You know, the time of year where those new weeds start popping up from your plant's plots? Did you walk outside to welcome the sunny day ahead of you to realize the weed control mechanisms you've been using aren't cutting it?
Does that make you want to throw away the weed killer products you've bought from the store to make a homemade weed killer? You do want to protect your good plants and kill weeds.
Well, even if you take care of your plots and plants to the utmost of your ability, you're still susceptible to seeing a weed pop up here and there. That's okay, because today, you'll learn how to make homemade weed killer recipes using ingredients like dishwashing soap, white vinegar, Epsom salt, and table salt.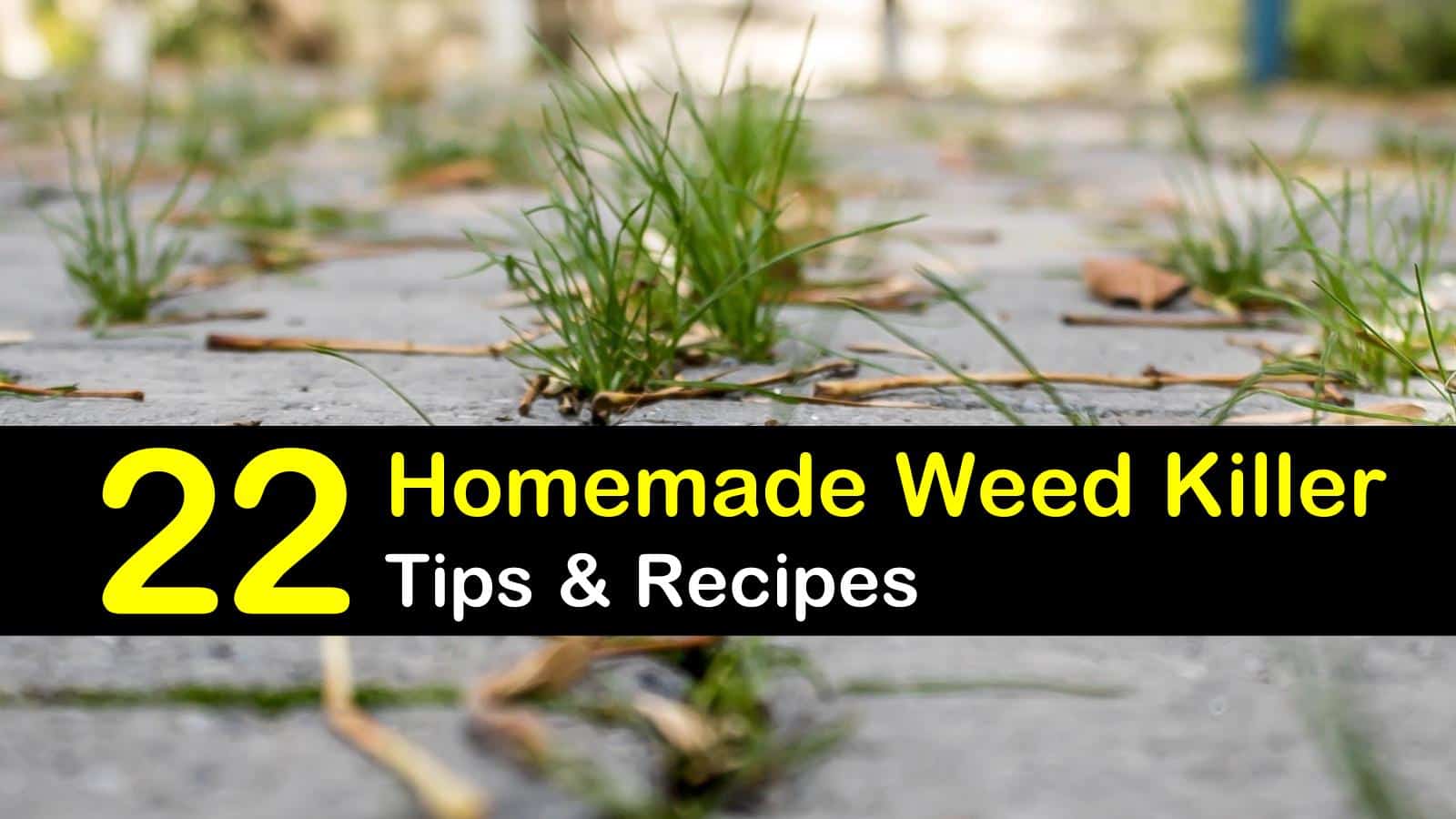 Make Your Own Weed Killer
There's no need to buy expensive chemicals to get rid of weeds at home. You probably have all you need in the house. While Epsom salt is really good for peppers and other plants, it can also be used as a natural weed and stump killer. Read on to find what options you have to eliminate weeds in the yard.
DIY Weed Killer Natural Solution
Get ready to mix some ingredients and put the natural solutions into a spray bottle, because your weeds are going to disappear rather quickly!
There's no doubt that you've been looking for a natural solution to replace your emergent herbicide, and we've got just the fix for it. This is a highly popular recipe and the best way to kill vegetation that we have found. It's easy to make and the cost is minimal.
Mix ingredients and put the homemade dandelion killer into a spray bottle. Spray the weed killing liquid at the sunniest time of day for the best results.
Keep in mind that this natural solution may not work as quickly as some of the solutions using harsh chemicals, as it is not built to work its way into the root system. It will get the trick done if you continue to give the treatments, though.
Although moss is not technically a weed, you can also use this recipe to kill moss in lawns, as well. Be sure to only spray it on plants that you want to kill, as this is an indiscriminate plant killer.
Homemade Vinegar Weed Killer
Sometimes, a lot of vinegar will get the job done just fine. One of the main reasons behind this truth is that vinegar is pure acetic acid.
Therefore, it's able to kill off those unwanted plants. Specifically speaking, this vinegar plant spray will have your nearby plants thanking you sooner rather than later.
Take one gallon of vinegar and pour it into a larger can or bucket. Add the salt and mix it gently until it dissolves. Add in the dishwashing liquid and spray onto weeds. Do not add water, as this will dull down the mixture.
Simple Homemade Weed Killer Solution
Some recipes require a few ingredients to kill off weeds, whereas others only need two. Use simple homemade weed killer recipes on young weeds with minimal effort.
Mix the two ingredients and pour in a spray bottle. Give the bottle a shake before applying the solution to the weeds. Try your best not to use this garden sprayer on your edible plants, though!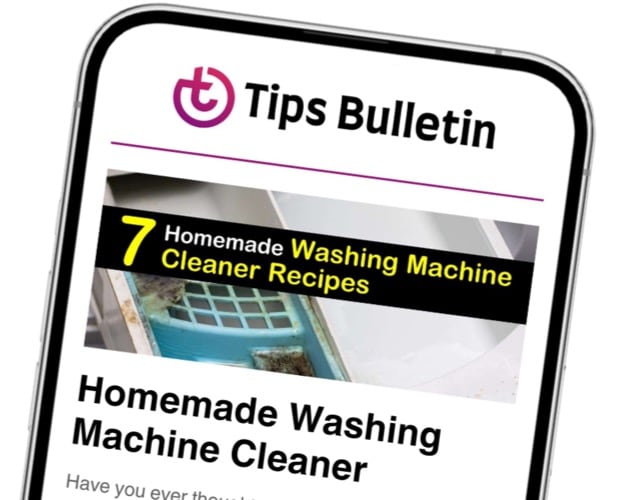 Finally, an email that Transforms Your Home.
Get the latest home and garden tips from our experts, delivered straight to your inbox.
Common Spice Used to Rid the Garden of Weeds
Ingredients are what makes a recipe successful, and there are specific ingredients used to ensure a weed killer recipe will do its job correctly.
Salt is a primary ingredient in the fight against weeds. However, using the cheapest salt is the best way to handle the situation. Sea salt, rock salt, and Epsom salt are unnecessary. Cheap salt, also known as sodium chloride, is the easiest route to take.
Weed Killing Tip – Newspaper Worthy
There are many ways to kill weeds using ingredients from around the house, but what if we told you there's a way to keep them at bay using only a newspaper?
Instead of using a pre-emergent chemical solution from your local retail store, follow these directions: First, use one of the solutions we've provided you above or below to kill the weeds. Then, crumple up some of last week's newspaper and lay it atop the area where weeds once lived.
Not only will this stop the current weeds from growing, but it will also shut out the sun and air so that new weeds will not be able to form. Sprinkle some mulch atop the newspaper, and they'll stay away.
Inexpensive DIY Weed Killer
Newspapers are rather inexpensive, but there are even cheaper options if you need to save a few extra dollars this month. Try using boiling water.
The best part about using boiling water is that there are entirely no chemicals in the solution; the next best part is that it will kill the unwanted weeds in your yard.
We don't suggest you use boiling water on every single weed you see; however, the ingredient works for many tough-to-reach areas. For instance, if you have weeds growing in the cracks of your driveway or sidewalk, take some boiling water and pour it on these areas. The weeds will die almost instantly.
Try your best to get close to the plant and pour the water slowly, so as not to splash and burn yourself. Keep repeating the process until the weeds are entirely gone.
White Vinegar on Weeds
White vinegar is in many natural weed killer recipes, sometimes even as much as a gallon of white vinegar. As stated above, white vinegar contains acetic acid, an ingredient known to kill off weeds.
However, the higher the acidity present in the vinegar, the faster the liquid will work. Ordinary vinegar with 5% acidity will do the same job that 20% acidity will do, so if money is tight, stick with the lower acidity and keep applying it regularly.
Lemon Juice to Kill Weeds
Lemon juice comes from the lemons that grow in the garden, as we all know; what you may not have known, however, is that the fluid produced by lemons is a natural acidic killer for weeds of all shapes and sizes.
Fill a spray bottle with lemon juice and start spraying the fluid heavily on the weeds to get rid of them. Within just a few short days, the weeds will likely die off.
If you want to get the formula even stronger, add vinegar to the lemon juice and start spraying. Be sure to only spray what you want to kill. It can take a little work getting rid of weeds without killing grass or other plants you keep.
Dishwashing Liquid and Your Weeds
In any homemade weed killer recipe ever created to kill weeds, the dishwashing liquid ingredient will never be more than a few drops. The brand doesn't matter, though Dawn dish soap is highly useful, as it is affordable to most.
The purpose of adding the soap to most weed killing recipes is because the solution breaks the surface tension of the vinegar, therefore allowing the solution to stick to the weeds more freely. Once this happens, the weeds absorb the mixture quickly and die at a faster rate.
Homemade Weed Killer for Replanting Areas
Weeds tend to overstay their welcome in areas where you want to start replanting for the harvest season. If that's the problem your facing, grab yourself a garden sprayer and fill it with white vinegar and a couple of drops of Dawn dish soap. Follow the directions on the sprayer, and you'll be good to go.
Pick a sweltering and sunny day to use this tip/trick. Be sure to soak the weeds with this solution and soak them quickly. If you do this, the weeds will start to die within only a few short hours.
Try not to spray anything that you want to live. On the other hand, keep in mind that vinegar will not damage the surrounding soil; you'll be safe to replant the area once the weeds have died.
DIY Homemade Weed Killer for Areas that will Never Grow Again
If you do not want to replant in the area where the weeds are growing ever again, we've got the solution for you.
Mix the table salt and the white vinegar and shake the ingredients in a large container until the salt dissolves. Apply the dishwashing liquid to the solution and put the fluid into a garden sprayer. Spray over weeds once daily until they are dead.
This salt and vinegar weed killer will permanently kill the soil beneath the weeds. Though it may take a few applications, it will get the job done.
Neem Oil for Plants
Though neem oil is not typically used for weeds, it can be used to counteract other issues such as fungicide and insecticide problems involving your plants.
To make this simple and natural crabgrass killer, mix the warm water with the neem oil and fill a spray bottle with the solution. Add in the dish soap and gently swirl the mix around without making too many bubbles.
Turn the spray nozzle to stream rather than spray and spritz all affected plants thoroughly. Be sure to cover the stem and underside of each leaf with this neem oil plant spray. Be careful not to spray plants you want to keep.
Killing Weeds with Peroxide
Many of the weed killing products on the market today contain harsh chemicals that can either irritate the skin or disrupt the surrounding environment; that's not the case with hydrogen peroxide. Explicitly speaking, solutions with on average 10% hydrogen peroxide will get the job done correctly.
Just like the boiling water technique, hydrogen peroxide for plants can be poured between cracks to get to the root of the problem. You can also pour hydrogen peroxide on the ground cover plants that have been infiltrated by weeds.
Keep in mind; this solution is different from others. As most recipes require you to pour the liquid on the weeds during the day, this weed killer is different.
It's best to pour the substance on the weeds early in the morning or late in the evening, as sunlight can break down the chemicals within used to kill the weeds.
Homemade Weed Killer using Bleach
Bleach is good at helping us clean our highly stained clothes, but it's also good at killing those pesky weeds growing in our backyard.
Bring the water to a boil. Add the salt and stir it until it dissolves. Shut the stove off and allow the water to cool before adding the dish soap.
Add the mixture to a large container and add bleach. Remember, the stronger the bleach, the faster the weeds will dwindle and die.
Natural and Affordable Weed Killer
Hay is not only for horses, but it's also for weeds. Most farmers know that straw will get rid of unwanted plants, especially if an abundance is thrown on top of them (especially considering the straw will suffocate the weeds). However, did you know that straw can smother Bermuda grass, too?
For those of you who may not know, Bermuda grass typically grows during the warmer seasons in the northern areas, as the regions of the north are prone to having colder climates. Straw will likely strip away the little oxygen and sunlight these weeds do get, therefore killing them quite quickly.
Try using straw or hay to get rid of grass that grows where it shouldn't. Straw is highly beneficial, too. The hay-like material fertilizes the soil, therefore making it easier to replant in weed infested areas once the weeds are gone.
Getting Rid of Weeds before Gardening
Before the gardening season approaches you, you're probably wondering if there are weeds out there on your soil. And, if there are, you're probably wondering what you'll do beforehand to get rid of them.
One answer: Landscape fabric. Landscape fabric can lie atop the soil you'll be expecting to grow your plants and veggies on. Not only will the landscape fabric crush and kill all the current weeds you have, but it will also get rid of any future weeds getting ready to sprout up.
Around-the-House Ingredient for Weeds
Many of you know what cornmeal is; However, this ingredient kills off crabgrass, dandelions, and chickweed. It's as simple as spreading some cornmeal over the soil you're trying to protect.
Though it will get rid of unnecessary plants like the ones previously stated, it will not permanently injure the land in any way.
Homemade Weed Killer Using Rubbing Alcohol
Rubbing alcohol tends to be lying around the house, especially if you have a typical first aid kit, as the liquid can disinfect. It shouldn't be hard to make a DIY weed killer solution using this substance.
It's as simple as mixing the two ingredients and pouring it into a spray bottle. The alcohol present in the solution is known to remove the moisture that the weeds need to survive.
Using Baking Soda to Kill Weeds
Baking soda plays its part in many household cleaning and prevention recipes. However, by itself, it can still do some damage when it comes to weeds.
Sprinkle some baking soda in between cracks present in sidewalks and paths to get rid of the unwanted plants growing. Though the powder is toxic to weeds, it will not kill healthy grass growing in the area or vegetation you want to stay alive.
Essential Oils Acting as a Natural Weed Killer
Though it's not been proven that all essential oils can help in the fight against weeds, it has been determined that clove oil can take a stand in getting rid of unwanted plants. The clove oil does have its strong suit, though.
Clove oil should be applied to weed seedlings in drops. If you mix the essential oil with water of equal parts, you'll be able to put the solution into a spray bottle and cover more ground (though you may have to apply it more often throughout the week).
Pulling Weeds out by Hand
Some people get rid of weeds the old fashioned way. Though it is incredibly affordable, it is not time efficient. Pulling weeds out with your hand may not ensure that the entire unwanted plant has left the soil.
However, there is a more natural way to go about this. Try watering the roots of the weeds before pulling them out of the ground; this way they will become moist and more susceptible to your pull. Not only will they come out faster, but they'll also come out smoother.
Using Household Items to Get Rid of Weeds
If you're all out of ideas, don't worry just yet. Start looking around your house for old items you don't necessarily want to keep anymore, like old shower curtains or carpet samples. Though there may not be very many of them, you can still use what you have.
Spread the shower curtains or carpet samples over the weeds. Doing this will suffocate them. Pour mulch on top for an extra effect. Keep in mind; shower curtains cover a lot more space than you typically think they would, so buying a few at the local retail store may not be such a bad idea.
Learning ways to get rid of weeds around your house is necessary, especially if you're trying to keep up with your landscape or a fresh garden. Today, you've learned how to make many homemade weed killer recipes with ingredients from around your home. You've also learned some neat and exciting tips to take with you on your weed killing journey.
Recipe for Homemade Weed Killer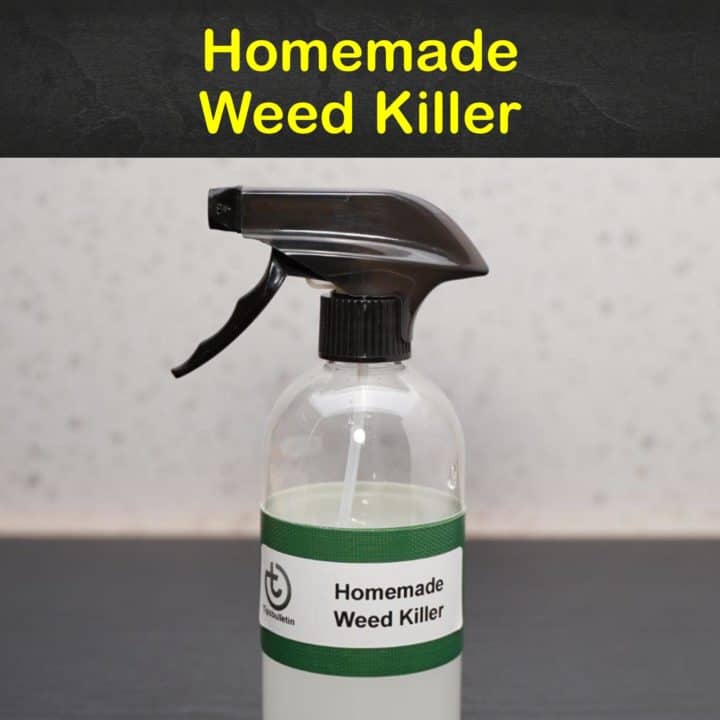 Homemade Weed Killer
Effective for all types of weeds.
Materials
1 tbsp liquid dish soap
8 ounces table salt
1 gallon vinegar
Tools
Bucket
Tablespoon
Long-handled stirrer
Measuring cup
32-ounce spray bottle
Instructions
Pour the ingredients into the bucket.
Stir the mixture until all the salt dissolves.
Add to the spray bottle.
Thoroughly spray unwanted weeds on a warm, sunny day with no rain forecast for several days.
Reapply every three days for a couple of weeks.
Notes
This weed killer gets rid of all vegetation indiscriminately. Apply carefully.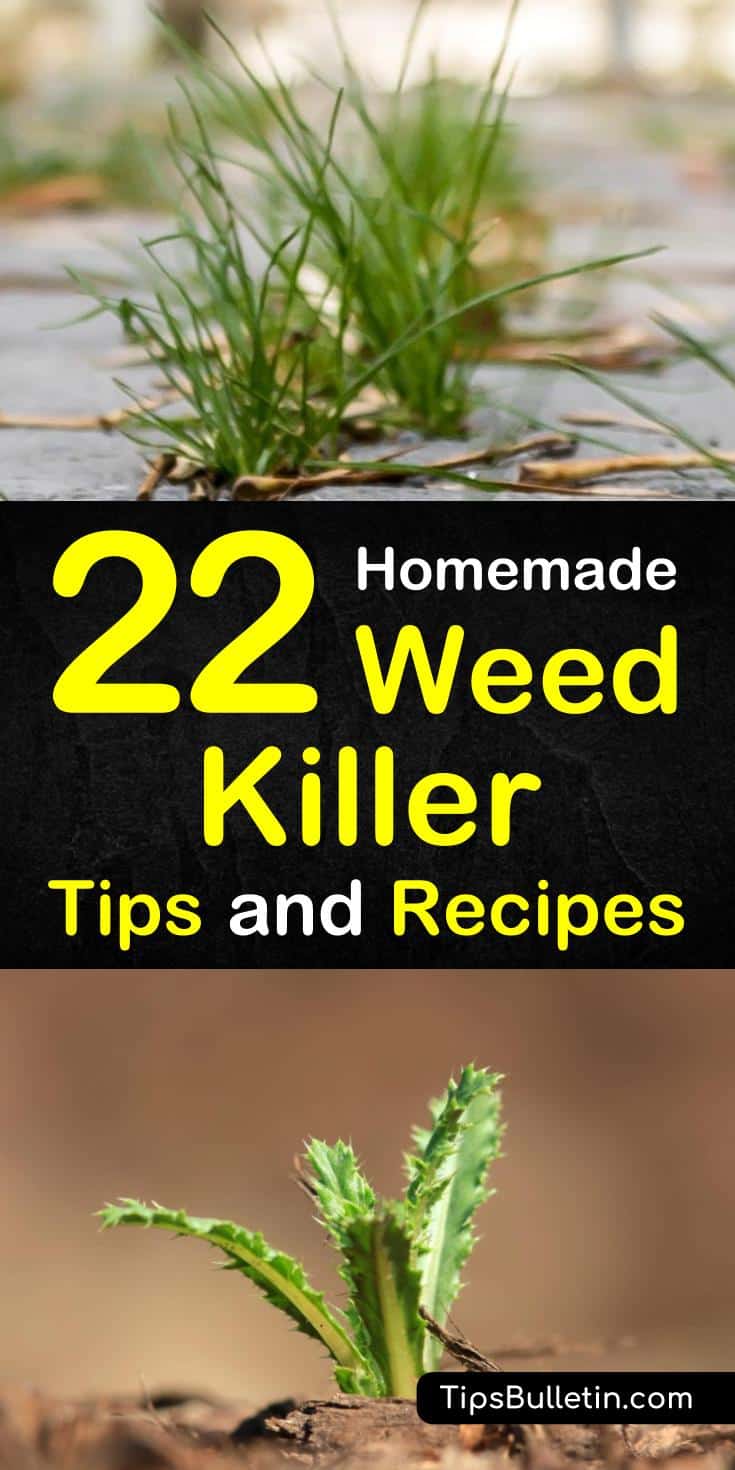 We hope you like our DIY weed killer tips and tricks. Please share these homemade weed killer recipes on Facebook or Pinterest with your friends and family.