Hardwood floors create a warm, inviting look to your home that is durable and easy to maintain year-round. This spectacular flooring does require a little tender love and care, though, with the right materials and cleaning products that won't damage the finish. A natural, homemade wood floor polish is just the thing to keep your floors looking their best without using harsh chemicals.
So how to find the perfect DIY wood floor polish and cleaner that's perfect for you? You don't want to use just any solution, especially if it causes discoloration or strips the finish off of the surface.
Luckily, there are a ton of incredible recipes to give your floors that extra something special while also maintaining the integrity and color of your floors. We have compiled a list of the top homemade hardwood floor polish and cleaner recipes, as well as some essential tips for protecting your hardwood floors.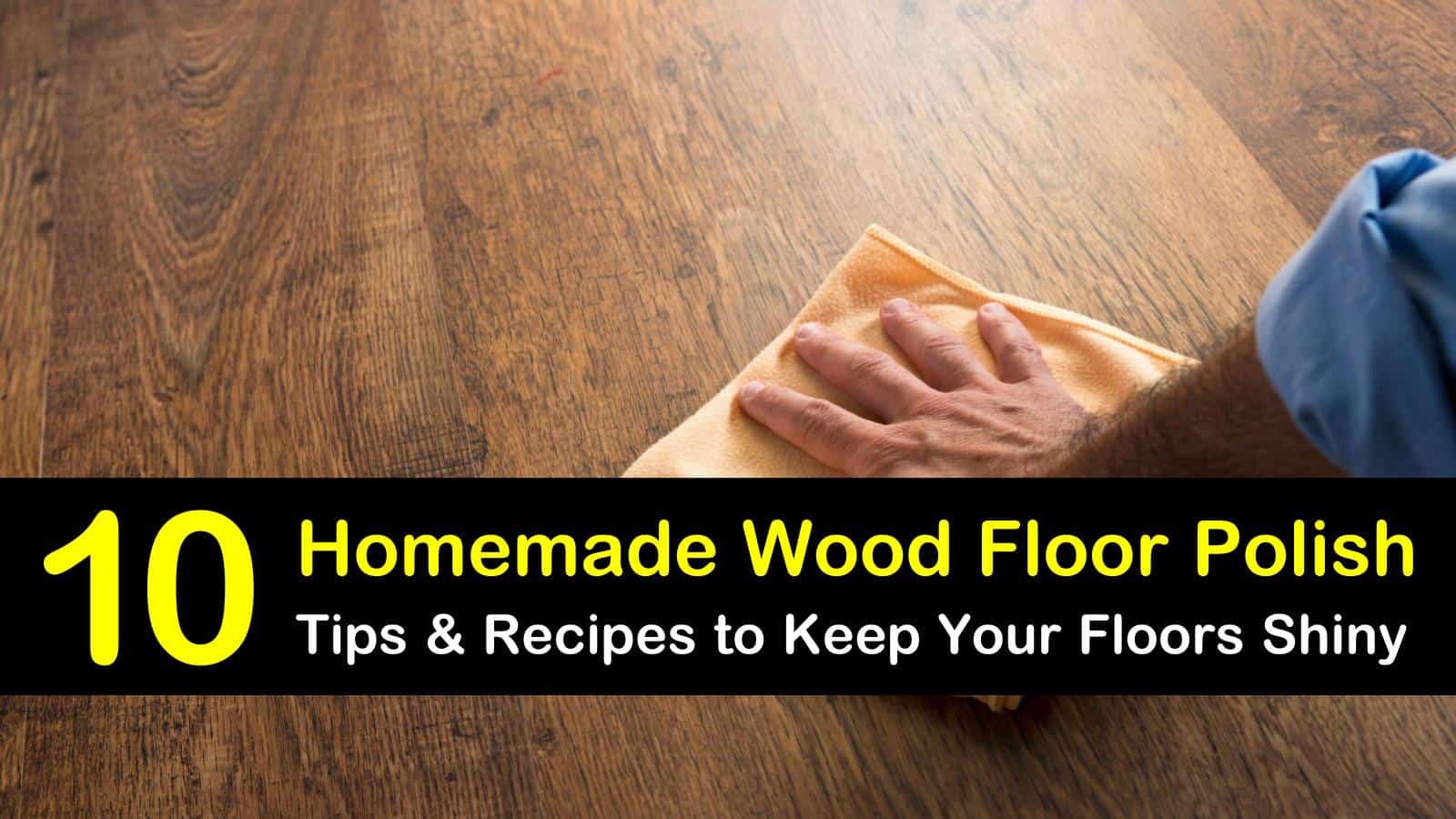 Phenomenal DIY Wood Floor Polish Recipes and Tips
So where do you start? Sweeping your floors and keeping them free of excess dirt and dust is the best way to prep your floors for cleaning. Equally, you want to start with a mild hardwood floor cleaner before diving into stronger solutions. Doing this will ensure your floors are given the safest treatment and won't incur unnecessary wear and tear.
Determine the Type of Finish before Cleaning
The kind of finish your wood floors have will also determine the best methods for cleaning them. While most modern designs use a polyurethane finish, some use an oil or wax coating to seal the wood. For both instances, the amount of water you want to use is limited, since water can severely damage the wood.
However, wood with a polyurethane finish is more resistant to stains and water damage. Wood floors with a wax finish should not be cleaned with water at all, making cleaning them a little more complicated. The oil-based finish on floors is also very receptive to oils in cleaners, where other types may result in a slick surface.
Use Lemon Juice Hardwood Floor Cleaner
When it comes to cleaning wood floors, using lemon juice is a great way to remove greasy substances. The water dilutes the lemon juice, making it milder for use without being too acidic.
Adding olive oil gives the cleaner a beautiful polish. Use this recipe as a bamboo floor polish and cleaner, as well, for shiny flooring that looks like new.
Mix these simple ingredients in a bucket and use them to mop the floor. Before mopping, make sure to wring out the mop well.
If too much moisture is left, then it could leave lasting damage. A damp or microfiber mop will do the trick, along with drying the floors after applying the cleaner.
Create a Homemade Hardwood Floor Polish with Essential Oils
In the same way that lemon juice lifts away grime and gunk, lemon essential oils are equally as effective. White vinegar provides extra cleaning power as a disinfectant, and the mineral oil develops a brilliant shine you will surely love.
When added to a spray bottle, these ingredients make a perfect spot cleaner and can even act as a furniture polish. Use this simple recipe with easily-accessible ingredients to clean wood cabinets with vinegar to remove stuck-on greasy build-up and fingerprints that mar the surface and dull the shine.
Clean wood baseboards with vinegar while you are tackling the flooring. The lower surfaces of your home will shine with this treatment. Then, of course, you'll need to work on other wooden surfaces so everything sparkles at the same time.
Mix the vinegar and water first, thoroughly blending before adding the mineral and essential oils. Swapping out these oils for others you may have in your pantry also works.
For the essential oils, however, the key to its cleaning power is in the citric acid. If you have particularly greasy areas you want help eliminating, other citric cleaners like grapefruit or orange essential oils also work wonderfully.
Natural Cleaning Solution with Castile Soap
Another excellent way to remove scuffs and stains from your wood floors is to use a cleaner made from Castile soap. Castile soap comes from vegetable oil and other natural plant ingredients that leave your floor clean and shiny. Adding a few drops of a citrus-based essential oil will also add to its fragrant appeal.
The best way to use this cleaner is to add a small amount to a spray bottle or leave all the contents in a large bucket. This decision will depend on the amount of floor space you need to clean.
Squirt a little of the solution over the area and thoroughly scrub into the wood floors with a cleaning cloth. This recipe is also an excellent homemade wood conditioner that will seal off part of the wood grain, giving you longer-lasting protection for your floors.
Reapply Oils Using DIY Wood Floor Polish
If you want to apply a straight polish to your hardwood floors, a great way to do this is by using a small number of oils. A floor with an oil-based finish will require occasional reapplication of oil to keep it protected. Oil is absorbed back into the floor without creating that slippery, skating rink feel.
Mix the two ingredients in a small dish until thoroughly blended. Apply to the floor using a microfiber cloth and circular motions. This recipe is best added to the floor by hand, where you can buff the area dry for a smooth, even finish.
Create Your Own DIY Recipe by Changing Up the Ingredients
A fantastic point about many of these recipes is that some of the ingredients are interchangeable. Mineral and baby oils are easily replaced with jojoba or tung oil. Even linseed oil is a tremendous natural coating that works on oil-based surfaces.
Essential oils can also be added to most recipes to give them a fragrance you love. Instead of lemon essential oil, you may want to try peppermint or eucalyptus.
If you're going to get creative, you can even add citrus peels or dried elements like lavender to the mix. Whatever method you choose, make the recipe your own with these simple techniques.
Try this Wonderful Homemade Wood Floor Polish for Dark Woods
Cleaning dark wood floors can be highly stressful, especially since you don't want to risk removing the color with a bleaching agent. The recipe below is just what you need and will give your wood the perfect balance of cleaner and color protection.
As you may have guessed, this recipe will not make a tremendous amount of cleaner, though you can add to the amounts to make more as necessary. You don't want to douse your floors in soap either completely. Instead, use a moderate amount of this wood cleaning solution to protect your floors from damage brought on by excess moisture.
Make a Homemade Wood Floor Cleaner Using Coconut Oil
There are many different oils you can use to condition and polish wood floors. Using a homemade furniture polish with coconut oil is one example of the many variations you can use to bring out the brilliant shine on your floors. This recipe will also restore hydration to worn, dry floors.
Heat the ingredients in a container. The beeswax pellets need melting to appropriately blend with the oils, which requires adding them to a double saucepan or boiling them in a glass container.
Once the ingredients melt and thoroughly mix, use them on your floor. Again, use these sparingly across the floor to avoid a build-up of wax or oils.
Use a Commercial Hardwood Floor Cleaner
There are a ton of commercial cleaners on the market to keep your floors looking great. Bona is one such cleaner that comes with an entire line of products and equipment.
In addition to their cleaning solutions and mop kits, Bona creates products that will help restore, polish, and seal the surface of your hardwood floors.
For best results, always read the manufacturer's label and instructions. Bona also has a complete list of items on its website, including printable information.
All Purpose Homemade Floor Cleaner with Rubbing Alcohol
If you want a universal cleaning solution for almost every floor in your home, no matter what it is made from, then you will love this recipe. The following method works on most flooring types, including laminate flooring, tiles, and hardwood floors.
The second benefit to using this solution is that it consists of common household ingredients, so you probably won't have to make a trip to the grocery store.
To create this homemade floor cleaner liquid, start by adding the water to a large bowl or small bucket. Mix in the vinegar and rubbing alcohol, leaving the dish soap and oils for last to prevent too much of a lather. Mop the floor with the cleaning solution, or use a dry cleaning cloth to apply by hand.
This laminate floor polish and cleaner will leave your floors shiny and free of streaks, as well as eliminating ugly stains that mar the surface. As a bonus, the floor will have a lovely smell afterward, too.
Many of the recipes above work on most floor types, with some exceptions based on the wood's finish. While products like vinegar and oil make excellent homemade cleaners in small amounts, relying on these too heavily can cause damage to your floors or make them too slippery.
Equally, avoid cleaners like ammonia at all costs. Beyond causing discoloration, it will also peel away and destroy the finish. If you are unsure about the proper techniques and recipes, try spot cleaning a small area before doing the entire floor.
Recipe for Homemade Wood Floor Polish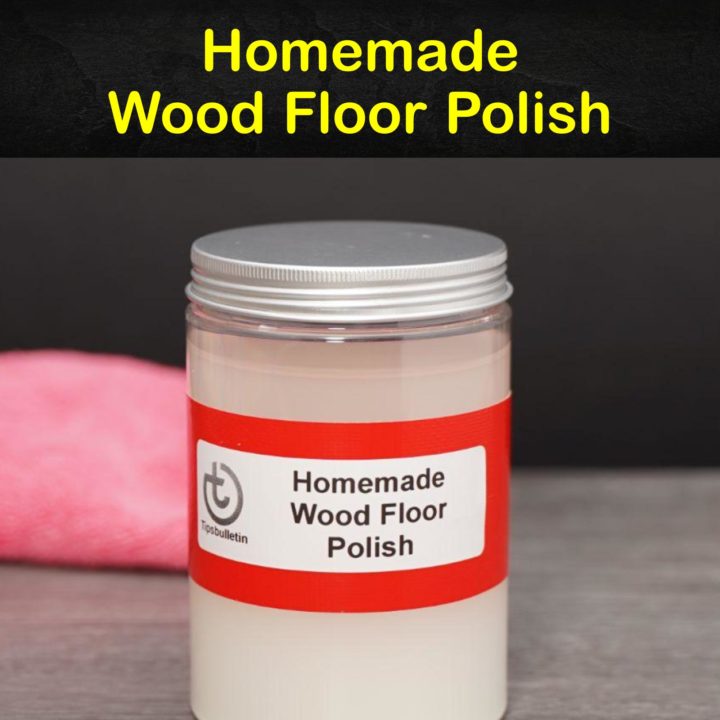 Homemade Wood Floor Polish
No chemicals needed for a natural shine.
Materials
4 drops of lemon essential oil
8 ounces olive oil
Tools
Quart jar
Wooden spoon
2 microfiber cloths
Measuring cup
Instructions
Combine the oils in the jar with the spoon.
Dab some of the oil on a microfiber cloth and apply it to one small section of the floor at a time.
Buff with the other cloth.
Repeat across the entire floor.
Notes
You can substitute mineral oil for olive oil and another essential oil if you prefer a different scent.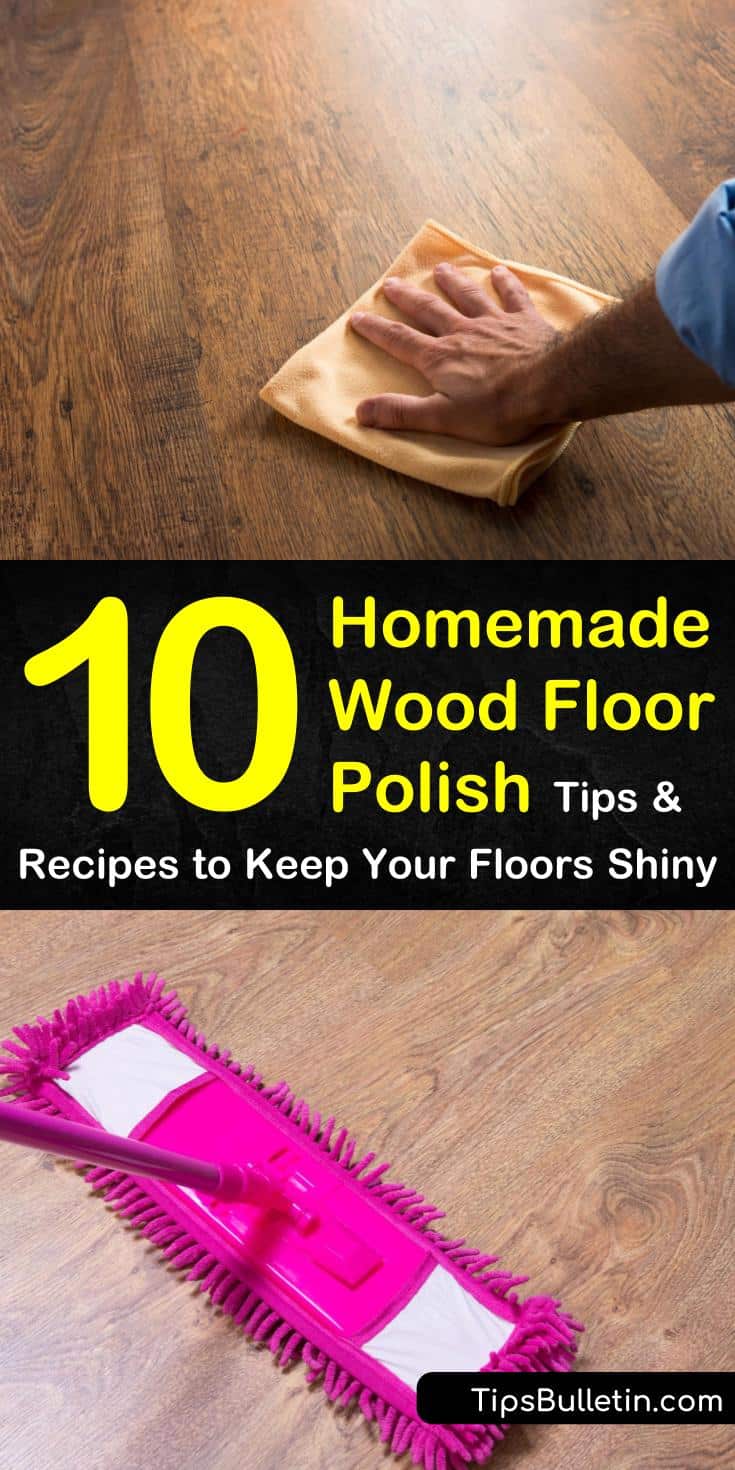 Hopefully, you found these hardwood floor cleaning tips handy when it comes to tackling your floors. If learning about floor polish recipes helped you, don't forget to share these awesome homemade wood floor polish recipes with friends and family on Facebook and Pinterest.