It's tough to know where to begin when your house smells musty. A musty, moldy, or mildew smell is unpleasant and even worse in your abode. No matter how well you decorate or how often you clean, a musty odor is overpowering and affects the first impression your family and guests have when they enter the house.
Learning how to get the musty smell out of a house helps to make your residence appear clean and inviting and is good for your health. A mold or mildew smell indicates that mold spores are in your home.
Understanding how to remove a mildew smell from your house allows you to reduce the number of mold particles and raise the air quality inside. Trust time-tested remedies using distilled white vinegar, baking soda, and homemade air freshener when the basement smells moldy and keeps your residence smelling its best.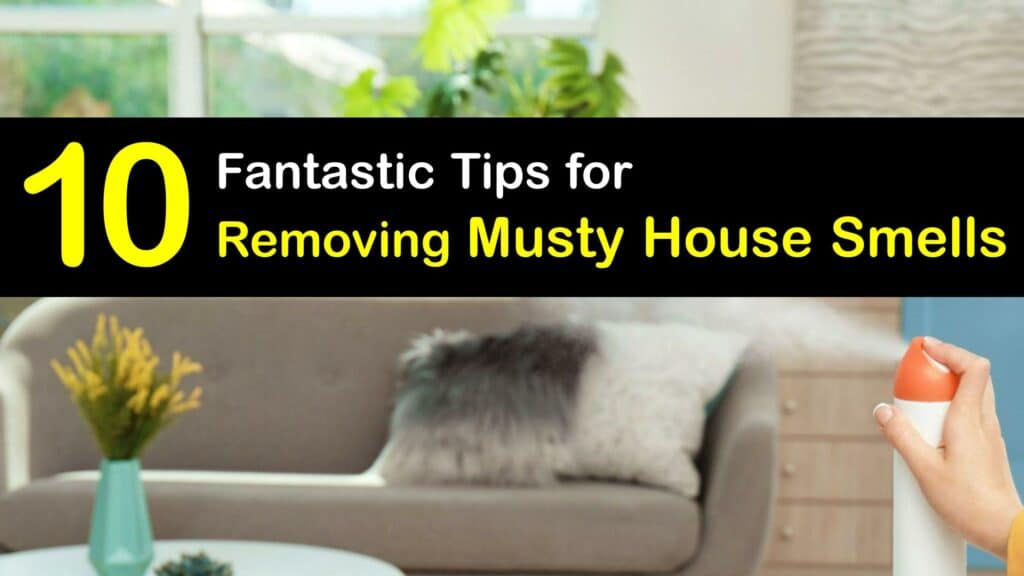 How to Get the Musty Smell Out of a House
Don't be discouraged if your house smells musty. Even if you keep a strict cleaning schedule, factors causing a mildew smell are usually unrelated.
Water damage and high humidity make even the cleanest places smell like mildew. Many homeowners want to find out exactly how to get the musty smell out of a house, and thankfully, multiple hacks help.
Why Your House Smells Musty
Excess moisture is likely to blame if your house smells like mildew after rain or you have a constant musty odor. Water spills and leaks from a burst pipe or washing machine malfunction predispose the development of mold spores which make your home smell musty. If your washer smells musty, thoroughly clean it inside and out.
The enclosed nature of a house, plus high humidity or excess moisture, quickly turns it into a breeding ground for mold and bacteria, which emit stale and musty odors. Mold proliferates in damp areas with poor ventilation. Luckily, numerous ways exist to remove the smell and restore freshness.
How to Remove a Mildew Smell from Your House
Though we often link baking soda to the kitchen and making cookies or cakes, this white powder is a powerful tool to tackle musty odors. In addition to being a cooking staple, baking soda has a solid deodorizing ability, whether you are looking for a way to deodorize a dryer with baking soda or have stinky carpets and drapes.
Whatever the cause of an old house or musty smell, it often settles into your carpets and fabric upholstery. Use baking soda to deodorize these surfaces to improve the scent.
Sprinkle a fine layer of baking soda over carpets, rugs, sofas, and pillows, and leave it to settle overnight. The baking soda takes in the moldy smell, leaving the air and your fabric cleaner. Vacuum or sweep away the baking soda powder in the morning and throw it in the trash.
Baking soda can also be used to get rid of refrigerator odor. Even though it might be behind a closed door, the fridge can be another source of a rotten smell in your home.
Getting a Mildew Smell Out of the House
Distilled white vinegar is a multipurpose cleaner to help combat mildew odor. The acetic acid in distilled white vinegar acts as a gentle solvent to disintegrate smell-causing molecules to leave your house smelling fresher.
Pour shallow saucers of distilled white vinegar and set them on top of the fridge, inside cabinets, and around the rooms to absorb the mildew smell from the air. Treat your carpets, couches, and surfaces with a dilute white vinegar spray to destroy mold particles.
Shake the vinegar and water in the spray canister and mist lightly over surfaces to deodorize them. If you don't love the tangy and acidic scent of vinegar, add a dozen drops of pure tea tree oil or a squeeze of lemon juice to the mixture for a softer fragrance.
This mixture is great for basement odors and enclosed spaces. Keep a container handy to use whenever you encounter unpleasant smells.
Removing the Musty Smell from a House with DIY Air Freshener
If you don't have time for a deep cleaning to remove the mildew smell, making a straightforward air freshener to mask the odor or if you need to mix your own room odor absorber is the next best idea.
However, commercial air fresheners are loaded with toxic substances and use propellants that harm the environment. Craft your own cost-effective DIY air freshener using essential oils and mask the mildew smell.
Shake the water and oils in the sprayer and spritz them into the air or onto your carpet and sofa to disguise the old house smell. Since so many essential oils are available, customize the scent for your room. Choose a popular option, such as citrus or lavender, or craft something unique by blending fragrances.
Fresh Air Erases an Old House Smell
Sometimes, for a lighter smell like an old house smell or a faint musty aroma, something as uncomplicated as increasing the ventilation is enough to resolve it. Houses are self-contained, especially over the winter when we keep the windows closed and the air inside becomes stuffy and stagnant.
If you observe a musty smell, one of the first steps is to open some windows and let some fresh air circulate. This is sometimes enough to freshen indoor spaces and eradicate unwanted smells.
Use Activated Charcoal for Lingering Odors
Activated charcoal is ideal for absorbing moisture and eliminating odors from the air, much like a charcoal water filter. You might know that activated charcoal destroys refrigerator odors, but it also functions in other spaces.
If you live in an older building or experience musty odors due to water damage, an odor eater like activated charcoal might be especially helpful in erasing the bad odor.
Spread a few tablespoons on a small plate to distribute it. Other options include making bags from old socks or sewing them together to conceal charcoal. Change your activated charcoal powder every month or sooner if you notice it losing its absorbency.
Steam Clean to Eliminate a Musty Smell
Whatever the cause, a bad smell seeps into your upholstery, carpets, and fabric items, where it becomes trapped and long-lasting. Steam cleaning is a powerful tool for getting a musty stench out. Deep clean moldy carpet by steaming or tackle heavy drapes that can't go in the washer.
A steam cleaner uses hot steam to penetrate deep into the material of your carpets, sofa, cushions, and more, to remove odor-causing particles like mold, dirt, and bacteria. If you don't have a steam cleaner, consider renting one or hiring a local service to steam clean to eradicate the musty smell.
Use an Air Purifier for Odor Removal
Despite your best efforts, scents brought on by germs and moisture sitting in one place may persist. However, air purifiers are helpful for these kinds of smells and improve indoor air quality.
Consider getting an air purifier if you frequently deal with musty smells in your house. It is pretty challenging to remove the mould spores and bacteria causing an odor from the air, but air filters make it easy.
HEPA filters and activated carbon are used in air purifiers to clean the air. Almost 100% of the fine particulate, at least.03 microns in size, are eliminated by HEPA filters; a HEPA filter captures the odor-creating microorganisms.
An activated carbon filter is crucial to eliminate musty odors. The volatile organic compounds causing odor are captured by the enormous surface area of activated carbon.
Mold Inspection for Your Musty Odor
If you've been a victim of water damage or struggled with excess moisture for an extended period, you've likely experienced mold growth. Microbial volatile organic compounds like mold are unsafe and if left unchecked, may cause serious health issues for you and your family.
If you suspect mold is causing a musty smell in your house, it's wise to get a professional mold inspection. Many companies offer a free inspection service and can give you peace about your dwelling's mold status.
Rule Out Your HVAC System as a Cause of the Damp Smell
The source of the unpleasant odor might be surprising. Your air conditioning system, water heater, and air ducts may all play a role in leaking the smell of mildew into the air. A frozen evaporator coil in your AC system, a clogged line, or a blocked duct, could all be the culprits. If you're struggling to resolve the smell, get an HVAC inspection.
Figuring out how to remove a mildew smell from your house lets you take back your home and get rid of the smell for good. Must, mold, and mildew are all off putting, and being greeted by their stench when you arrive home is miserable.
Ascertaining the cause of the smell is crucial to getting rid of it, yet knowing how to clean and cover it up is just as important. Eliminate the musty smell from your home with straightforward techniques to enjoy a more relaxing space.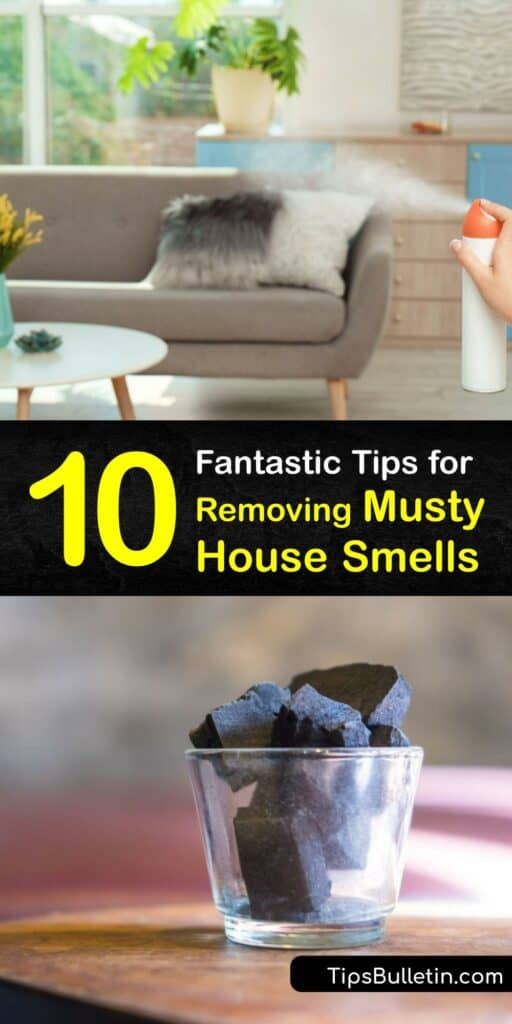 If you loved this article on why your house smells musty, please share these clever tricks for how to get the musty smell out of a house with your friends and family who own homes on Pinterest and Facebook.