You either fry them, boil them, or bake them and slather them in butter and sour cream. Potatoes are one of the most adaptable and productive plants for home gardeners. Knowing how deep to plant potatoes is one of the most crucial aspects of growing these root vegetables.
Fingerling, russet, and sweet potatoes are some of the most popular. Still, Kennebec, Yukon gold, new potatoes, and other less common types all have similar growing requirements.
How deep do you plant potatoes? The potato planting depth is only one factor to consider when growing potatoes. When given the proper light, heat, soil, water, and planting depth for potatoes, these veggies thrive and give most people a flourishing harvest.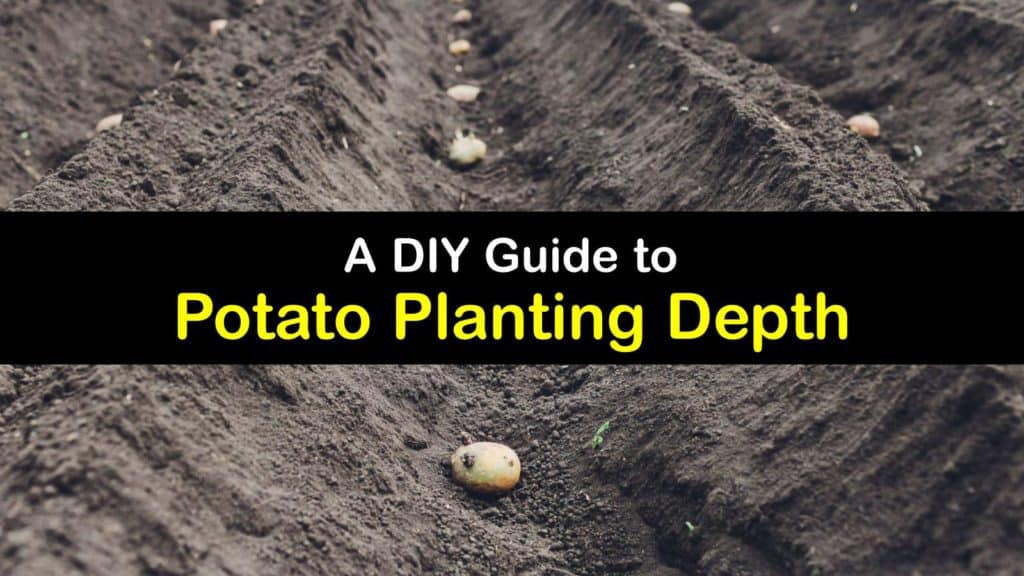 About Seed Potatoes
For every pound of seed potatoes, it is safe to expect anywhere from three to five pounds of new spuds in return. How deep do you plant potato seeds to acquire a successful harvest? Keep reading to find out
Potatoes do not use actual seeds like flowers and fruits to grow. Instead, they grow from tubers of an existing potato's root structure.
Garden centers often sell these at the beginning of the growing season, but other people use their own from the previous year's harvest or with potatoes from the grocery store. Planting old potatoes is easy and economical.
However, planting potatoes from garden centers is one way to ensure that the potato varieties start as disease-free and give you fewer problems throughout the year. The best time to plant potatoes is from March to April in most growing zones.
There are dozens of heirloom potato varieties, and gardeners love to plant potatoes because of their health benefits and versatility in the kitchen.
One cup of boiled potatoes contains only 87 calories and 77 percent water. They have two grams of protein and fiber, 20 grams of healthy carbs, and under a gram of sugar and fat. Potatoes also have loads of minerals like potassium, folate, and vitamins B and C.
When cautious about how you prepare them, potatoes are known to improve heart health and help control fullness and weight management.
Everyone who loves potatoes is curious about how to grow them. This curiosity leads us to the question: how deep do you plant potatoes?
How Deep Do You Plant Potatoes?
Knowing how deep to plant seed potatoes in the ground, just like how deep to plant celery, the planting depths of asparagus, as well as other veggies, makes a significant difference in the overall health of your crops.
As with all other plants, potatoes have specific needs that must be met, and burying them too low or high in the ground may affect how successful they are.
Preparing Potatoes for Planting
About two weeks before you expect to put your potatoes in the ground, place your seed potatoes in a spot where they are exposed to light and temperatures between 60°F and 70°F to start the sprouting process.
Two days before planting, slice large potatoes into a two-inch square that contains one to two buds. Small potatoes are okay to plant whole if they are about the same size or smaller than a golf ball.
Advice before Learning How Deep to Plant Potatoes
Potatoes are a cool-weather crop and tolerate frost and cold more easily than other plants, but they don't like to freeze. Plant potatoes in the early spring once the ground is easy to work with.
They probably won't be affected too much by the last frost as long as the soil temperature remains above 45 degrees Fahrenheit. Give them some frost protection despite them tolerating light frost.
Prepping the garden bed is equally important as the potato planting depth. Potatoes do best in rows. Depending on the number of plants, make sure there is enough spacing for at least 12 to 15 inches between each plant.
Dig the trenches so that they are six to eight inches deep. Adding organic matter and compost to your garden, raised bed, or grow bags adds lots of nutrients and drainage, so they are more likely to survive.
In the rest of your garden, practice zucchini companion planting but do not grow zucchini near your potatoes. These two plants compete for soil nutrients and you won't get a good crop of either one.
Potato Planting Depth and Instructions
How deep do you plant potatoes? These veggies tend to thrive when planted in seven to eight inches of soil. This is why garden bed preparation is so crucial.
Shallower planting is a great way to get a head start on the growing season, but they require extra maintenance. Seven to eight inches of soil is the perfect happy-medium for these plants.
Plant the potatoes cut side down in the trench and cover them with soil. Water the plants so the ground is damp but not soaking wet. Potatoes arise from the channel in about two to four weeks.
When the seedlings grow six inches tall, start hilling some loose soil around the base of the plants. Hilled soil helps protect them from exposure to the sun. Adding mulch to the ground also shields them.
Caring for Potato Plants
One of the important ways to grow potatoes is to be sure to keep your potatoes well-watered throughout the summer. This is necessary especially during the flowering stage and immediately after. The plants create their tubers during this time, and a steady supply of water improves your odds of a good yield of crops.
Give them one to two inches of water every week. When the foliage turns yellow or dies, stop the watering so that the potatoes have time to cure before harvest.
Keep in mind that potatoes enjoy full sun and well-draining soil. Check to make sure the pH level remains between 5.0 and 7.0 throughout the season. Rotate the potatoes to a new spot every year for three to four years to avoid diseases.
Two common pests and potato plant diseases to look out for are Colorado potato beetles and potato scab. Potato beetles have a yellow-orange body and feed primarily on potatoes.
They are easy to pick off with your hand or spray away their eggs with a strong stream of water. Potato scab is a tuber disease and leaves lesions on your crops. Use disease-resistant varieties and practice crop rotation to avoid it.
Harvesting and Preparing Potatoes
When do you harvest potatoes so they are just right for eating? It is safe to harvest your crop about two to three weeks after they finish flowering. Dig around the plants to remove the potatoes and wash them right before you're ready to eat them.
If you haven't tried homemade French fries made with fresh potatoes, now is the time.
Wash and cut your potatoes into matchsticks or your desired shape. Put the cut potatoes in a bowl of cold water and let them soak for 30 minutes before laying them on paper towels to dry. Pour three inches of oil into a deep pot and heat it to 300°F.
Working in batches, put some of the potatoes in the hot oil and cook them until golden brown and tender. Set the cooked fries onto a stack of paper towels to drain before sprinkling them with salt, pepper, and parsley.
There is so much we can do with potatoes in the kitchen, so it only makes sense to try and grow our own. Growing potatoes at home is something that any gardener skill level can handle and is one of the most rewarding vegetables in harvest size and flavor.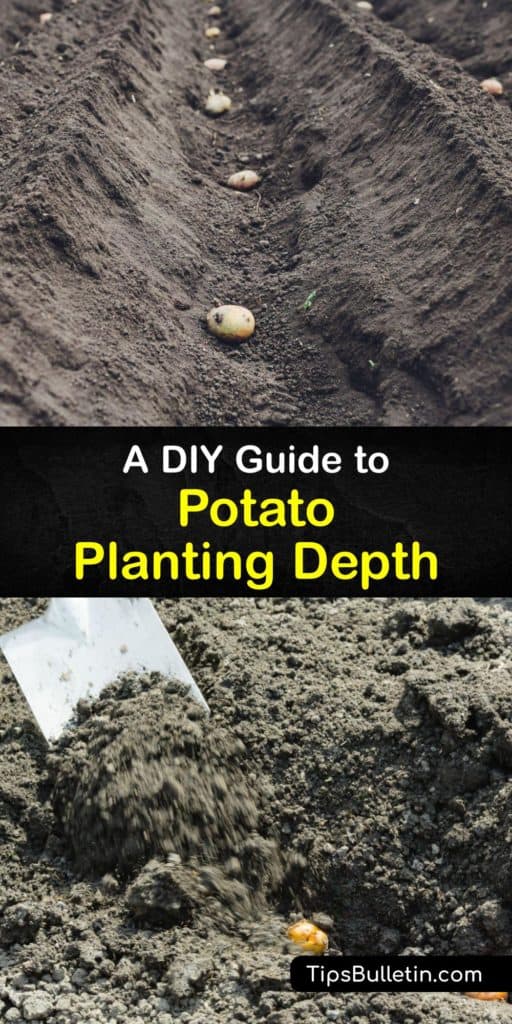 If learning how deep to plant potatoes has made a significant difference in your yield, share this advice on potato planting depth on Facebook and Pinterest.