Dust mites are a top trigger for allergy and asthma problems. Even though dust mites look like tiny bugs, don't expect bites on your skin, but they cause other problems. If you notice health issues creeping up, you might wonder how do you know if you have dust mites.
Dust mites typically cause continuous allergy symptoms throughout the year. This is especially true if you have carpeting or forget to change your air filters regularly. A dust mite allergy is one of the most common causes of allergic rhinitis, so it's easy to confuse a dust mite vs bed bug, but they aren't the same thing. Bed bugs are different bug species that leave visible bites on your skin but not other health problems.
Instead, house dust mites leave behind feces and mess with your immune system. If your allergist mentions that you could have dust mites, here are the signs you could have these pests.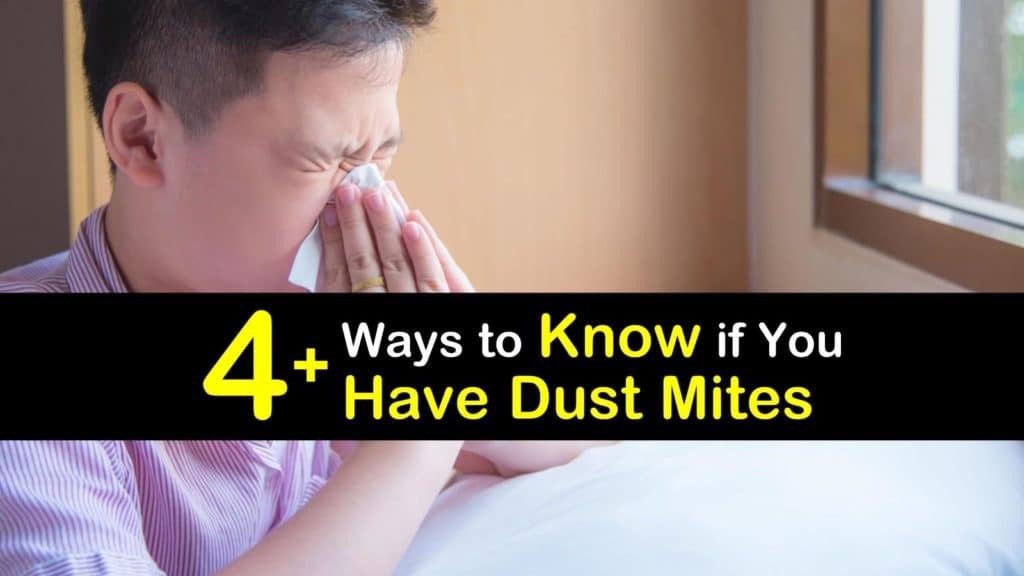 How to Tell if You Have Dust Mites in Your House
Unlike other bugs and the way to detect bed bugs, dust mites don't bite your skin, so if you're wondering how do I know if I have dust mites, looking for bites is useless.
Most people suffer from allergy symptoms or signs similar to allergic reactions. Let's look at all the ways to figure out how do you know if you have dust mites. There are different ways to kill wood mites, dust mites, and bed bugs, so it's important to know what you have first to treat them properly.
How Do You Know if You Have Dust Mites? Allergy Symptoms
Some of the first symptoms of dust mite allergy are reactions to the mites' skin and fecal matter they leave behind. It's not uncommon to experience these symptoms, especially during hot, humid summers. Grain mites, on the other hand, are easy to spot in your pantry.
Watch for Skin Rashes
Instead of bites, dust mites cause rashes on your skin. The rashes might be itchy, red, and swollen bumps. It's easy to confuse these rashes with eczema; they look similar.
Look for Respiratory Problems
The longer you stay indoors, the more likely the symptoms will worsen. Long term exposure to dust mites can lead to respiratory problems; you might think you're sick. Signs worsen at night when you go to bed.
Asthma Issues Sometimes Develop
According to the American College of Allergy and Asthma, dust mite allergens can trigger asthma, depending on the severity of the symptoms. At this point, you will have the same allergy symptoms, along with others. Getting rid of dust is important to eliminate the mites.
Questions about Dust Mites
Never heard of dust mites? Many homeowners have no idea these little pests live everywhere in their homes.
You might not know how small are dust mites or can you see dust mites, and that leaves you wondering how do you know if you have dust mites?
What are Dust Mites?
Dust mites are microscopic arthropods that are impossible to see. Male dust mites live for about one month, but females live up to 90 days.
Unlike white mold mites, dust mites thrive in homes because they feed off of dead skin cells. Each person sheds nearly 1.5 grams of dead skin cells, feeding up to one million dust mites.
Figuring out how do you know if you have dust mites is hard because they live in so many areas of your home. Most dust mites gather in places where dead skin cells accumulate, such as furniture, carpeting, bedding, and rugs.
Can You See Dust Mites?
If you are wondering can you see dust mites, know that microscopes are the only way to see dust mites. How do dust mites look when observed under a microscope? They look like small, white spiders. To the naked eye, they're invisible.
How Small are Dust Mites?
So, how big is a dust mite? Surprisingly, they're only ¼ to ⅓ millimeters long. Even under a microscope, dust mites are small. Most people don't realize just how small are dust mites; it's crazy that our homes are full of house mites.
How do Doctors Treat a Dust Mite Allergy?
The first recommendation is to avoid dust mites, but it's impossible to eliminate them. Does diatomaceous earth kill dust mites? Yes. Sprinkle some DE on your mattress and other areas, let it sit for an hour or so, and then vacuum up the powder as well as the dead dust mites.
Changing your air filters regularly and switching to a HEPA filter that kills dust mites is better than standard filters.
To prevent dust at home and the mites that come with it, doctors recommend that you cover mattresses and pillows, wash sheets and blankets weekly in hot water, and avoid carpeting. Keep the humidity in your home below 50% by using a dehumidifier and air conditioner.
Use a vacuum cleaner with a washable air filter to reduce the spread of dead human skin cells. You can also treat areas with essential oils that kill dust mites, like tea tree and neem oil.
After reducing the dust mite allergens in your home and performing a blood test or a skin test to determine if you are allergic, your doctor will give you a few ideas for how to handle these pests. An allergist might test for antibodies to figure out the right course of action.
When you learn how small are dust mites and try to figure out how do you know if you have dust mites, you might be shocked at all of the symptoms caused by these pests. Every home has house mites, but specific actions decrease the severity of the infestation.
Now that you understand the signs, it's easier to reduce the dust mite population and treat the allergy symptoms causing you to feel sick.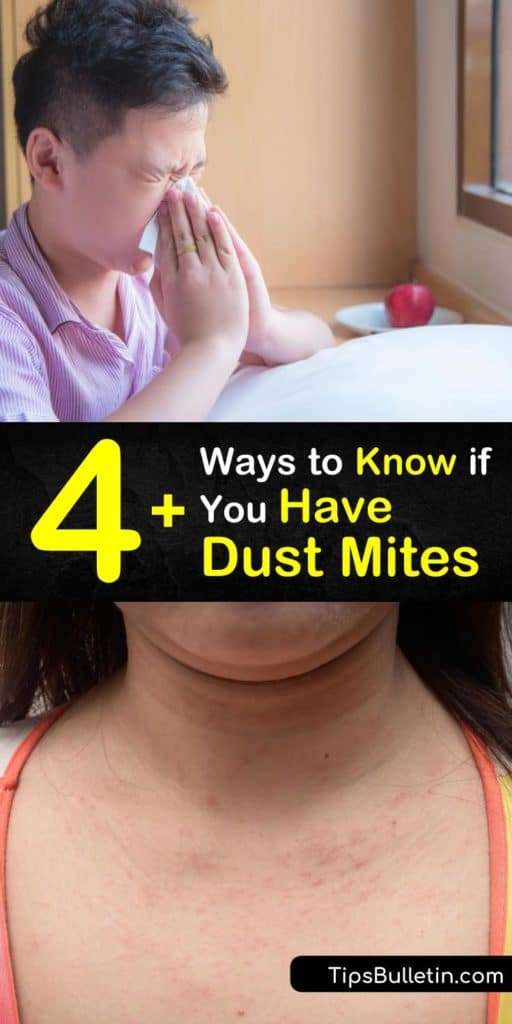 If you are wondering how do you know if you have dust mites, share this article about the signs of house dust mites with your friends on Pinterest or Facebook.