Diffusers are the rage these days, and there are so many types and styles. Browsing through the aromatherapy aisle is often an overwhelming experience with the wide range of ceramic, reed, candle, and electronic models. So, which one is best, how does a diffuser work, and what is it useful for?
Diffusers are essentially a device that spreads a fine mist of water and essential oils throughout a large area through diffusion or evaporation, depending on the model. There are many different types of diffusers, and they all utilize the benefits of essential oils to promote good health and well-being.
While a visit to an aromatherapist gets you on the right track to better health, it's easy to accomplish many of the same results using a home ultrasonic diffuser or nebulizer. But, it's important to understand precisely how they work and which pure essential oils are right for you and your home.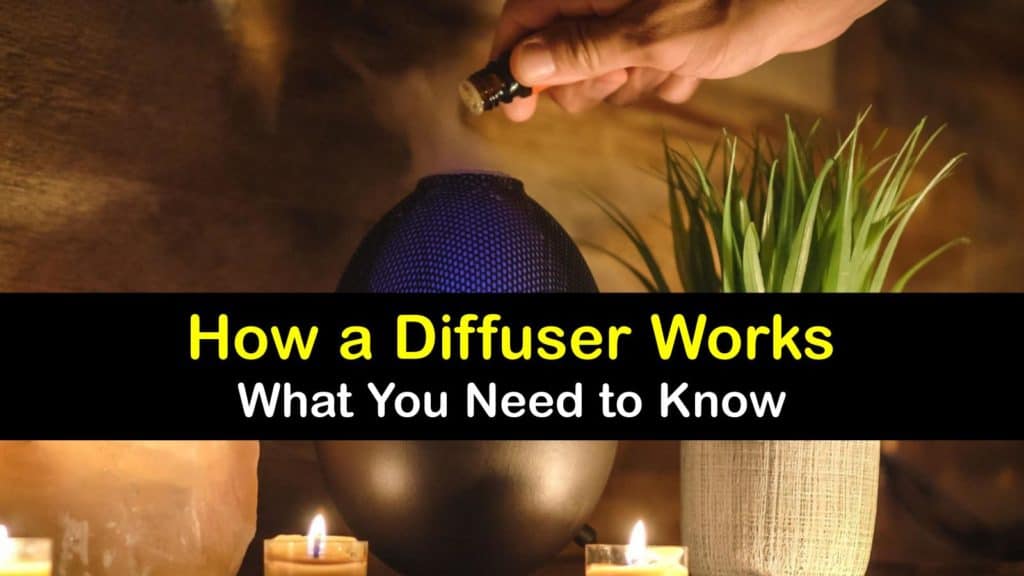 Diffusers, Essential Oils, and Aromatherapy
Using an aromatherapy diffuser is a natural way to enhance your mood and promote a sense of wellness. Unlike a humidifier, these units fill the air around you with a natural fragrance while diffusing. But, how do diffusers work to alter or enhance your mood?
Diffusers use the power of plants in essential oil form to promote natural healthiness from the outside-in. How does an oil diffuser work?
There are several different essential oil diffuser types, and they have various means of releasing oil particles into the air. We explain the varying styles, how they work, and ways to use essential oils in your life.
How Do Diffusers Work?
We all know that diffusers fill the air with aromatic scents, but how do diffusers work? The answer depends on the type of diffuser you have.
Are There Different Types?
There are a variety of these devices, from a reed diffuser that disperses scents naturally to candle diffusers, and we'll explain the differences between them and how they operate.
Heat diffusers, such as a candle diffuser or electric diffuser, use low to high temperatures to help essential oils gradually evaporate into the air. These types are not as efficient as others since the process changes the property of the oil.
On the other hand, evaporative diffusers use air to push an oil's scent into the room. Add some essential oil to a filter or pad, place it into the unit, and a fan blows air across the surface, evaporating it into the room.
Unfortunately, this type is not useful for maintaining the oil's therapeutic benefits since not all of the compounds are diffused simultaneously.
Ultrasonic diffusers work by using water and electronic frequencies to form a mist from the essential oils. A small disk under the water's surface creates ultrasonic vibrations, causing the oil to break up into microparticles before entering the air.
Nebulizing diffusers are one of the best essential oil diffusers for receiving the most benefit from your oils. However, they are also the most expensive. These units do not require water or heat to operate and disperse the oil in its entirety into the air.
How does an Oil Diffuser Work for Aromatherapy?
An essential oil diffuser is a fantastic tool for aromatherapy, and they work ideally with a high-quality essential oil blend.
The oils carry the scent of relaxation or energy and interact with your body in many ways, depending on which oil you use. So, how does an oil diffuser work for better health?
Essential oil diffusers work by emitting the chemicals of plants into the air. Breathing these oils stimulate certain areas of your limbic system.
This part of the brain plays a vital part in your emotions and behaviors, and essential oil can give you a sense of calmness, energy, and focus, depending on the oil type.
While there is a wide range of essential oils, there are some that are more popular. To reduce anxiety, calm the nerves, and improve sleep, use chamomile oil, ylang-ylang oil, or lavender oil.
To increase focus, positivity, energy, and creativity, try using grapefruit oil, cedarwood oil, or rosemary oils. The best essential oil for relieving stress, tension, and depression while promoting a happy outlook is lemon verbena oil.
How Does a Diffuser Work for Health and Wellness?
Essential oils provide a vast array of health benefits beyond pleasing the senses and calming the mind.
The oil is derived from plants with therapeutic properties and uses the purest form of nature to help the body recover from many issues and maintain optimal health.
Some oils, such as bergamot, are combined with a carrier oil for topical application, while others are useful for diffusing into the air and breathing into your lungs.
Since essential oils stimulate the limbic system, which controls unconscious physiological functions, they impact everything from your blood pressure and breathing to heart rate.
Studies have shown that inhaling different essential oils has an impact on your overall health.
While more research is required, some claim that they help you recover faster from illness, reduce swelling and pain, improve digestion, treat migraines and headaches, and soothe sore joints.
While the list is long, there are a few oils that are our favorites. Frankincense oil boosts the immune system, reduces inflammation, and helps with asthma.
If you suffer from indigestion, try using cedarwood oil and if you are congested, consider eucalyptus oil. Finally, lemon verbena oil helps alleviate respiratory problems while peppermint oil reduces nasal inflammation, and tea tree oil purifies the air.
How to Clean a Diffuser
Knowing how your diffuser operates and discovering which essential oil is your favorite is one thing, but it's essential to maintain and clean the device, especially if you use your diffuser regularly.
Cleaning the diffuser helps it operate smoothly, ensuring that you get the most enjoyable experience possible.
A heat diffuser is one of the easiest to clean. Over time, the top section becomes sticky with leftover oil, and using a little bit of water and soap works great.
Rinse the area with hot water and rub a dab of dish soap into the stickiness using a sponge. Rinse away the residue and repeat until all the oil is gone.
For really stubborn stains, consider soaking it in rubbing alcohol overnight. Wipe it dry with paper towels before using it.
To clean a nebulizing diffuser, pour a half-ounce of rubbing alcohol into the tube and then remove it from the base. Place your finger over the opening and shake the solution around to coat the entire inside.
Replace the tube and run the unit for about four minutes to loosen the oils and evaporate the rubbing alcohol.
For an evaporative diffuser, remove the old filter or pad and throw it away. Pour a small bit of rubbing alcohol on a soft cloth and wipe down the frame that holds the filter in place and the vents that the oil molecules pass through.
If your unit has a shallow basin, remove it and wash it with hot, soapy water. Put the basin back in place and insert a fresh filter or pad.
Cleaning an ultrasonic diffuser takes a little more effort than cleaning some of the other types. Unplug it from the wall and take the decorative cover off.
Drain the liquid out of the basin and pour in equal parts vinegar and hot water. To clean an oil diffuser, swish the solution around and gently use a cleaning brush or an old toothbrush to scrub away the oily residue. Rinse the basin well under running water and dry it with a paper towel.
Follow the same procedure for cleaning a humidifier with vinegar, although you probably will need more water and vinegar since the appliance is generally larger than a diffuser.
If there are still stubborn bits of stickiness or scale remaining, fill it with straight vinegar to descale it and let it sit for ten minutes before rinsing.
Clean the outside of the diffuser with a cotton swab dabbed in white vinegar or rubbing alcohol, dry the entire unit thoroughly with a soft cloth, and then replace the decorative cover.
Diffusers and essential oils are an excellent tool for creating the perfect atmosphere in your home or work. While some types are better suited for getting the results you desire, they all help encourage a healthy state of mind and body.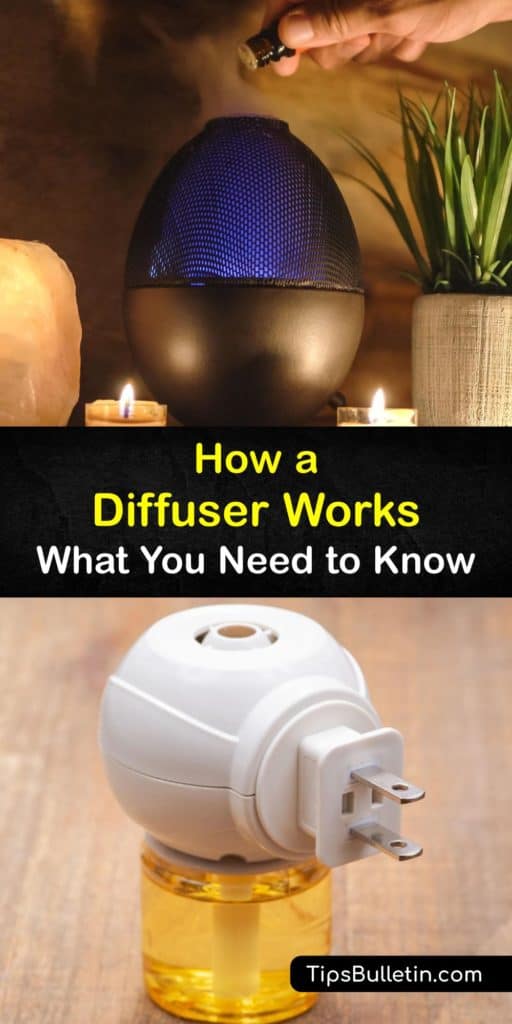 How does a diffuser work is a common question, and we'd love it if you'd share the answer and our aromatherapy diffuser guide with your family and friends on Facebook and Pinterest to help them enjoy a healthy lifestyle.