Don't be one of the gardeners that pass on growing potatoes because it seems challenging. The biggest fear that many gardeners face is that they are tubers instead of root crops, so they don't grow in quite the same way as some of the other plants in our home garden. One of the most critical things to know about growing your own potatoes is how far apart to plant potatoes.
Potato plant spacing is crucial for the success of your crops, and the spacing changes depending on the size. Smaller potatoes obviously don't need as much room as larger potatoes.
How far apart do you plant potatoes? Seed potato spacing varies based on a few other factors aside from their mature size. This article gives you plenty of tips on an accurate potato planting distance for different seed potatoes and their growing locations.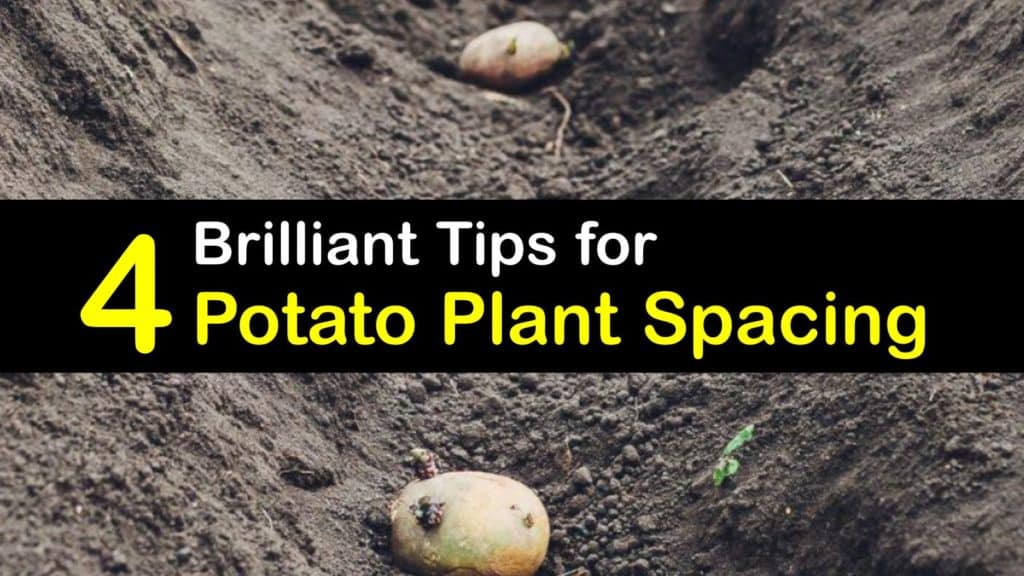 The Basics of Growing Potatoes
The best way to grow potatoes is to know how they grow first. Understanding how far apart to plant potatoes will help you tremendously during the growing season. Your potato crop grows underground. Instead of having roots, they have tubers that are thick, underground stems.
Tubers start to grow up and out of the ground instead of expanding further into the soil, which is why hilling with at least four inches of soil is crucial for their success.
Potato plant spacing wouldn't mean anything without the right seed pieces. Seed potatoes are from a previous crop that allowed them to cure underground rather them harvesting before they cure. Gardeners almost always plant seed potatoes in their beds.
While regrowing potatoes is possible from the sprouting spuds you find at the grocery store, most are sprayed with a growth inhibitor that might not make them successful.
Instead, buy seed pieces at your local nursery from dozens of cultivars. Try choosing one that is more disease-free to make the process easier. Some popular choices include Russet, Kennebec, Red Norland, Fingerling, Yukon Gold, and New Potatoes.
How Far Apart to Plant Potatoes
Planting potatoes doesn't require too much room. However, it still helps to have a good amount of space per plant, just like with sweet potato plant spacing.
Seed Potato Spacing in Traditional Beds
Spacing for planting potatoes usually takes place in an outdoor bed in the ground. If you have tons of room to grow them, you might as well utilize as much of your garden space as possible for all types of potatoes.
The bed itself must have a depth of at least ten inches of soil but more depth is preferred. Start to prepare the beds by laying a couple of inches of soil at the bottom.
Keep the seed potato spacing at about one piece for every square foot of earth or around ten to 12 inches apart. If using larger potatoes, spacing for potatoes should be about three feet apart.
Always place the seed potatoes with the cut side down and do not expose them to sunlight. Form a hilled mound on top of each seed to keep them from greening.
The best time to prepare beds is in the early spring. You may plant potatoes once the risk of frost is gone. A small, four-by-four foot garden bed can hold up to 16 potato plants, especially if they're only the size of a golf ball.
To take advantage of mutually beneficial growing properties, add some companion plants for potatoes like lettuce and cucumbers.
Potato Plant Spacing for Grow Bags
If there isn't enough space outside in your veggie garden, grow bags are a perfect way to save on space. When growing potatoes in a bucket, use a five-gallon bucket for every potato plant if you don't own grow bags.
Potato Spacing for Raised Beds
Growing potatoes in raised beds has similar rules to growing them in the ground. Think about the size of your potatoes and give them more or less space depending on the mature size.
Benefits of Giving Potatoes Plenty of Space
Garden spacing doesn't only make your beds look good but it also helps the entire area flourish and become healthier.
With too many plants in one area, there is a lack of air circulation and you may discover yellow leaves on potato plants. Also, when sites become too moist, they welcome pests and diseases such as Colorado potato beetles and scab.
Keep the area weed-free and in a place where there is full sun. Only water potatoes with one to two inches of water per week.
Spread mulch around the mounds to keep the soil temperature regulated. If you are still having problems, create a homemade fungicide to spray on the plants.
There are only two ingredients necessary for killing off fungi that damage our plants. Mix the baking soda with the water in a garden or lawn sprayer. Spray your plants a couple of times per week until the problem subsides.
Potatoes are one of the most versatile veggies out there. If you're going to put in the time to raise them, make sure you've got the basics of seed potato spacing down pat.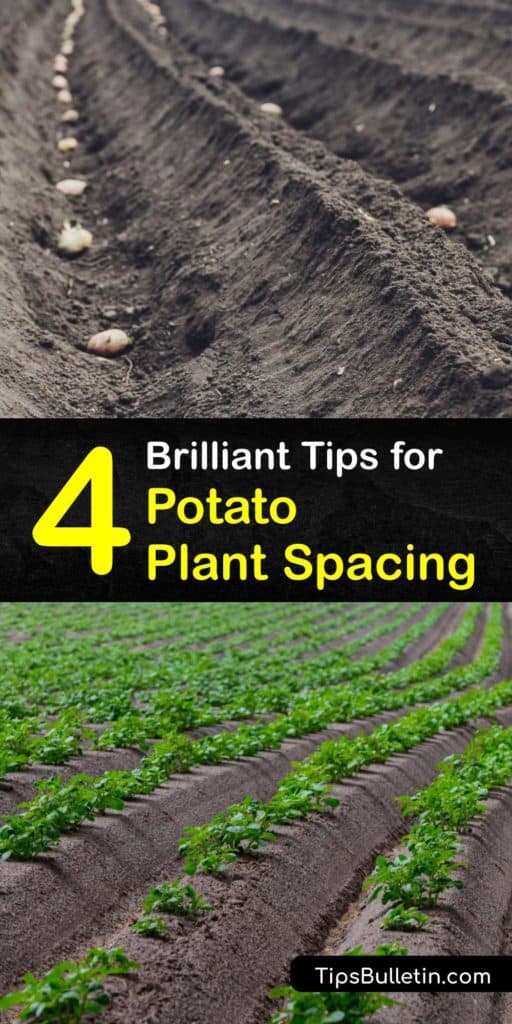 If learning how far apart to plant potatoes has encouraged you to try new varieties, share these potato plant spacing tips on Facebook and Pinterest.