Apples are a favorite fruit around the holidays, especially for their versatility to slip into almost any dish. From scrumptious apple pies for desserts to spiced apple ciders of both the spiked and non-alcoholic variety, there are a great many ways to put these doctor-recommended treats to use. But how long are apples good for, and is there a time limit on when to use those scraps that didn't make the cut?
Most of us buy our apples in bags, especially when we plan on using them to feed multiple people. While this may be the most economical way to purchase apples, it leaves us with a few too many leftovers that we don't wish to part with easily.
If you don't plan on using these apples right away, then below are a few ideas for how to keep your apples fresh until you are ready. Knowing just when do apples go bad lets you choose the perfect strategy in between preparing meals.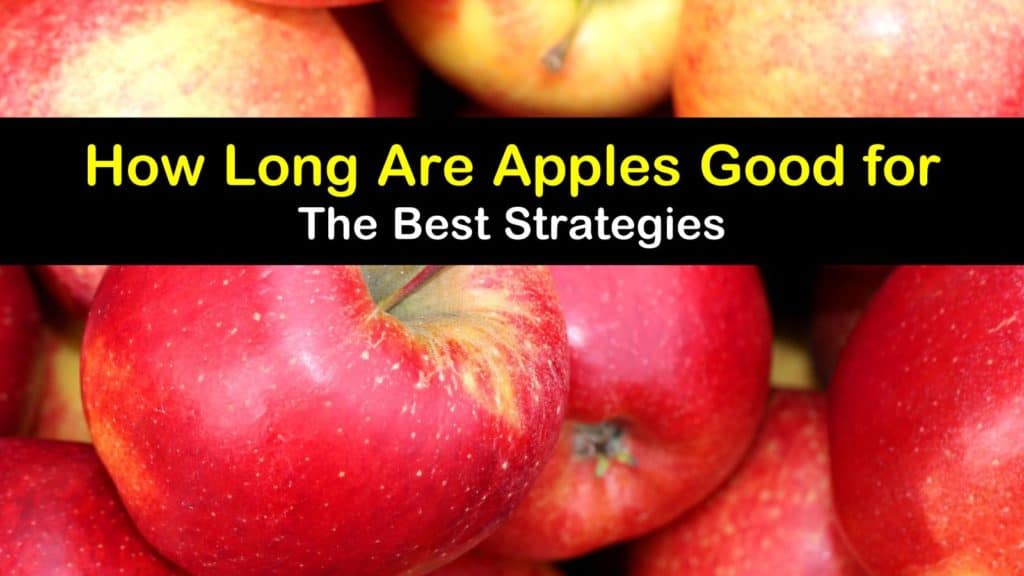 Easy Tips for How to Tell when Apples are Gone Bad
Starting with crisp, fresh apples to preserve is key to their use on a future date. So, how do you know which apples are fresh and ready to store versus those to toss?
Check your apples carefully before pressure canning apples or putting them in the fridge or freezer and you'll end up with the best apples for eating or a treasured family recipe.
What are Signs to Look for that Your Apples have Gone Bad?
One of the drawbacks of buying apples is that they don't come with expiration dates once you pick them up from the grocery store.
It's up to you to look for the warning signs that you've got a bad apple. Common identifiers are holes or visible perforations, bruising, and feel.
If you clench the apple in your hand and feel soft spots on the outside, notice any wrinkling of the skin, or liquid escaping from the sides, then it's time to throw it out.
Getting rid of bad apples before storing not only removes unusable items, but it also saves the remaining bunch.
Decaying apples release ethylene gas used in the ripening process. This gas seeps into the other apples, causing them to deteriorate even quicker unless removed ahead of time.
Easiest and Most Effective Ways to Know when Apples go Bad
One of the best things about apples is that numerous recipes are available to help us use up those last few bits on the spot. Instead of freezing or refrigerating your leftovers, another option is to make something new, from potpourri to cider.
How Long are Apples Good for at Room Temperature?
Whether you plan on storing gala, golden delicious, or granny smith apples, most survive for a few days on their own on the kitchen counter.
If you intend to eat your whole apples within the first week of purchasing them, keeping them on the counter works fine. If you are unsure when you plan on using the fruit, then seek a cold storage option instead.
The same goes for applesauce. If unopened, it lasts for approximately 2-4 months packed away. If opened, store it in the fridge for up to two weeks before tossing it.
Just like other fruits and veggies, exposure to light is a critical factor in speeding up the decaying process for apples.
Keeping them away from windows or warm parts of the kitchen is ideal for prolonging their shelf life. They also do well in cool, dark pantries for up to three weeks.
Do Apples go Bad in the Fridge?
If apples can last for a while at room temperature, how long do apples last in the fridge? There are a few different ways to store apples using cold storage since they love the chilly temperatures between 30-35℉.
The first technique is to place them in the crisper drawer, unwashed, whole, and fresh. If you own a temperature-controlled crisper, set it to the degrees mentioned above.
If you don't have a crisper drawer, or if it's already full, then place apples in an opened plastic container toward the back of your fridge. How long do apples last in the refrigerator? Top them with a moist paper towel and leave them uncovered for freshness that lasts up to three weeks at a time.
One way to increase the shelf life of apples in the refrigerator is to wrap them in a newspaper. It is essential not to use any part of the newspaper with color on it, as the dyes contain harmful chemicals and metals that may seep into the apples.
Cover the apples with the paper and seal them by twisting the material at the ends. Do not wrench them too harshly, as this may cause the paper to tear and lose its effectiveness.
Set them in a container without a lid and store them in a nice cool place to increase their shelf life to a couple of months.
When do Apples go Bad in the Freezer?
Another question that often comes about is, do apples go bad when cut into slices? Cut apples make them more difficult to salvage, though there is one way that is perfect for increasing their longevity.
Freezing apples allows them to remain usable for 6-12 months. Their texture does change significantly after freezing, though, so they are best for baking into pies or muffins or pureeing into smoothies and applesauce.
Before implementing the best way to freeze apples, keep them from going brown. After peeling, coring, and cutting up the apple slices, soak them in a bowl of lemon juice for approximately five minutes.
Drain the apples, then line them in rows on a baking sheet lying flat. Placing parchment paper beneath them is preferable to prevent them from sticking.
Leave them overnight in the freezer, then remove them the next morning and set them in a plastic bag for storage. Label with the date and replace them in the freezer.
Scrumptious Apple Pie Recipe for Mouthwatering Results
Just as every good apple needs the perfect storage solution, they also need a fantastic recipe to inspire you to use those last remaining fruits.
The best approach is by making a tasty apple pie, perfect for family desserts, holidays, or get-togethers.
Combine the flour, spices, and sugar in a bowl. In a separate vessel, add the apples and pour the lemon juice over them. Once the apples are adequately soaked, mix in the sugary mix from the first bowl.
Grab a pie plate and line it with the bottom crust of the pie, trimming the remnants that spill out over the edge before adding the apples. Pour the mixture of apples and sugar into the pie plate and smatter with a small teaspoon of butter.
Add the remaining crust to the top of the pie, covering the filling inside. Trim the edges, ensure they are effectively sealed and flute the border. Afterward, cut holes in the tops of the pie crust to allow the steam to pass through when baking.
To finish off the crust, beat an egg to create a frothy egg wash. Brush the foamy mixture over the crust, and sprinkle it with sugar.
Loosely cover the pie with a small patch of foil, and bake it at 375° for about 25 minutes. Once the crust is a glorious golden brown, remove it from the oven and let it cool for an additional 20 minutes.
Not only do you have a fantastic new recipe to work with, but you also have a ton of new ideas about how to store your apples before they sour.
Of course, there are a variety of ways to store your apples not mentioned here. Pickle apples or dry them in a dehydrator, too, for flavorful fruit that lasts for a long time.
Since knowing when do apples go bad is only half the battle, these storage tips put you well on your way to keeping them healthy and fresh until you are ready to use them.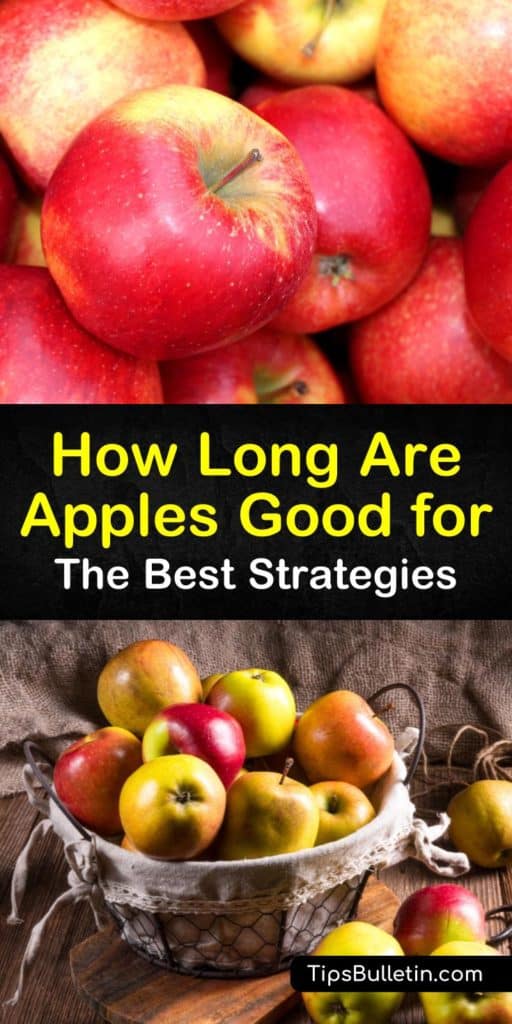 If you found these apple preservation tips helpful, please remember to share how long are apples good for with friends and family on Facebook and Pinterest.