Brussels sprouts are both delicious and good for your health, whether you purchase a bunch from your local farmers market or produce your own in a home garden. They are the perfect side dish to any entree, and tasty steamed, sauteed in olive oil or roasted in the oven. How long are Brussels sprouts good for, and what's the best way to store them?
The shelf life of Brussels sprouts depends on how you store these veggies and whether they are raw or cooked. They have a slightly bitter flavor if you eat them raw, but cooking them brings out their natural nutty and sweet taste.
There are also various health benefits to eating them. What's not to love about Brussels sprouts? These vegetables resemble a small cabbage, and they contain no cholesterol or fat. They are high in antioxidants, folate, vitamin K, fiber, and low in calories, and the perfect addition to any diet.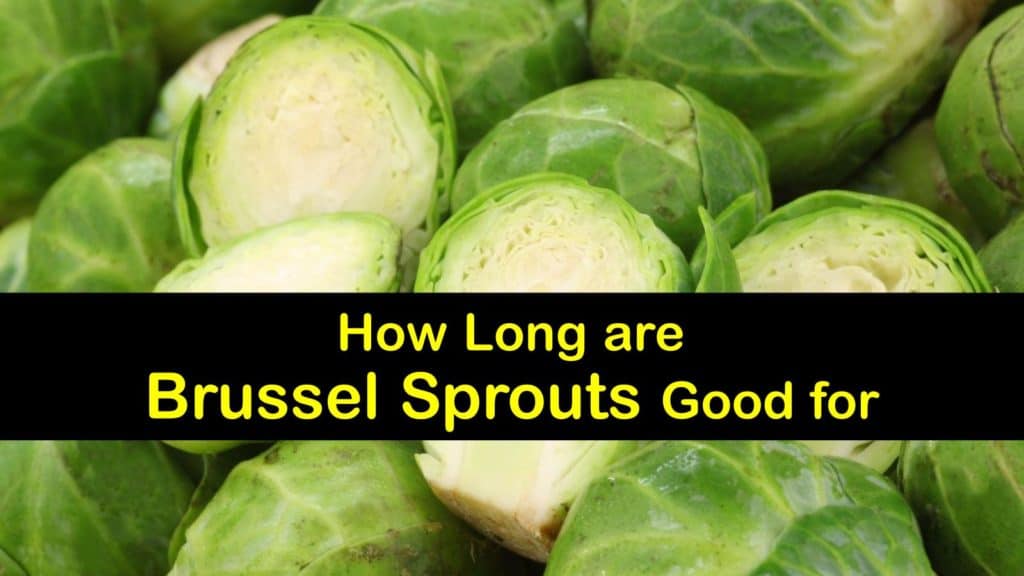 Shelf Life of Brussels Sprouts and Ways to Keep them Fresh
Brussels sprouts are a form of cabbage that originated in Brussels, Belgium. These cruciferous vegetables are now popular worldwide unless you're a picky kid. It's easy to grow Brussel sprouts from seed or buy them from the store at almost any time of year.
Since the Brussels sprouts growing season only lasts so long, you need to know when do Brusselss sprouts go bad, and how can you tell if they are spoiled?
Just like any other veggie, Brussels sprouts lose their texture and flavor the longer they sit. Fresh Brussels sprouts last longer than cooked ones, but storing fresh Brussel sprouts the right way extends the shelf life of these veggies.
Just like when cabbage smells bad, Brussels sprouts do the same when beyond salvaging. Do Brussels sprouts go bad in the refrigerator, and can you freeze them? Fortunately, these vegetables are easy to store in both the fridge and freezer.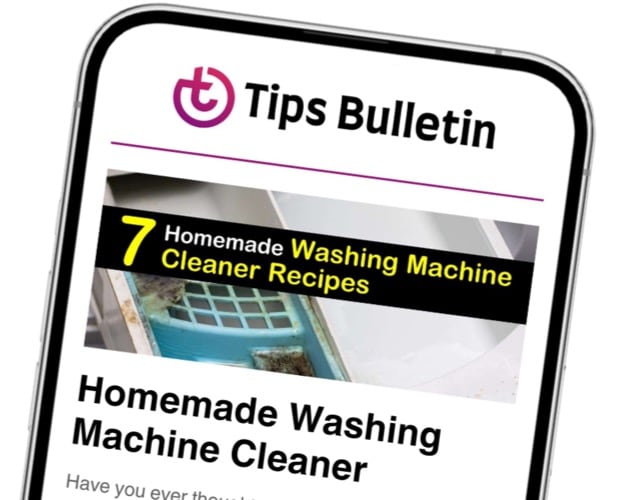 Finally, an email that Transforms Your Home.
Get the latest home and garden tips from our experts, delivered straight to your inbox.
Do Brussels Sprouts Go Bad on the Counter?
Finding Brussels sprouts on the stalk at the grocery store or farmers market is always a great discovery, and harvesting them from your garden in the fall or early spring is even better.
But, how do you pick fresh sprouts, and do Brussels sprouts go bad at room temperature?
Fresh Brussels Sprouts
When choosing Brussels sprouts at the grocery store, look for compact sprouts with a bright green color, and avoid them if they have yellowing outer leaves or black spots.
Old sprouts are just like old cabbage and have an unpleasant odor. Pick small and firm sprouts with unblemished leaves and choose them individually rather than in bulk packages.
Brussels sprouts require refrigeration food storage, and the leaves quickly turn yellow when sitting out on the counter too long. It's useful to remove the outer leaves, but do not trim or wash them before storage.
When do Brusselss Sprouts Go Bad in the Refrigerator?
Brussels sprouts have a limited shelf life, and it's essential to keep them in the refrigerator whether they are fresh or cooked. When do Brusselss sprouts go bad, and how can you tell when they are no longer edible?
To store the sprouts from the grocery store in the fridge, remove them from the original packaging, inspect each one for freshness, and toss out any with yellow, wilty leaves and blemishes.
To help them stay fresh, place them unwashed into a plastic bag with holes and keep them in the crisper of your fridge for five days or more.
To store Brussels sprouts on stalks, place the stalk in a tall glass or jar of cold water and set it on the refrigerator shelf. Break the sprouts off as needed and use them within a week or two.
When you're ready to eat the sprouts, remove them from the fridge, and take off any yellow or wilted leaves. Trim the ends and cut a shallow X on each sprout's bottom to allow heat to penetrate for faster cooking.
How Long are Brussels Sprouts Good for if You Freeze Them?
If you find a great deal at the grocery store or harvest a crop of Brussels sprouts from the garden, and cannot eat them all before they spoil, consider freezing them.
Here is the best way to freeze your Brussels sprouts for long-term storage and how to tell if Brusselss sprouts are bad.
To freeze fresh sprouts by blanching, wash them beneath running water, and then soak them in cold water and a tablespoon of salt per gallon to coax out hiding insects.
After they soak, boil a large pot of water and transfer the veggies to the boiling water to blanch them for three to five minutes, depending on size.
After boiling, plunge the blanched sprouts into a large bowl of ice water to stop the cooking process. After they cool, lay them on a baking sheet and flash freeze them for about an hour.
Place the frozen Brussels sprouts in a freezer bag, squeeze out all the air before sealing it, and freeze them for up to 12 months.
If you enjoy roasted Brussels sprouts, skip the blanching process and bake them instead. Toss the prepared sprouts in a couple of tablespoons of olive oil and spread them on a baking pan.
Roast them in an oven preheated to 400°F for 40 minutes and then let them cool off before transferring them to an airtight container and storing them in the freezer.
After freezing, if the Brussels sprouts have a brown color or get freezer burned, they are no longer edible and are ready for the trash.
To cook the frozen sprouts, heat them in the microwave or saute them in a skillet with butter or olive oil until they are tender. Toss them with some lemon juice and seasoning and enjoy.
Knowing how to store Brussels sprouts is just as important as knowing how to cook them properly for the best flavor. Fortunately, these veggies store well in both the fridge and freezer, giving you more time to enjoy their healthy deliciousness.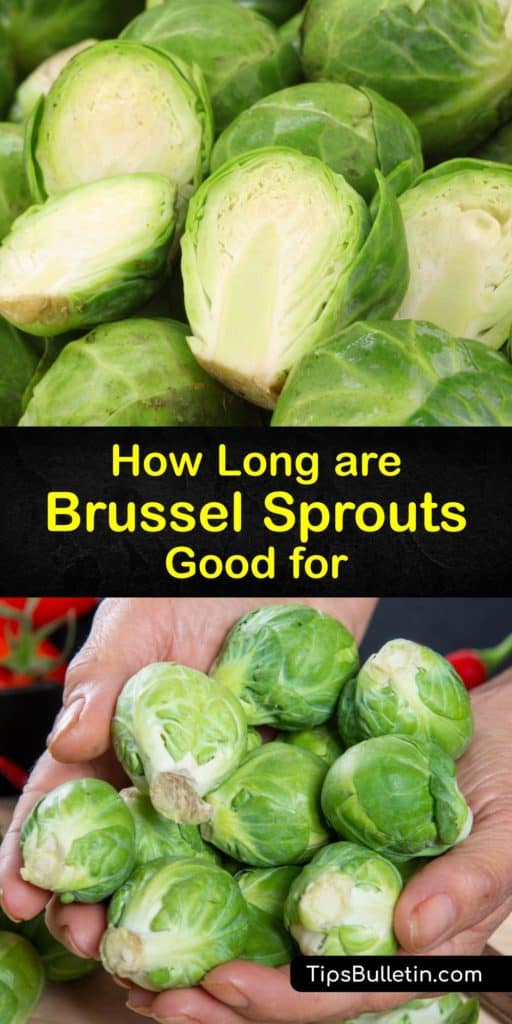 How long are Brussels sprouts good for is a common question, and knowing the answer helps you enjoy these veggies longer, so why not share our Brussels sprouts storage guide with your family and friends on Pinterest and Facebook?