Hard-boiled eggs are Easter staples and kid-friendly additions to our diets, and they have a million uses, but they can go bad in a hurry. Few things are less pleasant than biting into an overripe egg, and anything we can do to avoid the experience is time well spent. Knowing the correct answer to the question "How long are hard boiled eggs good for?" is a crucial first step and helps to keep your fridge uncluttered and full of wholesome food.
When we can respond with confidence to queries such as "When do fresh eggs go bad?" we can relax and worry less about risks to our family's health.
This guide shows you how to identify a rotten egg and gives you options you can use to prolong your eggs' lives.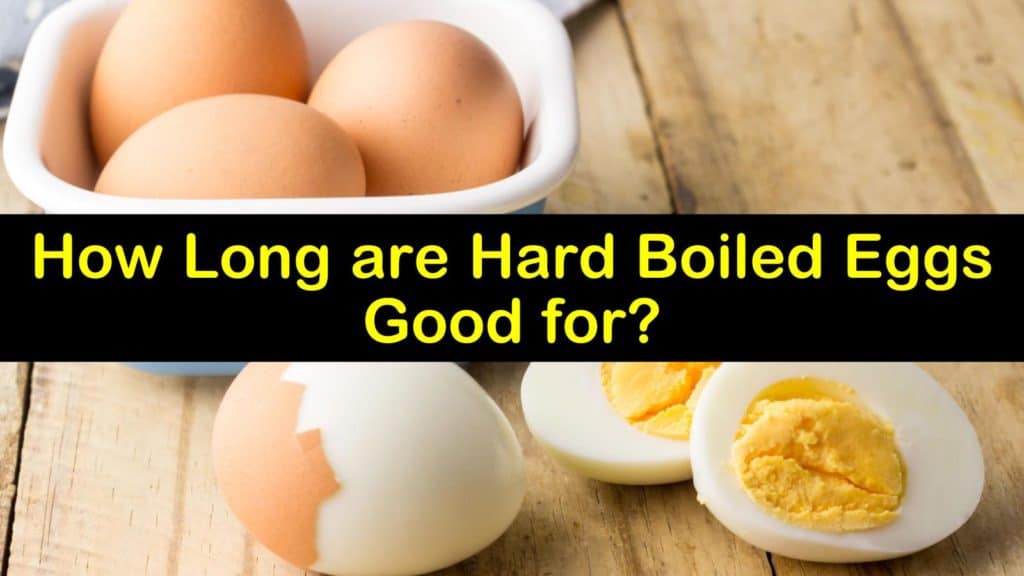 When Do Fresh Eggs Go Bad?
Fresh eggs have remarkably long lifespans when you keep them refrigerated. Unpeeled raw eggs can last five weeks or longer in the refrigerator.
Hard-boiled eggs have a much shorter lifespan than fresh eggs, though. That's why having a suitable method of detecting when a hard-boiled egg has gone over is crucial if you want to stay healthy.
How Long are Hard Boiled Eggs Good for?
It is important to know about the storage life of your eggs. This section shows you how to determine whether you're dealing with a healthy hard-boiled egg or one that has seen too many days. Do hard boiled eggs go bad? How long are cooked eggs good for?
You'll find out the answers and learn how to use your nose to find out if an egg is viable or not. And, we also debunk a few myths and explain to you why discoloration doesn't always equal spoilage. After checking out this section, you'll be a hard-boiled expert.
The Nose Knows Bad Eggs
Anyone who's eaten a few hard-boiled eggs can tell you about the primary scents and flavors associated with them. The longer a hard-boiled egg is around, the stronger it will smell.
Scents of sulfur and an overall rotten odor are the most reliable indicators you'll get of whether your hard-boiled egg is past its prime. The same applies to when does egg salad go bad? You can tell by the smell – and usually the texture, too.
So, how long do hard boiled eggs last in the fridge? It depends on several factors, but the Food and Drug Administration advises you to be cautious with hard-boiled eggs after they spend more than a week in the fridge. Eating a bad egg can cause digestive issues that are not pleasant.
You can tell when many foods go bad because they change color and turn green, but that's not always the situation when it comes to eggs. An adequately cooked hard-boiled egg has cream-colored egg whites and a rich, yellow color to the yolk, but overcooking an egg can turn the yolk grey or even green.
Don't be fooled by your eyes, though. A green yolk can still be healthy, but a smelly one should head to the compost.
When Do Eggs Expire?
You now know how long fresh and hard-boiled eggs last in the when you store eggs in the fridge, but what can you do to improve things? Hard-boiling an egg is ideal for all sorts of meals, including egg salad sandwiches or peeled and by themselves.
They're healthy and delicious. That's why it's a good idea to cook eggs properly and keep them around as long as possible. You'll have eggs whenever you need them.
Preparing and Preserving Hard-Boiled Eggs
This section shows you how to cook hard boiled eggs and how to preserve them for the long haul once you've made them. You'll get a recipe for perfect hard boiled eggs so that you won't have to deal with discolorations or rubbery yolks. We also share our amazing and flavorful pickled eggs recipe to help you give your eggs a long and happy existence.
The Perfect Hard Boiled Egg
The key to producing consistent and delicious results when you boil eggs is to maintain control over the time the eggs spend in the water. A well-cooked egg spends enough time in the heat to cook thoroughly without overdoing it.
Unfortunately, it's a little tougher than it sounds to accomplish this, and you might need some practice with our hard boiled egg recipe to get it right.
Cook eggs that are a week old or older; according to the USDA, as it's easier to peel hard boiled eggs when they're a little old when you boil them. Fresh eggs are very difficult to peel once boiled. Place eggs in a pot with about an inch of cold water over them. Make sure the eggs don't touch each other.
Add vinegar to the water if you're concerned about egg whites leaking if an egg shell cracks. Bring the water to a boil. Then, cover the pot, turn off the heat, and leave the eggs in the boiling water. Wait for about 12 minutes. Transfer your cooked eggs to an ice water bath to cool.
Pickling Hard Boiled Eggs
You've learned how to produce a tasty hard-boiled egg, and now you get to find out how to preserve it. There are several different ways to save your eggs to eat later. Can you freeze boiled eggs? Sure.
What about pickling them? Definitely. Pickling eggs is a fantastic way to prolong their lifespans while also adding a range of amazing flavors to your meal.
Pickled eggs might be the perfect food to accompany a late-night beer, and they're ideal for game day snacking. Our recipe helps you create a savory and tart meal that you'll love and makes eating eggs a flavorful adventure. The cooking time is short, and the eggs will be ready for you to enjoy in only three days.
Peel eggs, then place them in a pickling jar. Combine the hot water, salt, vinegar, peppercorns, pickling spice, and all but a few slices of the onion in a saucepan. Turn your burner to high heat, and let the brine come to a boil.
Pour it into the jar over the eggs, leaving ½ inch headspace. Use a blunt stirrer to press the eggs to gently remove air bubbles. Add the remaining onion slices to the brine, seal the jars, and cool to room temperature.
Put the jar in the refrigerator for three days before serving the eggs. These pickled eggs have a shelf life of four or five months. If you want to keep the eggs even longer, find the best way to can pickled eggs to keep for a year or more.
We hope you had a spectacular time investigating our hard-boiled egg guide. Hard-boiled eggs are gluten-free, delicious, and essential to meals ranging from deviled eggs to avocado toast, but they go bad quickly.
Our guide demonstrates how to identify spoiled eggs and gives you the tools to ensure that your eggs stay healthy and tasty.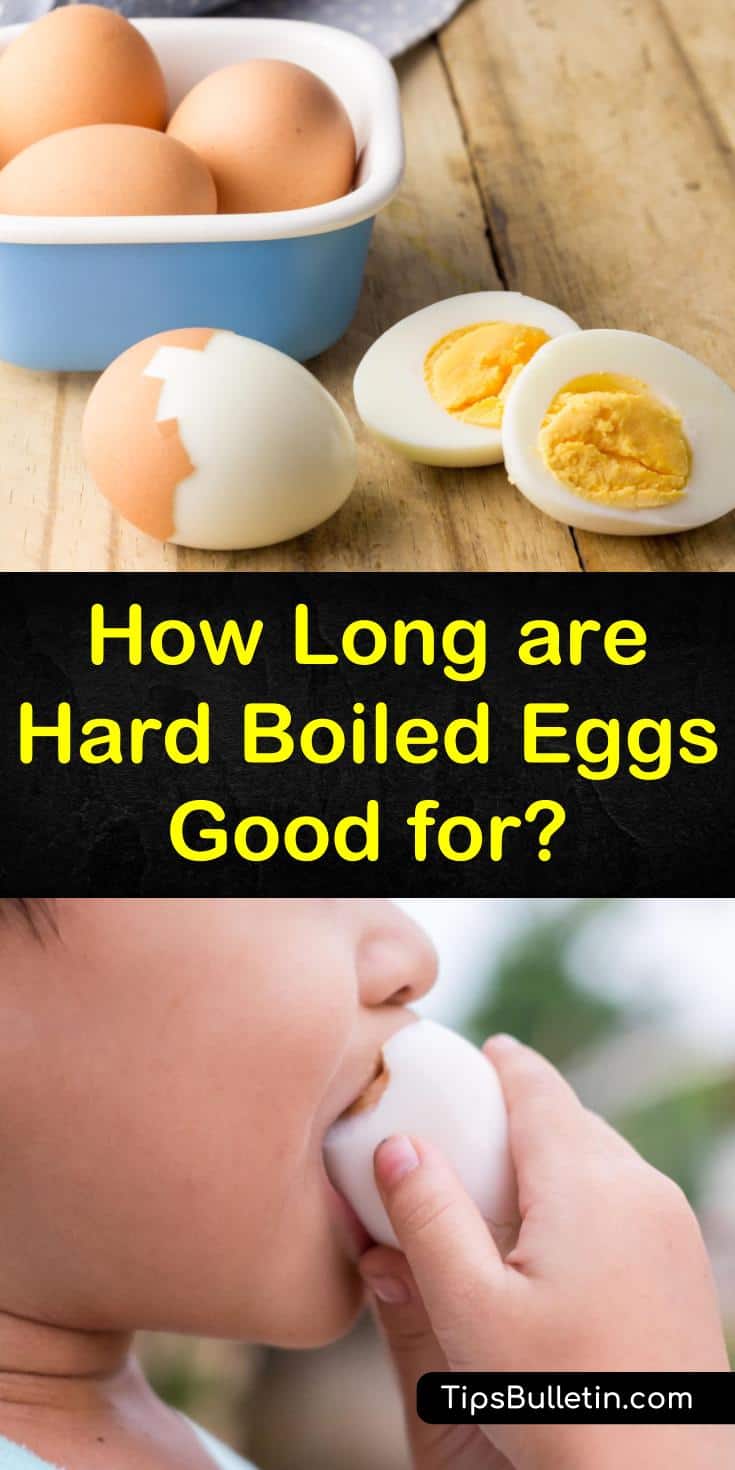 Thanks for reading our hard-boiled eggs tips and recommendations. Help others learn the answer to the question "How long are hard boiled eggs good for?" by sharing this comprehensive article about how long hard boiled eggs last on social media outlets such as Facebook and Pinterest.