There are so many reasons to have fresh lemons in your kitchen. Use them to make homemade lemonade, lemon bars, or pound cake, and lemon water is a refreshing drink with a healthy boost. However, these citrus fruits do not have an expiration sticker, so how long are lemons good for, and what's the best way to store them?
Lemons contain high levels of vitamin C and antioxidants, which are necessary for your health. You use these citrus fruits as preservatives and to flavor foods and beverages, and their acidity is useful for cleaning stains from many surfaces.
While you don't bite into a lemon as you do an orange or an apple, their functionality seems almost endless. With the many benefits and uses lemons provide, it's no wonder that it's one of the more popular fruits to keep as a staple in the fridge.
What's an ideal way to keep lemons fresh, and when do lemons go bad? When life gives you lemons, it's great to know how long they last before they spoil.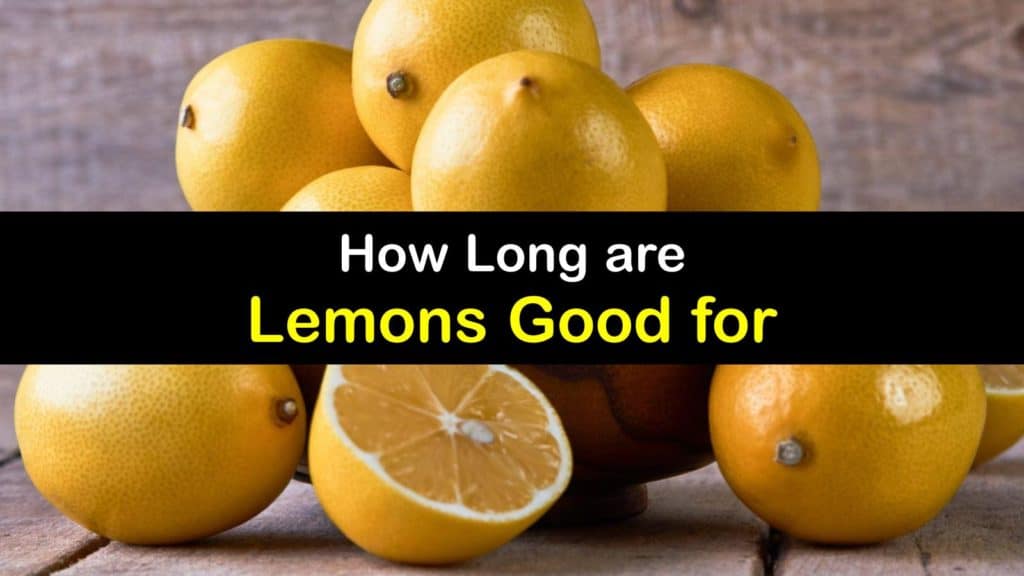 How Long do Lemons Last and Ways to Store Them
A lemons' plant compounds provide a range of health benefits, so keeping fresh lemons on hand for every day use is a great idea.
However, purchasing lemons in bulk leads to unnecessary waste if you do not store them properly. Do lemons go bad at room temperature, or is it best to keep them in the fridge?
While it's tempting to keep a decorative bowl of lemons sitting on the dining room table, we do not recommend this unless you plan on using them the same day.
Refrigeration is the most reliable place to store lemons to keep your food-safe from premature spoilage. When do lemons go bad in the refrigerator, and can you freeze them?
Do Lemons Go Bad?
Discovering a sale on a large bag of lemons at the grocery store is always a great find, but now it's time to store them. Do lemons go bad if you keep them on the kitchen countertop, and how can you tell if they are spoiled?
Fresh Lemons
Discover how to tell if a lemon is bad and ready for the trash. The simplest way is to hold it in your hand and inspect the rind. Lemons are ordinarily bright yellow with smooth skin and firm with a heavy feel for the size.
If the skin has discoloration or a soft texture, the lemon is no longer edible. When soft spots develop, the outside becomes moist, which leads to mold. If this happens, it's time to toss those lemons.
Lemons that are not edible but not quite "gone" can be used another way. Clean your oven with lemons cut in half and a little baking soda. It's an ideal natural way to tackle a dirty oven.
When do Lemons Go Bad in the Fridge?
The shelf life of lemons is dependent on a few factors. Are they whole lemons, or are they lemon halves? When do lemons go bad in the refrigerator? Here are a few ways to keep lemons in the fridge and how long they stay fresh.
Place whole lemons in a plastic bag and seal it after pressing out the excess air, and store lemons in the crisper drawer of your fridge for up to four weeks.
A whole lemon is safe to wrap in aluminum foil, however, do not wrap cut lemons in aluminum since the juice dissolves the foil.
If you have cut lemons, place them flat side down on a small plate and set them on the refrigerator shelf if you plan on using them soon. Otherwise, wrap them with a sheet of plastic wrap or put wedges in an airtight container for three to four days.
What about lemonade? The shelf life of lemonade in the fridge is up to ten days. You can usually store lemon juice in the fridge for a long time if was purchased at the store. Fresh lemon juice doesn't last as long.
How Long are Lemons Good for if You Freeze Them?
It's not always possible to use lemons before they expire, especially if you buy more than you usually do when grocery shopping.
The freezer is the perfect place to extend the shelf life of your citrus fruits. How long do lemons last in the freezer? If you store them properly, they last three to four months.
To freeze lemon slices to add to a glass of cold water or your favorite drinks, cut one lemon into thin pieces. Cover a cooking sheet with parchment paper and lay the lemon slices on the tray so that they do not touch each other.
Flash freeze them in the freezer for a couple of hours and transfer them from the tray to a freezer bag. Push out the air and seal it before returning them to the freezer shelf.
When freezing fresh lemon juice, use your juicer of choice to extract the liquid, making sure to strain out seeds, and pour the juice into an ice cube tray. Set the tray into the freezer until the cubes are solid, and then drop them into a freezer-safe container or freezer bags.
To ensure that none of your lemons go to waste, why not freeze the lemon zest as well? Push the lemon in one direction against the blades of a Microplane over a cutting board. Turn the lemon as you go until all of the zest is removed.
Sprinkle the lemon zest on a parchment-lined baking sheet and set it in the freezer to flash freeze it for about an hour. Pour the frozen zest into a storage container and set it back in the freezer.
A bowl full of fresh lemons looks vibrant and fills the air with a sweet, lemony scent. Unfortunately, lemons go bad quickly if they sit at room temperature too long.
The fridge is the best place to keep lemons fresh for everyday use, and the freezer is perfect to store them long term.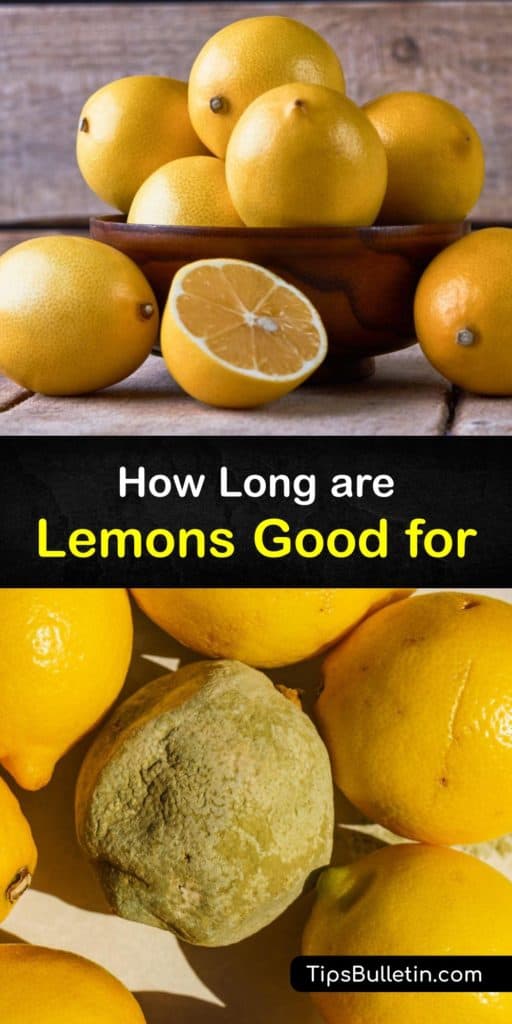 Now that you know how long are lemons good for and where to store them, why not share our lemon storage tips with the citrus-loving people in your life on Facebook and Pinterest?