Ah, strawberries-fresh, bright-red, and packed with flavor, not to mention vitamin C and fiber. For a few weeks in the summer, it's easy to get carried away and buy a big basket. If you're at all conscious about food waste, you might soon find yourself asking, how long are strawberries good for?
To make your strawberries stay fresh longer, choose the best berries at the grocery store or market. Look for strawberries that are firm, mold-free, and evenly red with a healthy green stem.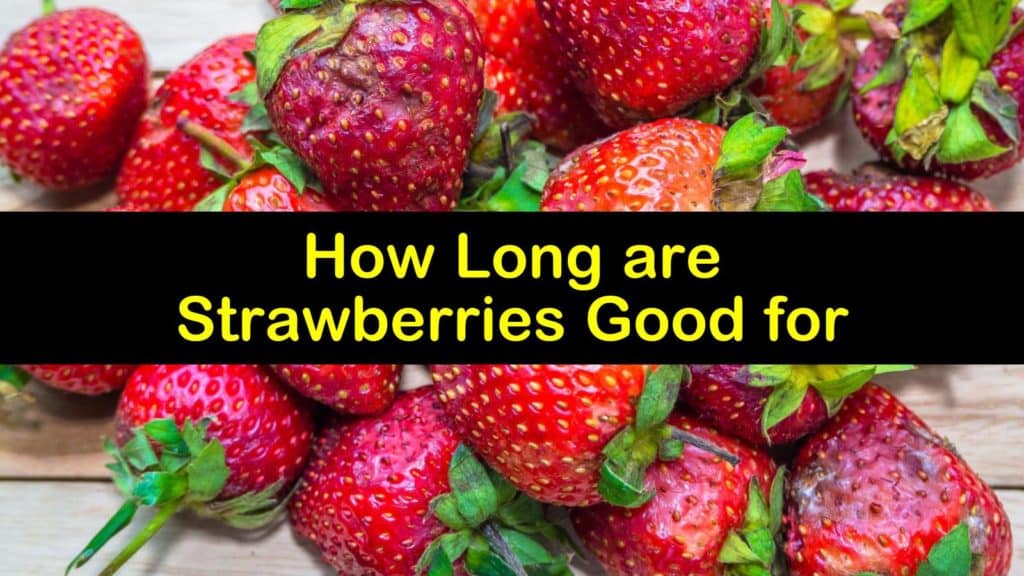 Do Strawberries go Bad?
All produce spoils eventually, but it depends on the fruit as to how long you can expect it to stay fresh. Apples are good for a week or so at room temperature but strawberries are not so lucky. Unfortunately, these soft-fleshed berries spoil quickly and can become contaminated with bacteria and viruses.
If you're wondering how to tell when strawberries are gone bad, watch out for berries that have white or gray mold, are bruised, mushy, or losing their color or smell off.
When do Strawberries go Bad?
Whether you are planting strawberries in containers, grow them in the garden, or purchase them from the store, porous strawberries soak up moisture, leading to rapid decay. Thankfully, the answer to "When do strawberries go bad?" depends on your actions.
This fruit is more likely to spoil if you remove its stems too early since that leaves its interior vulnerable. Like with blueberries, aim to wash strawberries right before eating them.
To prevent spoilage, regularly check for moldy strawberries, tossing them, and any berries with which they're in direct contact. Try using mushy but still edible strawberries in a smoothie, strawberry sauce, or baked goods.
It's easier to tell when bananas are gone bad, as the skin turns almost black and the fruit becomes incredibly mushy.
How Long are Strawberries Good for?
The question "How long do strawberries last?" has different answers depending on the storage location and whether you're talking about whole strawberries or cut ones.
Fresh strawberries last for a couple of days on the counter but only one day if they're sliced. Only leave strawberries out at room temperature if you plan to eat them immediately.
In the fridge, whole strawberries last for five to seven days, while cut strawberries survive up to three days. In the freezer, sliced strawberries stay good for three to four months and uncut berries for six to eight months.
How to Store Strawberries in the Fridge
To store fresh strawberries in the refrigerator, place whole, unwashed strawberries in a single layer in a plastic container lined with paper towel to absorb moisture. Place the uncovered container in the crisper with your veggies.
When you want to keep strawberries fresh in the fridge, consider putting your strawberries in a colander to encourage air circulation. In any case, to enhance their flavor, remove the berries from the refrigerator 20 minutes before eating them.
You can also rinse your berries with lemon juice or vinegar before adding them to the refrigerator to keep them from spoiling so quickly.
Use the Freezer to Extend the Shelf Life of Strawberries
For the best way to freeze fresh strawberries, first cut off their green stems. Rinse the fruits, then let them dry, blotting away any excess moisture with paper towels. Spread the berries out, cut side down, in a single layer on a baking sheet lined with wax paper.
Put the tray in the freezer overnight. The next morning, transfer the frozen strawberries to an airtight container or freezer bag, then return them to the freezer.
As an alternative, freeze strawberries with sugar. The sugar crystallizes in the freezer, decreasing freezer burn, besides adding an extra-sweet flavor to the berries.
Wash, dry, and slice the strawberries. Mix them with the sugar, then store the sweetened slices in an airtight container in the freezer.
How to Defrost Strawberries
It is possible to use strawberries straight from frozen in smoothies or baking. However, often you want berries that are not freezing cold.
To enjoy the best flavor and texture, put a bowl of frozen strawberries covered in plastic wrap in the fridge for four to six hours. Alternatively, place your strawberries in a bowl of cold water on the counter.
If they're still frozen after five minutes, drain them, then add new cold water. If you're in a hurry, use your microwave's defrost setting.
Spread up to one cup of strawberries in a single layer on a piece of paper towel, leaving a gap around each berry. Microwave larger berries for 60 seconds and smaller ones for half a minute.
Finding out that your fresh fruit has gone bad is one of life's small misfortunes. Instead of getting to bite into flavorful fruit, you realize that you've wasted money and the resources that went into the fruit's production and distribution.
If you're asking questions like "How long are strawberries good for?" and "When do strawberries go bad?" chances are it's too late, or nearly, for this particular container of berries.
The good news is that you now know several methods for keeping strawberries fresh longer.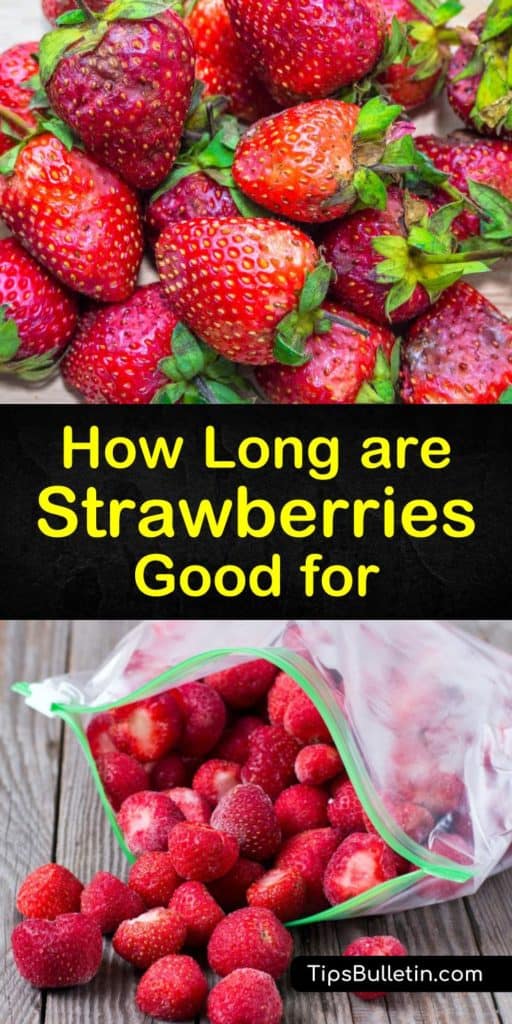 If you found this fruit spoilage information helpful, please share these strawberry storage tips with your friends on Pinterest and Facebook.