Tomatoes provide a wide variety of uses, from sauces to smoothies and so much more. As a result, they are a classic staple in many households and commonly grace the top of most shopping lists. So how long are tomatoes good for after you purchase them?
Their vast array of uses doesn't always guarantee they're used right away, so knowing their approximate shelf life prevents letting them go to waste. Beyond knowing how long your fruits and veggies are suitable for, it's critical to look out for the warning signs that they are about to spoil.
Learning how to tell if a tomato is bad or not keeps you from using a mushy piece of food and saves you from tossing out a good one. Luckily, we provide you with all the information you need to look out for spoiling tomatoes, as well as how to keep ripe tomatoes from going bad.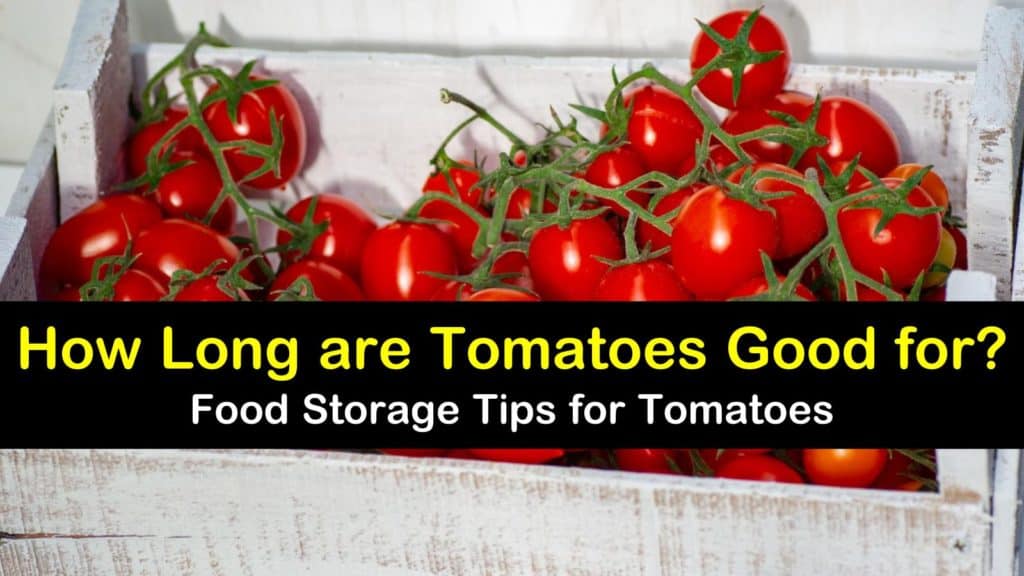 How to Tell if a Tomato is Bad
It's important to know how to determine if your produce is fresh. Do avocados go bad? What about lettuce and tomatoes? Unfortunately, the standard shelf life of our favorite veggies is not that long, but there are ways to preserve them so they last longer.
There are many different varieties of tomatoes found throughout the United States, most of which require special preparation depending on size and meatiness.
Smaller tomato varieties like cherry tomatoes can be frozen or canned whole, while others may require cutting and blanching first. Check out our list of common types of tomatoes.
This summertime food contains an antioxidant known as lycopene, which is what provides the color in those juicy, red tomatoes and promotes heart health. Another contributor to the red hue is ethylene gas, which also helps ripen tomatoes.
Leaving ripe tomatoes in a plastic bag without ventilation traps this gas inside, speeding up the deterioration process, so it is best to leave the food uncovered after buying.
Spoilage is a valid concern for all types of produce. Along with tomatoes, you may wonder, "Do peppers go bad?" What about onions and garlic? Paying close attention to signs of deterioration as well as preparing an abundance of veggies for short or long-term storage ensures you have delicious produce whenever you want it.
How Long are Tomatoes Good for?
How long your tomatoes survive depends on where you keep them. Know when a zucchini is gone bad, as well as other vegetables so you can spot a problem before preservation.
Short-term storage on the counter or fridge keeps your vegetables fresh for approximately five days to two weeks. Longer-term storage options ensure the tomato lasts anywhere between three to 18 months.
How long do cut tomatoes last? Cut tomatoes last for only a couple of days, even when you refrigerate them, while an amazing canning tomato juice recipe may last as long as two years. Many foodies debate over whether to store tomatoes in the refrigerator or the countertop.
This argument stems from the fact that these foods require a very particular climate to remain fresh, one not as warm as room temperature but not quite as cold as the fridge.
Refrigerated tomatoes also last longer, though they slowly begin to lose their best flavor and texture in the cold. How long do carrots last in the fridge? What about onions? Most vegetables last at least a week (some considerably more) in the refrigerator.
The best advice is to store ripe tomatoes on the counter whenever you plan on eating them within two days. Otherwise, store them in the fridge.
How Long Do Tomatoes Last in the Freezer?
So, how long do tomatoes in food storage last, and do they also lose their flavor? Tomatoes last up to three months in the freezer, whether frozen whole or in pieces. Frozen tomato sauce lasts even longer at up to six months.
Most of the time, blanching tomatoes for freezing is not necessary. However, some experts do suggest briefly cooking them in boiling water ahead of time, especially if you intend to can them. So, this extra step is up to you.
See if a Tomato is Bad
Whether you are planting cherry tomatoes or pick them up from the grocery store or farmer's market, you need to know if they're fresh before you eat them.
One of the most significant indicators that show a tomato has gone bad or to know when a watermelon goes bad is its firmness. Once the exterior of the tomato begins to lose shape, whether exhibiting a sunken look, cracks, or wrinkles, it's a reasonably good sign that the food is ready for the trash.
Giving the tomato a light squeeze is an excellent way to measure its firmness.
Other things to look out for when examining the freshness of your food are mold spots. Fruit flies also begin to circle moldy or decaying food, so if you see either of these around your tomatoes, it's time to toss them.
How to Keep Ripe Tomatoes from Going Bad
The best way to keep fresh tomatoes from spoiling is to preserve them as quickly as possible. Especially if you don't intend to use them right away, using a long-term storage method like freezing or canning is your best course of action. Your cookbook, or websites like Serious Eats, provides numerous different recipes for canning.
However, we've also included a fantastic strategy for how to can fresh tomatoes on our site, too. Purchasing green tomatoes is another excellent way to extend the shelf life of your food, especially if you don't mean to eat them immediately. Leaving them out to complete the ripening process affords you a little extra time to decide on the perfect dish.
Put tomatoes down in a single layer on the bottom of a paper bag in your pantry until they achieve adequate ripeness. While your typical grocery store doesn't carry green tomatoes, those who grow their own tomato plants or shop at the local farmers market may find some unripe tomatoes there.
These helpful tips for how to keep ripe tomatoes from going bad provide you with a chance to save those slowly deteriorating veggies before it's too late. Not only are you now able to identify all the necessary warning signs of spoilage, but you also know some of the best ways to preserve your tomatoes for later use.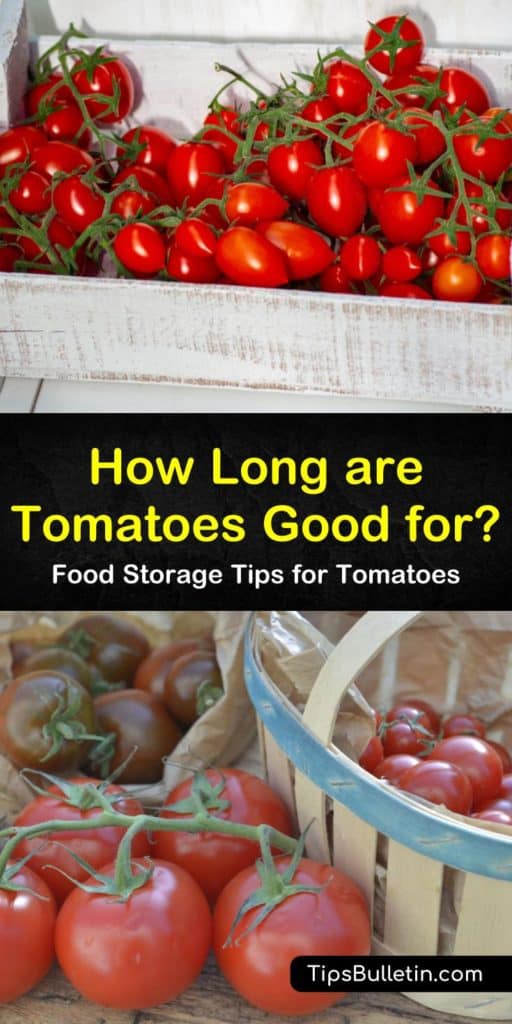 If you found these tomato storage ideas helpful, then please remember to share everything you learned about how long are tomatoes good for with friends and family on Facebook and Pinterest.