Almond milk is a widely popular alternative to dairy milk. Whether you enjoy almond milk because you're vegetarian, vegan, lactose intolerant, or simply enjoy the flavor, you may be wondering, "How long can almond milk sit out?"
Once it's open, how long does almond milk last in the fridge? Answers to these questions are contingent on a few different factors: preparation process, pasteurization, and type of container.
If you make homemade almond milk, you need to use it faster than a carton of shelf-stable almond milk from the grocery store.
Almond milk has numerous health benefits. It has few calories, is low in sugar and rich in nutrients like vitamin E and oleic acid, which help lower cholesterol and reduce the risk of heart disease.
Store-bought almond milk is often fortified with calcium and vitamin D to give it a similar nutrition profile to cow's milk.
If you regularly drink almond milk, it's essential to know the best ways to store it and how to check for spoilage. Read on to discover useful storage tips and our favorite homemade almond milk recipe.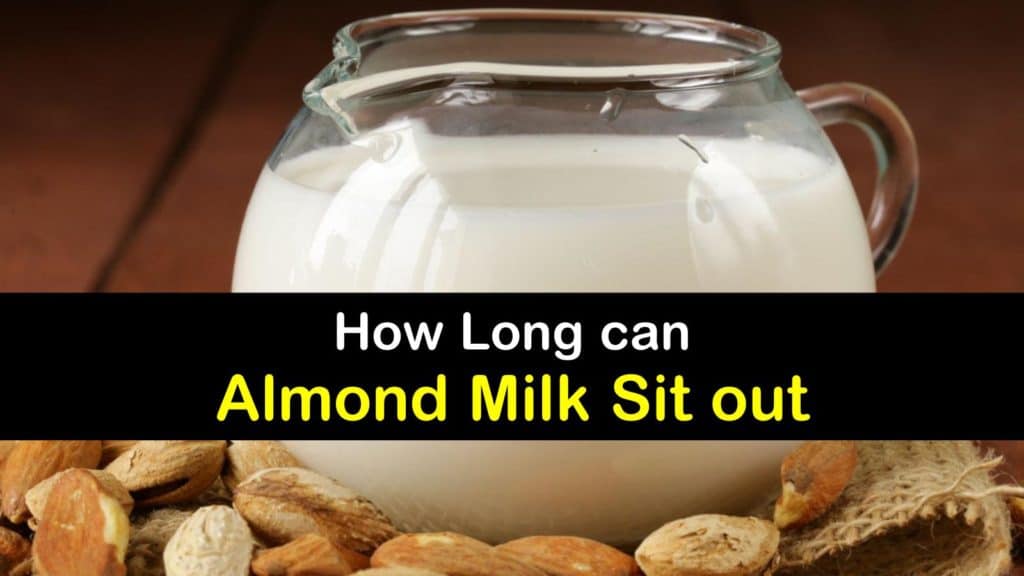 How Long does Almond Milk Stay Fresh?
Most commercially produced almond milk has been ultra-pasteurized or rapidly heated to 280℉, then cooled again just as quickly.
This process kills bacteria and extends the product's shelf life. Then, it's packaged in a sterile, airtight container like Tetra Pak for distribution.
Shelf-stable almond milk is safe to store unopened at room temperature for several weeks. Always check the "best before" date that's printed on the package.
Once opened, almond milk must be refrigerated. Many almond milk brands, like Almond Breeze from Blue Diamond, do not contain preservatives and should be consumed within seven to ten days of opening.
Fresh almond milk that is not shelf-stable, whether homemade or store-bought, always requires refrigeration. To keep it from spoiling, never leave your partially used almond milk carton at room temperature for more than a few minutes.
How Long does Almond Milk Last in the Fridge?
No matter which type of almond milk you prefer, store it in the refrigerator. Like regular dairy products, dairy-free nut milk is perishable and may cause food poisoning if stored improperly.
To help almond milk last longer in the refrigerator, try to keep the temperature as stable as possible. Keep almond milk fresh in the fridge by storing almond milk containers on a shelf toward the back of the refrigerator. The same goes for the way to store condensed milk after opening.
When stored in the refrigerator door, milk is more exposed to temperature fluctuations that shorten its shelf life.
Store homemade almond milk in a container that's airtight and consume it within a much shorter time frame. Try to use all of your homemade almond milk within three to five days, and only make as much as you can use in that time.
Making homemade almond milk is easy and fun. To make your own almond milk, all you need is a few simple ingredients, a blender, and an airtight container for storage.
Soak the almonds overnight in a bath of cool water or for two hours in hot water. Drain the water, then pat the almonds dry with a clean towel.
Add the soaked almonds, water, sea salt, and any optional flavorings to a blender. Run the blender on the "liquefy" setting for one to two minutes, or until the mixture is smooth and creamy.
Strain the mixture into a mixing bowl or pitcher using a nut milk bag, cheesecloth, or a thin dishtowel. Transfer your almond milk to a jar or pitcher with an airtight lid, and refrigerate immediately.
Add the leftover almond pulp to your compost pile or save it for baking. Use the almond pulp for baked goods like muffins, cookies, crackers, and more.
Shake well before drinking. Separation is natural for both homemade and store-bought almond milk.
Signs of Spoilage in Almond Milk
Have you ever wondered, "How long does almond milk stay fresh?" Sometimes non-dairy milk is safe to drink for a day or two after the "best before" date printed on the package. To avoid consuming spoiled almond milk, watch for a few signs of spoilage.
Some separation is normal for non-dairy beverages like almond milk, coconut milk, and soy milk.
How do you know if almond milk is gone bad? If you begin to notice that your almond milk thicker than usual or begins to form clumps, check for a sour smell or taste.
Another telltale sign that almond milk has started to turn is an unusually bloated carton. Harmful bacteria emit gases as they grow and reproduce.
How Long can Almond Milk Sit out?
Unopened almond milk that's been pasteurized and packaged in a Tetra Pak container is safe at room temperature for six to eight weeks or until the "best before" date on the package. Avoid letting an opened almond milk carton sit out for longer than necessary.
Can coconut milk go bad like almond milk? Yes, always store it in the fridge after opening and keep a watch for signs of spoilage.
Always store almond milk in an airtight container in the main body or back of the refrigerator where the temperature is stable. Avoid letting almond milk go bad by consuming it within a few days of opening.
Can You Freeze Almond Milk?
Another way to avoid letting almond milk go bad or to preserve and keep milk fresh is by freezing it. However, the texture won't be the same after thawing.
The fat content separates from the water, and thawed almond milk tends to have a grainy texture. It's best to use frozen almond milk in smoothies and baked goods.
For easy-to-use portion sizes, try freezing almond milk in an ice cube tray. The average ice cube tray holds one ounce of liquid per cell. Once they are completely frozen, transfer the cubes to a resealable freezer bag to easily access serving-size portions.
It makes more sense to pressure can milk that is full-fat or skim over almond or coconut milk. Freezing works better for these milk types for long-term storage.
Almond milk is a nutritious and delicious non-dairy alternative to cow's milk. Being a low-calorie, heart-healthy beverage, it's no wonder that almond milk is one of the most popular dairy-free nut milk products.
Many people ask the question, "How long does almond milk stay fresh?" The answer is, it depends. If you've ever wondered, "How long does almond milk last in the fridge?" you need to know if it's pasteurized and if it's in a shelf-stable package.
In general, try to consume almond milk within a week of opening. We hope you've found these almond milk storage tips helpful, and we'd appreciate it if you share this article on Pinterest or Facebook with anyone who may be asking, "How long can almond milk sit out?"