Eggs are a commonly used staple in the kitchen and one of the most versatile. They can be fried, boiled, or scrambled, and used in everything from muffins and cakes to souffle and custard. This brings us to a common question, how long do fresh eggs last?
You're a lucky person if you can get your hands on fresh farm eggs or have egg-laying chickens. There is no guesswork on where they have come from, and you know how fresh they are. Store-bought eggs, on the other hand, are a different story.
These eggs have gone through the process of being cleaned and then transported before they reach the store shelf. Believe it or not, store eggs could be six to eight months old by the time you purchase them off the shelf.
This brings us to the common question of how long do eggs last? While the USDA states that in the shell, raw eggs may last three to five weeks, this time can vary some based on certain factors. Are they farm fresh or store-bought? Have they been stored properly? These questions can lead to varying answers.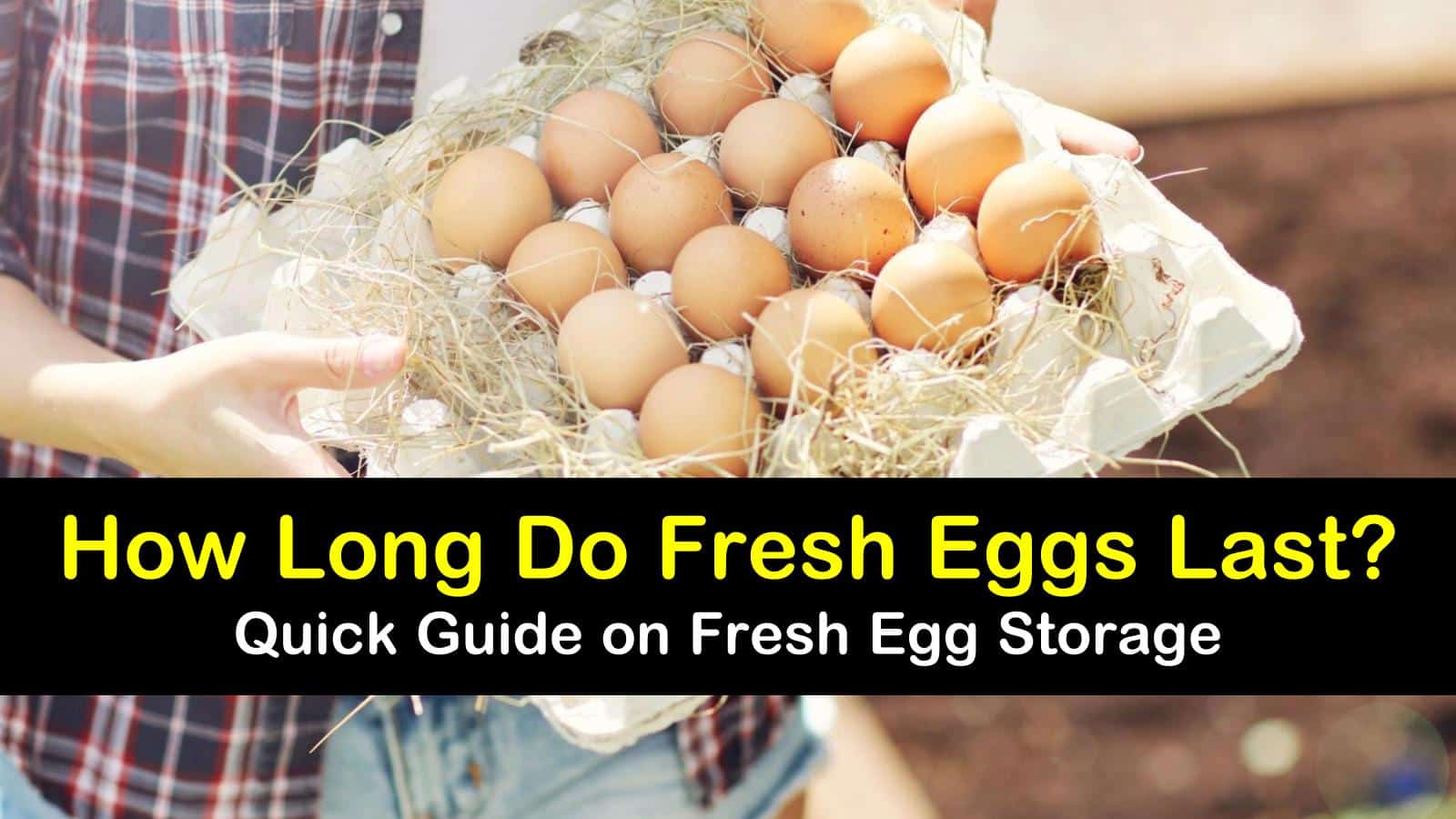 How Long Do My Fresh Eggs Last?
The fresher the egg, the better and richer the flavor. If you've never eaten a farm-fresh egg, then you probably think this is nonsense, but it's true. Fresh eggs have a more golden, creamy yolk that does not break as easily as the ones from the store.
We'll show you how to keep eggs fresh, whether they are farm eggs or store-bought, for a better-tasting egg.
Not only will we discuss how long you should refrigerate store-bought eggs but how long do fresh eggs last in the refrigerator after you've procured laid eggs from your backyard chickens. We also give you a brief rundown on how to raise egg-laying chickens of your own.
To Refrigerate or Not to Refrigerate My Eggs
Many people have asked the question, how long do eggs stay fresh, and that depends on whether they are fresh farm eggs or from the grocery store. When do fresh eggs go bad? Let's explore the question so you know how to have the freshest eggs ready for your favorite recipes.
Refrigeration Versus Room Temperature
Most people believe that one of the best ways to preserve eggs is by keeping them in the refrigerator. Store-bought or commercial eggs are generally refrigerated, and you must keep them in your fridge at home.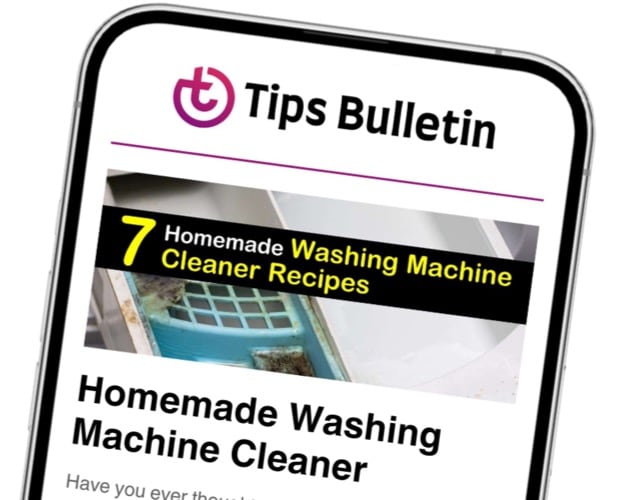 Finally, an email that Transforms Your Home.
Get the latest home and garden tips from our experts, delivered straight to your inbox.
Once you remove eggs from the refrigerator, condensation begins to build on the eggshells as they warm. This moisture can lead to bacteria if the eggs are left out of the fridge.
If you decide to refrigerate fresh eggs, you have to be committed to your decision. How long can fresh eggs sit out? Fresh farm eggs or fresh eggs from backyard chickens can sit out on the counter rather than refrigerated. Keep in mind, each day that eggs are stored at room temperature is equivalent to one week in the refrigerator.
How I Can You Tell If My Eggs Have Gone Bad
Generally, you'll be able to tell immediately if an egg has gone bad. You'll know right away if a raw egg has expired due to its offensive smell and appearance. If you'd rather not experience this, we'll show you how to test an egg for freshness without cracking it open.
Egg Float Test
Fill a pan with cool water and place the eggs in question into the water. Good eggs will rest at the bottom of the pan and lay on their side.
Eggs that are still good but getting near their expiration date will remain beneath the water but stand upright. If the egg floats, then you've got yourself a bad egg, and you can dispose of it without experiencing its stink.
How Long Do My Fresh Eggs Last in the Fridge?
A few factors play a role when answering the question, how long do fresh eggs last in the fridge?
Refrigerating My Fresh Eggs
If you decide to refrigerate those fresh farm eggs, determine whether you want to clean them first or not. This plays a role in how long those eggs last.
Unwashed eggs last up to three months in the refrigerator while washed eggs last about two months. Cleaning the eggs may also reduce the flavor of the egg.
How I Keep Farm Eggs Fresh
Keeping eggs fresh from your backyard chickens or local farm can go a long way to providing you and your family with delicious eggs.
Keeping Farm Fresh Eggs Fresh
The general rule when it comes to farm-fresh eggs is not to clean them. Cleaning the eggs removes the protective bloom or cuticle on the shell. This bloom keeps out bacteria and air, which prolongs the egg's shelf life.
If you decide to refrigerate fresh eggs to make them last longer, store them in an egg carton on the fridge shelf. You can also store them in a sealed container, which allows them to last up to six months.
However, doing this may change the consistency of the egg white. Mark the date the chickens laid their eggs on the carton or container. If you plan on enjoying fresh eggs quickly, leave them unrefrigerated at room temperature.
There are various ways to save fresh eggs, such as in a bowl or container. If you gather eggs regularly from your egg-laying chickens, you may want to use something like an egg skelter. An egg skelter is a rack that holds eggs, with the oldest ones at the bottom for dispensing and the fresher ones at the top.
How I Wash Fresh Eggs
If you own chickens or get your chicken eggs from a local farmer, then you may have come across the occasional egg that is not so clean. Clean eggs properly before cracking them over a skillet. In other words, clean off that poop!
Cleaning Unwashed Eggs
Soak the eggs in a large bowl of water to loosen up any of the gunk stuck to the shell. Hold each egg under cold water and use your hands to finish cleaning them. Once the eggs are washed and dried, store them in the refrigerator.
I Cook Eggs Before They Go Bad
If you sense that your eggs are reaching their expiration date, then it's probably time that you cook them. If you have too many eggs left, whipping up an omelet probably won't cut it.
Boiled eggs may be stored in the refrigerator for up to one week and are a great way to use up those eggs quickly. Old eggs also peel easier than newer ones.
Place the eggs carefully into a large pot and fill with cool water if you're using refrigerated eggs and warm water if your using room temperature eggs. Place the pan of water on medium heat and bring to a boil. Once the water begins boiling, remove from the heat and cover the pan with a lid.
For soft boiled eggs, set your timer for seven minutes. Soft boiled eggs make a delightful addition to breakfast or for Sunday brunch.
For hard-boiled eggs, set your timer for 11 minutes. Gently run cold water into the pan for several minutes to cool off the eggs and stop the cooking process.
How long does a hard boiled egg last in the refrigerator? If your eggs are still in the shell, they remain fresh for a week. Deviled eggs last for several days.
Storing peeled hard boiled eggs in the fridge is easy, too. Be sure to put them in an airtight container and they should last for about seven days or so.
If you want your hard-boiled eggs to last even longer, an excellent option is pickling eggs. You can pickle them for refrigerator storage or use the process for canning pickled eggs to ensure that they last for months. Many different recipes use a variety of spices. Choose one or several methods to enjoy.
How I Have My Own Farm Fresh Eggs
Having backyard chickens will provide you with the freshest eggs possible, and you don't have to have a farm to raise your chickens. We can start you on the path of enjoying your first egg from a backyard chicken.
DIY Backyard Chickens
When you decide to raise chickens in your backyard, make plans for a chicken coop. Design your coop yourself or purchase a pre-made coop for relatively cheap. The chicken coop needs a nesting box for every three hens, a roost, a feeder, and water containers.
The next step is to decide if you want your chickens to be free range. Free range means that they have the freedom to roam wherever they choose rather than be cooped up inside an enclosure 24 hours a day.
Finally, you'll need some chickens. Some breeds are better egg producers than others, so do a little research. You do not need a rooster for your chickens to lay eggs. However, If you wish to have baby chicks, then you'll have to invest in a rooster.
There is nothing that could ruin a breakfast more than cracking open an egg and watching with disgust as a stinky mess spills out into the frying pan.
Knowing how to store fresh eggs properly, whether on the counter or in the refrigerator, ensures that you can enjoy many omelets, fried or scrambled eggs, and other dishes without the fear of the unknown.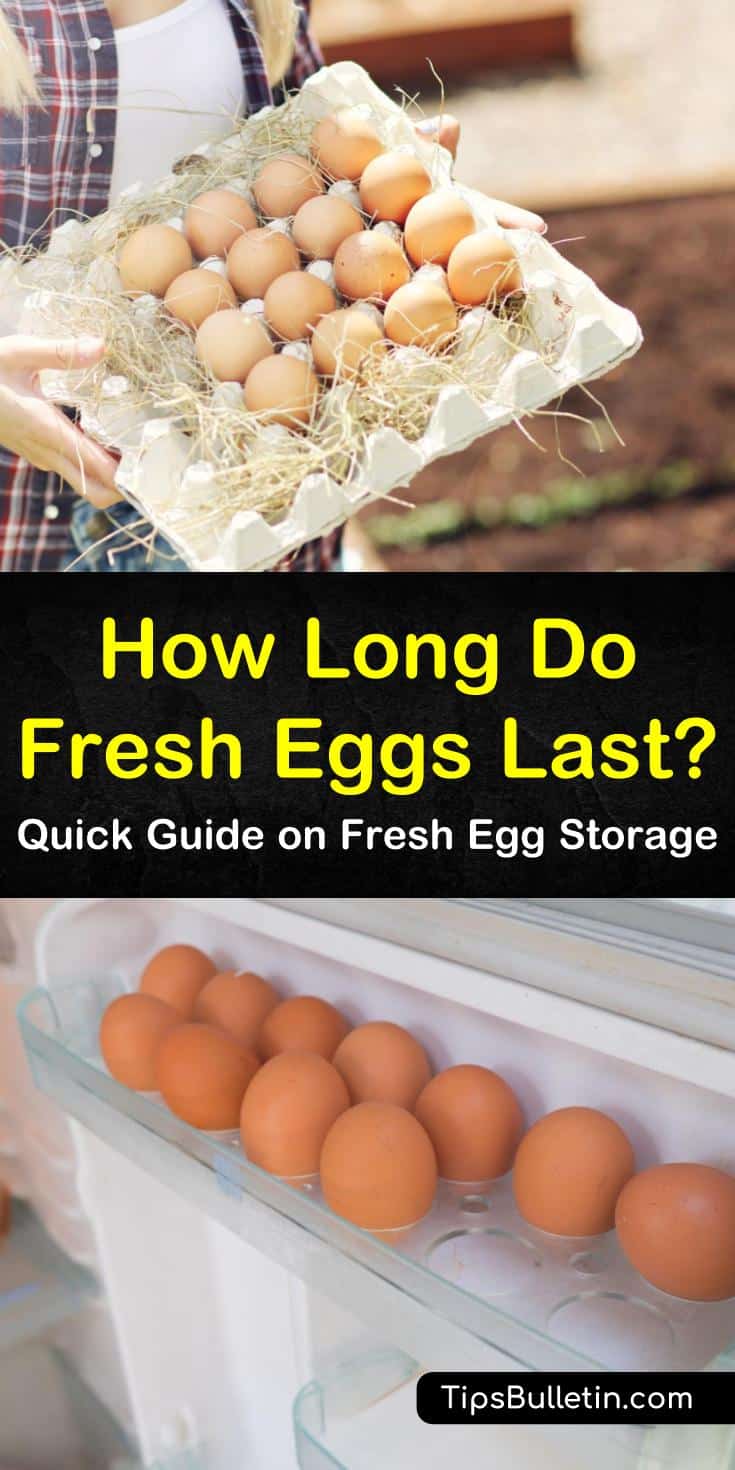 We hope we answered your question of how long do fresh eggs last and that you'll share our quick guide on fresh egg storage with your friends on Pinterest.