Whether you call them string beans, wax beans, or snap peas, most of us have tried and fallen in love with these crunchy veggies. How long do green beans last in our homes? There are lots of ways to keep green beans fresh, each with its individual benefits.
Before you learn more about keeping green beans fresh, understanding your food and all the useful things it does for your body is just as important. Green beans belong to the shell bean family, which includes pinto, black, and kidney beans. The whole part of the bean, including the seeds and pods, are edible. Each one reaches roughly four inches in length, and they shine a vibrant, emerald color.
These veggies are also free of fat, sodium, and cholesterol and are rich with essential vitamins. Keeping fresh green beans around our home is a way to know we're feeding our families nutritious and healthy meals.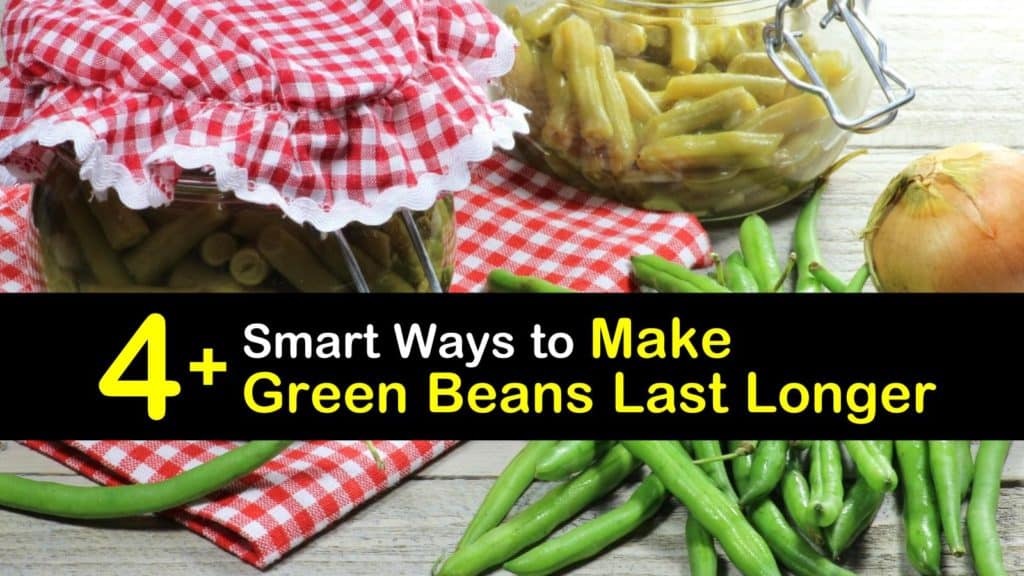 Keeping Green Beans Fresh
Most people already know that the secret to keeping green beans fresh starts at the grocery store and farmers market, or even when growing pole beans from seed yourself.
Fresh beans have a bright green color and free from brown spots. Pick up a bean and bend it in half. Raw green beans snap cleanly in half and are never soft or mushy.
Ways to Keep Green Beans Fresh
Green beans last different lengths of time, depending on several variables. If you know you've bought the freshest produce possible at the store, your chances of keeping green beans fresh already increased. From there, your storage options are the determining factor for how long they last.
When preserving, legumes vs beans like green beans utilize similar methods. Proper storage helps your veggies last even when they aren't in season.
How Long do Green Beans Last in the Fridge?
When storing fresh green beans in the fridge, do not wash the beans when you get home from the store. Moisture affects the quality of the beans at a faster rate and causes them to mold.
If you'd like, wipe them down with paper towels to remove dirt. Placing a paper towel in a plastic bag or freezer bag helps soak up extra moisture off the beans. After you put the beans in the bag with the paper towel, remove as much air as possible and seal it.
Store unwashed beans in your refrigerator crisper drawer for up to a week. Once you're ready to cook with them, make sure to rinse them under cold, running water.
Freezing Green Beans
One of the most ordinary ways to keep veggies fresh for extended periods is by freezing string beans for up to a year. Before freezing most vegetables, blanching them helps the veggies to keep their color and extends their shelf life.
To blanch green beans, boil a large pot of water and fill a large glass bowl with ice water. Trim the ends of the beans with a sharp knife and dunk them in the boiling water for two minutes.
Use a slotted spoon to lift the veggies and immerse them in the cold water to stop the cooking process. Dry the green beans on a paper towel and spread them in a single layer on a baking sheet.
Freeze the beans and remove them from the sheet. Freeze green beans in freezer bags or an airtight container for up to a year.
Pre-Make Your Favorite Green Bean Dish
Putting your green beans into a casserole is the tastiest way to store them long-term. Casseroles stay fresh in the freezer for up to six months and get easily popped in the oven for a fast family dinner.
Green bean recipes that you'll find in nearly any cookbook are usually green bean casseroles, and there's a reason it's so popular.
Wash your green beans and cut them into one-inch pieces. Sauté the beans over medium-high heat with a drizzle of oil, lemon juice, salt, and pepper until tender and cooked through.
Mix the beans, soup, soy sauce, milk, black pepper, and half of the onions into a casserole dish. Cover the container with aluminum foil and a lid to prevent freezer burn.
When ready to cook, remove the lid while keeping the foil on, and bake the dish at 350°F for 25 minutes. Sprinkle the top with the leftover onions and serve.
Make Frozen Stir Fry
Having stir fry for dinner is great because there are so many veggies without it tasting bland. Prep your stir fry by putting together a few homemade packets.
Throwing various vegetables together in a freezer bag and storing it in the freezer allows you to skip the prep work on long workdays, and the food heats up quickly. All that's left to do is add sauce and rice for a comforting, home-cooked meal.
Pickling Green Beans
One of the best and tastiest ways to store veggies is by pickling. Green bean pickles don't get the recognition they deserve.
They are crunchy and tangy and make a perfect afternoon snack, not to mention that they also last for three weeks in the fridge.
Divide the garlic, dill, peppercorns, and coriander between the two jars. Cut the green beans into one-inch pieces and pack them into the jars.
Bring the water and vinegar to a boil, and then pour the vinegar mixture over the beans. Tightly replace the lids and store them in the fridge for two days before serving as a side dish or snack.
After reading this, we hope that you're able to find better ways to keep green beans fresh compared to the methods you used before.
Fresh fruits and vegetables are essential to our diets, and finding new ways to preserve them makes it all the more fun and interesting.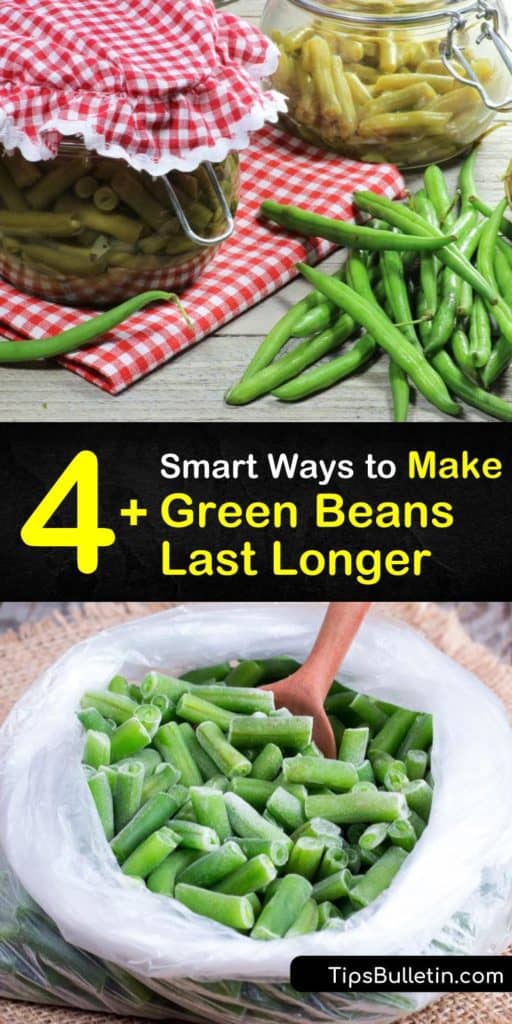 If you no longer find yourself wondering how long do green beans last, share these tips for making green beans last longer on Facebook and Pinterest.