There are so many uses for onions, from soups and stews to salsas and salads. Unfortunately, onions have a reasonably short shelf life if kept on the counter. There are some things to take into consideration when wondering how long do onions last.
The main thing to think about is how the onions are stored. There are different varieties of green, yellow, white, sweet, and red onions, each with a distinct look and flavor.
With the many different varieties of onions, you may also be wondering if there are varying times for storage. Some types of onions store better than others and knowing this may be helpful to you if you plan on growing and storing onions.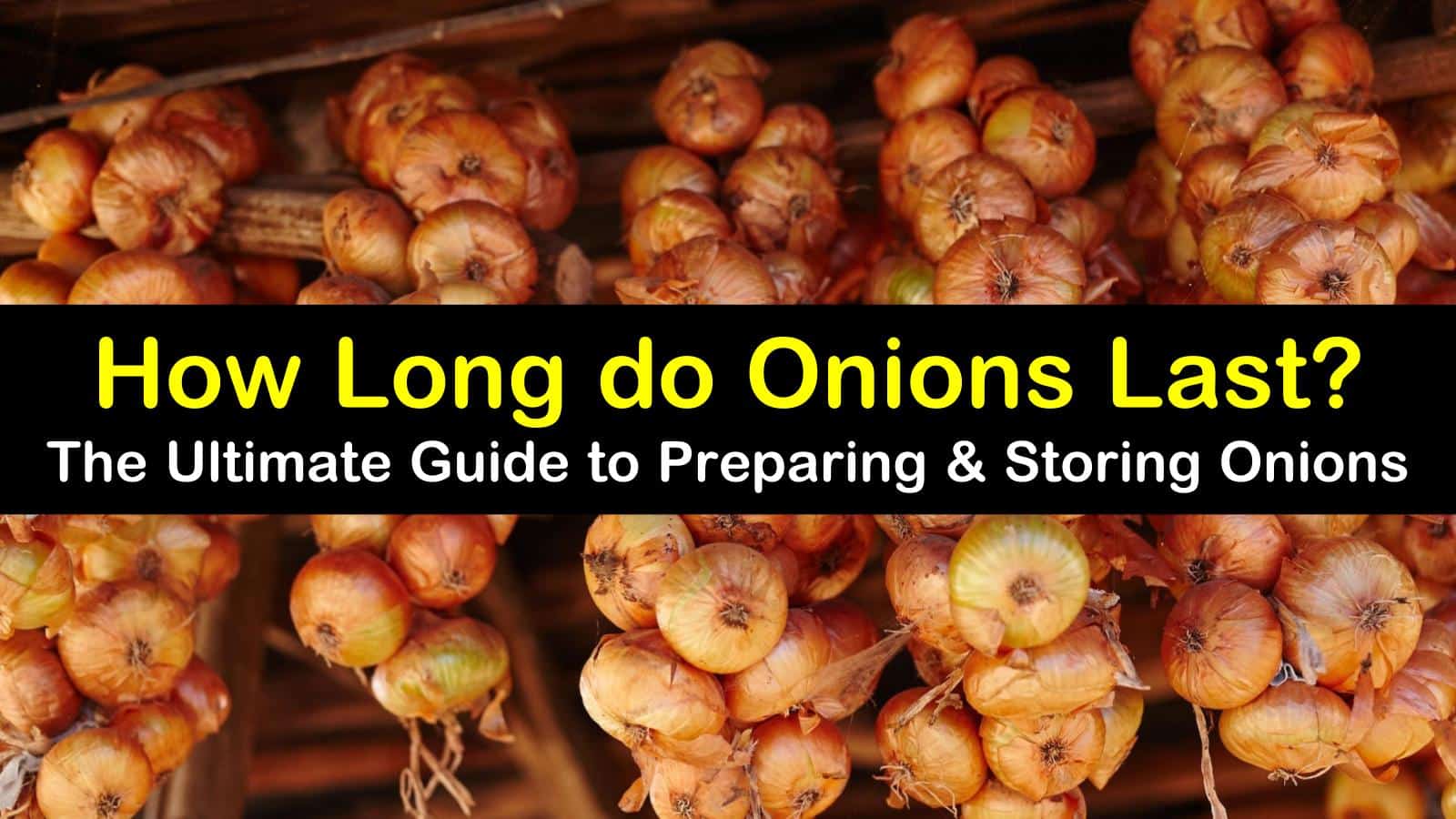 Storing Onions So They Last Longer
While you may think that an onion that has gone bad may be self-evident, this is not always the case. Have you ever grabbed an onion that looked pretty fresh, yet when you cut into it, you discovered that you had to throw most of it away?
This can also happen with garlic. How long does garlic last? Most of the same rules that apply to onions also apply to garlic storage, as well as other vegetables. How long does cabbage last? What about carrots? We'll show you how to spot onions that are going bad, which onions last longer in storage, how to store fresh onions correctly, and the many different methods of storing onions.
How long are potatoes good for? Of course, it's usually easier to tell when potatoes go bad, as the smell or the mushy potato are dead giveaways.
However, sometimes the potato rot is on the inside and is not quite as visible. Storing onions and potatoes correctly can almost totally eliminate this problem so that you have fresh produce whenever you need it.
Which Types of Onions Last Longer When Stored?
Some storage onion varieties have a longer storage life than others. If you plan on growing or purchasing bulk onions, be sure you choose a type that can be stored for a long period of time.
Onion Varieties and Storage
Onions of the yellow variety are strong flavored and are one of the best varieties for long term storage. Many of the yellow types can be kept in a root cellar and will last through the entire winter season.
Some examples of good storage onions are the Stuttgarter, YellowGlobe, and Copra yellow onion variety. These will last in root cellar storage from fall through spring. On the other hand, Portugal, Spanish, and Bermuda onions have thinner outer skins and will only last a few weeks.
How Long Do Green Onions Last in the Refrigerator?
The first question you may have is, are scallions, shallots, leeks, and green onions the same thing? They are, and they aren't. Scallions and shallots are younger than green onions and have a smaller white bulb than the green onion.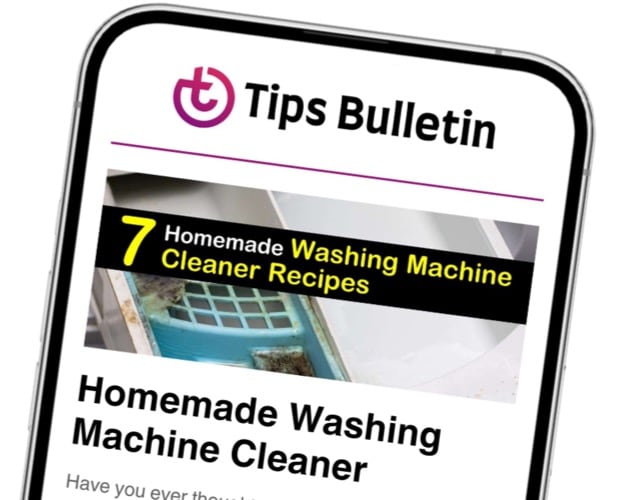 Finally, an email that Transforms Your Home.
Get the latest home and garden tips from our experts, delivered straight to your inbox.
Leeks, on the other hand, are milder than onions and work best in cooked dishes. If you're wondering how long do green onions last, the answer is one to two weeks in the refrigerator.
The best and easiest way for how to store green onions is to rinse the green onions or scallions under cold water first. Fill a Mason jar with roughly two inches of water, and place the green onions or scallions root and bulb first into the water.
Cover the top of the onions and jar with a plastic bag and use a large rubber band to hold the bag in place around the rim of the jar. Place the jarred onions into the refrigerator and change the water every couple of days. You should use these onions within a week or two for the best flavor.
What about bell peppers? How long do bell peppers last in the fridge? Bell peppers last longer than onions, at about a couple of weeks, but canning, pickling, or freezing them ensures you have peppers whenever you want them.
How Long Do Onions Stay Good for on the Counter?
How long do onions stay good for on the counter? We've heard this question quite often when it comes to preserving and storing food. The answer all depends on the type of onion.
Typically, onions last up to two months during the summer and six months during the winter, depending on heat, humidity, and air movement.
Whole Onion Shelf Storage
The first rule of thumb when storing onions is not to store them next to potatoes. Both potatoes and onions emit a gas which causes them both to sprout and spoil faster. You should also avoid storing whole onions in the refrigerator, which has a damp environment.
Store the whole onions in a dry place, in an area of the room where there is good air circulation. They should also be stored in a cool, dark area to prevent them from sprouting and rotting too soon as a result of light and humidity.
How Long Do Onions Last When Stored in a Root Cellar?
If you're lucky enough to have a root cellar, then you have a handy storage tool that can help many types of vegetables stay fresh during long term storage. The average storage life of onions in a root cellar is a winter season.
Bell peppers also do well in a root cellar. How to tell if bell peppers are bad is to look for obvious blemishes and mushy areas. Discard these and do not eat.
Onion Root Cellar Storage
If you have picked your onions from the garden, you need to cure them before storage. Spread the onions out on newspaper and paper towel and out of direct sunlight. Make sure that they are in an area with proper ventilation and allow them to rest for two weeks or until the roots have dried and the skins are papery.
Once cured, cut the tops of the onions off, leaving an inch behind. The root cellar must have a temperature of approximately 50°F with 50% humidity.
There are a few ways to store onions in a root cellar. One way is to store them on vegetable storage racks. You can also hang them in nylons or pantyhose, or a mesh bag.
How Long Do Onions Last if You Freeze Them?
Freezing chopped or sliced onion is an excellent option for adding ready to go onions to soups, stews, salsa, and other dishes. Frozen onions last up to one year in the freezer, and there is no fuss. You can instantly add flavor to meals without the teary eyes and onion-stink hands.
After you become an expert at freezing onions, consider freezing raw broccoli or celery. The possibilities are virtually endless for food storage.
Freezing Onions
Begin by prepping the onions for freezing. Remove the peels of the onion and wash the remaining onion. Chop, dice, or slice the onions into desired sizes and place the onions into a freezer bag. Make sure to label the freezer bags with the date.
The best option for storing peeled potatoes is to blanch them first, and then put them in the freezer. The blanching helps to maintain the flavor and results in a less mushy potato after freezing.
Do Pickled Onions Last a Long Time?
Pickled onions or learning how to pickle green peppers are great ways to store these veggies in the refrigerator and are also quite tasty. Pickled onions or peppers can be used as a topping on burgers and hot dogs or as a relish on your favorite dish. Quick pickled onions or quick pickled peppers last about three weeks in the refrigerator if you don't eat them all by that time.
Pack the onions into the Mason jar, leaving an inch of headspace. Combine all of the other ingredients in a saucepan and bring the mixture to a simmer over medium heat. Pour the vinegar brine into the jar until the onions are covered.
Use a knife to push down the onions in the Mason jar to release air bubbles. Allow the onions to sit at room temperature for about 30 minutes. Place the lid on the jar and refrigerate.
Making sauerkraut in jars with your excess cabbage harvest that includes onions or even peppers is also a possibility. Pickling and canning are ideal ways to preserve produce.
How Long Can You Store Canned Onions?
Canning is an ideal way to store foods because it has a very long storage time if done correctly. There are dozens of pear recipes for canning, as well as those for onions and a multitude of other fruits and vegetables. Once canned, unopened jars of non-pickled onions can sit on a shelf for three to five years.
Begin by peeling and chopping or slicing your favorite variety of onions. Fill the pot with water and place it onto high heat. Put the onions into the pot and bring to a boil, boiling for about five minutes or until translucent.
Remove the onions from the pot with a slotted spoon and fill the Mason jars, leaving one-inch headspace. Add one teaspoon of salt to each quart-size jar or 1/2 teaspoon of salt to each pint-size jar. Pour hot water from the pot into each jar until the onions are covered.
Use a knife to push down the onions to release air bubbles. Place the two-piece lids onto the jars and set the Mason jars into the pressure canner. Process the filled jars at ten pounds for 40 minutes.
Carefully open the pressure canner lid and allow the jars to cool. Test that the jars have sealed correctly by pushing the center of the lid down. If it doesn't pop, then the lids are sealed. Pressure canning banana peppers is another option to consider or you may want to can peppers and onions together to create an almost-ready meal to fix on the go.
How Long Do Dried Onions Last?
Properly sealed dehydrated or dried onions can last for up to fifteen years. They are a great addition to any pantry and can be used in a variety of ways. Onions that have been dried can be added to stews and soups or used to make a dip. Ground, dehydrated onions can be added as a flavor enhancement to your favorite dishes.
Remove the skins of the onions and cut them into even slices, approximately a quarter-inch in size. Lay the onion segments out onto the dehydrator screen in an even layer, without overlapping. Dehydrate the onions at 125°F for three to nine hours.
This time may vary depending on the size and variety of onion. Rotate the trays during dehydration to ensure they dry evenly. You'll know that the onions are dehydrated when they snap when you break them.
Allow the onions to cool. There are two ways that you can now store your onions. You can make onion flakes by crushing them into smaller pieces with your hands.
You can also make onion powder by putting the onion pieces into a spice grinder or coffee grinder. Pour the onion flakes into one jar and the onion powder into another jar and label with the name and date, and store in a cool, dark place of the kitchen.
How to Make Dried Onion Soup Mix from Dehydrated Onions
Now that you have learned how easy it is to make dried onions for storage, why not try your hand at making homemade dried onion soup mix using your onion flakes and powder?
Mix all the seasonings and dried onions in a small bowl and pour it into a zip-lock plastic bag. Label the ziplock plastic bag with the date and name. This mixture can be used in the same way you use a store-bought onion soup mix. For making onion dip, add the soup mix to one pint of sour cream and mix well.
How to Make Onions Last Longer
While the shelf life of onions can only go so far, there are several ways that you can prevent spoilage of raw onions before their time.
Keeping Onions Fresh
The first step is to store onions properly to keep them from premature spoilage. Fresh onions, just like many other veggies, need proper ventilation to stay ready-to-eat.
Lack of air circulation may increase bacterial growth and cause onions to age before their time. This can create the outer layers of the onion to get spotty and the flesh of the onion to get soft spots, making it inedible.
Storing the onions in a dark area with lower humidity and cooler temperatures will also prolong their freshness. A great way to keep onions fresh is to use a paper bag. Lay the bag flat and punch holes through both sides of the bag.
Once the paper bag is filled with holes, fill it halfway with onions and close the top shut. The bag will not only keep the onions dark but provide them with proper ventilation, as well.
Peeled and cut onions can be stored in the fridge, as long as they are in a sealed container. Placing them in a bowl covered with plastic wrap or in an airtight container will keep the onions fresh in the refrigerator for up to a week.
Knowing which onions work best for long time storage and the various methods of storage can provide you with a yearly supply of onions for all your favorite recipes. Whether you want to store whole onions in the pantry, pickle sweet onions for relish, keep scallions or green onions in the refrigerator, or store cut onions in the freezer, you'll be able to enjoy those onions using the proper storage method.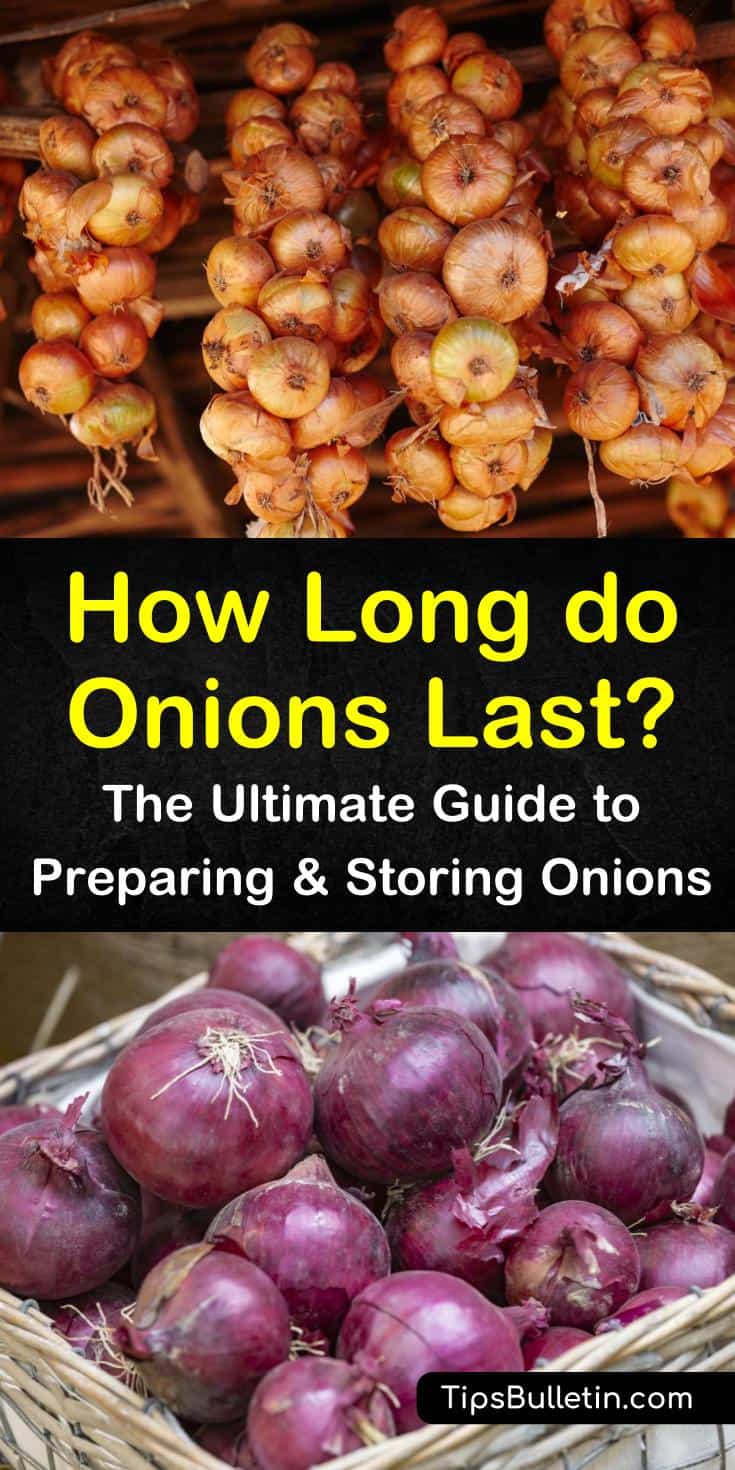 We hope we have answered the common kitchen question of how long do onions last and that you'll share the answer to this question along with our onion storage methods with your friends and family on Facebook.