There isn't a correct answer to the question of how long do potatoes last. There is no definitive answer, as the shelf life varies based on several different factors. When figuring out how long potatoes will last, you need to consider their sell-by date, how they were prepared, the variety, the storage method followed, and humidity.
A starchy root, also known as tubers, potatoes are classified as a vegetable, but for nutritional purposes are considered a starch and are not counted towards vegetable servings in any diet. Potatoes are a popular choice for many side dishes because of how many different ways you can serve them.
Potatoes are also relatively inexpensive, and a bag goes a long way. Their low cost creates a problem as people often find themselves wasting them, as they can only eat so many within a week and have difficulty finishing up the big bag.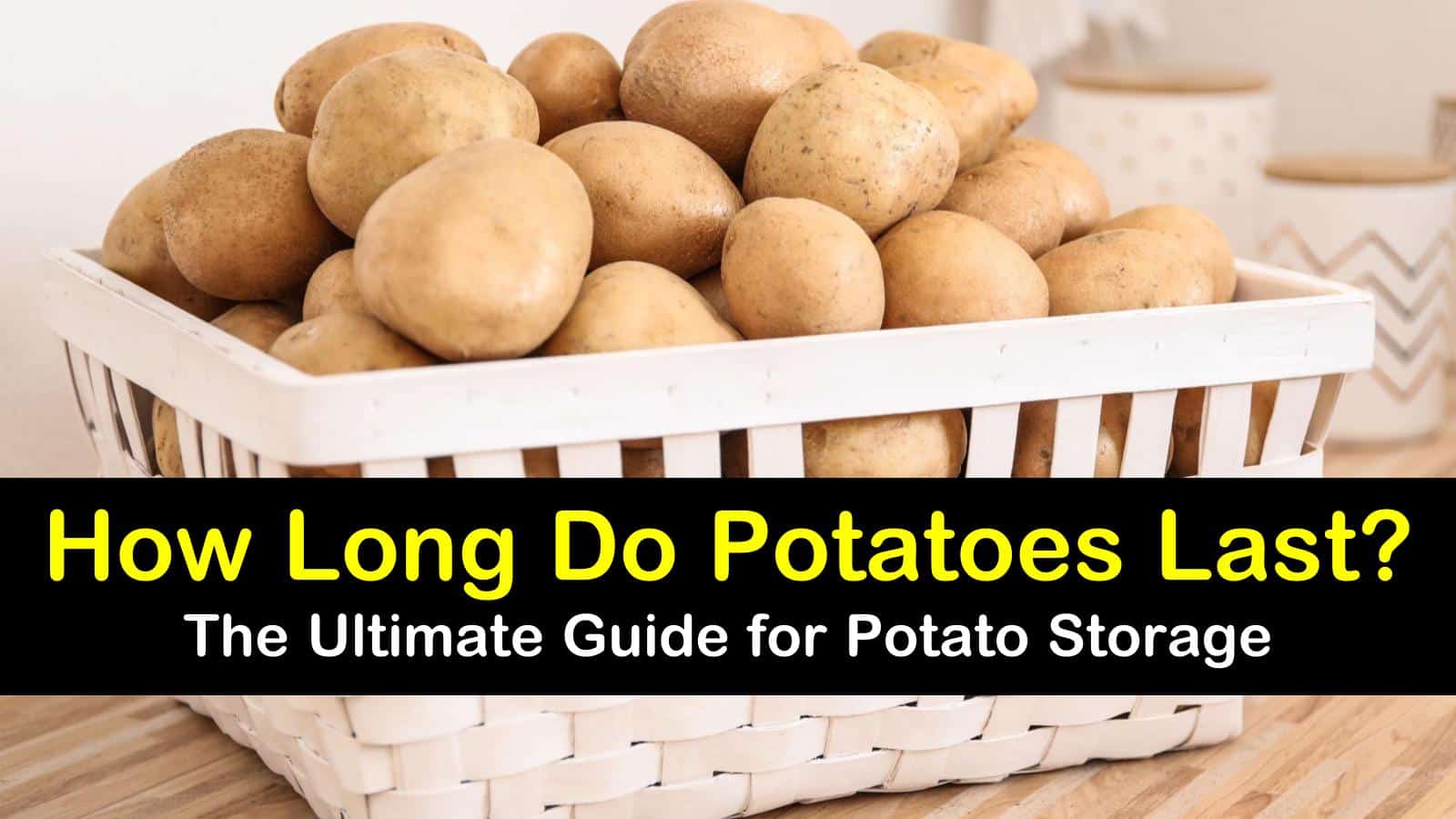 Potatoes – How Long Do They Last?
You finish wondering about the best time to plant sweet potatoes, and now you have a bumper crop. As with many foods, potatoes last longer when stored correctly in a dark place. Potatoes are often sold in large quantities in prepackaged plastic bags. These bags of potatoes often contain a sell-by date; don't confuse that date with an expiration date.
Of course, if you were industrious and took care of planting potatoes from potatoes yourself, you might wonder what to do with your abundant harvest.
The same thing applies to apples. How long do apples last? Apples are stored similarly to potatoes and last about the same amount of time.
Essential Things to Know
The sell-by date is the last day stores may sell potatoes to consumers; it is not their consume by date, as potatoes last for several days past their sell-by date when properly stored. For unbagged varieties of sweet potatoes and white potatoes, use the purchase date rather than the sell-by date to determine how long they will last.
How to Extend the Shelf Life of Potatoes
To extend the shelf life of your potatoes, store them in a cool, dry, and dark area such as a cellar or basement; pantries also work. Ideal storage conditions are inside a basement where the temperature remains between 45 to 50°F and is the best choice for the most extended shelf life.
This also applies to sweet potatoes. Cellar storage is the best way to store sweet potatoes until you need them.
You want perfect potatoes if you are storing them for the long-term, so discard any that show signs of shovel or pest damage, as well as mold, sprouts, and soft spots. If using homegrown potatoes, allow them to cure before storing. Potatoes require air circulation when storing, do not store in plastic bags as they offer little to no ventilation.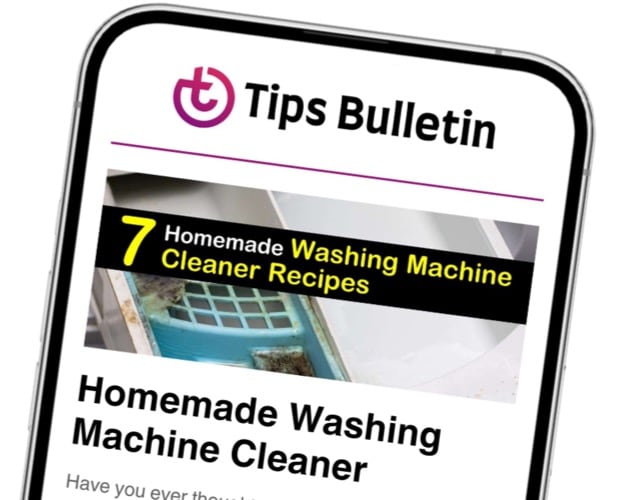 Finally, an email that Transforms Your Home.
Get the latest home and garden tips from our experts, delivered straight to your inbox.
Instead, store them in a basket or a brown paper bag so they can breathe. Other options for long-term storage of your spuds are inside a mesh bag or a cardboard box. Long-term storage temperatures are just as vital as air circulation.
Low temperatures are better, as storing potatoes in higher temperatures, anything above 50°F, speeds up the drying out process, which causes potatoes to shrivel and sprout. Sprouting in potatoes is it is a sign that nutrients are depleted.
To prevent early sprouting, store potatoes in cold temperatures inside a brown paper bag. You can add a ripe apple to the bag since it stops the potato cells from growing as it emits ethylene gas. Avoid storing raw potatoes near onions, as the chemical reaction caused between the two vegetables speeds up the spoiling process for both.
Potatoes require separation from all other produce, as some fruit causes premature ripening, and there is also a risk of flavor transferring. When storing your potatoes, check them regularly.
Physically handle each potato and examine them for signs of sprouting, soft spots, or a dried appearance. If these signs are present, remove them immediately to prevent the others from going bad. Sprouting potatoes are safe to eat, as long as they are not dried or soft to the touch.
How Long Do Potatoes Last in the Fridge?
Storing potatoes in the refrigerator is not recommended, but sometimes it is a necessity due to not enough pantry storage or hot and humid environments. Storing these vegetables in the fridge causes the starches in the potatoes to turn into sugars, which gives the potatoes a sweet taste.
Storing them in the refrigerator also creates a darker colored potato once cooked. One way to possibly offset these changes is to bring the potatoes out of the fridge and keep at room temperature for seven to ten days. The answer to how long do potatoes last in the fridge is similar to the general question of how long do potatoes last.
There is no proper answer as to how long potatoes last in the refrigerator. The length of time varies based on the variety and how they are prepared. To find out how long do russet potatoes last in the fridge, along with all other potato varieties, check out the next section.
How Long Do Potatoes Last Overall?
Aside from the sell-by date or the purchase date, how long potatoes last depends on the type of potato you purchased and the way to preserve potatoes that you chose. Fingerlings, red or new potatoes, and Yukon gold last between two to three weeks in a pantry and anywhere from two to three months in the fridge.
Russet or white potatoes last up to five weeks in the pantry and have the most extended shelf life in the fridge of all of the potato varieties as they keep up to four months. Once cooked or prepared, the shelf life of the potato changes.
Mashed potatoes last between four to six days in the fridge, while a baked or cooked potato dish lasts between five to seven days. French fries or other types of sliced potato dishes only keep for two days inside the refrigerator so eat them quickly. When storing potatoes, use a tightly sealed container to keep out any contaminants or moisture.
How Long Do Sweet Potatoes Last?
The answer to how long do sweet potatoes last depends on when you bought them, if they are raw or cooked, and where you plan on storing them. What about freezing? Can you freeze sweet potatoes to eat later?
Baked sweet potatoes are perfect for storing in the refrigerator or freezer. They last between five to seven days inside the fridge or up to eight months in the freezer, as long as they are adequately prepared for freezing.
Raw sweet potatoes and yams last between three to five weeks in the pantry from the date you purchased them or their sell-by date. Inside the fridge, you can safely store sweet potatoes and yams for up to three months.
Tips for Storing Raw, Cut Potatoes
Once you cut a raw potato, you have to worry about browning, as cut potatoes oxidize quickly. To temporarily stop the oxidation process, place fresh, cut potatoes into a bowl of salted cold water. Keep the potatoes in water until ready to use.
If you plan to store the sliced potatoes for use on a different day, cover them, and keep them in the fridge. Use cut potatoes within 24 hours.
Do Potatoes Go Bad and What to Watch for
Eventually, potatoes and other fruits and vegetables do spoil if they are not preserved in some way or eaten within a reasonable time frame. Eating spoiled or rotten food is a great way to subject yourself to various foodborne illnesses.
The best way to prevent these illnesses, aside from following proper hygiene, is to learn the signs of spoilage. Never wash potatoes before you store them, as wet ones quickly grow mold.
If mold is present, throw them out, and do not attempt to cut off the mold and salvage the remaining potato. Two of the most prominent signs of bad potatoes are growths and skin discoloration. As potatoes start going bad, they begin withering and start going soft. This applies to most veggies, and you can tell if a carrot is bad in the same way.
Throw out any that are wilted, soft or mushy, discolored, or have abnormal growths. New sprouts on potatoes are not a sign that a potato is rotten, but sprouts do signal diminished nutritional values. You can cut the shoots off and use the potato, or you can plant the newly sprouted potato in the garden.
When mashed potatoes age, the liquid begins to separate from the potatoes. The clear liquid is no worry, as you can mix it back in and reuse the potatoes. If the potatoes smell a bit sour or if the fluid appears to have a white haze, discard the mashed potatoes as they are spoiled.
Can You Prevent Potatoes from Sprouting?
There is no certain way to prevent any variety of potatoes from sprouting. Homegrown ones sprout faster than store-bought ones. Store-bought varieties are sprayed with a growth inhibitor, which slows down the sprouting process. As you cannot prevent sprouting, we recommend only storing as many potatoes as you can use in the fall and winter months.
Sprouting begins once spring hits, and temperatures start to warm up. While you can cut off the sprouts and eat the potatoes, you can also replant them. To plant sprouted potatoes, cut them up, so each piece has one eye.
Allow the potato to harden up before planting in the garden. This method works with all varieties and keeps you with a steady supply each year without having to spend money to buy new ones.
Can You Eat Green Potatoes?
Many people wonder if it is safe to eat green potatoes or if it's best to throw them out. The green spots on potatoes are from direct sunlight exposure during the growing process. The green places are chlorophyll, which by itself isn't a problem.
Where it becomes questionable is the direct sunlight exposure also causes the potato to produce solanine, which is a natural toxin that causes intestinal issues. If you have green potatoes, your best bet is to peel off the green skin, as this is where the solanine accumulates.
If there are green spots inside the potato, you can easily cut those away and eat the rest. We recommend discarding fully or mostly green ones to prevent yourself from becoming sick. Always make sure to cut the spout away wholly, as solanine is highly concentrated in the sprouts.
Can You Freeze Potatoes?
All potato types are 80% water, and vegetables with that high water content are not a good option for freezing. While we do not recommend freezing raw potatoes, you can freeze cooked potatoes. Using a brush is one of the best ways to wash potatoes. After they are clean, peel and cut your potatoes any way you wish for freezing.
How you cut, dice, grate, or slice your potatoes depends on how you plan to use them in the future. Once you cut or slice potatoes in your desired form, cook the potatoes in boiling water until tender. Cooking time varies based on the size and the desired shape.
Drain potatoes and allow to cool. If you wish to freeze mashed potatoes, mash them before allowing them to cool. Once cooled, store them in heavy-duty freezer bags or inside airtight containers. Use within 12 months for optimal quality.
While freezing is not the best solution for preserving potatoes, it's a great way to keep ginger fresh until you're ready to use it. Slice ginger and put it into airtight containers or freezer bags with the air removed.
How to Use Up Excess Potatoes
Despite being cheap and easy to grow, nobody wants to throw away food. With how versatile potatoes are, there are several ways to use up excess ones before they start to spoil.
How you use them up depends on how you prepared them. Potato pancakes are an excellent way to use up extra mashed potatoes.
How many eggs and how much milk you add depends on the amount of mashed potatoes you are using. Thick potatoes will not cook as quickly, so add a splash of milk to help thin them out. Whip all ingredients into a bowl.
Using medium-high heat, preheat an oiled pan. Once the pan is ready, place one scoop of potato mixture into the pan and flatten it out with a spatula. Cook for several minutes until browned, flip, and cook for several more minutes.
Over medium-high heat, heat one tablespoon of olive oil, cut onions in half and add to the heated oil. Fry onions for four minutes, get them nice and caramelized.
Add pepper and thyme and stir to mix. Add potatoes and one tablespoon of oil. Using a wooden spoon or spatula lightly smash the potatoes and allow them to fry undisturbed for four minutes. Lightly toss potatoes, add the last tablespoon of olive oil, toss potatoes around again, and then cook for an additional four minutes.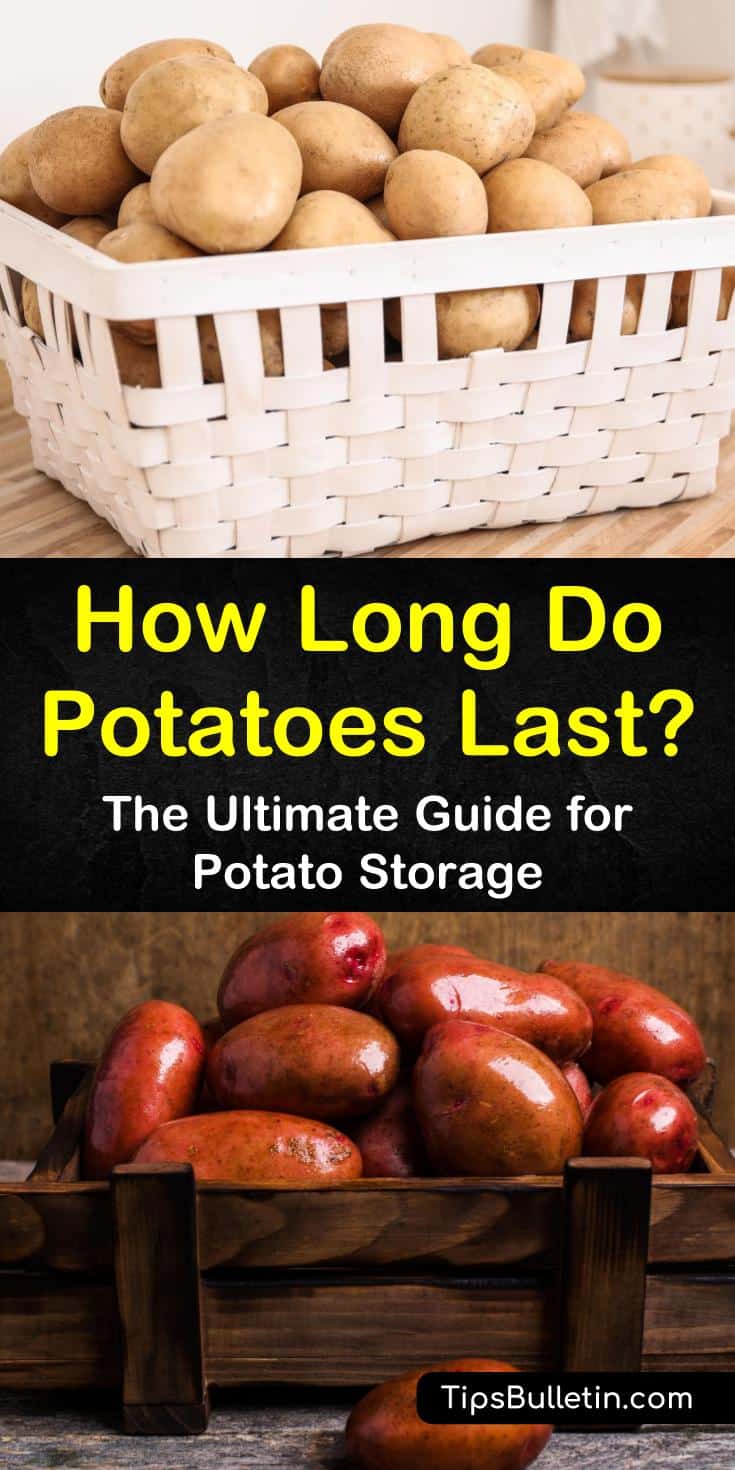 Thank you for reading our post that answers the question of how long are potatoes good for. We hope you found our answers to potato storage helpful. If you found our tips and ideas on how to store potatoes useful, please share these potato storage tips on Facebook and Pinterest so others can learn the answers to how long do potatoes last, too.