American cheese is a staple ingredient in many kitchens. As such, many people may wonder, "How long does American cheese last?" In this article, find out how to keep American cheese fresh longer, the best storage methods, and mouth-watering ways to use American cheese in recipes.
Keeping American cheese fresh is usually easier than with some other types of cheese because it's been processed and often has added preservatives. It includes a blend of cheeses, typically Colby or cheddar cheese, whey, milk proteins, emulsifying salts, and food coloring.
Although processed American cheese has a longer shelf life than most other cheeses, it does have an expiration date. Some canned or spreadable cheese products don't require refrigeration until after opening.
However, American cheese slices or loaves must be stored between 35-40℉ to prevent mold and harmful bacteria from developing. Read on to learn the best ways of keeping American cheese fresh in your fridge for as long as possible.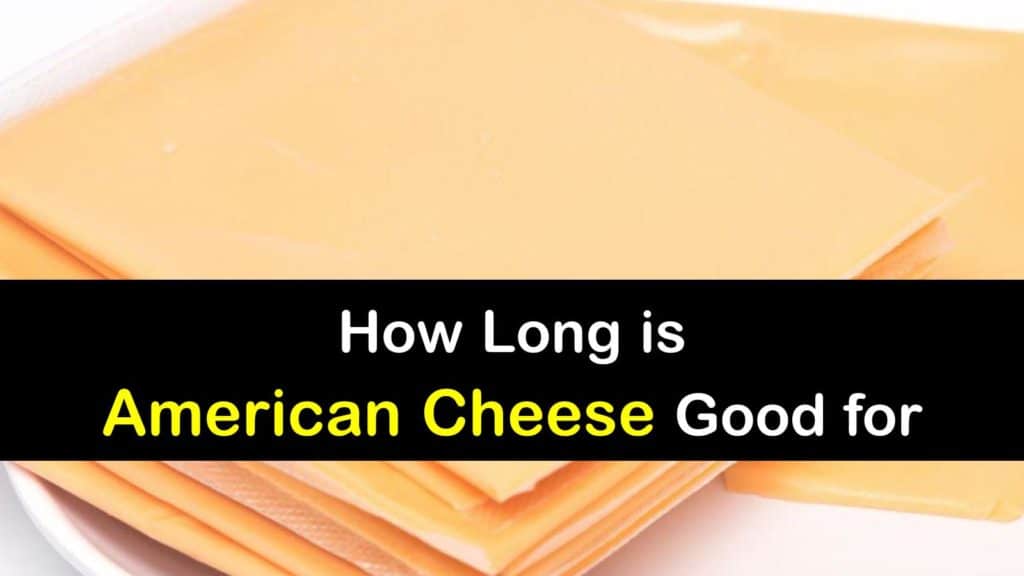 Tips and Tricks for Keeping American Cheese Fresh
From an irresistibly gooey grilled cheese sandwich to the perfect cheeseburger, American is the sliced cheese of choice for many of our favorite comfort foods. It's readily available at the supermarket deli counter or as a pre-packaged cheese product like Velveeta or Kraft Singles.
Have you ever asked, "How long is American cheese good for?" It depends on how it is stored. While it lasts much longer than most other kinds of cheese, American cheese is perishable.
If the package remains refrigerated and unopened, it may still be edible up to a month after the printed "best by" date. However, American cheese slices should be used within two to three weeks of opening for the best flavor and texture.
You may be wondering, "How long can American cheese sit out?" What about shredded cheese? How long can shredded cheese sit out? Dairy products are highly perishable and shouldn't be left out at room temperature longer than two hours.
To minimize the potential risk of food poisoning, always check for signs that your cheese has gone bad before eating it. These include a sour taste or smell, pale or grey discoloration, and visible mold. Throw any moldy food items away, as the spores are present throughout the container.
How Long Does American Cheese Last Unopened?
Has it been a little while since the last time you cleaned out your refrigerator? If so, you may find yourself asking, "How long does American cheese last in the fridge?"
Several factors affecting the shelf life of your American cheese are whether it's still sealed, what type of package it's in, and if it's been sitting out at room temperature.
Unopened American cheese stays edible for two to four months. The expiration date isn't necessarily when the cheese will have gone bad, but rather the indication of the best overall quality. While it might not taste as fresh after a while, it's likely still okay for a few more weeks.
How Long is American Cheese Good for after Opening?
Once opened, most American cheese lasts two or three weeks. However, the exact shelf life of the product depends on which types of preservatives it contains.
For example, Kraft Singles have natamycin as the main preservative, which is a natural mold inhibitor. Velveeta uses sorbic acid in their cheese products, which is another natural preservative that inhibits the development of mold and bacteria.
After using American cheese to make a dish like macaroni and cheese or queso dip, be sure to refrigerate any leftovers in an airtight container. They typically stay fresh for three to five days.
For your next game night get-together, or anytime you're craving some cheesy goodness, try this quick and easy recipe for homemade nacho cheese sauce.
Heat a large saucepan on medium-high and melt the butter. Then, whisk in the flour and cayenne pepper. Allow them to cook for a minute or two.
Whisk in the whole milk and bring the mixture to a simmer. Reduce the heat to low and add the American cheese. If desired, use a half-and-half mixture of American and cheddar cheese. Stir gently until the cheese melts completely and the sauce has a smooth texture.
Serve over nachos topped with chopped chives, fresh cilantro, and a dollop of sour cream, or as a cheese dip with tortilla chips. Refrigerate any leftovers sealed in an airtight container and use them within three to five days.
Best Ways to Store American Cheese
After opening the package, it's crucial to transfer your American cheese slices to an airtight container to maintain maximum freshness as long as possible, just like when you store fresh cheddar cheese or parmesan. The way to tell if cheddar cheese is bad is to see if the cheese dries out before getting moldy.
Unless the original packaging is resealable, it's best to wrap your American cheese in aluminum foil or plastic wrap to minimize air exposure. Or, place the cheese slices in a lidded container and store them in the dairy compartment of your refrigerator.
What is American Cheese?
The technique for making processed cheese dates back to 1911 in Switzerland when Walter Gerber and Fritz Stettler first produced it commercially. The purpose was to reduce cheese waste by mixing the leftover scraps from different batches of cheese to create a new cheese product.
James Kraft, a Canadian-American entrepreneur, brought the process to North America in 1916. Processed cheese quickly became widely distributed as whole blocks and slices thanks to their long shelf life, making shipping much easier.
American cheese is often prepared with Colby or cheddar cheese, combined with whey, milk protein, and emulsifying enzymes. One of the most common coloring additives is annatto, an orange food coloring extracted from the seeds of the achiote tree.
American cheese is classified as a semi-soft cheese, meaning it has less moisture content than hard cheeses like gouda, gruyere, parmesan, and provolone.
Soft cheeses include blue cheese, brie, cream cheese, feta, and goat cheese. Other examples of semi-soft cheeses are asiago, Havarti, and mozzarella.
If you're looking for the ultimate easy brunch dish, indulge yourself in this enticing BLT egg bake. Prep time is only 30 minutes, making this the perfect recipe for a relaxing weekend morning or a spontaneous breakfast-for-dinner night. This recipe makes four servings.
Start by preheating your conventional oven to 325℉. Spread mayonnaise on one side of each piece of toast and cut into small, bite-sized pieces. Arrange the pieces of toast in the bottom of a large baking dish. Layer the American cheese slices and bacon crumbles on top.
Heat a small saucepan and melt the butter. Add the flour, salt, and pepper and whisk until smooth. Slowly incorporate the milk and bring the mixture to a simmer. Stir continuously until it begins to thicken, around two minutes. Pour the batter over the bacon and toast.
In a heavy-bottomed skillet, fry the eggs to your desired doneness and transfer them to the baking dish. Place the tomato slices over the eggs and top off your dish with the green onions and shredded cheddar cheese.
Bake uncovered for ten minutes. Cut it into squares and serve over a bed of shredded lettuce.
Can You Freeze American Cheese?
Can American cheese be frozen? If you're worried about your American cheese going bad in your fridge, freezing is an excellent way to extend its shelf life. However, the flavor and texture won't be quite the same once defrosted. It's best to use it in a cooked dish rather than on its own.
For the best possible results when freezing sliced cheese, wrap each slice of cheese individually to make it easier to separate portions when defrosting. Place the wrapped cheese slices in a freezer-safe bag.
Remove all of the air and seal the bag to keep out air and moisture. Label your cheese with the storage date and place it in your freezer. Use your frozen American cheese within six months.
When cleaning out your refrigerator, a common question is, "How long is American cheese good for?" It depends on whether it's open or not, how it gets stored, and if it happened to sit out at room temperature for a significant amount of time.
In general, American cheese has a long shelf life. It lasts for two to four months when unopened and two to three weeks after opening.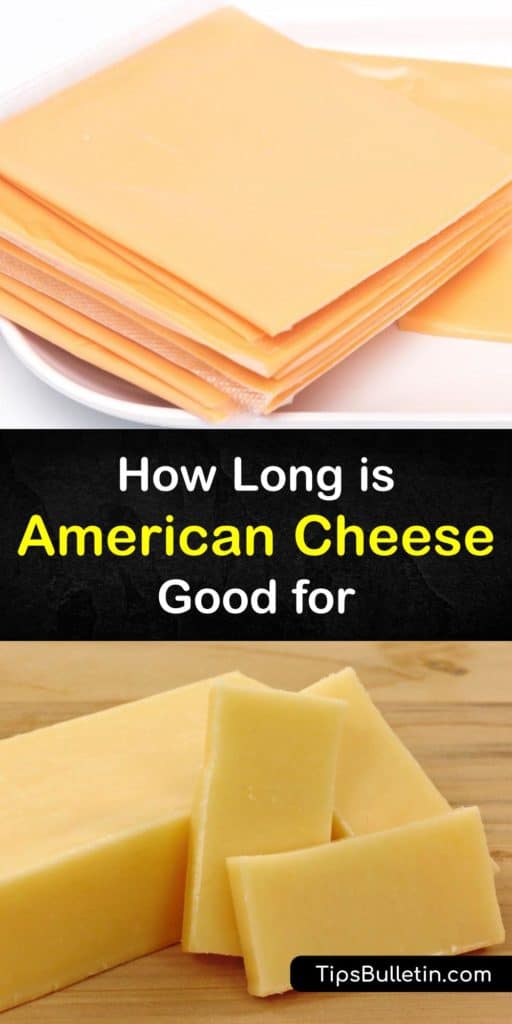 If you found these food storage tips helpful, please share this article about how long does American cheese last with your friends and family on Pinterest and Facebook.