When compared to the price of other common vegetables, asparagus is not a cheap option. Therefore when you buy it, you don't want any of it to go to waste. As you put the fresh spears inside your cart or into the vegetable crisper drawer of your fridge, you might find yourself wondering how long does asparagus last?
To answer the question of how long does asparagus last, you must understand its shelf life. Many people assume asparagus has a short shelf life, especially when compared to other veggies. While this is true, it is possible to extend its shelf life.
Buying the freshest spears and storing asparagus properly is the first step in keeping asparagus fresh. In this article, we hope to teach you how to keep asparagus fresh through proper storage, but we also provide you with a handful of other useful tips to aid you in keeping asparagus fresh longer.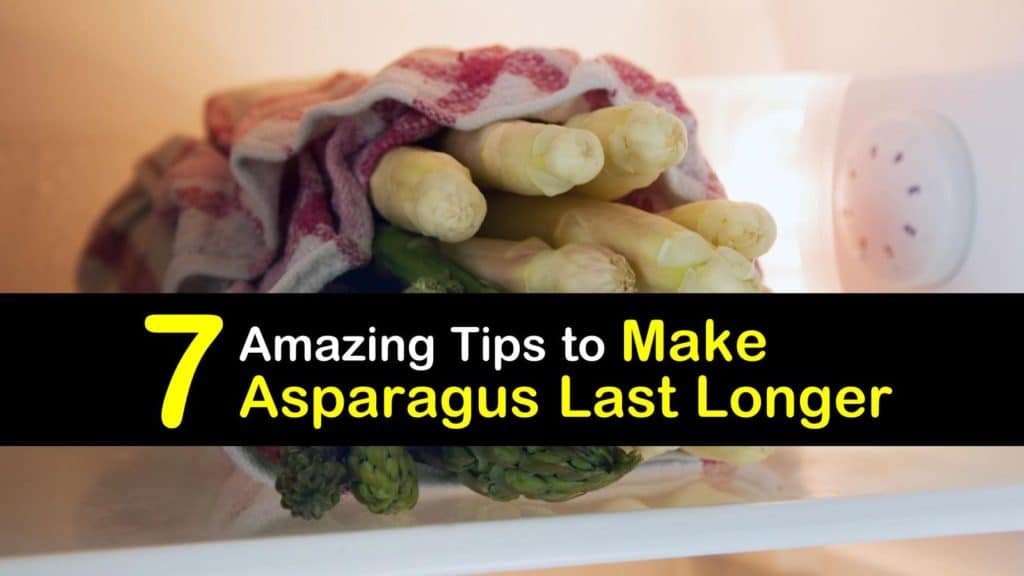 Fantastic Tips to Follow for Keeping Asparagus Fresh
No matter which asparagus varieties names you prefer to eat and buy, keeping store-asparagus fresh longer involves learning how to preserve it properly. However, even then, it will spoil eventually. We provide you with some fantastic tips to help you keep asparagus longer, as well as teach you what to look for in terms of spoilage.
Keeping Asparagus Fresh through Proper Storage
All stores sell raw asparagus secured with one or two rubber bands. These rubber bands play an essential role in storing and keeping your asparagus fresh. Never remove the bands from around the spears until you are ready to use them.
Your local farmers market also bundles their asparagus, including white asparagus, to keep it fresh for a more extended period. Unlike many other types of vegetables, asparagus requires a damp environment to stay fresh.
Even though you purchase it from the produce section, sometimes out on display, never store it on the counter or in a cupboard. Always store your asparagus in the refrigerator.
Avoid just tossing the plastic bag into the vegetable crisper drawer for storage. It is possible to store the spears inside a plastic bag, but to ensure lasting freshness, the spears require moisture.
Wrap the ends inside a damp paper towel and place them back into the bag. Store unsealed inside the fridge. Storing the asparagus upright inside a jar with some water keeps the asparagus fresh for about a week.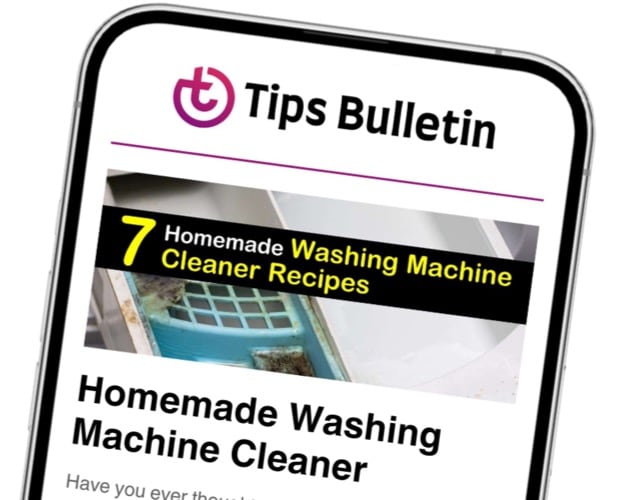 Finally, an email that Transforms Your Home.
Get the latest home and garden tips from our experts, delivered straight to your inbox.
This method requires some kind of container and an inch of cold water. Place the spears upright inside the container, so the ends are resting in the water.
Lightly cover with a freezer bag or some plastic wrap. Keep it loose as air circulation is necessary for freshness. Change the water when it is cloudy.
How Long Does Asparagus Last in the Fridge?
When tossing your fresh asparagus into the fridge inside a plastic bag, it lasts anywhere from three to four days before starting to spoil.
If you take the time to wrap the base of the stalks with a damp paper towel and then place them inside the fridge, you extend the freshness by another three days.
If you take the time to store your asparagus inside a container with an inch of water, your asparagus stays fresh for 10 to 14 days.
How Long Does Asparagus Last after Cooking?
Once you cook asparagus, its quality quickly changes. When stored inside the fridge in an airtight container, it keeps for three to five days. To preserve it longer, it is possible to freeze cooked asparagus.
Place cooked asparagus inside a freezer bag, remove the air, and place inside the freezer. If freezing cooked asparagus, do so immediately after cooking rather than waiting a few days as the nutritional quality deteriorates.
How to Keep Asparagus Fresh by Freezing
No matter your intentions, sometimes you end up with more asparagus than you can use. Whether you bought too much during an excellent sale or dinner plans changed, you don't want any of it going to waste, so your best option is to freeze asparagus.
This method for storing asparagus allows you to have the yummy veggie during the coldest months when you would not normally have access to it.
Begin by washing all of your extra asparagus and then cut ends off. Sort your stalks by thickness while you bring a large pot of water to a full boil. Blanch the thinnest stalks for 90 seconds, medium width for 120 seconds, and the thickest ones for 180 seconds.
Stems turn bright green after blanching. Use ice and water inside a bowl for a cold water bath. Remove the asparagus stalks from the boiling water and submerge them in the water bath to cool down.
Drain the water and allow the spears to air dry for 20 minutes. Blot dry the rest of the way with paper towels. Split the asparagus up into portions based on how much you use each time. Gently add them to freezer bags.
Press out the air before sealing it tight. Use a Sharpie to label each bag and then place directly into the freezer. You can also dehydrate asparagus if you wish to add it to your food storage supply.
Has Your Asparagus Gone Bad?
All of the time frames we provide are estimates; asparagus may spoil faster or slower. Your best bet is to inspect your stalks before using them because it is easy to spot any that are rotten or beginning to rot.
Fresh asparagus features dark green tips with a violet tinge. The stems are firm and not soft. Discard any of them that feature black spots or appear soft and mushy. Two other signs that indicate your vegetables are spoiled is a slimy residue or discolored stems.
If it smells rotten or acrid when you go to cook it, don't take the chance despite its appearance. It is possible to cut off the bad parts and use the remaining.
You can sort through the bundle and discard any spoiled ones, too. However, if more of the stalks appear rotten than fresh, it is safest just to throw out the entire bunch.
Tips for Buying Fresh Asparagus
One thing to consider when buying fresh asparagus spears is the time of year. Asparagus season is from February until June. April is the peak month for buying fresh asparagus as it's at the height of its growing season.
Knowing when to buy the freshest asparagus is the first step; you also must know what to look for at the local grocery store to get the best quality. When selecting fresh spears, look for the ones that are tinged with violet and are bright green.
Feel the stems for firmness. Avoid purchasing limp stems. Some might tell you for the best taste choose thinner stems, but thickness doesn't affect the taste.
Best Ways to Use Leftover Asparagus
Despite your best intentions, sometimes you are faced with leftover asparagus. While sometimes it's okay, repeating the same steamed or roasted vegetable two nights in a row is often frowned upon. Rather than reheating your spears, use them as a building block to create something new and appealing.
One way to use up your extras is to cream them. Begin by reducing some heavy cream in a saucepan, sprinkle in some salt and pepper, and then add in your chopped up leftovers. Heat long enough to warm up your spears and serve it over some toast.
Another great side dish for leftovers is to combine the asparagus with peas. Sugar peas work well, but so do snap and snow peas. Cook your peas and toss in the asparagus to heat through. Add some butter and stir your vegetables around until evenly coated. Sprinkle with some Italian seasoning and then serve warm.
If you are looking for ways to transform some of your leftovers into a main dish, there are several ways to do it. Chop the asparagus into bite-sized pieces and add to your next stir-fry. You can also add it to any warm pasta dish.
As it's already cooked, toss it in at the end to heat it. Fried rice and skillet meals are also great ideas for leftover asparagus.
If your leftover asparagus is slightly undercooked or you want to use up your fresh asparagus before it spoils, try making pickled asparagus.
Cut asparagus so it fits inside the jar without squishing. Add all of the spices to each jar and then add the asparagus pieces. Leave half an inch at the top.
Bring the white vinegar and water to a boil on the stove and then carefully pour the liquid into the jar until the asparagus is covered. Secure the jar with lid and ring and gently turn upside down.
Turn the jar right side up and set on the counter. Once it cools down, refrigerate it to ensure it stays fresh.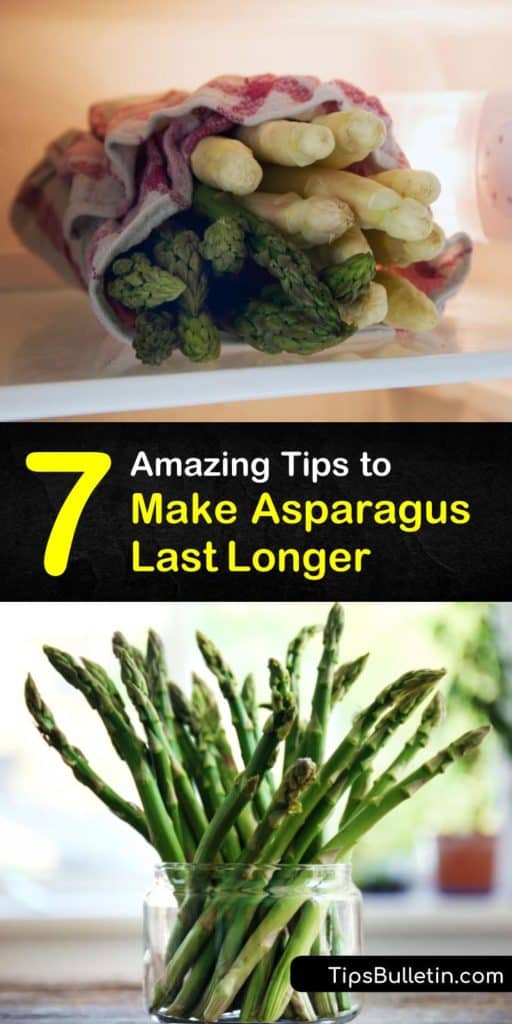 Thank you for reading our suggestions for how to keep asparagus fresh. If you found any of our thoughts, tips, or advice on keeping asparagus fresh, please share them with other people on Facebook and Pinterest, so they can learn how long does asparagus last, too.