Most baristas agree coffee is one of those beverages that is different and unique for everyone. Some enjoy a steaming cup of black coffee, others love a rich and creamy latte, and some prefer cold brew coffee. If you're a coffee connoisseur, you're probably well aware of how to make the perfect cup of joe, but how long does brewed coffee last in the fridge?
Iced coffee not only gives you the kick you need to get started, but it's refreshing, especially on a hot summer's day. A cold brew only lasts so long at room temperature, though, and storing it becomes necessary to keep it cold, with the best coffee taste.
While a bag of coffee beans from the grocery store comes stamped with an expiration date, your fresh pot of drip coffee does not. So, when does coffee go bad, and how long does coffee last if you refrigerate it?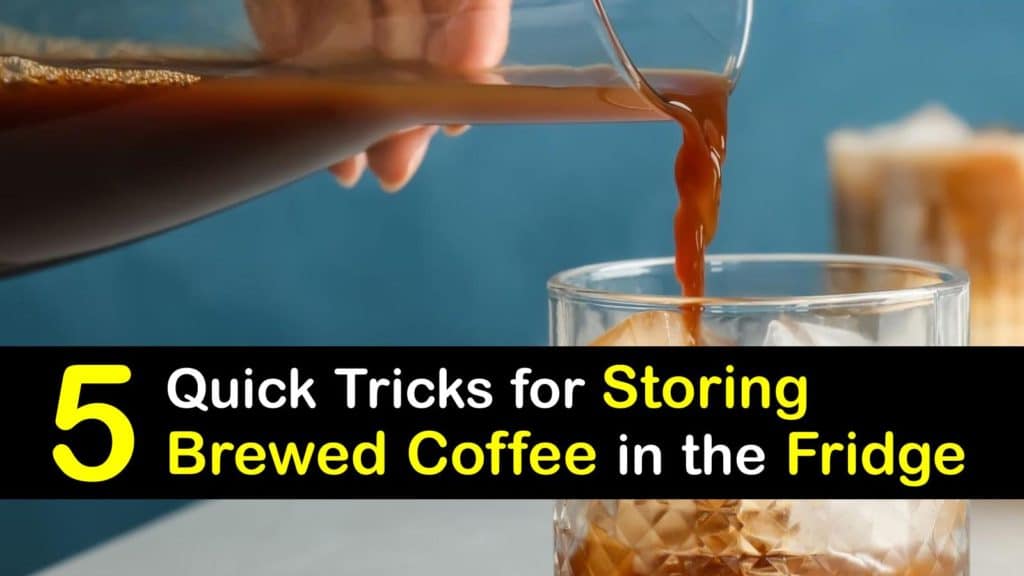 Storing Brewed Coffee for Optimal Flavor
Whole beans begin to go stale quickly after roasting and preparing in a grinder and slowly become rancid after steeping in hot water. No one wants a good cup of coffee to go to waste, and it's important to know the best way to store coffee for optimal flavor.
We'll discuss how long coffee lasts after brewing and how to keep coffee fresh and extend its shelf life by storing it in the fridge and freezer.
If you are a coffee lover, you know that keeping your coffee fresh is just as important as knowing how long milk lasts outside the fridge.
Ways to Store Brewed Coffee
There are a couple of ways to store brewed coffee in-between cups, from the refrigerator to the freezer, and they are all easy methods that keep your coffee tasty short and long term.
For occasional drinking throughout the day, the coffee pot or a thermos is ideal for storing your beverage short-term. However, the fridge and freezer are two other options for storing brewed coffee if you made too much or prefer cold coffee with ice cubes.
The refrigerator is perfect for keeping chilled coffee on hand when you get the craving, and the freezer works well for long-term storage.
How Long is Brewed Coffee Good for After Brewing?
How long is brewed coffee good for? The answer depends on certain factors, including the type of coffee, whether it's hot or cold brewed, when you brewed it, and where you store it.
Oxidation leads to stale coffee, which results from using old coffee beans or drinking coffee exposed to the air for too long. Hot coffee sitting at room temperature isn't as desirable after a short period of time, especially if it's not kept warm in the carafe.
We advise drinking this coffee within 12 hours of brewing by either reheating it in the microwave or keeping it warm on a hot plate.
If you have coffee left over after you get your fill, place it in the fridge to maintain its freshness for up to one week. To store it even longer, consider freezing it to lengthen its life up to two months.
How Long does Brewed Coffee Last in the Fridge?
A coffee pot of cold brew does not stay fresh and cold sitting on the counter at room temperature for very long, and it's best to keep it in the refrigerator. We'll discuss the different types of coffee, show you how to refrigerate it, and how long it lasts after brewing.
There is nothing better than a batch of cold brew to get your day started. You steep it in filtered water in the fridge for 24-hours, filter it out into a pitcher, and enjoy.
It's also easy to prepare in a French press or coffee maker with a cold brew setting. Another favorite among coffee-drinkers is coffee concentrate, a strong version that you dilute with ice and water or creamer.
How long does brewed coffee stay fresh? Unless you drink it in one sitting, it's essential to keep it refrigerated by placing it on the shelf near the back of the fridge where it's coldest.
Ensure the pitcher has a lid to prevent the liquid from absorbing other odors and drink it within a week. Does instant coffee expire? If you're in a pinch, instant coffee lasts for a couple of weeks, but we recommend drinking it within the first week.
How Long does Coffee Last in the Freezer?
If you prepare a delicious pot of coffee and simply cannot drink more than a cup, freezing it is a great way to save it for later enjoyment. But, how long is brewed coffee good for if you store it in the freezer?
Pour the leftover coffee brew into an airtight container and seal the lid in place. Place it in the freezer in an easy to reach area for up to two months. To thaw the coffee, transfer it from the freezer to the refrigerator 24-hours ahead of time.
Making Coffee Cubes for Long Term Storage
One of our favorite ways to store brewed coffee in the freezer is to prepare coffee cubes. Any type of high quality ground coffee works, from espresso to mocha.
These frozen cubes are delicious for adding to a fresh cup of cold brew coffee or tossing it into a smoothie for an extra kick.
Pour the coffee brew into ice cube trays and set them on the freezer shelf until frozen solid. Remove the trays, pop out the cubes, and place them into freezer bags.
Label each bag with the contents and date, seal them, and lay them flat on the freezer shelf. Use the coffee cubes as needed and add them to a frozen dessert drink or an evening Irish whiskey cocktail.
Don't forget that after you brew your coffee, it's essential to clean the coffee pot well so it's ready for your next cup.
Old coffee has a nasty, bitter taste, and dumping a cup of your favorite beverage down the drain is a disappointing waste. Luckily, there are simple ways to store cold brewed coffee to enjoy it for up to a week or even two months.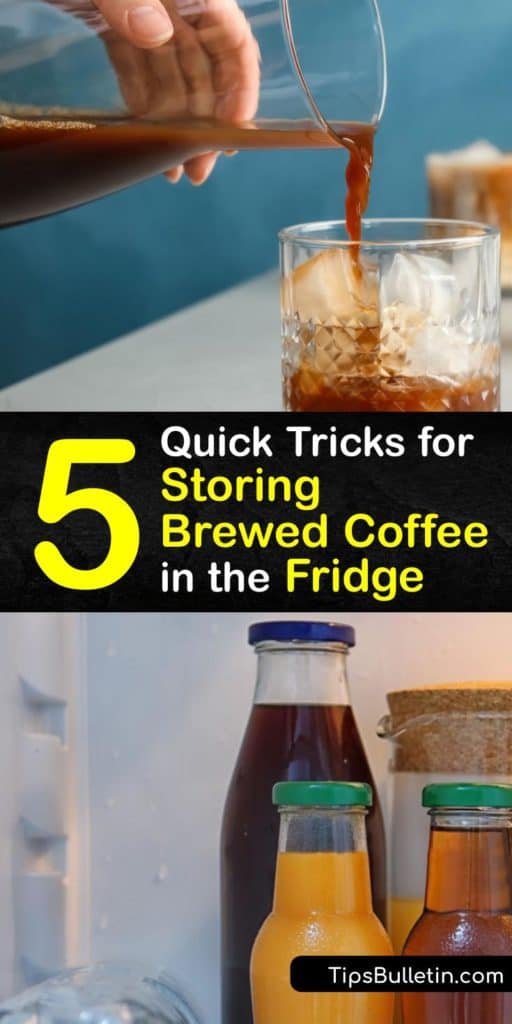 How long does brewed coffee last in the fridge is a common question among coffee drinkers, so why not share our coffee storage guide and tips with the coffee-lovers in your life on Facebook and Pinterest?