It's remarkably common to discover that you forgot about the vegetables you bought last week at the grocery store, and they're now brown, slimy, and rotten. Rotting is especially relevant for veggies that produce a lot of portions, like cauliflower. So how long does cauliflower last in the fridge or buried in the freezer?
This article shows you how to keep cauliflower fresh and how long it's safe to store them in each of these individual areas. Keeping cauliflower fresh is simple to do once you know their shelf life.
There are dozens of methods that work not only on cauliflower but on lots of different veggies. When you're learning how to tell if a cauliflower is fresh, more information is better.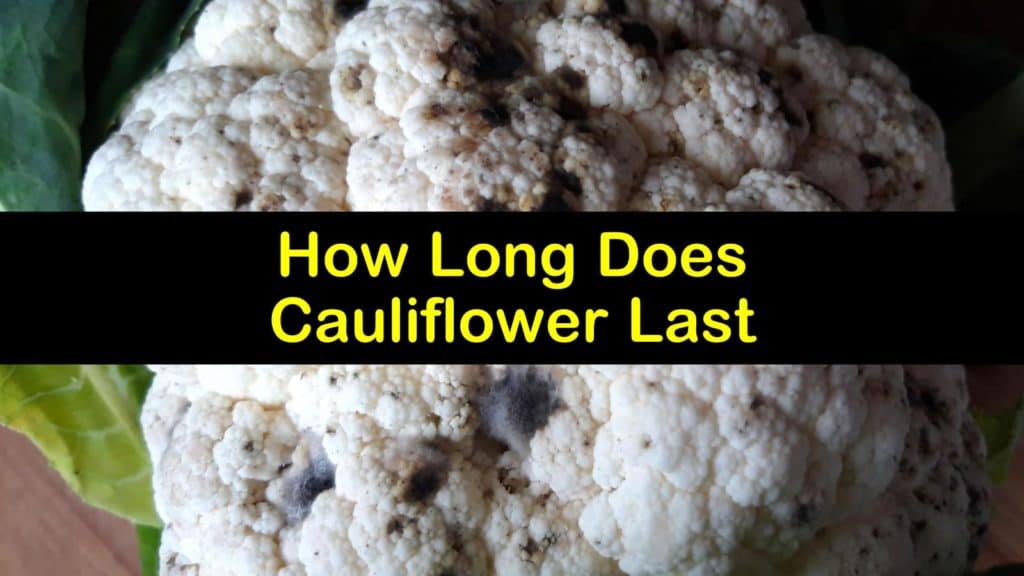 Why Eat Cauliflower?
We always recommend getting knowledge about your produce, so you know what you're putting in your body, how long you're able to hold onto that food product, and when it's time to throw it out before making us sick.
What is cauliflower, and why should you eat it in the first place? Most cauliflower types have creamy white tops that become tender when cooked. They belong to the cruciferous family, which includes broccoli, brussels sprouts, and cabbage.
White isn't the only color these tasty veggies come in, though. There are also orange, green, and purple varieties packed with nutrition that bring bright colors to our meals. The florets grow from a thick, center stem that gets removed before eating them.
Cauliflower is high in vitamins, minerals, and fiber that all support a healthy digestive system. It contains antioxidants that reduce body inflammation and have anti-cancer properties.
They are low calorie yet filling and are a low-carb alternative to many grains. Cauliflower is extremely versatile and often converted into mashed potatoes, cauliflower wings, and pizza crust.
How Long Does Cauliflower Last?
After you discover the best way to grow cauliflower in containers or your garden beds, you need to know what to do with it afterward. We often ask ourselves questions like, how long do cauliflower last in the fridge versus the freezer? And, what is the best way to store cauliflower?
Keeping cauliflower fresh for as long as possible doesn't start at the house. It begins after harvesting it or at the grocery store and our choices.
What to Look for at the Store
When you're at the store, there are fruits and veggies often varying in their ripeness and freshness levels. When searching for a whole head of fresh cauliflower, look at the color first.
Raw cauliflower is usually creamy-white and free of brown spots, wet spots, and other blemishes. Fresh veggies also feel heavy for their size and have vibrant green leaves.
If you're unsure of the freshness, smell the cauliflower to make sure it has no off-putting aroma. If it smells funky, chances are it's already gone bad.
How to Keep Cauliflower Fresh in the Refrigerator
Should you refrigerate cauliflower? Definitely. When you bring home a head of cauliflower, immediately remove it from the plastic cellophane that most stores wrap them in. The plastic bag traps moisture and causes it to rot much faster.
Dampen a paper towel with cold water, wring it out, and wrap it around the cauliflower head. The way to store fresh cauliflower is to wrap the cauliflower, paper towel included, in a perforated plastic bag so that it still has plenty of airflow. Refrigerate the cauliflower head in the crisper drawer for up to seven days.
Keeping Cauliflower Fresh for Longer Periods
Can you freeze raw cauliflower? Yes, but blanching it is better. If you like to store your cauliflower for much longer amounts of time, try to freeze-cauliflower florets. Always begin by blanching them.
Blanching pre-cooks the veggies and slows the enzymes that break them down. Cooked cauliflower is also much easier to throw into a pan and warm-up for a quick dinner.
Fill a large stock pot with water and bring it to a boil. Add the four tablespoons of salt to the water and stir it. Salt helps the florets stay fresher for even longer in the freezer.
Boil the florets in the salt water for two minutes and then dunk them in an ice bath to stop them from cooking. Remove the cauliflower pieces from the ice water and let them dry on paper towels.
How long are Brussels sprouts good for, as well as cauliflower, when prepared this way? Once dried, place the florets in freezer bags or an airtight container and store them in the freezer for up to one year.
Turn Your Cauliflower into Something New
Cauliflower is versatile and makes an excellent substitute for rice, bread, thickeners for soup, and more. One of our favorite ways to store cauliflower is by turning it into pizza crusts that last for six months in the freezer.
Pull the crusts out of the freezer, top them with sauce, cheese, and veggies, and cook them in the oven for a healthy, low-calorie pizza night.
Spread a piece of parchment paper over a large baking sheet and preheat your oven to 400°F. Pulse the steamed florets in a food processor until they form fine crumbles. Pour the florets into a bowl and allow them to cool entirely.
Add the cheeses, spices, and eggs to the bowl and stir until well combined. Transfer the veggie mixture onto the baking sheet and form it into a circular pizza crust.
Bake the cauliflower crusts for 20 minutes and remove them from the oven to cool to room temperature. Place the crust in a large plastic bag and store it for six months.
Remember, the smartest strategy for how to tell if cauliflower has gone bad is to look at the color and to smell it. Veggies tell you everything you need to know based on their appearance.
If you're suspicious that they've gone bad, you can always rely on those two factors. If either one is off, the chances are likely that the cauliflower has gone bad.
Knowing how to keep cauliflower fresh is a skill that applies to other similar vegetables. This knowledge helps you save money and an upset stomach in the future and makes sure you and your loved ones are only consuming the freshest products possible.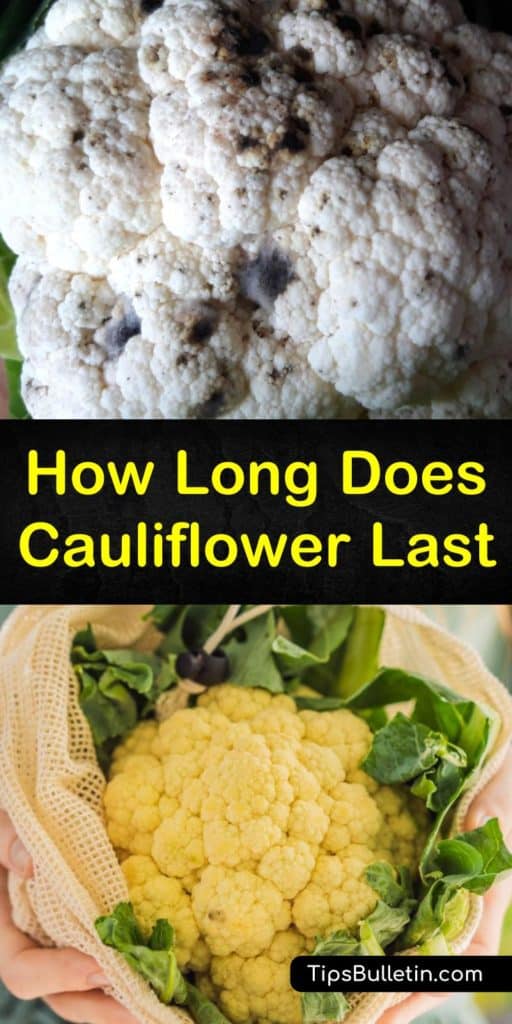 If you found it helpful learning how long does cauliflower last, share these tips for storing cauliflower on Facebook and Pinterest.