Celery is an incredibly nutritious and delicious vegetable that has a long shelf life when stored properly. So, precisely how long does celery last? Does celery last in the fridge? The solution to these questions revolves around the storage method.
Raw celery lasts about three to four weeks from the purchase date when stored in the fridge. If you harvest fresh celery from your garden, it tends to last a bit longer. Cut celery in packages from the grocery store tends to have a much shorter shelf life and only stays fresh for a few days. Freezing is an excellent way to store veggies that are in danger of going bad.
It's best to blanch celery stalks before freezing them. Frozen celery that was blanched lasts for 12-18 months. Use unblanched celery within two months. Celery is a versatile ingredient that is crispy and satisfying on its own as a healthy snack or adds flavor and texture to a stir-fry, soup, and many other recipes.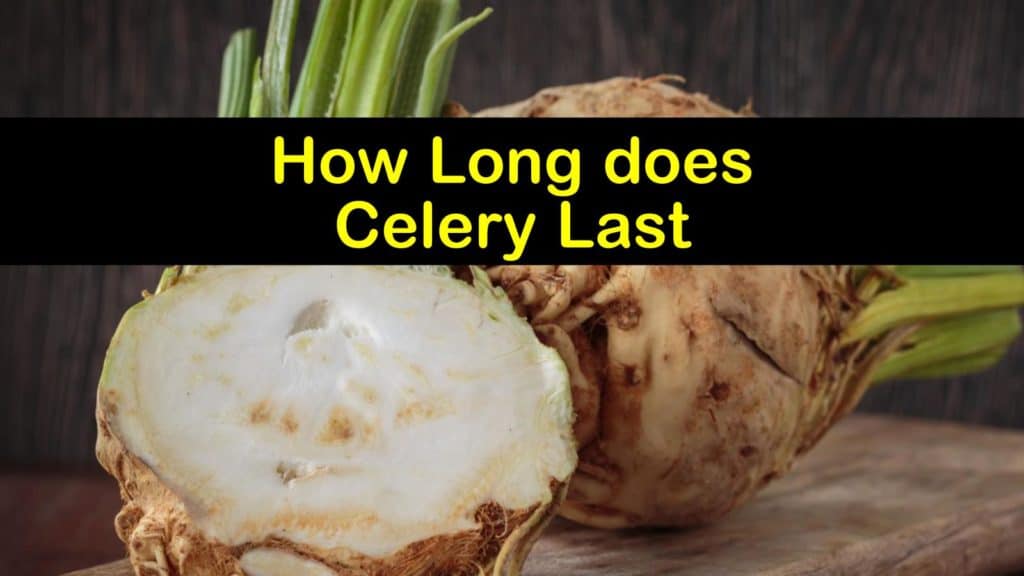 How Long does Celery Stay Fresh?
How long is celery good for? Celery is one of those foods that seem to last forever in the crisper drawer. Does cabbage last in fridge as long? If it's not cut it does.
You may be wondering, how long does celery stay fresh? Is it still safe to eat if it's a few weeks old? The short answer is: probably.
Full heads of celery last for a longer period than pre-cut celery packages. It's best to buy organic produce when possible because celery is one of the crops with the highest average pesticide use.
Read on to learn the best ways to store celery, how to tell when it's gone bad, and how to revive limp celery that isn't showing any other signs of spoilage.
Best Ways to Store Celery
Once you return from the grocery store, take your head of celery out of the plastic bag that it came in.
Most fruits and veggies release ethylene gas, a plant hormone that triggers fruit to start ripening, cells to begin degrading, leaves to wilt, and seeds or buds to sprout. The ethylene gets trapped inside the plastic bag and decreases the shelf life of celery.
Store celery in an area that has good airflow. Make sure that it stays well hydrated but not soggy. Always refrigerate celery.
If left out on the counter, it quickly dries out and loses its crispness. Here are a few options for how to keep celery fresh the longest.
Store Celery in Aluminum Foil
To have celery stay fresh longer and for one of the best ways to preserve celery short-term, try wrapping the whole celery head tightly with aluminum foil.
The foil still lets the ethylene gas escape while maintaining the crispness of the celery stalks, making it a useful food storage solution. Aluminum foil is preferable to plastic wrap, as it is more breathable and doesn't trap the gas.
Keep Celery Hydrated with a Damp Paper Towel
An effective technique to keep your celery from drying out is to wrap the base of the celery stalks with a moist paper towel.
If you use celery regularly, it works well to store your celery with just a damp paper towel. If you don't go through celery very quickly, it's best to use both aluminum foil and a moistened paper towel.
There are also a variety of recipes for canned celery and celery pickles if you feel adventurous.
Does Celery Last in the Fridge Longer when Stored in Water?
Cut celery stalks lose their water content much more quickly than whole heads of celery. To keep cut celery fresh for a longer period, store the stalks submerged in water in a covered container. The cold water helps to maintain hydrated, firm stalks.
How Long does Celery Last in the Freezer?
Freezing is an effective way to save veggies from going bad. However, it's essential to know how to properly freeze celery for the best results. Blanch celery in boiling water before storing it in the freezer for long periods.
Blanching deactivates the enzymes that cause celery to become mushy when it's defrosted. If you intend to use it within a month or two, it's all right to skip the blanching step.
How to Freeze Celery
Begin the process of how to freeze celery by bringing a large pot of water to a rolling boil. In the meantime, wash the celery to remove any remaining dirt. Cut the root end and celery leaves off, and chop the celery stalks into the size of pieces you need for your intended recipe.
Fill a large bowl with ice water and set it aside. Boil the celery pieces for one to three minutes until they are bright green and are still firm. Transfer the celery to the ice water bath using a slotted spoon, and leave them in the cold water for about five minutes.
Once the celery cools, dry each piece completely, and arrange the pieces on a baking sheet lined with parchment paper.
Flash freeze the celery for at least one hour to prevent the pieces from sticking together in the freezer bag and make the defrosting process easier. To prevent freezer burn, remove all of the air from the freezer bag before sealing it.
If you don't have a vacuum sealer, use a straw to suck the air out of the bag. Close the freezer bag around the straw, remove as much air as possible, then take the straw out and seal the bag.
How to Cook with Frozen Celery
Some of the best uses for frozen celery include recipes for soups, stews, sauces, and stuffing.
It does lose some of its texture and flavor, so frozen celery isn't ideal for raw dishes or party platters. For most recipes, add the frozen celery pieces directly to the dish without thawing.
How to Tell when Celery has Gone Bad
When celery starts to go bad, it becomes limp and bendable. You can also tell when celery has gone bad when it also eventually develops a whitish color and has a sour smell. However, it is possible to salvage limp celery as long as there are no other spoilage signs.
How to Revive Wilted Celery
Celery is a cold-sensitive vegetable and goes limp if stored at too low a temperature. Celery also wilts if it dries out too much.
All that's required to revive wilted celery is soaking it in cool water for a few hours. Its cells rehydrate and become crisp and firm again. It's best to place the celery in an airtight container to soak it.
It you always want fresh celery on-hand, try the way to regrow celery from scraps. It works well in a container or in the garden.
Does celery last in the fridge? Yes, always store celery in the refrigerator, as storing it at room temperature significantly shortens its shelf life.
Since you typically buy celery in full heads, it's crucial to know how to store it properly to keep it crisp and fresh for as long as possible. Keep the head of celery hydrated by wrapping it with a damp paper towel.
Cut celery doesn't last as long as whole heads, but storing celery pieces submerged in water inside an airtight container keeps them fresh longer.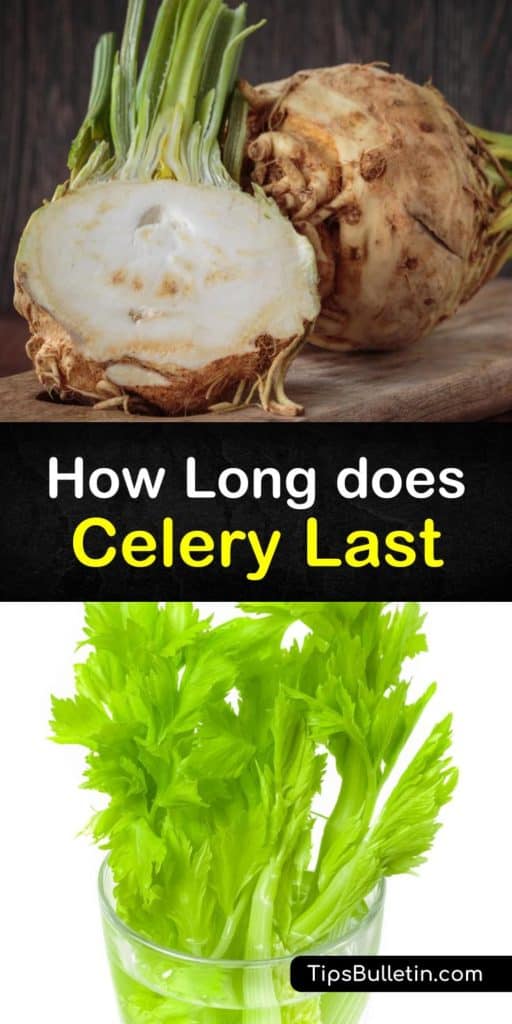 We hope that you enjoyed this article, and if it answered your questions about how long does celery last, please share this article about how long does celery stay fresh with your friends and family on Pinterest and Facebook.