While cow's milk was a staple in most households for hundreds of years, canned coconut milk is becoming increasingly popular with people who only eat dairy-free. We all know that dairy milk goes bad, but how long does coconut milk last?
Non-dairy milks are different from traditional milk in that they don't contain lactose and are plant-based. How long does coconut milk stay fresh? That depends on the type of milk that you purchase. Whether you prefer coconut milk or almond milk, these milk alternatives are sweet and healthy alternatives with dozens of brands and products on the market.
Using cans of coconut milk in sweet and savory dishes also adds a rich depth of flavor that gives traditional dishes a unique spin. It's normal to ask yourself how long does coconut milk last in the fridge, but don't overlook the many ways to store and preserve this up-and-coming ingredient.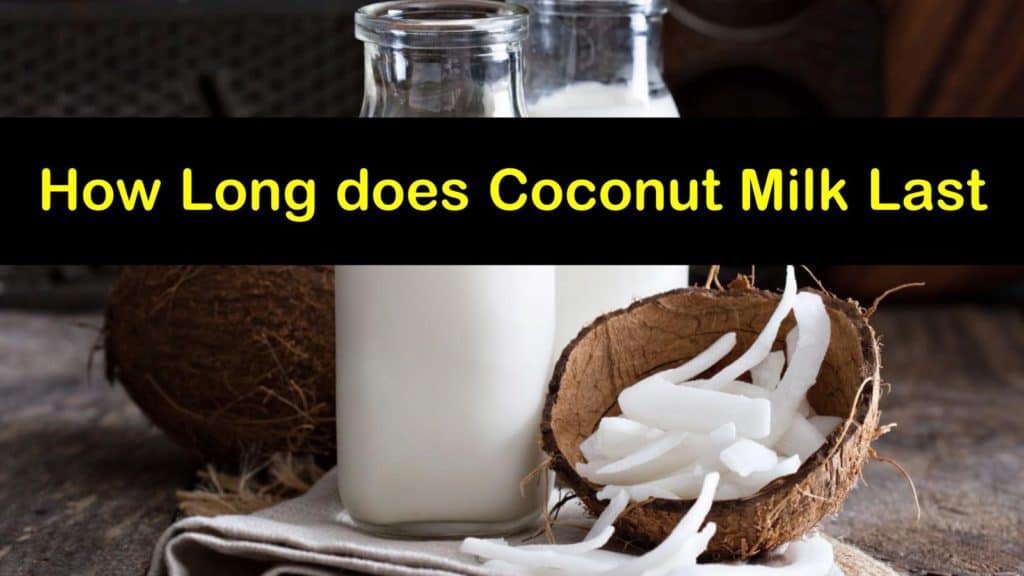 What is Coconut Milk?
A thick husk surrounds the white flesh of coconuts to protect the coconut meat. Within the meat is a watery liquid. The liquid is mixed with coconut meat and water to create a thick consistency and creamy texture.
Coconut milk has been popular in Asian, South American, and Caribbean cuisines the longest because they are native to those areas. There are many healthful benefits to coconut milk, but one downfall is that it is a high-calorie food with over 500 calories in a single cup.
Within those calories are loads of protein, carbs, fiber, vitamins, and minerals. There are high mineral concentrations of magnesium, potassium, copper, and manganese.
When eaten in moderation, coconut milk helps to support weight loss and metabolism. Although the thick milk is high in saturated fat, it is a heart-healthy choice that reduces cholesterol.
Coconut milk also reduces body inflammation, fights off viruses and harmful bacteria, and even improves digestion.
How Long Does Coconut Milk Stay Fresh?
Does coconut go bad quickly? How long does almond milk last? The freshness of your milk depends on which products you end up purchasing. Always read the label of the milk you're buying. Try to choose products with only coconut and water as the two ingredients.
Picking BPA-free cans is another smart choice to avoid a tinny flavor but purchasing a carton of coconut milk is the preferred choice because they often contain less fat and lower calorie numbers than a can of coconut milk.
One big concern with milk is sitting it out on the countertop. How long can whole milk sit out? What about other kinds of milk?
The ideal way to avoid preservatives is to make your own if you have the time. So, how long does coconut milk stay fresh for each of these packaging types? Keep reading to find out.
How Long Does Coconut Milk Last in a Can?
An unopened can of coconut milk is one of the most common ways to keep it in your house. Always check the posted expiration date on the can label.
If the can is stored in a dark place at room temperature, they are shelf-stable for two to five months after the best-buy date. It is always better to use the products before the posted date, so use them up as soon as you notice that the date is coming up.
How Long Does Coconut Milk Last in the Fridge?
If you have an opened can, how long does coconut milk last in the fridge? It's possible that you didn't use the entire can after opening it. If this is the case, store the milk in the can with plastic wrap over it so that it doesn't absorb nearby odors.
The opened coconut milk has a shelf life of four or five days before spoiling. Food items left out too long at room temperature become a breeding ground for bacteria that causes food poisoning.
Coconut milk cartons are another popular alternative to cans. To avoid spoilage, keep unopened cartons two weeks after their best-by date. If the carton was opened, it lasts seven to ten days before going bad.
Never drink coconut milk with a rancid smell, funny taste, or discolorations. Knowing how to keep coconut milk fresh in the fridge is the most useful information when handling this ingredient.
Of course, we all wonder about the shelf life of other food in the refrigerator, too. Knowing some specifics about our food helps us eat safely.
Can You Freeze Coconut Milk?
It is possible to freeze all types of milk, but know that frozen raw milk separates after thawing. Coconut milk holds up better in the freezer because it doesn't separate.
Our favorite store-coconut-milk and freezing almond milk tips advise us to pour the milk into ice cube trays and freeze them overnight.
Then, you can pop out the cubes and store them in a sealed container so that when you need some, you grab however many cubes necessary for your recipe.
If you don't want to make cubes, then pouring it directly into an airtight container or a freezer bag is another suitable storage method. Frozen coconut milk is good to have on hand and is a great way to reduce food waste.
How to Make Homemade Coconut Milk
Carton and canned coconut milk are fine, but nothing tastes better than making your own at home. This recipe is highly customizable and is delicious when poured into coffee or turned into a coconut curry dinner.
Combine the coconut meat, water, date, and a pinch of salt to a blender. Put the lid securely on the blender and turn it on high-speed for two minutes until everything is well-combined and the consistency is smooth.
Taste a small sample of the milk and adjust the flavor with extra sweetness or salt if necessary. Lay the cheesecloth over a pitcher or bowl and strain the milk through the cloth. Transfer the milk to a sealed container and store it in the refrigerator for up to one week.
To turn this milk into chocolate milk, blend in a couple of tablespoons of cocoa powder. Adding in fresh berries is another fun way to create other flavors.
Does coconut milk go bad? That depends on how you store it. Coconut milk is rising in popularity. As more people switch to a dairy-free diet, coconut milk is becoming even more loved by thousands of people worldwide.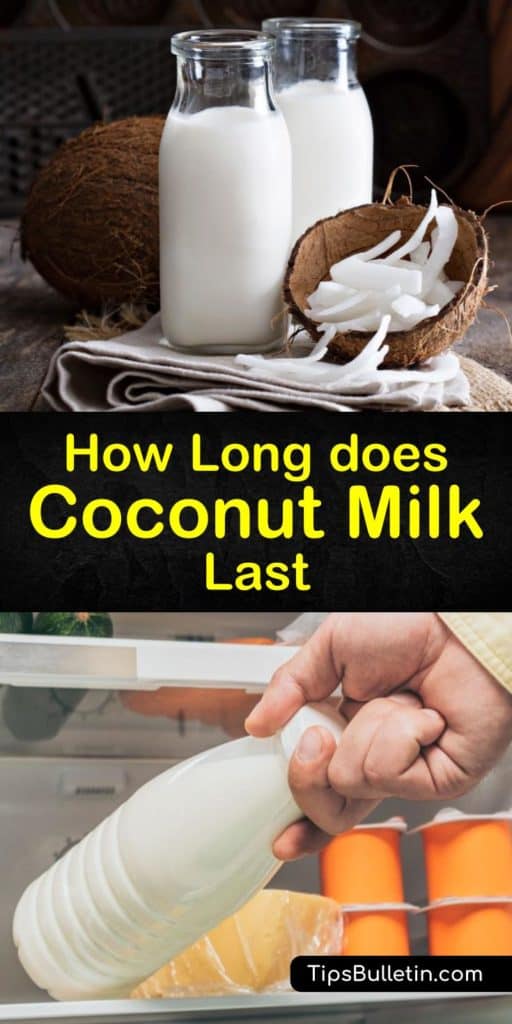 If this article helped you stop wondering, "How long does coconut milk last?" share these informative tips about coconut milk storage on Facebook and Pinterest.