Coffee is one of the topmost consumed beverages across the globe. Each morning, people turn to coffee as a jumpstart to their day. How long does coffee last? Coffee has a different shelf life for different locations.
Instead, ask questions like, how long do coffee beans last, and how long does coffee last in the fridge and at room temperature. As fellow coffee lovers, we hate when we start to take a sip from our mug to discover we have stale coffee.
Knowing how to tell if a coffee is fresh usually only takes one taste, but we've laid out everything that you need to know about how long coffee lasts in several locations.
From storing whole beans in the fridge to questioning coffee that sits for hours at room temperature, this article is the ultimate storage guide for all things coffee related.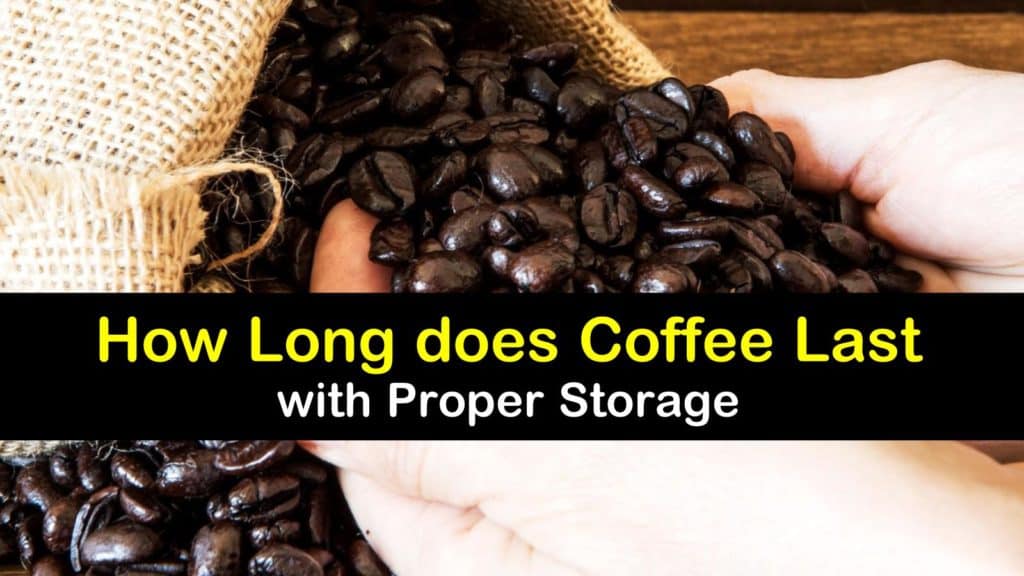 How to Find Fresh Coffee
Coffee drinkers are always looking for the best-tasting cup of joe they can find. Brewing high-quality coffee or espresso starts with the beans. Coffee trees grow small fruits called coffee cherries.
These cherries contain seeds, and it's within that seed where one single coffee bean resides. One coffee tree lives up to 100 years, and each one produces roughly ten pounds of coffee per year.
Coffee beans begin to lose their freshness after roasting them takes place. However, most people find it hard to get their hands on raw coffee beans.
If you find freshly roasted beans from the grocery store or a local café, that is the best way to guarantee that you always refrain from drinking old coffee.
How Long Do Coffee Beans Last?
Buying instant coffee is fine, but nothing compares to putting your own beans in a grinder, pushing the grounds through a French press, or making whole bean coffee.
Make freshly ground coffee whenever possible. After you break the bean, it speeds up the oxidation process and makes it go stale faster than desired.
How Long does Ground Coffee Last?
Store ground coffee at room temperature for six months when unopened and for about two weeks after opening.
Does Coffee Expire?
Always check the expiration date or best before date on a bag of coffee before grinding and throwing it into a roaster. The last thing you want to do is let the coffee expire and drink it afterward – that's a guaranteed way to drink rancid coffee.
What Affects Freshness?
Like most dry goods, the freshest coffee beans are stored in locations free from air, moisture, light, and heat. These play a role in the flavor and shelf life of the beans stored at room temperature.
Does Coffee Go Bad?
To put it frankly, coffee does go bad. Whether you're holding on to old beans, grounds, or coffee stashed in the fridge, there is a point where it goes stale and loses flavor. This doesn't mean you should toss out your old coffee beans, though.
Old coffee beans are perfect for making cold brew coffee. Cold brew tastes just as good as regular coffee from freshly roasted beans. In fact, most coffee shops use their old beans to make their version of cold brew.
Coarsely grind your whole coffee beans in a coffee grinder until you have roughly one cup of grounds. Put the grounds into a large container, like a Mason jar, and pour the water over the top.
Stir the coffee and water with a spoon so that all the beans are saturated. Cover the container with a lid and let it sit on the counter or in the fridge for 12 hours.
Strain the coffee through a cheesecloth and into the container that you wish to store it. If you have leftovers after drinking your fill, refrigerate brewed coffee for the short term.
How long does brewed coffee last in the fridge? Store the cold brew coffee in the refrigerator for up to one week.
Use coffee grounds for plants and the garden after you make your cold brew. They will love the extra nutrients.
How to Make Roasted Coffee Beans at Home
If you're willing to put in a little bit of extra work, roasting coffee beans at your house is a delicious way to experiment with the flavor based on roasting time.
Preheat your oven to 450°F and put a metal colander in the refrigerator. Spread aluminum foil over a baking sheet with the vegetable steamer on top.
Spread the raw beans over the veggie steamer's center, so they have an even surface area, and no beans are on top of one another. Put the beans in the oven for three minutes and then stir them.
Put the coffee beans back in the oven for ten minutes and stir them again. Put the beans in the oven once more until you hear them start to pop.
When you hear a popping noise from the beans, put them in the refrigerated colander and stir them around with the wooden spoon to cool them down.
When the beans cool to about room temperature, store the beans in an airtight container in a dry place and wait two days before grinding them.
How Long Does Coffee Last in the Fridge?
If you drink coffee, you've found yourself in a situation where you're unable to drink your coffee while it's hot. You can store coffee in a coffee thermos or canister at room temperature for about 12 hours before putting it in the refrigerator.
This timeline applies to both caffeinated and decaf coffee. If you decide to store your cup of coffee in the refrigerator and come back to it later, it lasts for about three or four days when covered in the fridge.
After four days, toss the coffee down the sink and brew a new batch. Never store coffee beans in the fridge. The cold air causes them to go stale at a much faster rate as opposed to keeping an already brewed cup in the refrigerator.
Keeping foods cool in the fridge is ideal for many situations. How long do fresh eggs last in the fridge? What about asparagus? Foods remain fresh in the refrigerator for different times, depending on the type. Check the "use by" date on the packaging to be sure.
How Long Does Coffee Last in My Freezer?
Although the freezer isn't the safest place for a bag of coffee beans, it is possible to store them in the freezer. Freezing coffee beans extends the shelf life significantly. A bag of beans lasts anywhere from one to three years when frozen.
However, this doesn't mean you should always put your coffee here. Like what happens when you freeze most foods, the texture and flavor are altered when we put them in the freezer.
Once frozen, they never taste quite the same as they would have when they were fresh. If you decide that you want to keep some coffee in the freezer, make sure that you always thaw your beans before grinding and brewing them.
What Should I Store my Coffee in?
Some containers are better than others for storing coffee. Containers made out of ceramic and glass are always better than other materials. If possible, stay away from transparent containers since light plays a role in the beans' freshness.
No matter what canister you choose, make sure that it has an airtight lid. Keeping air away from the beans is key to keeping them fresh longer.
You can tell when coffee is gone bad by the taste. Spoiled coffee has an "off" flavor.
The Best Location for Coffee Beans
When it comes down to it, there are very few locations around your home free from light, heat, and moisture. Kitchen cabinets that are far away from the oven are the ideal place to keep your coffee beans and coffee grounds.
The back of a cabinet is free from most light, removed from the heat, and has far less moisture than other places around your home, like the basement. This location is perfect for where to store coffee beans because it's already close to your coffee maker.
A Tip for Making Coffee Taste Even Better
Coffee fanatics like a strong flavor and often refuse to wash their mugs. Washing your coffee mug with soap is usually unnecessary. The bacteria from drinking out of a mug is cleaned and disinfected with only hot water.
Using soap risks the possibility of leaving some behind if you don't rinse your cup well enough. Whenever washing your coffee mugs, refrain from using anything except hot water.
However, if you have a coffee stain, clean coffee with baking soda. The slight abrasiveness of the powder when mixed with water is usually enough to eliminate stains in your mug or elsewhere.
Where to Store Coffee Creamer
While many people like their coffee black, others prefer to add milk and creamers to their coffee for added flavor. If you're a creamer lover, the best place to store your creamers is in the refrigerator.
Always check the expiration dates to ensure your creamer isn't bad before dumping some in your coffee.
How long does coffee creamer last? If you enjoy powdered coffee creamer, you're lucky to store your creamer in a cool, dry, and dark place for up to six months, while liquid creamer drinks have to use theirs within two weeks of opening.
Coffee is a beverage that a considerable population of the world has fallen in love with. We rely on it every morning for a boost of energy, and it only makes us happier when that coffee tastes as fresh as possible.
There are so many questions people ask about coffee. How long do coffee beans last? How long does coffee last in the fridge? What about the freezer or room temperature?
After reading this article, we hope you found a simple guide you can refer back to whenever you wonder if coffee has gone bad.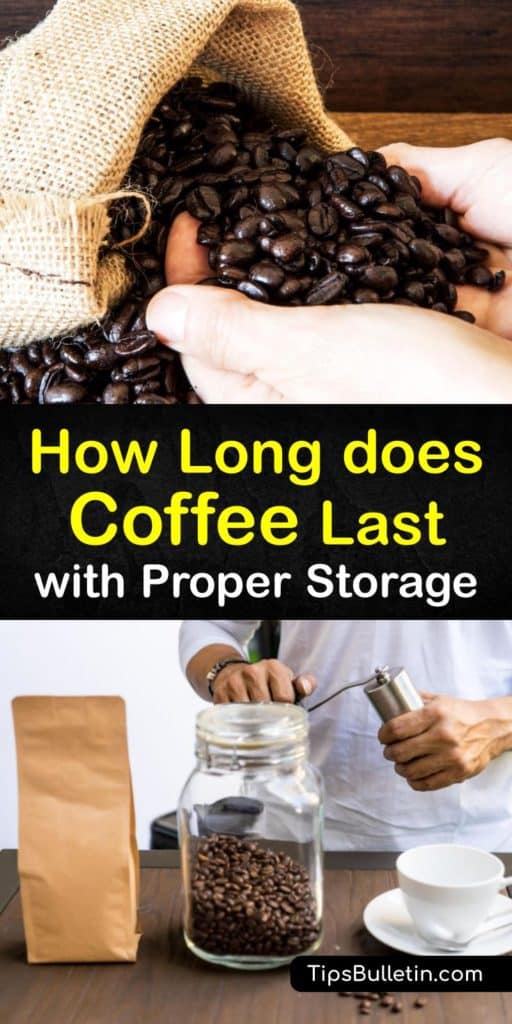 If you no longer wonder how long does coffee last, share this guide for storing coffee on Facebook and Pinterest.