Garlic is one of the essential seasoning ingredients that every kitchen should have in stock at all times. This tasty vegetable provides mouthwatering flavor to some of our favorite pasta dishes, as well as those yummy slabs of garlic bread, of which we can never seem to get enough. But how long does garlic last, and what are the best methods for storing it after you bring it home?
Regarded as a traditional treatment for colds and easing asthma, garlic is a healthy meal additive recommended for boosting your immune system and lowering high blood pressure. Because of its health benefits, it's always a good idea to keep a few garlic cloves on hand.
Knowing how to keep garlic fresh offers you the freedom to pluck one from your pantry or freezer without worrying about it spoiling. If you've cut and prepared too many pieces, we also know of a great way to keep peeled garlic fresh without letting it go to waste.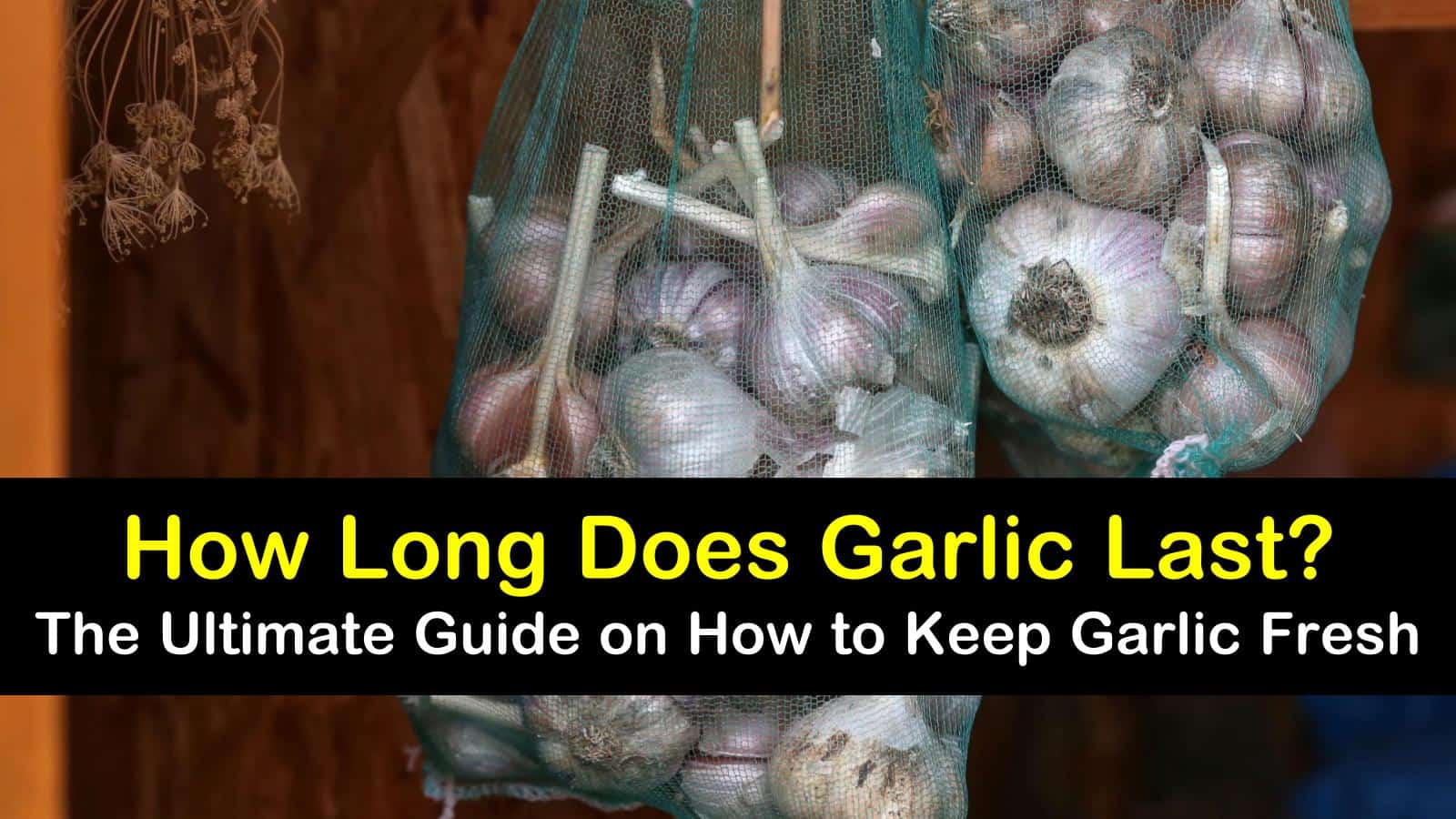 Some Helpful Advice on How to Store Garlic
Before we get started, you may have some questions about which method you want to try first. The most critical storage factor to remember is when you plan on using the garlic in the first place.
The same principles apply to cabbage storage, apples, tomatoes, and other types of produce.
Learn more about storing garlic whether you have been growing garlic yourself or you buy it at the store. If you're interested in preserving your garlic bulbs for an extended length of time, or you want to know how to keep them fresh for dinner at the end of the week, these tips determine the best strategy to use.
These solutions apply when planting garlic in containers or the garden yourself or whether you purchase it from the supermarket or a roadside stand.
How long does garlic last after bringing it home?
This answer to how long garlic lasts depends on the method you plan on storing your garlic. Most garlic varieties store the same way.
Shorter-term storage options, such as keeping them in the pantry or fridge, still provide you with a relatively long shelf life for your garlic, though not as long as freezing or dehydrating.
Peeling and cutting also decrease the shelf life of garlic, giving it only a few days to one week before spoiling in the refrigerator. Unpeeled cloves last anywhere between ten days to one month in the fridge.
Otherwise, whole garlic bulbs last just fine on their own in the pantry for about five months. If you're freezing your garlic, this increases its longevity by one year.
Pickling garlic is another delicious option that keeps your vegetables fresh for several months. Dehydrating garlic provides you with the most extended amount of time to preserve your garlic, however, delivering a shelf life of two to three years.
These same rules apply to virtually all vegetables. How long do jalapenos last? Again, it depends on how you store them and how you plan to use them.
How to Keep Garlic Fresh – Guidelines
Now that you know how long each method keeps garlic good for, apply that knowledge to your individual needs. If you plan on storing them for only a few days, there's no need to waste additional time and effort to save them for months.
However, it's always a great idea to try something new, and you certainly don't want those yummy garlic cloves to go to waste.
Prepare the Garlic According to Storage
If you grow garlic, the first thing you want to do before storing is to let it cure. This process requires drying the whole garlic, green roots and all, in a dry, well-ventilated location.
Don't cure garlic in the sun, as this may alter its taste. The curing process takes about three weeks. If you buy them in a store, there's no need to cure the garlic at home.
Another concept to bear in mind is to keep garlic whole and unwashed until it's ready for use. Added moisture may cause mold to form on the garlic bulb, so instead, brush away the dirt with a soft cloth before storing it.
Check the quality of your garlic before storing long-term. Refer to the expiration date on packaged containers of garlic, and ensure that individual garlic cloves that have been removed from the head are firm and free of brown spots. On a whole bulb, watch out for green sprouts at the center of the clove, as these make the garlic taste bitter.
Keep Garlic Fresh in the Pantry
When it comes to storing unpeeled, whole garlic short term, the pantry is the best option. Garlic thrives best in a dark, dry place with plenty of air circulation. To promote this circulation, store them in a breathable, open container such as a mesh bag or wire-mesh basket.
A ceramic garlic keeper also works. If you don't have any of these containers handy, place the garlic in a brown paper bag with holes punched through it to improve airflow.Storing them at room temperature in a safe, dark place is preferable to placing garlic in the fridge or exposing them to too much sunlight when the garlic heads are still whole.
Too much sunlight and moisture from cold places like the refrigerator cause sprouting. While these new sprouts are not toxic, they take away from the tasty quality of your veggie.
Keep Peeled Garlic Fresh in the Fridge
Say you've already peeled garlic or removed the cloves from the head, but don't need to use the whole thing. How long do garlic cloves last, and when will your peeled garlic go bad?
In this instance, your best option is the refrigerator until you can use them. The easiest way to store garlic is by placing them in resealable plastic bags or closed containers. If you've already cut up the cloves, just like onions, these won't last longer than a day or two even when stored in the fridge.
Because minced garlic lasts only for a brief amount of time, your options for storing them are limited to roasting, pureeing, and storing them in oil.
If you puree garlic, the best place to store it is in the freezer, while roasted garlic lasts up to almost two weeks in your fridge.
For tips on how to save your garlic in oil, follow the instructions in the next step.
Store Garlic in Oil
If you want to make chopped garlic last longer in the refrigerator, then soaking it in oil is the only way to go. Luckily, the recipe for garlic confit is a delicious way to liven up soups, sauces, and even sandwiches.
This recipe allows your cut up garlic to last up to three weeks versus two days in the fridge. You'll have to heat the garlic first, as raw garlic is prone to developing botulism, which cooking counteracts.
Begin by tossing the peeled or cut garlic cloves into a pot with the olive oil. Warm them up using a low heat setting on your stove, stirring them occasionally for approximately 15 minutes.
By the end, your garlic pieces should be tender without being wholly caramelized. Remove the garlic from the heat and allow to cool before adding the spices. Pour the oil and garlic mixture into glass jars with lids to store in the fridge.
How Long Does Garlic Last in the Freezer?
When storing garlic in the freezer, there is little requirement between whether they need to be whole, garlic cloves, or minced pieces. All forms are welcome when frozen correctly. If you mince garlic, freezing the leftovers in a puree is your best option.
This puree can either be stored in ice cube trays or a covered container, as long as there is enough oil added to the mixture.To freeze garlic whole, place them in a freezer bag or airtight container with the date written somewhere on the outside to prevent you from eating bad garlic if you forget how long ago you stored it.
If you're storing garlic cloves, peel them first, then wrap them in aluminum foil before storing them in an airtight Ziploc or jar.
Dry Out Fresh Garlic for Long Term Storage
Drying out garlic is another excellent way to save it, whether as clove chips or dried powder. Once dried, these small flakes are the perfect way to add garlic to sauces, chilis, and other dishes. To use this method properly, you'll need a dehydrator first.
Start by chopping the garlic up into small pieces, and melt the butter in a large saucepan. Add the chopped garlic pieces and cook them in the butter for around ten minutes. Once finished, lay them out on your dehydrating trays and place them in the dehydrator for several hours.
This process generally takes anywhere from eight to ten hours. However, check on them periodically when drying. Test them after the appropriate time has passed. After ensuring your dried garlic reaches the expected texture and taste, let them cool for several minutes before storing them in a sealed container.
Of course, if you'd rather substitute fresh garlic for garlic powder, it is easy enough to do. Use 1/8 teaspoon of powder for every garlic clove.
The difference between garlic salt and garlic powder is the addition of salt. Use garlic powder or as a granulated garlic substitute when a recipe does not call for added salt.
Pickle Raw Garlic
While many of us already use garlic in pickling recipes, it may interest you to know that peeled garlic is also an excellent candidate for pickling on its own.
Similar to how you would pickle other veggies, fully submerge the garlic in a brine of vinegar and salt, along with other spices that preserve and enhance its flavor for future recipes. For the best pickling recipe for fresh garlic, use these simple steps and ingredients.
Make the pickled garlic brine by combining the water, vinegar, and salt in a saucepan. Boil, then simmer for around ten minutes. Cut and peel your garlic, then pack them into the canning jars with an equal amount of spices between them.
Pour the brine into the canning jars, leaving enough headspace from the top of the jar. One half of an inch should be sufficient. Leave the pickled garlic in the fridge for three weeks before using, though you may want to test the taste after one or two weeks.
Try a New Twist on Traditional Garlic Bread Recipes
Now that you've uncovered the best strategies for storing garlic in all its forms, it's time to put that veggie to work. And, what better way to do this than by trying a fun new twist to a classic favorite?
These yummy pull-apart garlic rolls are precisely what every garlic lover needs in their life. The following recipe takes only about ten minutes to make, leaving you with four yummy servings to enjoy with family.
Begin your garlic roll creation by setting your oven to 400°, then place your rolls onto a baking sheet lined with aluminum foil. Cutting along the top of the kaiser rolls in one-inch sections, slice the bread into small squares, stopping about three-quarters of the way through the dough so that the divisions remain attached to the roll.
Next, create your garlic butter using the melted butter and seasonings. Sprinkle your cheeses over the top, then place them in the oven for five minutes.
The mozzarella, cheddar cheese, and garlic clove should all be grated ahead of time before using. Let the rolls cool after taking them out of the oven, then serve it up!
We hope you enjoyed discovering all the fantastic ways you can keep garlic fresh. If you've just returned from the grocery store with a huge stash of fresh new garlic bulbs, then try alternating techniques to keep your home stocked year-round.
Store some fresh pieces using a short-term process, then toss the rest into the freezer, dehydrator, or whatever long-term storage option you choose for later.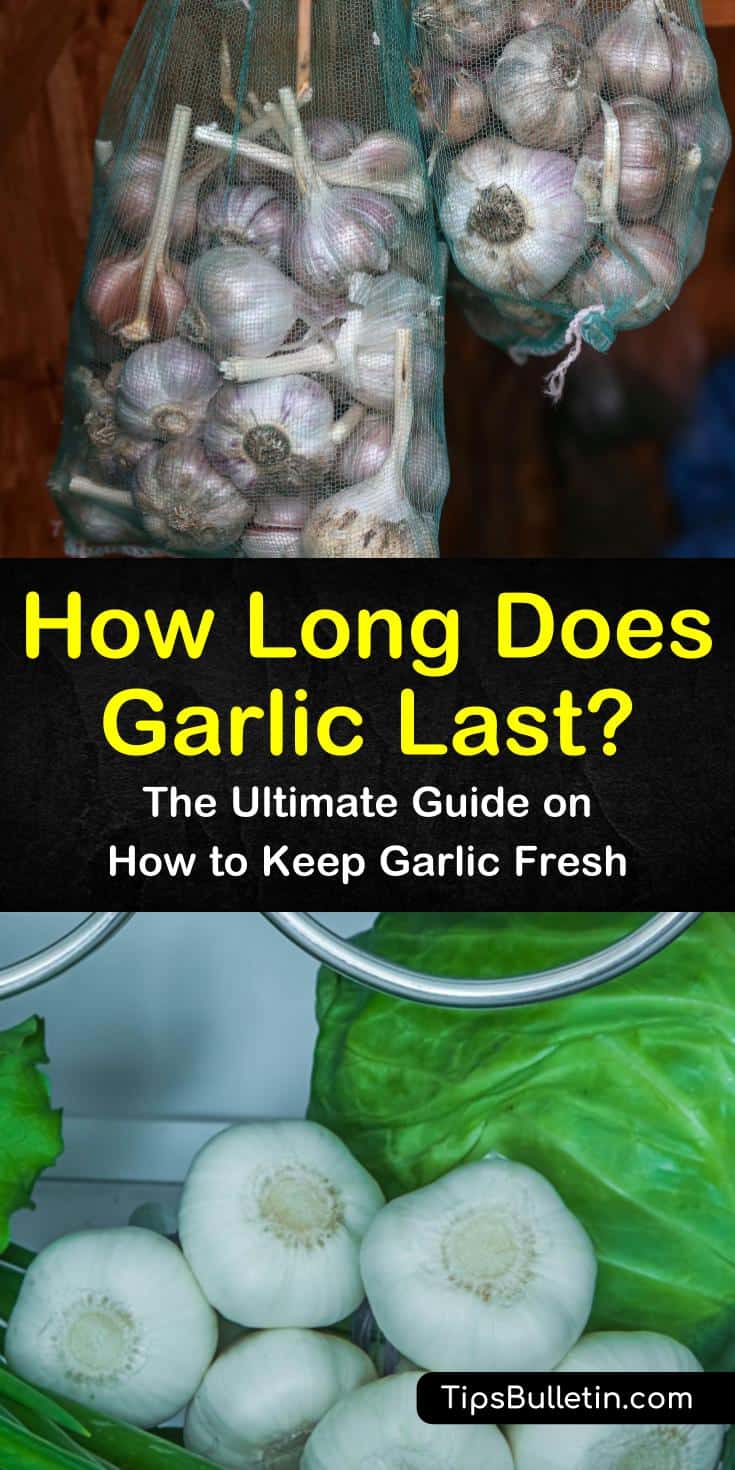 If you enjoyed these incredible garlic storage tips, please feel free to share just how long does garlic last with your friends and family on Facebook and Pinterest.