After sampling several types of cheese on a tasting table or cheese board, from romano and feta to brie and Swiss, you decide to get yourself a giant wheel of Gouda. You have enough of your favorite cheese to snack on whenever you desire, but how long does Gouda cheese last, and where is the best place to store it?
Unless you're lactose intolerant, cheese is a must-have for everything from New York cheesecake to pizza. The mild, sweet, and nutty taste of Gouda cheese makes it perfect for sandwiches and crackers.
Cheese lovers enjoy its deep flavor in everything from mac and cheese to fondue. It is a semi-hard cheese and is similar to edam, cheddar, and gruyere.
How long does Gouda cheese stay fresh? Most dairy products and grocery-store cheese come stamped with a sell by date, but gourmet cheese is a little different.
How you store it and whether it is whole in the rind or shredded and sliced are all important factors in how long this cheese lasts before it is time to discard it.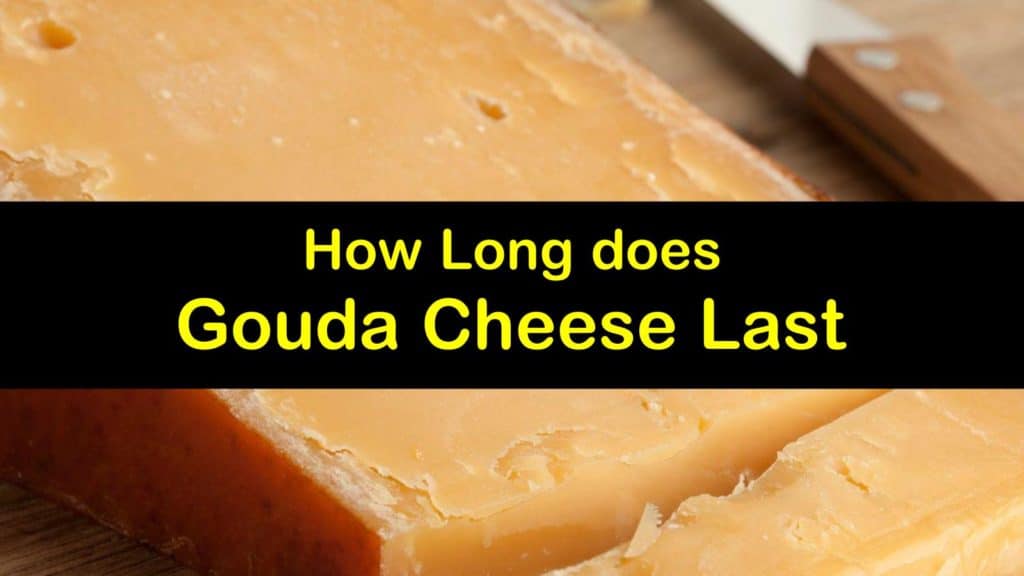 Ways to Store Gouda Cheese to Keep It Fresh
It's common to store soft or semi-soft cheeses, such as gorgonzola, ricotta, brie, cream cheese, mozzarella, and camembert in the refrigerator.
Storing hard or aged cheese is a little more confusing since some are suitable for room temperature storage. Where is the ideal place to keep Gouda, and do you know how to tell if Gouda cheese is bad? What if you have a charcuterie board? How long can goat cheese sit out, as well as Gouda?
Keeping Gouda cheese fresh is easier than you may think, and there are a couple of ways to store this hard cheese to extend its shelf life. How long can you leave cream cheese out? What about other types of cheese? Learn where to keep cheese short and long term and how to tell if it's no longer edible.
Keeping Gouda Cheese Fresh in the Fridge
There are three factors to understand when keeping Gouda cheese fresh – the right temperature, proper protection, and odor prevention. Cheese stores best from 34 to 38°F, so make sure the inside of your refrigerator falls within this range.
While some aged cheeses keep well sitting at room temperature, refrigeration is the best way to keep Gouda cheese from spoiling. Does Swiss cheese go bad the same way? Yes. Here is how to keep Gouda cheese fresh in the fridge for everyday meals and snacks. The same applies to Swiss and many other cheeses.
Cheese also loses moisture and flavor when exposed to air and absorbs odors from other items in the fridge. Cover your Gouda cheese in parchment paper or wax paper to keep it tasting fresh and prevent it from taking on the smells of other refrigerated foods.
Do not wrap it in plastic wrap since this suffocates the cheese. How long can mozzarella and Gouda stay in the fridge? Place your cheese in the crisper drawer and use it within three weeks.
To store shredded cheese, place it in an airtight container. Set sliced cheese between sheets of parchment paper and store them in a sealable container. How long is sliced cheese good for? Cut cheese lasts five to seven days stored this way.
Macaroni and cheese is another story. How long does mac and cheese last? As long as it's in an airtight container, keep mac and cheese in the fridge for several days.
How to Tell if Gouda Cheese is Bad
Different cheeses have their own distinct flavor and smell, and it's sometimes difficult to tell if a cheese is near or at the spoiling point. Here is how to tell if Gouda cheese is bad, how long it's safe to sit at room temperature, and ways to keep it fresh longer.
Gouda Cheese Gone Bad
Some aged cheeses are safe to sit out of the fridge for extended periods as long as they remain in their packaging. However, most brands of Gouda cheese are only safe to sit out for about four hours before it's time to refrigerate them.
As with any food product, the easiest way to tell if Gouda cheese is bad is to use your senses. Inspect the cheese for discoloration. If it is dark in color or develops mold, it's time to toss it in the garbage.
Bring the cheese to your nose and give it a good sniff. If it has a sour smell or off odor, it's no longer edible. Spoiled Gouda cheese also loses its texture and becomes very hard.
Store-bought cheese comes in a plastic wrapper, so it's easy to see why we think this is an excellent way to store it.
However, cheese is made of living organisms and needs to breathe. To help your cheese last as long as possible in the refrigerator, avoid wrapping it in plastic.
How Long Does Gouda Cheese Last, and Can You Freeze it?
Can Gouda cheese go bad if you freeze cheese? The freezer is an ideal place to keep your cheese if you cannot use it before it spoils. Here are a few ways to freeze Gouda to lengthen its shelf life and how to thaw it when you're ready to eat it.
If you plan on freezing chunks of Gouda cheese, slice them into half-pound sizes or less and wrap them individually in heavy-duty aluminum foil or freezer wrap. To freeze shredded cheese, leave it in its original packaging and seal it in a freezer bag.
If you have slices of cheese to freeze, separate them with pieces of parchment paper and store them in a freezer bag. Frozen Gouda cheese lasts up to six months and is simple to defrost.
To thaw the cheese, transfer it from the freezer into the refrigerator to defrost it slowly and minimize texture change. We recommend freezing a small portion individually to shorten the amount of time required for thawing.
Hard and semi-hard cheeses such as parmesan, asiago, pecorino romano, and Gouda are a delight to have on hand for favorite recipes or a cheese board, but storing cheese the wrong way tends to lead to food waste. Fortunately, Gouda cheese keeps well in both the fridge and freezer, giving you plenty of time for snacking.
How long does Gouda cheese last is a question many cheese lovers ask, and knowing the answer helps you enjoy its fresh taste longer, so why not share our Gouda cheese storage guide with your family and friend circle on Facebook and Pinterest?