Okra is a warm-season veggie that is also commonly referred to as ladies' fingers and is often used in gumbo. It is a herbaceous annual plant related to cotton and hibiscus. One of the most common questions after harvesting okra is, "How long does okra last?"
Knowing how to keep okra fresh ensures that you enjoy this tasty vegetable for as long as possible. Okra plants have small stems and heart-shaped leaves. The plant produces big whitish-yellow flowers and tender pods that reach up to ten inches.
The entire plant grows up to six feet tall and is believed to have originated in Ethiopia. There are several strategies for keeping okra fresh and incorporating this beneficial ingredient into all your meals.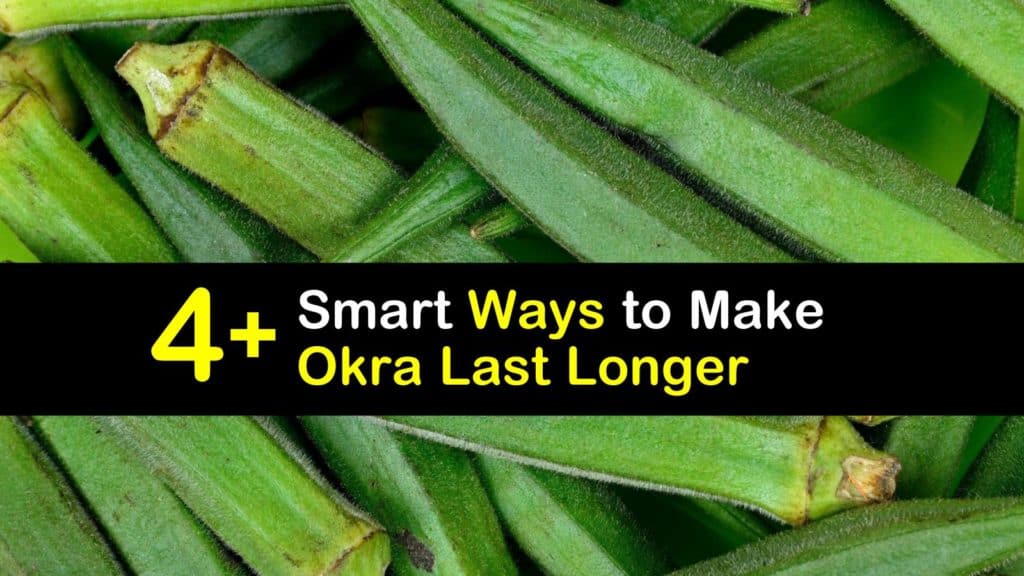 All About Okra
There are tons of okra varieties people enjoy consuming. Whether you purchased Annie Oakley okra (yes, that's a real name of a type of okra) or the Clemson spineless okra, this veggie has standard storage methods for keeping okra fresh.
Having fresh vegetables year-round is something that appeals to most of us. Exploring different ways to keep vegetables fresh ensures that you have them whenever you want them, whether it's right after harvesting or in the coldest part of winter.
You might find that it is easier than you thought to grow your own okra. How long does it take to grow okra? You can pick the pods after about two months.
When you harvest okra or are picking fresh okra out at the market, most okra should have small pods and be two to four inches in length. Large pods are often less tender and tasty to eat.
Choose whole pods that are dry and firm with a dark green-gray color. Don't purchase okra that is dull in color or has visible blemishes, bruises, or shriveling. Okra is high in nutritional value.
The vegetable has a very mild taste with the texture of peach fuzz on the outside. The okra seeds are edible, so the entire pod is useful to veggie lovers.
One cup of okra pods contains only 33 calories, two grams of protein, three grams of fiber, and 300 milligrams of potassium. It is rich in iron and phosphorus. Knowing how to keep okra fresh for extended periods is a great way to reap all the rewards from whole okra.
How Long Does Okra Last?
Okra isn't the most popular veggie out there, unlike corn. How long does corn last? Just as with okra, it depends on how you choose to preserve it. Although there are lots of fans of this nutritional vegetable, many people are still learning about okra and often ask, "How long does okra last in the fridge?"
This article provides everything you need to know about making okra last longer and some delicious recipes to try along the way.
How to Keep Okra Fresh in the Fridge
Be careful whenever storing okra because the pods bruise easily. The same applies when you want to keep squash fresh, especially summer squashes.
Refrigerate okra in cold, moist environments ranging in temperatures between 45°F and 50°F.
Wrap the okra pods in a paper towel and place them inside a brown paper bag in the refrigerator for 2-3 days. Wash the okra right before you are ready to use it.
Refrigerating veggies that we plan to use relatively quickly is often the best way to keep them fresh.
Keeping Okra Fresh in the Freezer
It's no wonder that one of the best ways to preserve all veggies is to freeze them. Freezing okra only requires a few extra steps than refrigeration, but they last much longer.
Before you freeze okra and other vegetables, it's wise to blanch them in boiling water. Blanching veggies ensures that they hold on to their nutrients and helps keep the original texture and color. Okra requires blanching because, without it, the texture gets slimy and very unappealing.
Fill a large pot or pan with fresh water and bring it to a boil. Drop the okra in the boiling water for two minutes. While you wait, fill a glass bowl with ice water.
Remove the okra from the boiling water with a slotted spoon and dunk them in the ice water to stop cooking. Transfer the okra to a stack of paper towels and dry them off as much as possible.
Place the okra in resealable plastic bags or freezer bags to prevent freezer burn. Store okra in the freezer for up to two years.
Canning Okra for Indefinite Storage
Canning okra is another way to preserve it. Canning uses a high-heat process that seals your food into jars and keeps them lasting much longer than other food preservation methods.
For this way to can okra, first, wash the pods under cold water, and use a sharp knife to cut off the stems. Leaving the stems whole helps prevent them from becoming slimy, but it's okay to chop the okra into smaller pieces if you desire.
Blanch your prepared okra in boiling water and place the okra pods into the canning jars until they are tightly packed. Place about half a teaspoon of salt into each jar and fill the jars with boiling water until there is a one-inch headspace.
Gently tap the jar on your countertops to remove air bubbles. If you are unable to get all the bubbles out, use a plastic knife and press it against the okra to allow the air to escape. Add the seals and lids on the jars and set them in the pressure canner.
Process the okra cans on ten pounds of pressure for half an hour. Use a jar lifter to take the jars from the pressure canner and place them on the counter. Let them sit for 24 hours. Ensure all the cans seal properly and store them in a cool, dry area.
Pickling Okra
Pickling veggies is our favorite way of keeping okra fresh. The pickling liquid soaks into the okra and bursts with tangy flavors as you bite into them.
Wash okra and trim the stem off with a sharp knife. Wear gloves when handling chilies. Add the red pepper flakes and add equal parts red pepper flakes, mustard seed, garlic, dill, and peppercorns into the bottom of each jar.
Divide the pods into the canning jars, so they sit vertically. Pour salt, vinegar, and water in a large pot and bring to a boil. Pour the boiling liquid over each jar of okra, so there is a one-inch space at the top.
Put the lids on the canning jars tightly and place them in the fridge for up to two weeks. Start eating the pickled okra only after three days, and you'll always have a quick snack on hand.
Pre-Making Fried Okra
Fried okra is a southern delicacy. The great thing about this okra recipe is that you can store the pre-made okra in the freezer for up to a year before frying them.
Serve fried okra as an appetizer at a party, and watch people beg you to make them time and time again.
In a large bowl, mix the flour and cornmeal. Sprinkle a half teaspoon each of salt, pepper, garlic powder, and cayenne pepper. Pour the buttermilk in a separate bowl.
Dip the okra in the buttermilk and then drop and cover the okra in the cornmeal mixture until it is completely coated. Place the okra in freezer bags and store until ready to fry. Fry the okra pieces in six cups of oil at 350°F until golden brown.
You no longer have to ask how to keep okra fresh or how long does okra last in the fridge. In our humble opinion, okra is an underrated veggie. It has tons of nutritional value and health benefits and can be made into various mouthwatering recipes.
It doesn't matter if you've been harvesting okra for years or spotted it at the store and decide to try it for the first time. Okra makes your taste buds sing with joy, and knowing how to store it keeps it in your home despite the short growing season.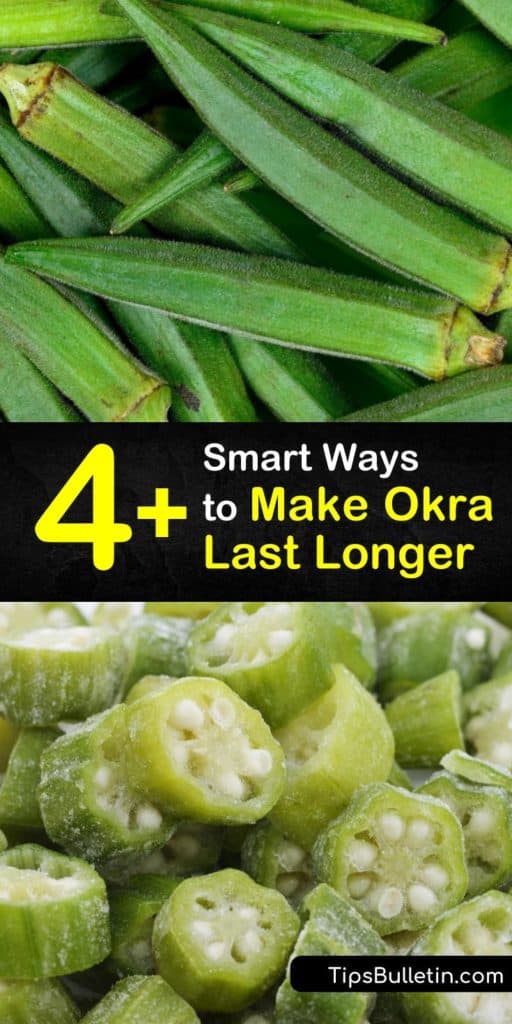 If we answered your questions for how long does okra last, share these okra preservation recipes on Facebook and Pinterest.