Parmesan cheese, also called Parmigiano-Reggiano cheese, is one of the most popular kinds of cheese because it is diverse. Fresh Parmesan cheese has a savory taste and tastes great whether eaten on its own, melted over other foods, or paired with specific wines. How long does Parmesan cheese last when you store it properly?
This article shows you how to keep your fresh Parmesan cheese safe to eat whether you store it in your fridge or freezer. Keeping Parmesan cheese fresh is not difficult at all. However, making sure you use the proper storage techniques is important so your Parmesan cheese stays fresh as long as possible.
Throughout this article, not only do we teach you how to keep Parmesan cheese fresh, but we also describe how to identify spoiled cheese, how to use Parmesan cheese, and how to make savory Parmesan cheese crisps. For the best quality Parmesan cheese, you have to know the proper storage conditions that follow food safety guidelines.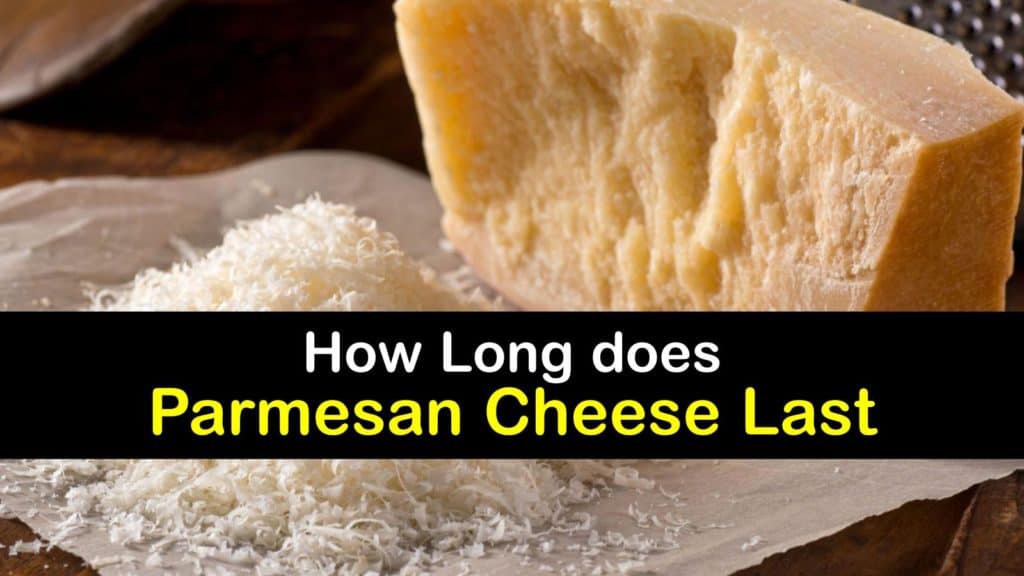 Does All Cheese have an Expiration Date?
Companies like Kraft prepackage Parmesan cheese with an expiration date on the packaging. However, spoilage does not usually occur on the expiry date because Parmesan cheese has an incredibly long shelf life compared to other cheese types.
How long does Parmesan cheese last? Kept in the right conditions, you can refrigerate Parmesan cheese for about six weeks or freeze it longer, like when you freeze shredded cheddar cheese. One advantage of freezing Parmesan cheese is that the spoilage rate slows dramatically.
If you buy fresh Parmesan cheese directly from a farm, it does not have an expiration date printed on the package. Learning how to keep Parmesan cheese fresh and identify when it has spoiled is easy with the tips and tricks we provide.
What Kind of Cheese is Parmesan-Reggiano?
You may not be aware that there are several different categories of cheese. Soft cheeses like cream cheese contain a lot of moisture. Mozzarella is a soft cheese. The shelf life of fresh mozzarella and other soft cheeses is different than hard cheese.
Parmesan cheese is a hard cheese. Hard cheeses have a hard rind or wax surrounding the cheese, like a block of Parmesan cheese, and are left to age in a temperature-controlled room for two to 36 months.
As a result of the production process, Parmesan cheese does not have a lot of moisture. A well-aged Italian Parmesan cheese is incredibly flavorful with a grainy texture. The hard cheese gets its name from the area in which it originated.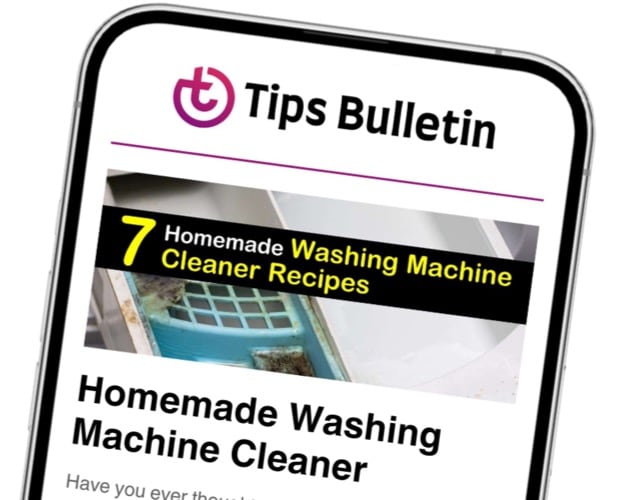 Finally, an email that Transforms Your Home.
Get the latest home and garden tips from our experts, delivered straight to your inbox.
Parmesan cheese contains cow's milk from cattle that graze on the grass in northern Italy's hillsides, and it is a favorite among cheese lovers, so you must know how to tell if Parmesan is fresh or spoiled when it is in your fridge.
How Long does Parmesan Cheese Last in the Freezer?
Using your freezer to preserve Parmesan cheese is excellent if you have a lot of extra cheese that you do not plan on using shortly.
When you use simple techniques to freeze Parmesan cheese, the cheese stays fresh for up to six months.
We suggest using frozen Parmesan cheese for recipes and not eating it raw for the best-tasting Parmesan cheese.
Understanding how to keep Parmesan cheese fresh in the freezer is easy when you have all the right items. Using a cheese knife, cut your Parmesan cheese into your desired serving sizes.
Wrap the pieces in aluminum foil tightly, ensuring every part of the cheese is covered. Place all the pieces into a freezer bag and set the bag in your freezer. To thaw, take out a piece of cheese and place it in the refrigerator until it is ready to eat.
Keeping Parmesan Cheese Fresh in the Fridge
For the best quality Parmesan cheese, use adequate storage techniques. Hard cheeses do not stay fresh for very long when you use plastic wrap. Plastic wrap destroys the flavor of the cheese and builds up too much moisture.
Wax paper is the perfect cheese paper for Parmesan. Wrap your block of Parmesan cheese in wax paper, then in a layer of aluminum foil.
Place the Parmesan cheese in an airtight container to block out unwanted bacteria and excess moisture that can ruin your cheese.
If you have leftover grated cheese, place it in an airtight container. The crisper drawer of the fridge keeps cheese the freshest because of the air circulation.
How to Keep Parmesan Cheese Fresh after Opening
Does Parmesan cheese go bad when you keep it at room temperature? How long can Parmesan cheese sit out? How long does Parmesan cheese last after opening?
These are questions you must have the correct answer to so you avoid rotten or moldy cheese in the future.
When does cheese go bad? Unrefrigerated Parmesan cheese only stays fresh for about two hours at room temperature. After using an unopened package of Parmesan cheese, you have to know how to repackage it to keep the cheese fresh.
Using aluminum foil, wrap your leftover cheese, making sure you do not wrap it so tightly that it squishes the cheese. Parmesan cheese demands a little moisture and the ability to breathe to prevent ammonia from growing on the food.
After covering the cheese with aluminum foil, place it in the fridge's crisper drawer. Replace the aluminum foil each time you use your Parmesan cheese to prevent bacteria growth that may cause foodborne illness.
How a Refrigerator Keeps Parmesan Cheese Fresh
For cheeses like Parmesan and mozzarella to stay fresh and have the longest possible shelf life, it is best to store them at the temperature at which they were cured. When fridge temperatures fall between 40-45℉, cheese stays fresh.
Storing your cheese in the fridge slows down the rate at which the food matures and grows mold. Provided your Parmesan cheese is wrapped and stored correctly, the fridge's crisper drawer the ideal place to keep it.
A crisper drawer has more airflow than other parts of the refrigerator, perfect for preserving fruits, vegetables, and cheeses much longer.
When cheese is kept in an environment with warmer temperatures, mold multiplies, and the cheese loses flavor much quicker.
Identifying Spoiled Cheese
Learning how to keep Parmesan cheese fresh is important for your overall health. However, understanding when your Parmesan cheese has spoiled is equally essential.
There are a few quick ways to immediately tell if your Parmesan cheese has gone bad. Storing your cheese correctly and using clean utensils to cut your Parmesan cheese are great ways to prevent premature spoilage.
If you touch your cheese and it has a lot of excess moisture or is unusually dry, that is one indicator the Parmesan has reached its expiration date. Also, check for discoloration in the cheese, as it may be a sign bacteria is growing on the food.
If only one small area of your Parmesan cheese has a moldy part, cut it off and use the rest of the cheese. It is unlikely that the mold spores have reached the entire block of Parmesan cheese, so it should still be safe to eat.
Delicious Parmesan Cheese Crisps Recipe
There are several unique ways to incorporate Parmesan cheese into a recipe, whether it is a breakfast, lunch, or dinner dish. Parmesan cheese is packed full of flavor.
If you are a lover of Parmesan cheese, then this cheese crisp recipe is perfect for you. Parmesan crisps make a wonderful appetizer or side dish alongside the main course.
Preheat your oven to 375℉. Cover your cookie sheet with one layer of parchment paper. Scoop shredded Parmesan cheese by one tablespoonful at a time and bake the scoops of cheese for eight minutes. After the crisps cool for a couple of minutes, they are ready to serve.
Other Ways to Use Parmesan Cheese
Perhaps the most common way Parmesan cheese is used is in its grated form over a warm plate of pasta. Another dish that complements the flavors of Parmesan cheese is soup. Adding grated Parmesan cheese adds a cheesy touch to your favorite soup.
Another way to eat Parmesan cheese to pair it with other veggies and cheeses in its raw form. Raw chunks of Parmesan cheese drizzled in olive oil pair well with bell peppers, portobello mushrooms, and fresh fruit.
No matter what your favorite foods to eat are, there is most likely a way to add Parmesan cheese to add amazing flavors.
Parmesan cheese is incredibly tasty and pairs with several different foods, not just a chicken parm dish. Keeping Parmesan cheese fresh is vital to avoid potential harmful foodborne illnesses and have the most extended shelf life available.
Easy-to-find tools like aluminum foil and freezer bags are ideal for keeping Parmesan cheese fresh in the fridge for multiple weeks and in the freezer for up to six months.
If you are not sure whether your Parmesan cheese is spoiled, it is best to play it safe and throw it out.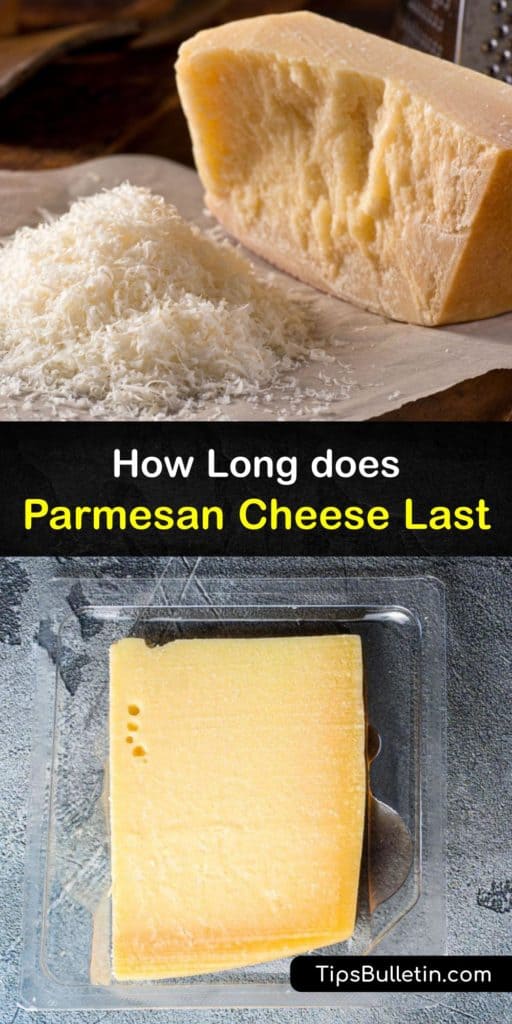 If you learned the answer to the question, "How long does Parmesan cheese last?" share this article about keeping Parmesan cheese fresh with cheese lovers and friends on Facebook and Pinterest.