Potato salad is a well-loved side dish for a potluck or a simple weeknight meal addition because it's easy to prepare and store. However, since it usually gets made in large batches, there are often leftovers. As such, many people wonder, "How long does potato salad last?"
The shelf life of potato salad depends on several factors. These include the ingredients used in the potato salad recipe, how long it's been sitting out at room temperature, and how it is stored.
Bacteria grow rapidly at temperatures above 40℉, so it's best not to leave potato salad unrefrigerated for more than two hours. For the best possible results, store leftover potato salad in a resealable, airtight container.
How to Keep Potato Salad Fresh in the Fridge
Potato salad usually lasts for three to five days when properly stored. If you have lots of leftovers and are concerned that you won't finish it all before it spoils, freezing potato salad is an excellent way to extend its shelf life.
Read on to find out how to keep potato salad fresh in the fridge and how to know when it's spoiled.
Since adjusting your potato salad recipe to incorporate your favorite ingredients is so quick and easy, it's no wonder this dish is so popular. Add fresh veggies or eggs or whatever strikes your fancy.
Sometimes salad leftovers become soggy or congealed after spending a few days in the refrigerator. Fortunately, there are several straightforward tricks for keeping homemade potato salad fresh.
A common problem with homemade potato salad is the texture of the potatoes being a little off. The same applies to macaroni salad. How long can pasta salad stay in the fridge?
When cooking potatoes using a wet method like steaming or boiling, it's best to use fingerlings or baby red potatoes. These types are waxy and have a low starch content, which helps them hold their texture better once cooked. Cook pasta al dente so it doesn't get mushy too soon.
If you find the dressing becomes too heavy after refrigeration, try stirring in a small amount of lemon juice. Adding a few extra chopped green onions and herbs helps brighten the flavor and texture.
It's essential to refrigerate your leftover potato salad in an airtight container. If you're serving potato salad at a cookout, consider keeping it on ice and covered with a lid or piece of plastic wrap.
How Long does Potato Salad Stay Fresh?
Have you ever wondered, "How long does potato salad stay fresh?" It depends on whether it's store-bought or homemade, which ingredients are in the recipe, and how it is stored.
Store-bought potato salad tends to contain more preservatives. It usually holds its texture longer and has a more extended shelf life. Try to use your potato salad within five days of purchase. Keep egg salad in the refrigerator as you do with potato salad.
Homemade potato salad, pasta salad, and egg salad are often tastier and healthier than the store-bought alternative. However, it is also more perishable. It's best to use any leftovers in three or four days.
Try this fun recipe for red, white, and blue potato salad if you're looking for a festive addition to your Fourth of July potluck menu.
Cut potatoes in half lengthwise and place them in a saucepan with enough water to cover them. It's best to boil the blue potatoes separately so they don't discolor the other ones.
Bring each pan of water to a boil, then reduce the heat to low and simmer for around ten or 15 minutes, until the potatoes are fork-tender. Drain the water and let them cool slightly before transferring to a large bowl. Add the chives, dill, parsley, egg, and onion and toss gently.
Combine the vinegar with the remaining ingredients in a small bowl. If you don't have Dijon mustard, use yellow mustard instead. Pour over the potatoes and mix gently to coat them evenly. Garnish with fresh herbs or crispy fried onions and serve immediately.
Best Potato Salad Storage Methods
To minimize your risk of food poisoning, always keep perishable items like potato salad, macaroni, or pasta salad refrigerated in an airtight container. Like most other types of leftovers, using an airtight container for storage makes potato salad last longer.
Bacteria develop quickly at temperatures between 40-140℉, so it's critical not to leave your potato salad sitting out too long. Does chicken salad last out of the fridge? No, room temperature storage is not recommended. It's relatively easy to tell when food has spoiled. Keep these indicators in mind for how to know if potato salad or other salads are still fresh.
The most noticeable signs include a sour smell, a gooey or slimy texture, and a grey or brown discoloration. If you see mold, throw the whole container of potato salad out. Mold spores will be present throughout the entire dish.
Of course, use your best judgment to answer the question, "How long does potato salad stay fresh?"
If your recipe was in the sun all afternoon on a hot day at a summer picnic, it's probably best to throw the leftovers out. If the container sat on your kitchen counter for a few hours, it's probably fine.
For a healthier alternative with a tangy flavor, try making potato salad with sour cream or Greek yogurt instead of mayonnaise.
Fill a large pot with water, incorporate the salt, and bring it to a boil over high heat. Meanwhile, cut your potatoes into bite-sized pieces.
Once the water begins simmering, add the potatoes and reduce the heat to low. Simmer the potatoes for ten to 15 minutes, or until they're fork-tender. Drain the potatoes in a colander and rinse them with cold water until they're cool enough to handle.
In a large bowl, stir the Greek yogurt, herbs, and olive oil. Add the chopped celery and olives if using. Mix in the cooked potatoes. Stir gently to avoid ending up with mashed potatoes. Season with fresh-ground salt and black pepper to taste and serve immediately.
How Long does Potato Salad Last When Frozen?
An excellent solution for preserving large amounts of leftovers is to freeze potato salad for later use. However, it may have a somewhat different texture after defrosting.
If your sauce contains mayonnaise or dairy-based ingredients, the water separates from the fat content, and the dish develops a grainy texture.
Use resealable freezer bags or airtight plastic containers to avoid freezer burn. Although food stored at or below 0℉ stays safe for consumption indefinitely, try to use your frozen potato salad within three months for the best flavor and texture.
Potato salad is where incredible flavor and versatile functionality converge to create the perfect side dish. If you try to avoid throwing food away whenever possible, you might have wondered, "How long does potato salad last in the fridge?"
Under optimal conditions, leftover potato salad stays fresh for three to five days. When considering how to keep potato salad fresh in the fridge, it's critical to use an airtight container.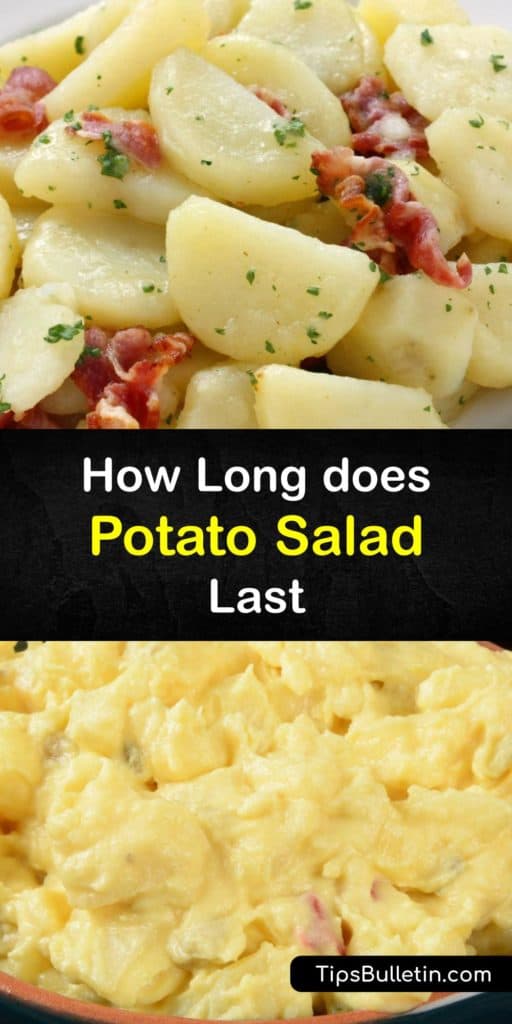 If you found these food storage tips helpful, please share this article about how long does potato salad last with your friends and family on Pinterest and Facebook.