We love picking up fresh hard salami, sliced ham, bologna, and other cold cuts from the deli for preparing subs or adding to a charcuterie board. However, we can only eat so many salami sandwiches in a day before we begin to get bored. How long does salami last, and is there a way to store it for longer shelf life?
While this deli meat lasts considerably longer than other luncheon meat, it does have an expiration date, especially after you remove it from its original packaging. There are many types of salami, and its flavor ranges from tangy and spicy to sweet and savory, making it perfect for everything from sandwiches and pizza to carbonara.
Browsing through your local deli, you may notice cured meats hanging in a display at room temperature. These types are shelf-stable and do not require refrigeration for a short period due to the curing process. However, they dry out and harden over time, and proper food storage is necessary to keep them fresh and prevent spoilage.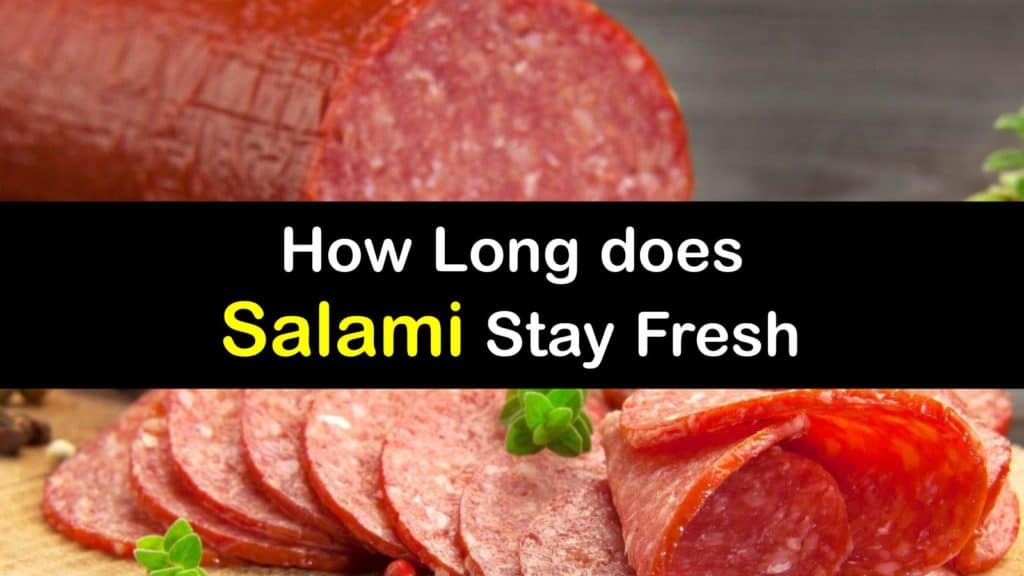 Ways to Prepare and Store Salami
While salami has a longer shelf life than the cold cuts you get from the grocery store, it still spoils over time, and food poisoning is something no one wants to go through.
Spoiled food is dangerous and unpleasant. How long does salami stay fresh, and what's an ideal way to store it?
It's best to keep salami fresh in the fridge after opening it, but it's safe to keep it at room temperature for a limited amount of time, depending on the type.
Learn what salami is and the different varieties available. Discover how to store this lunch meat short and long-term and use it to create a delicious recipe.
What is Salami, and are There Different Types?
Salami is different from other lunch meats like ham, turkey, and roast beef. It has a unique taste and texture, and there are many ways to use it in recipes. What is salami exactly, and are there different types?
Salami is a cured sausage with salt and nitrites that goes through a drying and fermenting process, and it's usually made from pork.
If you've ever wondered what the white stuff inside this type of meat is, it's a penicillin-based white mold similar to what you find in fine cheeses and perfectly normal.
There are at least 300 types of salami that come from different regions, and they vary in appearance and flavor. Hard salami is one of the most common, and it has a smooth flavor because it's smoked after being cured.
Genoa salami is another popular choice, and this type is made with pork and veal and seasoned with red wine, garlic, and pepper.
Pepperoni is famous as a pizza topping that is Italian-American invented and not a traditional Italian salami with a lightly smoked, spicy taste.
Chorizo is softer and spicier than common salami deli meat, and Nduja is a spreadable salami made of pork meat and fat and spicy red peppers.
Another famous salami type is Soppressata, an all pork salami found in various regions throughout Italy. The versions found in the United States are heavily flavored with Calabrian chili peppers or black peppercorns.
Other salami options include Cotto, Finocchiona, Mortadella, and Salsiccia. Cotto salami is air-dried and not cooked or smoked, and Finocchiona is aged five months and flavored with fennel.
Mortadella salami is a finely ground or hash cured pork cooked with black peppercorns. Salsiccia is an ancient salami made of pork neck bits and pancetta scraps, seasoned with white wine, garlic, cinnamon, and pepper.
How Long does Salami Stay Fresh on the Counter?
You purchase your salami meats from the deli where it sits in a display case or hangs with other cured meats, but how long does salami stay fresh at room temperature once you bring it home?
Room Temperature Salami
Since there are many types of salami, it's vital to understand their differences to know where to store them. Whole vacuum-sealed salami is safe to keep on the counter, while slices of vacuum-sealed salami are better for keeping in the fridge.
Dry salami goes through a process that enables it to stay fresh at room temperature even if it's not sealed. Keep the sealed or dried meat in a cool and well-ventilated area of your kitchen and put it in your refrigerator after opening it.
How long does salami last? When storing salami out of the fridge, always check the use-by or sell-by date on the package.
Salami lasts weeks to months, depending on how it's processed, but it dries out the longer it sits. According to the USDA, unopened salami lasts six weeks in the pantry.
If you're unsure whether the meat is still safe to eat, use your senses. Discoloration, black fuzz, and gray edges are signs of spoilage, and if it smells like rotten eggs or ammonia, it's ready for the trash.
How to Keep Salami Fresh in the Fridge
After you open it, it's important to keep salami fresh in the fridge to ensure it doesn't dry out and spoil. However, there is a wrong and right way to refrigerate this meat. Learn how to keep it fresh in the fridge to extend its shelf life.
When slicing into fresh salami, only remove the skin on the area you plan on eating since the skin protects the meat from oxidation and spoilage. Cover the cut end tightly with plastic wrap and set it in the fridge.
The next time you take the salami out of the refrigerator, you may notice slight discoloration on the opened side. This is normal and means that the salt has started to crystallize on the cut section.
While the flavor of the end piece is altered, the rest of the salami is still good. A whole salami lasts up to six months stored in this manner, while cut salami lasts roughly three weeks.
How Long Does Salami Last in the Freezer?
If you cannot eat all that fresh salami before it goes bad, the freezer is the best place to store it long term. Freezing hard salami and other types is easy. Find ways to prepare salami for freezing and how long it lasts before it's no longer edible.
To freeze a whole uncut salami, leave it in its original packaging, wrap it tightly in a heavy-duty aluminum foil, and freeze for up to ten months.
To freeze salami slices or pieces for use in recipes, separate them between parchment papers and set them in a freezer bag or airtight container. Press out the air in the bag before sealing it shut. How long is salami good for in the freezer? Store wrapped salami on the freezer shelf for up to six months.
To thaw frozen salami, remove it from the freezer the night before and defrost it in the refrigerator to avoid developing harmful bacteria.
Making a Frittata with Salami
While we often think of using salami on sandwiches or pizza, there are many other ways to use this delicious meat, and one of our favorites is a hearty frittata dish.
This recipe combines salami, potatoes, and cheese with eggs and is perfect if you enjoy eating breakfast for dinner.
Drizzle a tablespoon of oil into a frying pan over medium heat. Add the potatoes and salt and saute them for about five minutes until the cubes are just done and brown, and remove the pan from the heat.
Beat the eggs with the Parmesan cheese and pepper in a large bowl and stir in the potatoes and salami. Set the pan back on medium heat, then add the remaining oil and butter.
Pour the egg, cheese, and salami mixture into the pan, reduce the temperature to low, and sprinkle the goat cheese over the top.
Cook the eggs until they are nearly set for about six minutes. Turn the oven to broil, remove the pan from the stove, and place it six inches from the heat in the oven. Broil the frittata for two minutes, cut it into wedges, and serve immediately.
There is nothing quite like the salty, mildly hot flavor of salami and a sub sandwich is not complete without adding slices of pepperoni cold cuts. Fortunately, this lunch meat lasts longer than many others, and it holds up well to freezing for long-term storage.
How long does salami last is a common question since this is a cured lunch meat, and knowing the answer ensures you get to enjoy the best quality meat even longer, so why not share our salami storage tips and recipe with your friends and family on Facebook and Pinterest?