Cheese is a flavorful treat and the star of favorite recipes like grilled cheese sandwiches or a tasty charcuterie board with fruits and veggies. It's unsurprising that so many people wonder how long does sliced cheese last and how to tell if sliced cheese is bad. Cheese slices are a staple in most households,
When it comes down to it, cheese is essentially a less perishable type of milk in which the water has been removed, and the protein and fat are preserved by fermentation and adding salt. The more water left in your cheese, the more perishable it is.
There's no reason to be concerned, because cheese typically gets so unappealing you have no desire to eat it long before it becomes unsafe. With hard cheeses like gruyere, it's safe to scrape off any blue, gray, or green mold that forms on the block of cheese and still eat what remains.
However, if you notice red or black mold on your cheese, it's a no-go, and your refrigerator probably requires a good cleaning and sanitizing.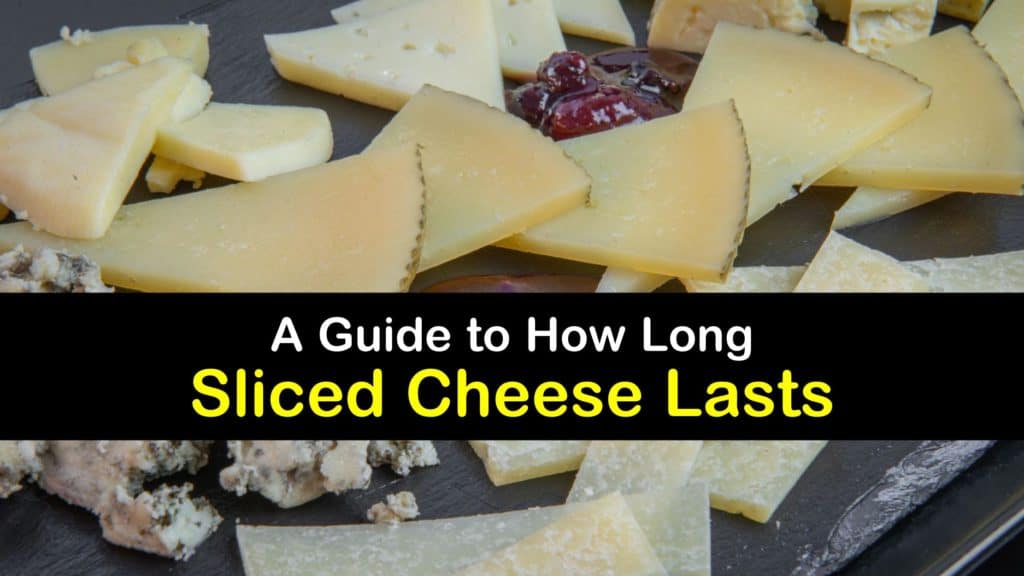 How Long is Sliced Cheese Good for – Easy Tips
Even after studying the sell by date and expiration date at the grocery store, storing cheese may be challenging and leave cheese lovers wondering how long is sliced cheese good for? Can cheese stay out of the fridge? Leave cheese at room temperature no longer than two hours.
We all want to consume the best quality dairy products, and taking a bite of delicious cheese only to find it's gone bad is a nightmare.
Thankfully, by understanding a little more about cheese and the different types of cheese, it's easy to learn how to store it. The question of how long is sliced cheese good for is quickly answered with a bit of knowledge.
Do you wonder how long does cheese slices last in fridge? The answer is, it depends. Whether you're dealing with soft, semi-hard, or hard cheeses is a critical factor in the storage method and the preservatives in the cheese itself.
By learning more about the cheese, it's simple to select the correct way to store it to prolong its shelf life and enjoy the best quality product longer.
As cheese is a perishable food, it's advisable to buy it in smaller amounts more regularly when you can, keep the package unopened until you're ready to eat it, and follow the storage instructions.
Whether you love cream cheese, a tasty Swiss, sharp provolone, or a rich Romano, learning how to store your cheese keeps it fresh longer.
How Long Does Sliced Cheese Last – Types of Cheese
If you're unsure about the shelf life of your favorite cheeses, knowing what to expect helps. So, how long does sliced cheese last?
Whether you love creamy camembert, rich goat cheese, good old American cheese, or Kraft variety, learning how to store your cheese correctly increases its shelf life. Longer-lasting cheese slices mean you enjoy the best quality dairy products.
Storing Cheese Slices for Maximum Shelf Life
It may surprise you that cheese is like a living creature – it sweats, degrades over time, and even breathes. When does cheddar go bad? If cheese wrapped in plastic wrap no longer takes in oxygen, suffocating and developing an ammonia flavor and potentially hazardous bacteria.
Plastic wrap also imparts a plastic flavor to the cheese, which isn't the result you expected when you purchased it. If the grocery store wrapped your deli cheese in plastic at the counter, rewrap it correctly as soon as possible to extend its shelf life.
What should you use to wrap your cheese if plastic wrap isn't an option? The overwhelming agreement is that cheese paper is the way to go. This unique gadget allows the cheese to breathe while also keeping it from drying out. If you don't have cheese paper on hand, parchment paper works well too.
Cut a large square of wrapping paper – two to three times the size of your cheese is ideal. Place your block of cheese on the parchment paper, wrap tightly and tape the flap. Make a note on the tape about the type of cheese you bought and the date you purchased it.
You'll be able to determine what's inside without having to unwrap it and keep track of how many days it's been in your refrigerator. If you don't have parchment or cheese paper, aluminum foil works in a pinch, but be sure to wrap it loosely, so your cheese still breathes.
Hard Cheeses, Semi-Hard, and Soft Cheeses
The best way to store cheese varies slightly depending on its moisture content or whether it's hard, soft, or semi-hard.
Hard cheeses should be firm but easy to cut. When these cheeses separate from their curd, they begin to dehydrate, and the refrigerator only speeds up this process.
To help them stay moist, wrap them as described and place them inside an open plastic bag like a freezer bag; this allows the cheese slices to still breathe without becoming extremely hard and unappealing.
Wrap soft cheeses like Brie to help them retain their moisture and keep from drying out, and change the wrapping every couple of days for freshness. Incredibly soft cheeses like ricotta or mozzarella do best when kept in the container they came in at the grocery store with their original liquid.
The way to freeze cheese slices is to package them like you do for the fridge, except you will seal the freezer bag.
How to Tell if Sliced Cheese is Bad before Eating
Are you questioning how to tell if sliced cheese is bad before making delicious grilled cheese sandwiches or adding it to your fruit and veggie board? How long is Swiss cheese good for? What about ricotta?
The amount of moisture it contains has a significant impact on the perishability of cheese. Soft cheeses spoil more quickly than hard or aged cheeses. The way to tell if American cheese is bad is if mold appears on it or another soft cheese – discard the entire container or slice.
If you find mold on hard cheeses, cut off the moldy section and consume the rest because the spores are unlikely to have spread throughout the cheese.
A scent or flavor of rotten, sour milk is another clue that a block of cheese or expired Parmesan cheese has gone bad. Fresh cheeses shouldn't have a strong odor. Get to know your cheese when bringing it home from the grocery store through taste and smell. Any change is the best indicator that your cheese has gone bad.
Keep your properly wrapped cheese in the crisper drawer of your refrigerator. This area has the most consistent humidity level and temperature, giving you the best quality cheese slices.
Whatever your favorite cheese, choose an appropriate way to store it for the best possible taste and longer shelf life. With proper storage, how long is sliced cheese good for is always answered with as long as possible.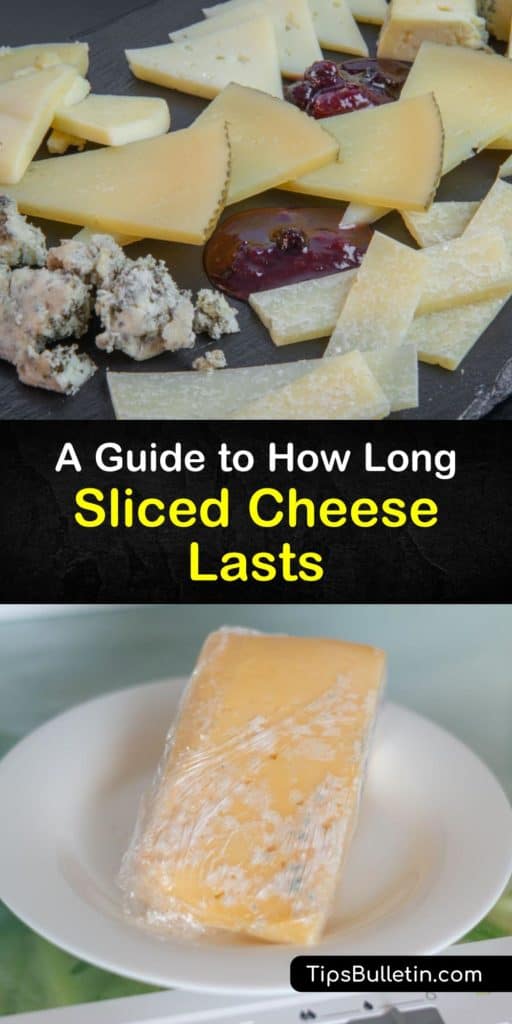 If you liked this article answering how long does sliced cheese last, please share these handy tips to understand how long sliced cheese is good for with your family and friends on Pinterest and Facebook.