Since soy milk is not like regular milk, it's natural to think that it has a never-ending shelf life. However, this non-dairy milk does indeed have an expiry date, and drinking old soy milk sometimes leads to food poisoning. How long does soy milk last, and where is the best place to store it?
There are so many different milk substitutes at the grocery store these days, from almond milk and coconut milk to fresh soy milk, and it's easy to understand the confusion when it comes to storage and expiration dates. These gluten free milk alternatives have no cholesterol, are often fortified with calcium, and are a great alternative to traditional milk.
While soy milk lasts longer than dairy milk, it still expires after a certain amount of time. However, reaching into the back of your refrigerator for a carton of soy milk that has been there so long that you forgot when you bought it is a bad idea.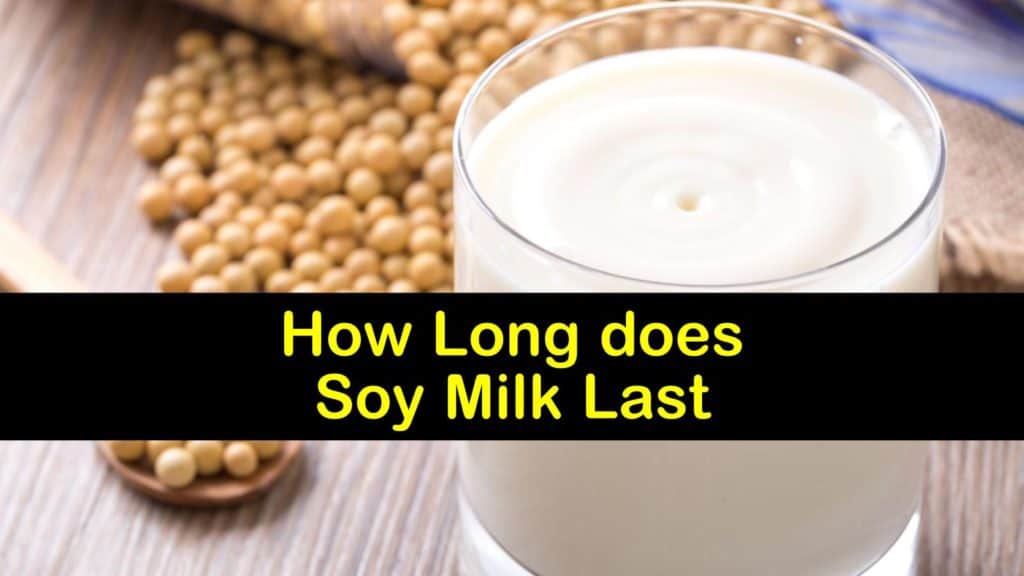 How to Store Soy Milk
Thinking that soy milk is safe to drink at any time since it's not cow's milk is a misconception. So, how long is soy milk good for? The answer depends on which type of soy milk you have.
There are two types of this milk, refrigerated and non-refrigerated, each with a different expiration date. If soy is not like traditional dairy products, does soy milk go bad? The answer to this is yes.
In fact, drinking spoiled soy milk has the same consequences as consuming expired dairy products. Understanding how long it lasts before and after opening is vital and the best place to store it is vital.
How Long Is Soy Milk Good for?
How long is soy milk good for, and how long can soy milk sit out after you get home from the grocery store? While soy milk contains preservatives, it still has a limited shelf life, which depends on whether you purchase a can or carton of milk.
When does almond milk go bad? The same applies to almond milk and other non-dairy milks like coconut and cashew.
If your favorite brand of soy milk sits on the shelf at the store, then it's easy to store it in the pantry of your kitchen. Check the expiration date on the can and use it before it expires, and place it in the fridge after you open it.
If you prefer refrigerated milk from the store, keep it in the fridge and do not open it until you're ready to consume it. Soy milk lasts seven to ten days after opening.
What about almond milk? How long is opened almond milk good for? You can generally follow the same guidelines for almond milk as you do for soy.
If you make your own milk from soybeans, homemade soy milk only lasts three to five days in the refrigerator.
Does Soy Milk Go Bad in the Fridge or Pantry?
Does soy milk go bad if I keep it at room temperature? Soy milk lasts a relatively long time if it is in an unopened can and keeps up to eight months.
However, it requires refrigeration ASAP after you open it. Here is how to tell when soy milk is gone bad and no longer drinkable.
Soy Milk Freshness
Fresh soy milk has a smooth and off-white color. To test if it is spoiled, pour some into a clear glass, and check its consistency.
If the color seems wrong or it is lumpy with curds, dump it down the drain. If you're still unsure, give it the sniff test. Bad soy milk has a sour aroma just like cow's milk.
An easy way to check if your milk has expired without the unpleasantness of taste and smell is to check the carton. Sometimes, expired milk causes the carton to expand, which is a big indication that it's time to toss it in the trash.
How Long Does Soy Milk Last in the Refrigerator?
How long does soy milk last in the fridge? Check the date on the carton of unopened milk to determine the shelf life. After opening the container, the shelf life shortens, so refrain from opening it too soon.
Can I Freeze Soy Milk?
If you cannot use the milk before it expires, store soy milk in the freezer for long term storage.
There are a few ways to freeze soy milk, and one of the easiest is to pour it into a freezer-safe container and keep it on the freezer shelf until you're prepared to enjoy it. The easiest and best way to freeze milk is to pour the milk into ice cube trays and then freeze them solid.
Pop the cubes from the trays and place them into freezer bags. Press out the air before sealing them shut and then lay them back in the freezer. Frozen soy milk lasts up to three months.
While thawed soy milk is not as tasty drinking it from a glass as when it was fresh, there are other ways to use it. Use the frozen cubes in milkshakes or smoothies, or thaw the frozen milk for adding to your favorite recipes.
When you are prepared to use your milk, remove it from the freezer and thaw it in the fridge overnight. If you made milk cubes, pour them out of the freezer bag into a pitcher before placing it into the refrigerator.
Shake the container well after the milk thaws to bring back the original texture of the liquid. Don't be concerned if the milk has a pale yellow color after freezing. This coloring is perfectly normal and a natural result of the freezing process.
Milk alternatives are a lifesaver to anyone who is lactose or gluten intolerant. Even though they are not a dairy product, they still have an expiration date.
Therefore, it's essential to understand how long unopened and opened soy milk lasts and how to tell if it's reached the end of its shelf life. Learning about does coconut milk go bad, as well as soy milk and almond milk, helps everyone consume the safest milk possible.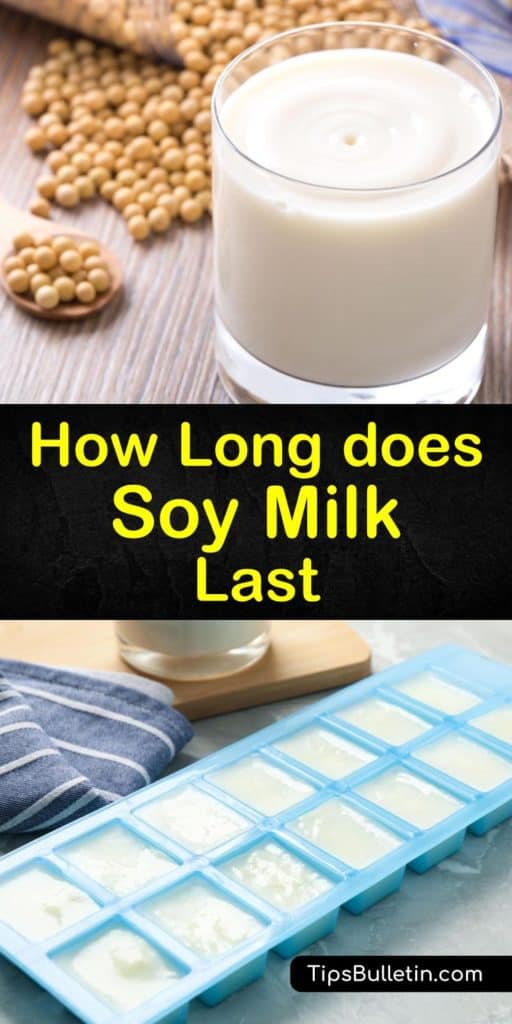 How long does soy milk last is a common question, and knowing the answer is the difference between a good and bad glass of milk, so why not share our soy milk storage tips with your circle of family and friends on Pinterest and Facebook?