When all you want is to devour pasta for breakfast, lunch, and dinner, it's hard to find healthy alternatives that still fulfill your pesky cravings. Noodles made from veggies like zucchini noodles and spaghetti squash are the most incredible pasta replacements that remain entirely healthy. If you are trying to eat better, it also makes you ask, how long does spaghetti squash last in the fridge?
It is possible to learn how to keep spaghetti squash fresh in the fridge without it turning mushy. When we consume a lot of vegetables, it's hard to know all of the different tips and tricks to keep each veggie fresh as long as possible.
This brief article walks you through everything you need to know about winter squash and provides you with an answer to the question, how long does spaghetti squash stay fresh?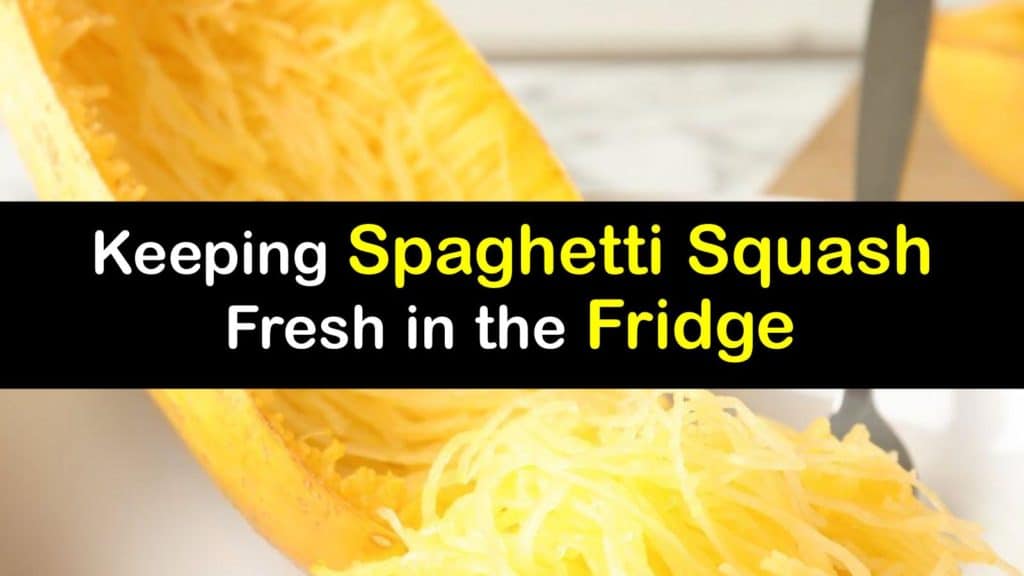 About Winter Squash
There are two types of squash. Spaghetti squash is a winter squash, and these types are harvested in the late summer and cured in the open air. These squashes keep for months without refrigeration and have a thick rind that protects their insides.
Types of winter squash include acorn squash, butternut squash, and spaghetti squash. How long can butternut squash sit out? Winter squashes last much longer than the summer varieties. Summer squashes have soft and thin skin that is edible and usually available year-round.
Replacing pasta isn't the most exciting step you can take for your health. However, there are many benefits to using the stringy texture of spaghetti squash instead of pasta full of carbohydrates.
One cup of cooked spaghetti squash contains as few as 10 grams of carbs and half a gram of fat. This gluten-free, low carb food is full of antioxidants, calcium, potassium, and fiber and has loads of vitamin A. It displays a beautiful yellow-orange color from the beta-carotene.
How to Keep Spaghetti Squash Fresh in the Fridge
Whether you are concerned with spaghetti squash growing or you just get a great deal at the store, you need to know about your storage options. How long does spaghetti squash last in the fridge? What about at room temperature? Use this guide to learn everything you need to know about storing spaghetti squash the right way.
How Long does Spaghetti Squash Stay Fresh?
Raw squash lasts much longer than cooked squash because of the thick rind that surrounds and protects it. When browsing at the grocery store, look for squash with firm, dry skin free from blemishes, cracks, and soft spots. The veggie should feel heavy for its size.
If a whole squash is left in a cool, dry place around 55 or 60 degrees Fahrenheit, it lasts up to three months without refrigeration. Can you keep spaghetti squash in the refridgerator? How long is spaghetti squash good for? The fridge makes raw squash ripen quicker and only lasts about two weeks this way.
Preparing Spaghetti Squash
Many people enjoy prepping their spaghetti squash ahead of time because the process takes a couple of hours of cooking time, depending on how much you plan to prep. Winter squash is tougher and takes longer to soften than delicate, thinner summer squashes.
The way to preserve summer squash is by cooking it first. Heat your oven to 400°F while you prep your squash. Rinse the outside of the squash with water and cut it in half across the width instead of lengthwise to get longer noodles.
Scoop out the squash seeds with a spoon and line a baking sheet with parchment paper or aluminum foil. Brush the sides of the spaghetti squash lightly with a bit of olive oil and sprinkle with salt and pepper if desired.
Place the winter veggies cut side down on the baking sheet and roast them in the oven for 30 to 40 minutes. The inside should be tender and soft. Remove the spaghetti squash from the hot oven and let it cool for several minutes before using a fork to scrape out the interior to create noodles.
How Long does Spaghetti Squash Last in the Fridge?
Knowing how to keep spaghetti squash fresh in the fridge is essential if you love healthy pasta substitutes. After cooking spaghetti squash, the shelf life is only two or three days when stored in the fridge.
To preserve spaghetti squash, keep the squash in an airtight container. To keep as much air out of the container as possible, use a layer of plastic wrap and press it tightly over the squash before putting on the lid.
Always reheat the veggie noodles to restore them to their original texture. Once warm, it is easy to make a complete Italian meal. Mix the warm squash with spaghetti sauce or homemade pesto for a quick, easy, and healthful dinner without the guilt of traditional pasta.
How Long does Spaghetti Squash Stay Fresh in the Freezer?
The freezer is your best friend when learning how to store cooked spaghetti squash. Frozen squash lasts for up to 12 months in the freezer. It is also easy to portion out ahead of time so that all you have to do is thaw it and reheat it when you're ready to use it.
To preserve and freeze spaghetti squash, put cooked spaghetti squash in a freezer bag or plastic bag and remove as much air as possible. Set the freezer bag in the freezer until you are ready for it.
When craving some pasta, remove the bag from the freezer and allow the noodles to thaw at room temperature. Reheat the noodles in the microwave or on the stove before tossing them with your favorite sauce.
Delicious Ideas for Spaghetti Squash
Spaghetti squash doesn't always have to be made into noodles. Although the stringy texture resembles noodles, there are dozens of fun recipes to make.
Using the rind as a bowl and adding your favorite ingredients to the inside is one unique way to utilize this tasty veggie.
Warm your oven to 400°F and line a baking sheet with parchment paper. Trim the ends of the spaghetti squash with a sharp knife and then slice each one lengthwise from top to bottom.
Use a metal spoon to remove all the squash seeds and drizzle the insides with olive oil. Sprinkle salt and pepper over the oil and place them cut-side down on the baking sheet.
Bake the halves for 40 minutes until the inside is easily pierced with a fork. While the squash bakes, cook the spinach with garlic and a little more olive oil until it wilts. Fluff the inside of the cooked squash with a fork.
Divide the spinach and parmesan evenly between the halves and stir them into the squash. Spread the marinara over the top of each piece and return it to the oven to crisp for another 20 minutes.
Remove the baking sheet and sprinkle the squash pizzas with some fresh basil and red pepper flakes.
These store-spaghetti-squash tips are helpful for anyone who has never worked with these ingredients before. With so many veggies to buy, it is hard to know how long each one will last before rotting.
How long does spaghetti squash stay fresh? We hope this winter vegetable guide helped you find the answers to all the questions you have about these delectable veggies.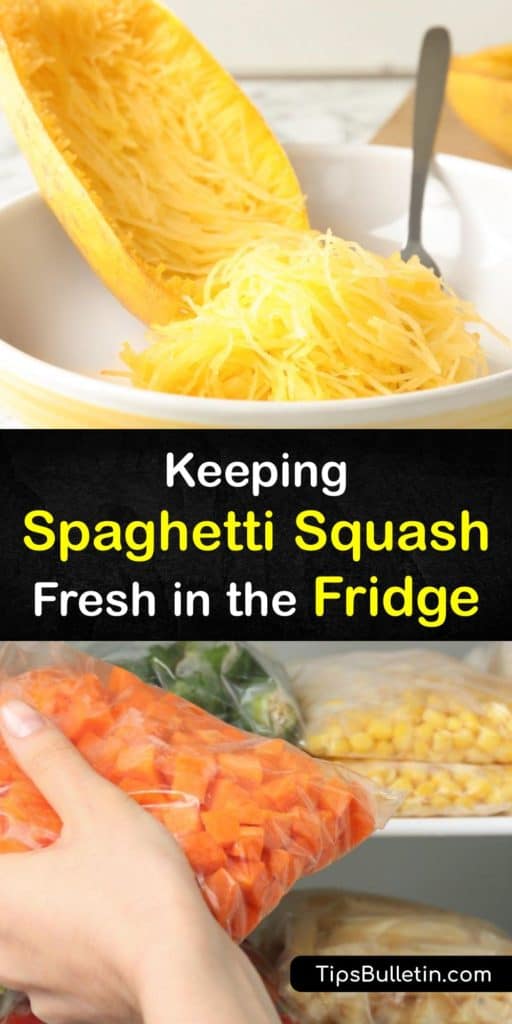 If this article answers the question, how long does spaghetti squash last in the fridge, share this guide on keeping spaghetti squash fresh on Facebook and Pinterest.