American cheese slices like Kraft singles have become the go-to choice when we need something that gets extra melty. The salty, gooey flavor makes them a staple on American grilled cheese sandwiches, a cheeseburger, or a late-night chili cheese hot dog. Though it's not technically considered real cheese, how long is American cheese good for exactly?
Does American cheese go bad? American cheese slices are something that most people already have at their house. You'd never go to a cheesemonger for this processed type of cheese full of preservatives. Instead, a quick trip to the grocery store is the easiest and best way to get some.
This cheese product is processed and usually made with cheddar, goat milk, or Colby, and then gets colored with annatto. While it isn't made the same way as cheeses like gouda, Havarti, and ricotta by separating the whey, many people still wonder, "When does American cheese go bad?"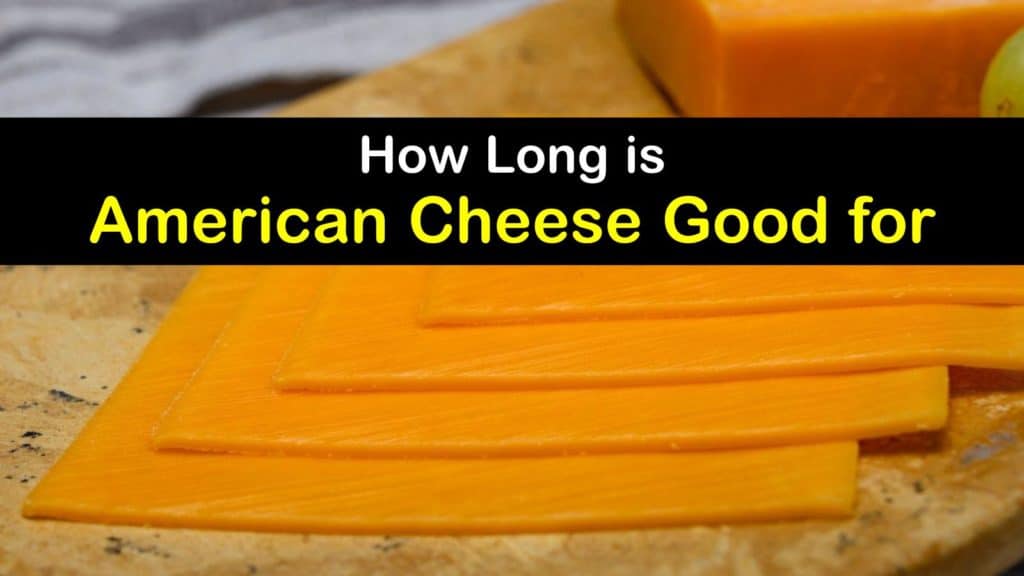 Does American Cheese Go Bad?
Before we can answer the common question of how long is American cheese good for, we must first address what American cheese truly is. American cheese is a semi-soft cheese with a creamy texture and salty flavor.
It is mostly used for sandwiches and burgers, and it is often available at most local stores or your nearby deli counter.
Sodium citrate is the key to the gooey texture. However, the number of preservatives and enzymes make the far-off expiration date raise a lot of questions.
American cheese is not authentic cheese, which is why people start to question, when does American cheese go bad?
Substituting American cheese also has its share of challenges because you have to use the correct type of cheese to mimic the melting factor. Popular brands like Velveeta and Kraft Singles simply work better for some dishes.
Still, there are plenty of other options that are just as good with even more calcium. Mozzarella, goat cheese, Brie, and blue cheese are soft or semi-soft cheeses that make excellent substitutions.
On the other hand, avoid hard cheeses like real parmesan or New York white cheddar.
This product comes in several different forms. The most common ways to buy them are sliced cheese or in a block. Today, some people prefer to blend them with other cheeses to create even more in-depth flavors.
There aren't too many guidelines for what can and cannot be considered American cheese as long as it stays melty.
When Does American Cheese Go Bad?
Now that you understand some basic background information about these semi-soft cheeses, let's look into just how long the shelf life is for American cheese.
How Long is American Cheese Good for?
Unlike how long cheddar cheese is good for, American cheese has a reasonably long shelf life. The expiration date printed on the cheese's packaging is typically five to six months after the cheese gets produced.
It is also safe to eat about two weeks after the posted date on unopened packaging.
How to Tell When American Cheese is Gone Bad
Figuring out if your American cheese has gone bad means you have to rely on your senses. American cheese should be a bright orangish-yellow color.
Any cheeses that have a funny smell different from when it was fresh must be discarded. Another simple way to tell if the cheese is spoiled is to taste it for freshness.
Remember that soft cheeses like American and cream cheese are not the same as hard cheeses, and you can't remove moldy spots and continue to eat them.
If your semi-soft cheese has any signs of mold, the spores have likely already penetrated the entire block, and it is safest to throw it away and go to the store for more.
How to Store American Cheese
Keep your unopened American cheese in its original packaging and put it in the refrigerator as soon as you get home. Do not open the sealed package until you are ready to use it to help extend the shelf life.
After you open the cheese, wrap it in plastic wrap and put it back in the fridge once you no longer need it. Fresh mozzarella will last in the fridge by following the same procedure.
Do not store American cheese at room temperature for longer than two hours to prevent the growth of harmful food bacteria that could make you sick. Goat cheese can be left out for about the same amount of time.
How to Freeze American Cheese
Cheese isn't technically your most freezer-safe option, yet people insist on storing it this way. We understand the need to freeze cheese to prevent waste and to use your cheese before Swiss cheese expires or your American cheese spoils.
However, properly keeping American cheese in the freezer likely means that you're willing to sacrifice the texture and be prepared to use it in a new way.
When freezing and storing American cheese or any other cheese products, only use containers that can remove as much air as possible, like a plastic bag, airtight container, or heavy-duty aluminum foil.
Don't forget to label and date the bags to help you remember how long it sits in there as well.
How to Thaw Frozen American Cheese
Some people freeze individual American cheese slices and make the thawing process more straightforward than thawing a block.
Either way, set the cheese in your fridge to thaw overnight. You may also let it sit out at room temperature for one hour before putting it back in the fridge to cool down.
The best way to reheat your cheese is to melt it down and turn it into a cheese sauce. An easy way to reheat it is to put thawed American cheese in a microwave-safe container with a couple of splashes of milk.
Microwave the cheese and milk mixture at 30-second intervals while stirring in between until it is hot and melty.
How to Cook American Cheese at Home
As a processed cheese, it's not like you need the cow to make American cheese at home. It is a lot easier than most people think. Making homemade food always tastes better too.
Wrap a small, 4-x-5-inch loaf pan in plastic wrap with excess hanging over all sides. Combine the fresh water and gelatin in a small bowl and let it sit for five minutes.
Put the cheese, milk powder, tartar, and salt in a food processing bowl and pule it a few times to combine everything. Heat your milk in a small pan over medium heat until it starts to simmer.
Remove the milk from the heat and slowly add it to the food processing bowl with the machine running on low. Keep the machine running and add in the gelatin mixture.
Stop the machine and scrape the sides before turning it back on. Repeat this step until the cheese is perfectly smooth. Transfer the cheese to the loaf pan right away and press down on the top with a spatula to remove air bubbles.
Chill the loaf pan in the fridge for at least three hours to harden it. Remove the homemade American cheese from the pan and slice it as needed.
Most of our favorite American dishes wouldn't taste the same without ooey-gooey American cheese. It might not be the healthiest dairy option, but it does taste fantastic and lasts longer than many of our other choices.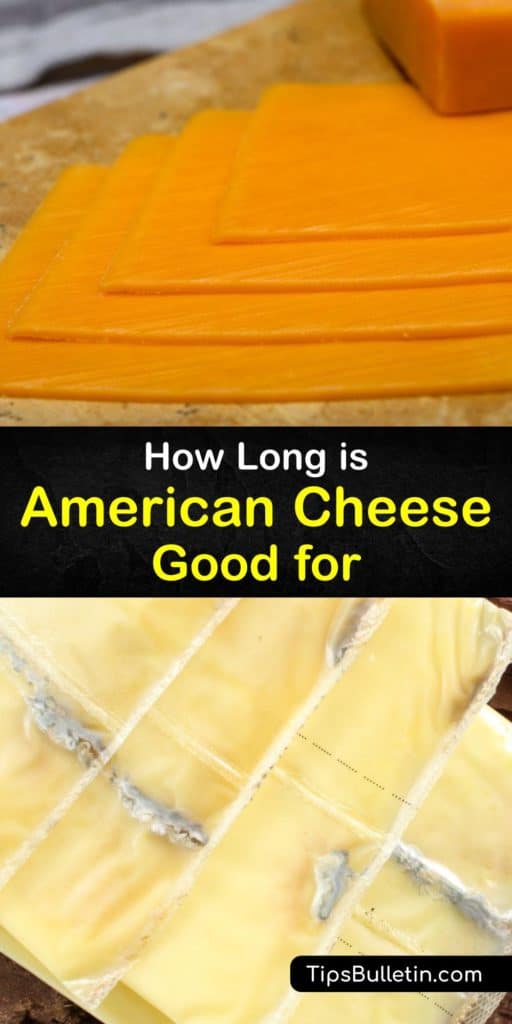 If this article explaining how long is American cheese good for has helped you determine if your cheese is bad, share this guide answering the question, does American cheese go bad, on Facebook and Pinterest.