Basil is one of the most appreciated herbal plants, and it's also one of the easiest to grow. They are useful in so many recipes, whether you harvest them from your basil plant or pick up a bunch of basil from the grocery store. These fresh herbs are a must-have for pesto and Italian dishes, but how long is basil good for?
The shelf life of basil leaves depends on how you store them. While fresh basil is always best, it's not always possible to enjoy it this way, especially if you have a large bunch. Fortunately, there are different techniques for both short and long term storage.
There are a few basil varieties, including Thai basil and sweet basil, and they all have the same shelf life, depending on how you store them. Fresh basil leaves are easy to refrigerate, freeze, and dry without losing that famous basil flavor.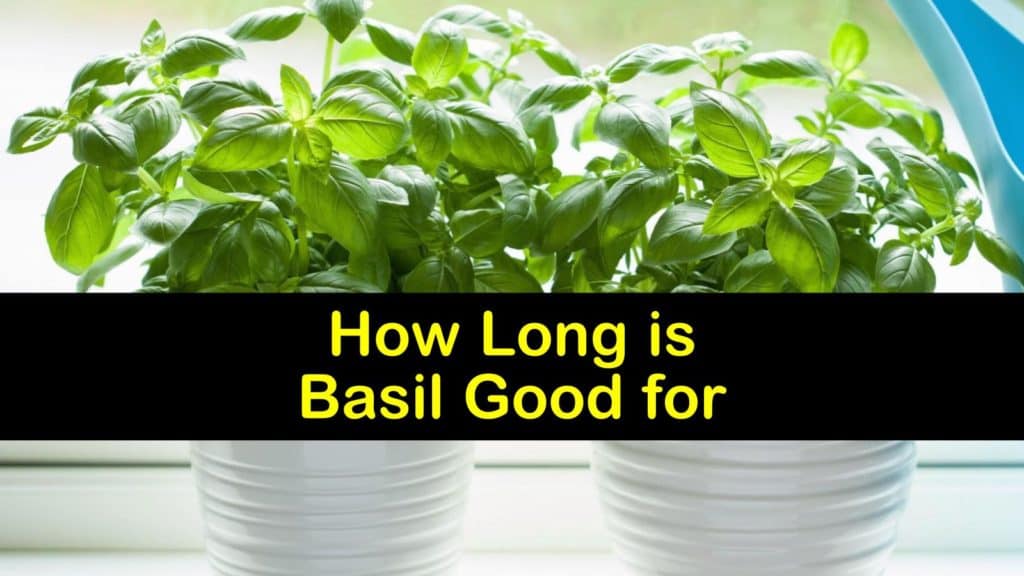 Storing Basil for Short and Long Term
All produce spoils if not stored properly. If you don't take the appropriate steps to preserve your herbs and produce, the food can and will spoil and be inedible.
If you grow your own basil, snipping the fresh leaves is an important part of the process. When is basil ready to harvest? Look for bright full leaves. If you run out of basil, fresh or dried oregano is a good substitute for basil leaves.
When do basil go bad after harvesting the leaves? You are fortunate if you have your own basil plant. Growing basil is not hard at all, as long as you know how to get rid of aphids on basil plants.
This garden herb offers up an abundance of flavor for your favorite recipes. However, the leaves only stay fresh for so long after clipping them from the plant. Another common question is, do basil go bad in the fridge?
While the refrigerator does extend the life of these herbs, they still have a limited shelf life, which is why it's essential to plan your meals ahead of time before you store basil to ensure that you get the most out of your herbs.
Note our simple basil storage tips to keep your herbs fresh until you are ready to add them to a recipe.
When do Basil Go Bad on the Kitchen Counter?
Keeping your freshly cut basil at room temperature is not a great idea. However, a potted basil plant is an ideal way to enjoy fresh herbs right from your kitchen counter. We'll explain how to tell when basil are gone bad and how to keep them fresh longer.
To enjoy fresh basil in your kitchen, purchase a basil plant from your local grocery store or nursery. Place it in your kitchen near a sunny window so that it receives six to eight hours of direct sunlight daily.
Check the dirt every couple of days and water as needed to keep it evenly damp. Consider placing a thin layer of mulch in the pot to retain moisture.
Prune fresh leaves from the plant as you need them for recipes. Basil leaves are bad once they begin to wilt, lose color, or get brown spots. Smell them for a fresh scent and discard them if they have no distinct aroma.
Do Basil Go Bad in the Refrigerator?
If you do not have a basil plant and purchase your herbs from the grocery store, keeping cut basil fresh in the fridge is the way to go. Since fresh basil doesn'tusually have a "good by" date when you purchase it, you may wonder, "Does basil expire?"
While they do eventually spoil, the fridge is a great place to keep basil short term, as well as ginger, and they last two days to two months, depending on how you store them.
When preserving basil using the refrigerator, there are three ways to store basil in the fridge. The first is to snip off the bottom of the herb stems and pluck away low-growing leaves. Pour a couple of inches of cold water into a jar and set the basil, stem side first, into the water.
Cover the basil leaves with a loose plastic bag and put the glass of water in the fridge. Check it every day and replace the water as needed. Basil lasts up to eight days in this manner.
How long does cilantro last in the fridge when stored like basil? About the same amount of time – around a week or so.
The second way to keep basil in the fridge is to remove the leaves from the stems and clean them under cool water. Use a salad spinner to dry them, wrap them in a paper towel, and place them into a plastic bag. Keep the bag in the fridge for up to one day.
The final way to keep basil in the refrigerator is to clip the leaves from the stems and wash them under cold water. Place them into a jar and cover them with olive oil. Store the oil basil in the fridge for up to two months.
How Long is Basil Good for in the Freezer?
The freezer is the next best place to keep your freshly cut basil, and there are a couple of ways to freeze them. Whatever way you prepare them, frozen basil lasts up to six months.
The best way to freeze basil leaves that are whole is by placing them into a pot of boiling water for two seconds to blanch them and then transferring them to a bowl of ice water to stop the cooking process.
After blanching, spread the leaves on a cooking sheet in a single layer. Flash freeze them in the freezer for about an hour and then put them in a storage bag before returning them to the freezer.
To freeze basil cubes, place the leaves into a food processor and add a drizzle of olive oil.
Pulse until it reaches the desired consistency and then spoon the mixture into an ice cube tray. Freeze the cubes until frozen solid and then transfer them into a freezer bag.
How Long does Basil Last after Drying?
There is nothing better than having a wide variety of dried herbs on hand for adding to soups, stews, pizza, and other delicious recipes, and dry basil lasts two to three years in the spice cabinet.
Clip the leaves from the stems and rinse the basil under cool water. Pat them dry and then place them in single layers on the trays of your food dehydrator.
Follow the instructions for drying according to your model. Crumble the dry basil leaves into an airtight container, keep it in the fridge or spice cabinet, and use them as needed.
Basil has a varying shelf life, depending on how you store it. The tastiest way to enjoy this herb is fresh from the garden, but it's useful to keep basil flavorful in the fridge and freezer or dry your herbs for long term storage.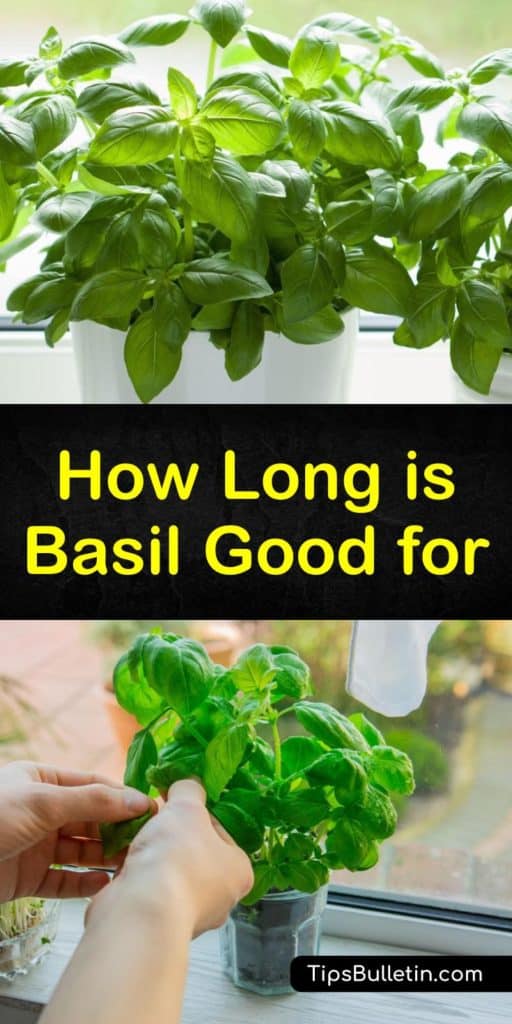 We hope you enjoyed learning how long is basil good for, and we'd love it if you'd share our basil storage tips with your friends and family on Facebook and Pinterest.