It's hard to imagine a better cheese than cheddar for grilled cheese sandwiches or macaroni and cheese. Even though most of us keep this cheese as a staple in our houses, there isn't always a way to use it up before it goes bad. How long is cheddar cheese good for? It depends on a variety of factors.
Of course, if we could all eat our cheese as soon as possible, we wouldn't need a storage option other than the refrigerator. It's easier to know how to tell if cheddar cheese is bad than you'd think.
As long as you know what to look for, there is no reason you should ever put an old piece of cheese in your mouth. Cheddar is one of the aged cheeses that seems to last forever, so does cheddar cheese go bad? Keep reading to find out.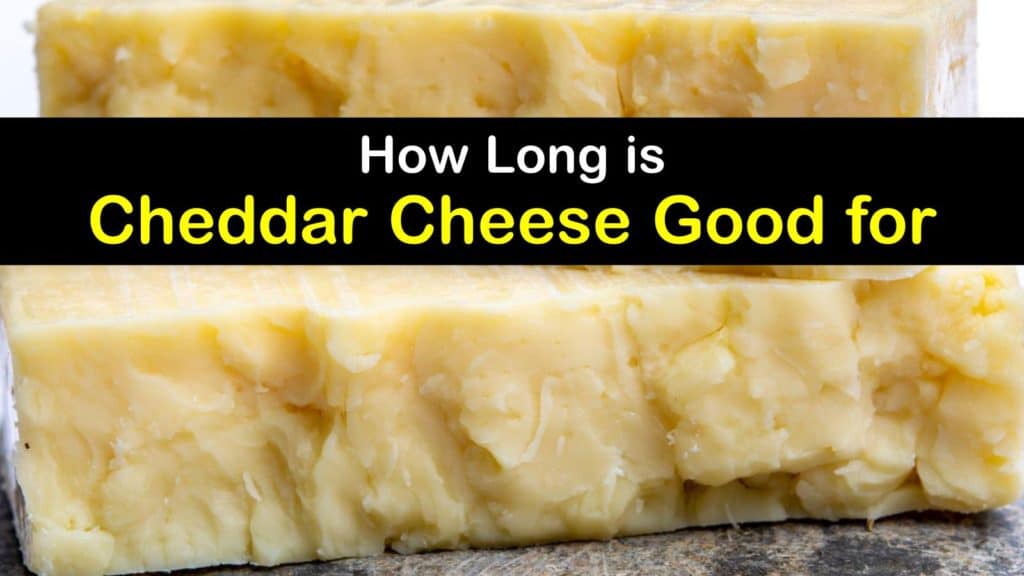 Does Cheddar Cheese Go Bad?
Can cheddar cheese go bad? Unfortunately, all types of cheeses and dairy products spoil at one point or another. Their original packaging cannot keep them fresh for years.
The same is accurate for many other types of cheeses as well. While most of us prefer to make our cheese last by storing it in the refrigerator, others turn to the freezer to keep their foods from turning moldy.
Types of Cheese
Knowing if your cheese has gone bad depends on a lot of different things. The most important factor is the type of cheese you're using. Cheese lovers are familiar with all different kinds. With each of them, food safety should be a top priority.
Hard Cheeses
Harder cheeses like cheddar, pecorino Romano, asiago, and parmesan tend to last longer in the refrigerator than many other cheese types because they have a low moisture content that helps them last for up to six months when stored properly.
Cheese experts say to store cheese wrapped in cheesecloth, parchment paper, or butcher paper to keep them fresh and allow them to breathe.
Semi-Hard Cheese
Semi-hard cheeses include types like gouda, Havarti, and gruyere. These cheeses have slightly higher water content and shorter shelf life. They are also a little less hard than the harder cheeses.
The best way to store them is to wrap them in parchment paper and store the cheese in a resealable plastic bag.
Soft Cheeses
Many of us are familiar with far more soft cheeses than hard or semi-hard ones. These types of cheeses include ricotta, feta, Swiss, mozzarella, blue cheese, cream cheese, and goat cheese.
The moisture content in these cheeses is much higher than the others, and the expiration date usually comes sooner. The best way to store goat cheese and other similar cheese is to seal them from as much airflow as possible. Plastic wrap or airtight containers come in handy for this purpose.
Avoid any types of molds with these cheese. You usually can't cut off the moldy end like you can with firmer cheeses.
How long can Swiss cheese sit out, as well as other soft cheese? Leave cheese no longer than two hours at room temperature.
How Long is Cheddar Cheese Good for?
Cheddar cheese usually lasts for about six to eight weeks after you open it if stored properly. It does not have a rind to help protect the inside. Check your expirations date and look for common signs that your cheese has gone bad.
How to Tell if Cheddar Cheese is Bad
Cheesy foods are the way to our hearts. When we store cheese the right way, it is much easier to avoid tasting a spoiled piece of cheddar. How long can cheddar cheese sit out? How can you tell if it spoiled?
Smell
When does cheese go bad? The first way to tell if cheddar cheese has gone bad is to smell it. Try to remember to smell the cheese the first time you open it to familiarize yourself with how it should smell.
This aroma gives you a baseline when you're a few weeks in the future and are trying to figure out how long it has been sitting in your fridge. If anything smells off, take it as a sign to throw the cheese out.
Sight
When you find a moldy area on a piece of cheese, that doesn't necessarily mean that it's a problem. Mold is often intentionally added to help during the ripening process. It is commonly used in recipes for gorgonzola, brie, and camembert.
If you see mold on the outside of your hard cheddar, simply take a sharp knife and cut around the moldy area, including an extra inch of cheese to be safe. However, if you're using shredded cheddar, this is a different story, and it should be thrown away altogether.
Taste
Another easy way to tell if cheese is spoiled is to taste it. You may find yourself in a position where the cheese looks good, but the taste has something off about it. Again, rely on your senses, and if there is a funny flavor or texture, it is better to be safe and throw the food away.
How to Store Cheddar Cheese
How long can cheese stay out of fridge? Can cheddar cheese be left out for long periods? The most important rule of storing cheddar cheese is never to allow it to sit at room temperature longer than two hours to keep it from spoiling.
The best place for cheddar cheese is wrapped in wax paper and placed in the cheese drawer or crisper drawer in your fridge.
There are other ways to store cheddar cheese to help prolong the shelf life. While freezing block cheddar cheese and dairy products isn't always the best option, it works much better with hard cheeses than soft ones. You could also put the cheddar into a brine to discourage bacterial growth.
Grab a large glass bowl and fill it with one gallon of room temperature water. Dissolve the salt into the water and place it in the fridge to cool to 55°F. Have the cheese around the same temperature before placing the block in the brine.
Popular Cheddar Cheese Recipes
One thing that we love about cheddar cheese is that it is incredibly versatile. It makes the perfect base for queso, beer cheese, or macaroni when you melt it down into a cheesy liquid.
Put a quarter cup of milk into a saucepan with the flour and stir it with a whisk. Begin whisking in the remaining milk and the salt. Bring the liquid to a boil over medium heat while stirring constantly. Reduce the stove heat to low once it starts to boil.
Allow it to cook for two minutes until it is slightly thickened. Continue to stir the ingredients while adding the cheese and black pepper until all of the cheddar is gooey and melted.
At this point, stir in any additional ingredients you wish to add to your cheese base and serve while still hot and melty.
Does cheddar cheese go bad? Some of our favorite recipes include fresh cheddar cheese, and though it lasts long, it won't stay fresh forever.
Thankfully, cheddar cheese is one of the simplest types to store. Even with it close to its expirations date, it's simple to cut off any bad parts and use what you can. After all, who would want to let this flavorful cheese go to waste?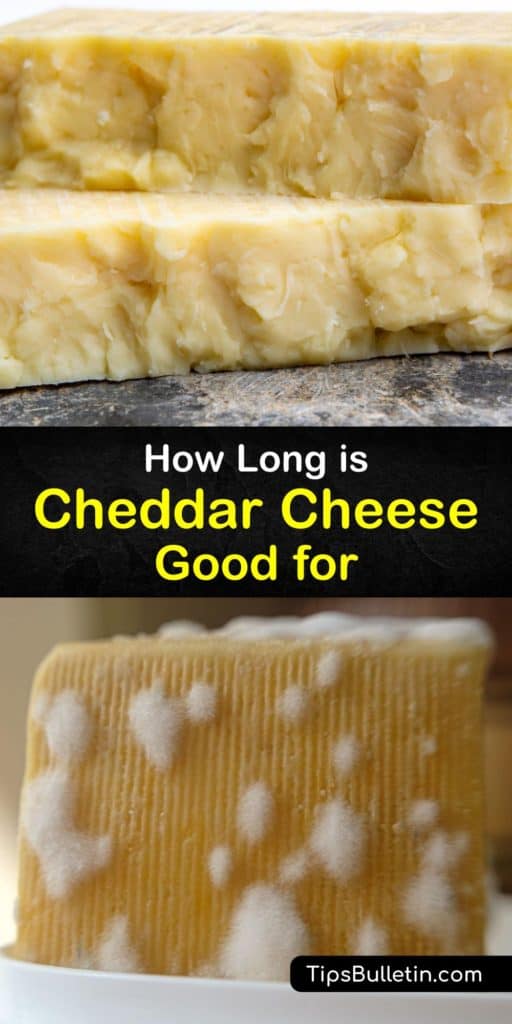 If asking how long is cheddar cheese good for has helped you change your cheese storage methods, share this advice for how to tell if cheddar cheese is bad on Facebook and Pinterest.