Cheese is one of the simplest and most popular ways to add a savory, melty addition to almost any lunch or dinner entree. To ensure that you and your friends and family only eat the freshest cheese, you must uncover the correct answer to the question, "How long is cheese good for?"
Any dairy product's shelf life is essential to keep in mind because eating spoiled cheese is dangerous and potentially fatal. This article teaches you how to keep any type of cheese fresh for the maximum amount of time.
When does cheese go bad? What may surprise you about fresh cheeses is that varieties differ regarding how quickly the product expires and goes bad. Fortunately, we describe the distinctions between each primary type of cheese, so you know exactly how long your favorite cheese is expected to stay fresh.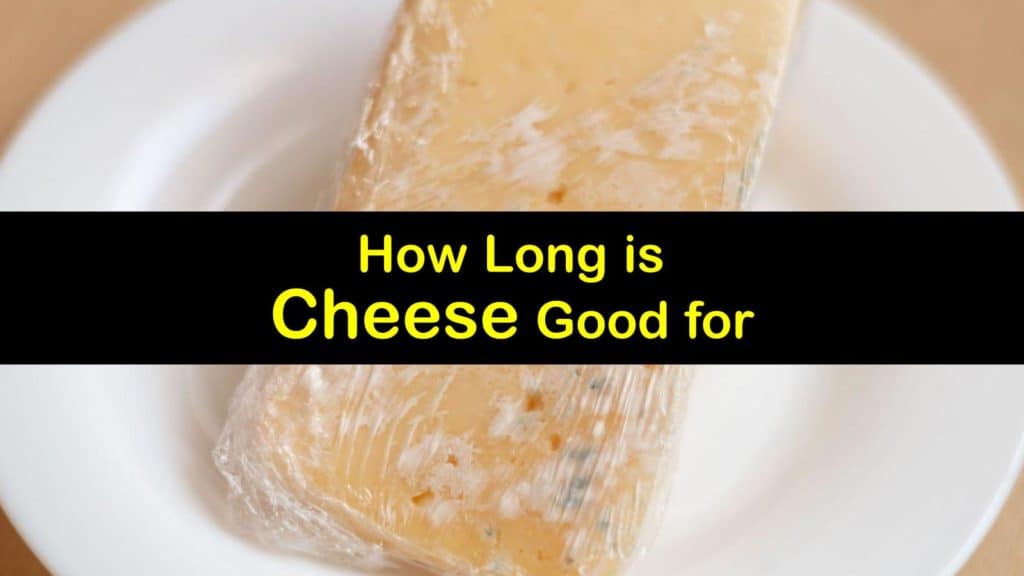 What Causes Cheese to Go Bad?
Cheese lovers need to know how to store cheese, how long cheese is gone for, and when the cheese has gone bad. Consider this article your complete guide to everything cheese-related.
Cheese is made by purposely curdling milk, while specific bacteria are added to convert lactose into lactic acid. Cheese types contain preservatives, varying levels of moisture, and other ingredients that make them unique.
Why does cheese go bad? There are two reasons cheese goes bad. Because bacteria is one ingredient in all cheeses, the longer cheese remains in the fridge, the more bacteria continues to grow.
The moisture levels in cheese also cause spoilage. Depending on what type of cheese you have, the moisture content is not the same between soft cheeses and hard cheeses.
Main Types of Cheese
There are four main categories of cheese that a cheesemonger offers. Each variety of cheese has an expiration date because of the moisture content, amount of preservatives, and bacteria in the recipe.
Before you learn how to tell if cheese is bad, it is important to know the differences between cheeses.
Harder cheeses include varieties like cheddar and Parmesan. As the name suggests, hard cheeses are quite firm to the touch and do not have much moisture. Semi-hard cheeses like Gouda have more moisture content than hard cheeses.
Soft cheese has the highest moisture levels, which also means these cheeses expire quicker. Finally, blue and white mold cheeses are aged for several weeks to offer a more intense flavor because of the aging process.
How Long is Cheese Good for When it is Hard Cheese?
Of all the cheese varieties, hard cheeses last the longest when stored correctly. Harder cheeses last longer than semi-hard or soft cheeses because of the amount of moisture in their makeup.
Hard cheeses do not have as much moisture in them, which slows down the rate of spoilage. Hard cheeses are best for grating, pairing with crackers, or melting over the top of the main course.
How long is Parmesan cheese good for? When correctly stored in the refrigerator, an unopened block of cheddar cheese, or any other hard cheese, stays fresh for two to four months.
What about American cheese? How long is American cheese good for in the fridge? When does American cheese go bad? After opening a block of cheese, harder cheeses remain fresh for about six weeks.
Understanding how to tell if cheese is bad is critical. If your hard cheese has a moldy part on it, cut it off, as the remaining block of cheese is still safe to eat.
Freezing American cheese and other hard cheeses is a great way to preserve them as long as they are packaged correctly.
When does Cheese Go Bad When It is Semi-Hard?
Another category of cheese is semi-hard. Semi-hard cheeses have a slightly shorter expiration date than hard cheeses because they have more moisture included.
Semi-hard cheeses are great for slicing cheeses, making them ideal for sandwiches or grating over the top of food.
Like hard cheese, refrigeration is the best way to keep semi-hard cheeses fresh for as long as possible. How long is cheese good for when it is a semi-hard cheese? How long does Gouda cheese last?
How long is mozzarella cheese good for? After opening semi-hard cheeses, seal them in a Ziploc bag and store them in the fridge. When stored this way, semi-hard cheese stays fresh for three weeks.
Does Cheese Go Bad if It is Soft?
Soft cheese is less-mature than other cheese varieties in regards to the aging process. Because delicate cheeses have more moisture in their makeup, they expire far quicker than other cheese types. How long can cottage cheese sit out? What about ricotta?
Soft cheeses are ideal for spreading or melting on foods like bread, veggies, or crackers. Another benefit soft cheese offers is regarding nutritional facts. Compared to hard cheese, soft cheese types have less fat content.
Can you freeze raclette cheese? Yes, freezing it is possible, as long as you realize that there will be a texture change.
Keep soft cheese out of room temperature when possible. How long does cream cheese last in the fridge? Like most soft cheese, cream cheese lasts between one and two weeks when stored in the fridge. This is also about how long ricotta cheese good for.
Freezing is another option for cheese by itself and in cooked dishes. The way to freeze mac and cheese is in an airtight container.
Understanding how to tell when cheese is gone bad is important. When does cream cheese go bad? What about feta? Does feta cheese go bad? If your soft cheese has an off scent, or if the cheese has any mold on it, it has gone bad and should be thrown out.
Shelf Life of Blue Cheese Types
The remaining category of cheese is aged cheeses. Aged cheese, like blue cheese, is made from Penicillium cultures, which is a type of mold.
After the cheesemaking process, blue cheeses are left to age anywhere between two and three months. Because aged cheeses contain specific kinds of mold, it is crucial to store them properly.
When does cheese go bad when it is aged? Does blue cheese go bad? Stored the right way, aged cheeses last three to four weeks in the fridge. Let aged cheeses breathe a little when they are in the refrigerator.
Wrap your aged cheese in aluminum foil or a piece of parchment paper before placing it in a sealable plastic bag for the proper storage. When covering your cheese, make sure you do not wrap it too tightly, as the cheese needs a little space for airflow.
How to Properly Store Cheese
No matter the kind of cheese, you must store the dairy product the right way to ensure its shelf life is as long as possible, it stays fresh, and remains safe to eat.
To preserve cheese, it helps to wrap the block of cheese so it can breathe while being stored. If you have a lot of extra cheese, freezing the leftovers is also an option to prevent spoilage.
Can you freeze feta cheese? You can store mozzarella cheese in freezer and other cheese types but it's important to note that the texture often changes. Frozen cheese is best used for recipes rather than eating thawed.
Wrap your entire block of cheese in either plastic wrap, parchment paper, or aluminum foil, ensuring every part of the cheese is covered.
Set the cheese in an airtight container to block any outside bacteria from entering the box. This also applies when you freeze shredded cheese for pizza or another recipe.
Does cheese go bad when stored properly? Yes, eventually, the cheese will spoil even when you take the correct steps to preserve it.
Understanding the Right Place to Store Cheese
When you make sure to take the proper steps to prepare cheese for storage, it lasts from one to four weeks in the fridge, depending on the type of cheese. Cheese storage temperature in the fridge is from 35-45 degrees Fahrenheit. Refrigeration is key to preserving cheese, whether it is hard, semi-hard, aged, or soft.
A refrigerator is the best place to keep cheese because the cold temperatures slow down the rate that bacteria, mold, and other diseases grow.
Whether you are keeping feta cheese fresh or cheddar, because cheese demands a little airflow and moisture while in the fridge, place the block of cheese in the vegetable drawer – this part of the refrigerator allows more airflow than the refrigerator's main components.
Another benefit of keeping cheese in the fridge is that it preserves the moisture in the cheese's ingredients and preserves the flavor.
Dangers of Eating Spoiled Cheese
Knowing the answer to the question, "When does cheese go bad?" is important, so you do not eat rotten cheese. Over time, the rind of cheese breaks down, and mold growth increases.
Even when you preserve cheese correctly, it still expires and goes bad. Eating rotten cheese can potentially lead to foodborne illness, causing stomach cramps, vomiting, and stomach pain.
If only a tiny part of your block of cheese has mold growth on it, the remainder of the cheese is likely still safe to eat if the smell is not bad.
Cut off the small mold growth and use the rest of your cheese if it tastes normal. It is unlikely that the mold spores spread to the entire cheese block, making it safe to consume.
When does cheese go bad? The right answer to this question depends heavily on what kind of cheese you have in your fridge. Soft cheeses spoil the quickest because of the moisture levels.
Cheeses that are hard or semi-hard last between two or four weeks when stored the right way. No matter what kind of cheese you own, refrigeration is the most reliable way to slow down mold and bacteria growth.
If we answered your cheese question, "How long is cheese good for?" share this article with cheese storage tips with your cheese-loving friends on Pinterest and Facebook.