If you find yourself asking, "How long is chicken salad good for, and how long does chicken salad last?" look no further for an answer. This helpful article answers all of your burning questions regarding the proper storage methods for chicken salad. Besides teaching you about the right way to handle fresh chicken salad for the best food safety practices, we also educate you on making a delicious homemade chicken salad.
You may think that a chicken salad recipe is challenging to follow. However, we prove that anyone can make a fantastic chicken salad. Knowing answers to questions like, "When does chicken salad go bad?" is critical to protect you and your family from food poisoning. Because chicken salad contains cooked chicken and veggies, it spoils quickly when it is not kept in adequate conditions.
With the right tools and storage processes, you can extend the shelf life of your chicken salad. Continue reading to learn about the best ways to preserve your chicken salad.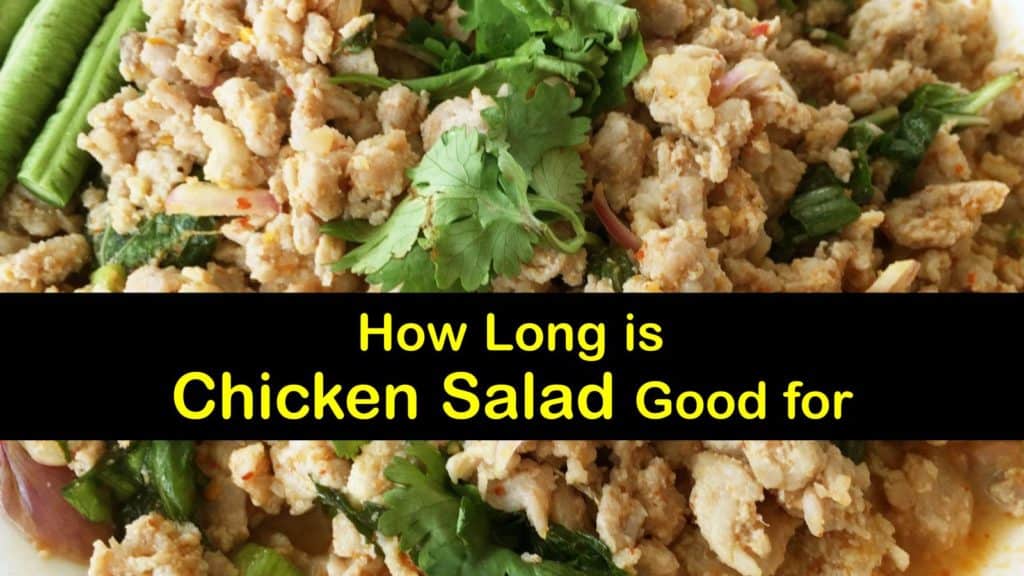 Chicken Salad is an Amazing Side Dish
Several types of salads make the perfect side dish to bring to a potluck, family gathering, or another event. Chicken salad, like tuna salad and potato salad, also taste excellent as a chicken salad sandwich.
Consider making a homemade chicken salad if you need to use up leftover chicken from a rotisserie chicken. If you do not want to make a chicken salad yourself, the famous salad is commonly found at your local deli.
Wherever you get your chicken salad from, it's important to learn how to tell when chicken salad is gone bad.
How Long is Chicken Salad Good for?
When you purchase chicken salad at a deli, the product usually comes with an expiration date printed on the container. However, if you make a homemade chicken salad, there is no sell-by date.
So, how long is chicken salad good for when it is kept in the proper conditions? Can you keep potato salad fresh in the fridge? Refrigeration preserves chicken salad and most other salad types for three to five days, depending on the storage container.
A common mistake that most people make is keeping chicken salad at room temperature too long. When a chicken salad is kept at room temperature, several different types of bacteria begin to grow on the food.
As bacteria grow on foods like chicken or macaroni salad, the moisture content rises, and the chances of experiencing food poisoning increase significantly.
When does Chicken Salad Go Bad in the Fridge?
A refrigerator is a perfect place for keeping foods fresh. It works well for preserving fruit salad and to keep chicken salad fresh if you plan to eat the salad within a few days. Typically, fridges maintain a temperature around 37 degrees Fahrenheit, which keeps perishable foods fresh.
When does chicken salad go bad in your fridge? How long does potato salad last in the fridge? Potato salad and chicken salad stay fresh up to five days when it is kept in the refrigerator. To prevent bacteria growth on your chicken salad, keep it in an airtight container.
Airtight containers maintain low moisture levels because they block outside air. When oxygen in the air interacts with food, it speeds up bacterial growth rates.
Place the chicken salad on a middle refrigerator shelf, unlike salad dressing, which is usually stored in the fridge's doors.
How to Freeze Leftover Chicken Salad
Another way to keep chicken salad fresh for a more extended time is to store it in the freezer with a little lemon juice added. How to freeze chicken salad with lemon juice provides a tasty kick.
Lemon juice helps preserve food in its original state, even after thawing. Even though freezing is an excellent option, there are a few situations where you should avoid freezing chicken salad.
When does chicken salad go bad in the freezer? Can tuna salad be frozen? In the proper conditions, chicken salad and tuna salad stay fresh in the freezer for up to three months.
Like storing chicken salad in the fridge, use airtight containers as the best way to freeze pasta salad and other salads to prevent freezer burn and premature spoilage. After placing the chicken salad in the container, pour a few drops of lemon juice on top.
How to Tell When Chicken Salad is Gone Bad
There are a few easy ways to identify a spoiled chicken salad. If your chicken salad gives off a strong foul odor, it is likely the food is not safe to eat.
Another way to identify a spoiled chicken salad is to observe the texture and color. When chicken salad has an off-color, discard it immediately.
A good rule of thumb for food preservation is that if you doubt your chicken salad's health, it is best to discard it.
It is better to play it safe when it comes to potentially spoiled foods. Learning how to tell when chicken salad is gone bad is critical to prevent food poisoning.
Making Tasty Homemade Chicken Salad
One great thing about chicken noodle soup and chicken salad is that both recipes are low in carbohydrates. When you follow these instructions, making a classic chicken salad takes no time.
Depending on personal preference, many additions can be included in a chicken salad, like sour cream, almonds, or pecans.
Dump your ingredients in a large bowl, mix them until evenly distributed, and it is ready to serve. If you don't plan on eating the chicken salad right away, seal it and store it in the fridge.
How long does salad dressing stay fresh in this chicken salad? You can eat this chicken salad within 3-5 days for the best taste and freshness.
Chicken salad is an amazing dish that tastes great on a sandwich or as a side dish at a potluck. When does chicken salad go bad when it is appropriately stored?
In the fridge, chicken salad stays fresh for five days. In the freezer, chicken salad stays fresh for up to three months. Learning how to tell when chicken salad is gone bad is just as vital as storing the chicken salad the right way.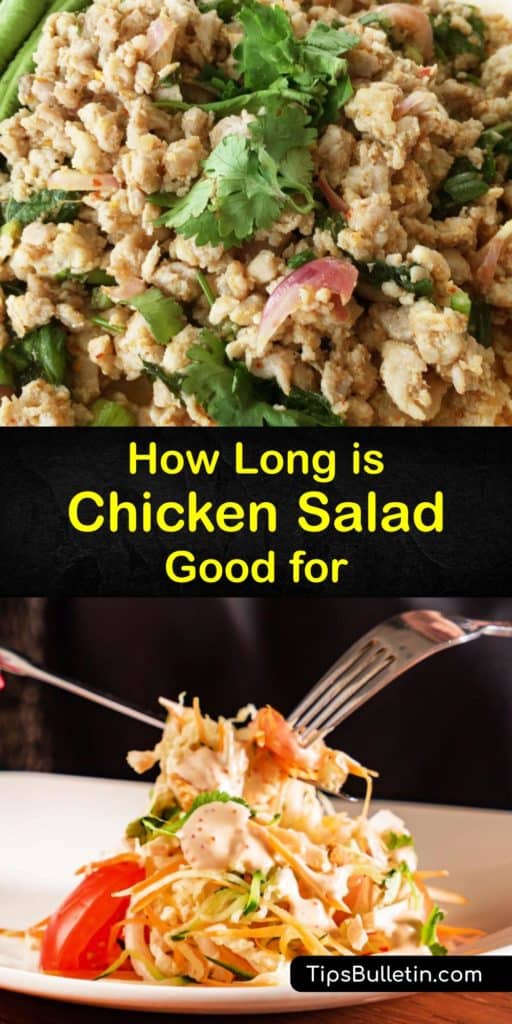 If we answered the question, "How long is chicken salad good for in the fridge?" share this article with tips for storing chicken salad with your family and neighbors on Facebook or Pinterest.