We all enjoy a backyard cookout with the works. We spend the afternoon filling our pates with everything from BBQ chicken and hamburgers to potato salad and creamy pasta salad. So, how long is macaroni salad good for after sitting out at room temperature?
Most salad types do not last very long unrefrigerated, whether it's egg salad, chicken salad, or your favorite macaroni salad recipe. But, it's easy to lose track of time while gathering at a potluck with friends and family.
As time flies by, you begin to wonder if those creamy salads are safe to eat or better off in the trash.
Classic macaroni salad usually contains hard boiled eggs, cheddar cheese, and mayonnaise, and these ingredients do not last as long as we'd like, especially if they sit out of the fridge for too long.
However, there are ways to keep your side dish fresh longer on the counter or in the fridge and freezer.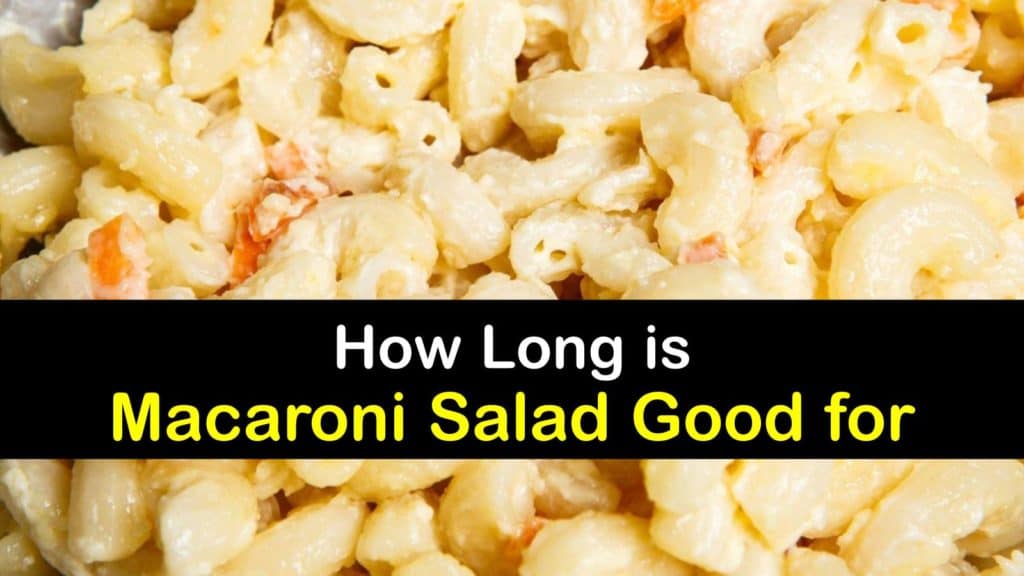 Ways to Keep Macaroni Salad Fresh
There are so many ways to make a pasta salad. Some contain veggies and are high in vitamin C and vitamin A, and some include sour cream or other dairy products and are high in calcium and potassium, while others are low in carbohydrates and cholesterol.
How to Tell if It's Bad
With all the different recipes, how long does macaroni salad last, and when does macaroni salad go bad? It depends on the ingredients of the dish.
Some salads contain dairy, so it's vital to know if it's still safe to consume after sitting out. We'll explain how to tell when macaroni salad is gone bad and ways to store it short and long term.
How to Tell When Macaroni Salad is Gone Bad at Room Temperature
Unfortunately, macaroni salad only lasts a couple of hours outside of the refrigerator, especially if you mix it with a cup mayonnaise or sour cream. Here is how to tell when macaroni salad is gone bad and tips for making it last longer.
It's vital to keep macaroni salad in the fridge for as long as possible since bacteria develop rapidly above temperatures of 40°F. However, there are times when it sits out at room temperature during meals.
Unrefrigerated pasta salad is safe to consume for about two hours, but there are ways to keep it fresh during this time. A good practice is to set the salad bowl on a bed of ice cubes to maintain a cold temperature.
If you plan on letting your salad sit at room temperature for a long period, consider using a recipe that does not contain dairy products and eggs.
Try dressing the salad with an apple cider vinegar vinaigrette and tossing in diced veggies such as red onion and peppers for a longer-lasting dish.
How can you tell if it's gone bad? There is a chance the salad is spoiled if it sits out longer than two hours. The simplest way to tell if it's good or not is to look at it and smell it. Expired salad has an off odor and taste, and it loses its fresh appearance.
When Does Macaroni Salad Go Bad in the Fridge?
When does macaroni salad go bad if it's refrigerated? While the fridge's cold temperatures help your salad last longer, there is a wrong and right way to store it, and it lasts up to five days in the refrigerator.
If you plan on serving your best macaroni salad within a day or two, rip off a large portion of plastic wrap and cover the large bowl tightly with it. Set it in the fridge and make sure not to place any other items on top of the bowl to keep the plastic in place.
How long can you keep egg salad? To store leftover salad for up to five days, scoop it out of the bowl and transfer it into an airtight container. Pop the lid in place and keep it on the refrigerator shelf until you're ready to eat it.
If you refrigerate it longer than five days, and it has an unpleasant smell or looks off, it's time to toss it in the trash to prevent food poisoning.
How Long is Macaroni Salad Good for in the Freezer?
If you make too much pasta salad and you cannot possibly eat it all before it begins to spoil, consider freezing your salad to keep it for up to four months. While not all salad types are ideal for the freezing process, some macaroni salad is perfect for the freezer.
While it's safe to freeze most types of pasta salads, some are better suited than others. Is it okay to freeze potato salad? Sure, but again, watch the ingredients. Mayonnaise does not hold up well to the freezing process and often separates after defrosting.
The best way to freeze macaroni salad is not to freeze just one container. If your salad contains dairy products, consider freezing the al dente pasta and dressing separately and then combine them after you thaw them.
To freeze the salad, scoop the mixture into a freezer-safe container, seal the lid in place, and set it in the freezer. To freeze small, serving size portions, spoon desired amounts into freezer bags.
Press the air out before sealing them shut, and make sure to write the contents and date on the packages. Use the frozen salad within four months for optimal flavor.
To thaw your macaroni salad, transfer it from the freezer to the fridge and let it defrost overnight. If you are in a rush to eat the salad, place it in a large bowl or container of cold water and let it defrost at room temperature before you drain the water.
After the macaroni salad thaws, liven it up by adding salt and black pepper to taste or drizzling some extra dressing over the top.
Smell and an off-color are good indicators that your macaroni salad has spoiled and also a good way to tell if potato salad is bad. Never eat food you suspect may be spoiled to avoid food-borne illness.
There is nothing better than a delicious elbow macaroni salad during a cookout, whether you enjoy your cooked pasta with Dijon mustard, red bell peppers, and green onions, or a creamy pasta with eggs and mayonnaise.
Fortunately, there are ways to keep your favorite salad fresh to enjoy longer.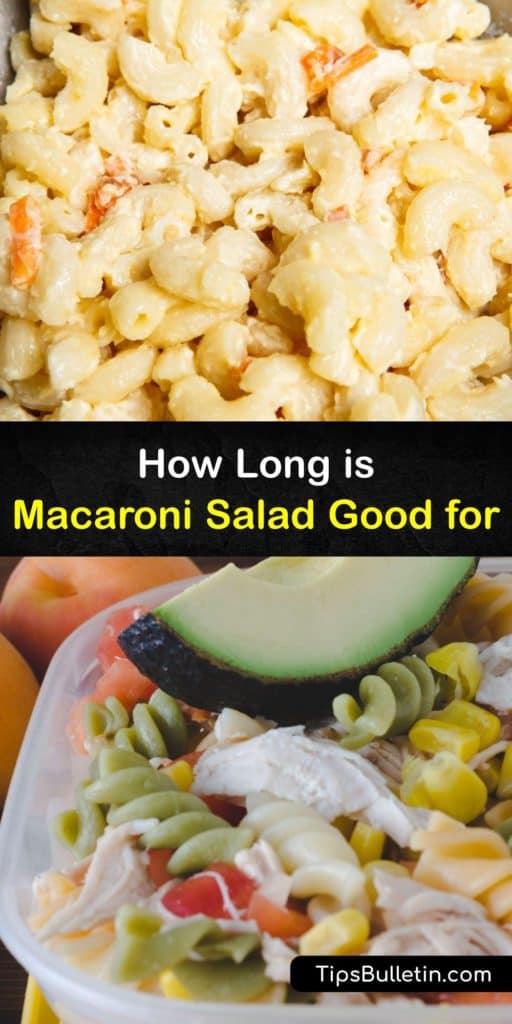 Now that you know the answer to how long is macaroni salad good for, to enjoy the freshest side dish, why not share our pasta salad storage tips with your social circle on Pinterest and Facebook?