Parmesan is a classic type of hard Italian cheese with a richly complex, nutty flavor. Since it usually gets sold in large blocks, it's essential to know how to properly store it and how long its shelf life is. In this article, learn the answer to, "How long is parmesan cheese good for?"
In general, hard cheeses like cheddar and parmesan have a much longer shelf life than soft cheeses like Brie or cream cheese. Hard cheeses have a significantly lower moisture content, which helps forestall the growth of harmful bacteria and mold.
However, like all dairy products, parmesan cheese is perishable and does eventually go bad. The exact shelf life of parmesan cheese depends on whether or not the package is open, what sort of packaging you're using, and if the cheese sits out at room temperature for a long time. Read on to discover exactly how to tell when parmesan cheese is gone bad and how to keep your delicious cheese fresh for as long as possible.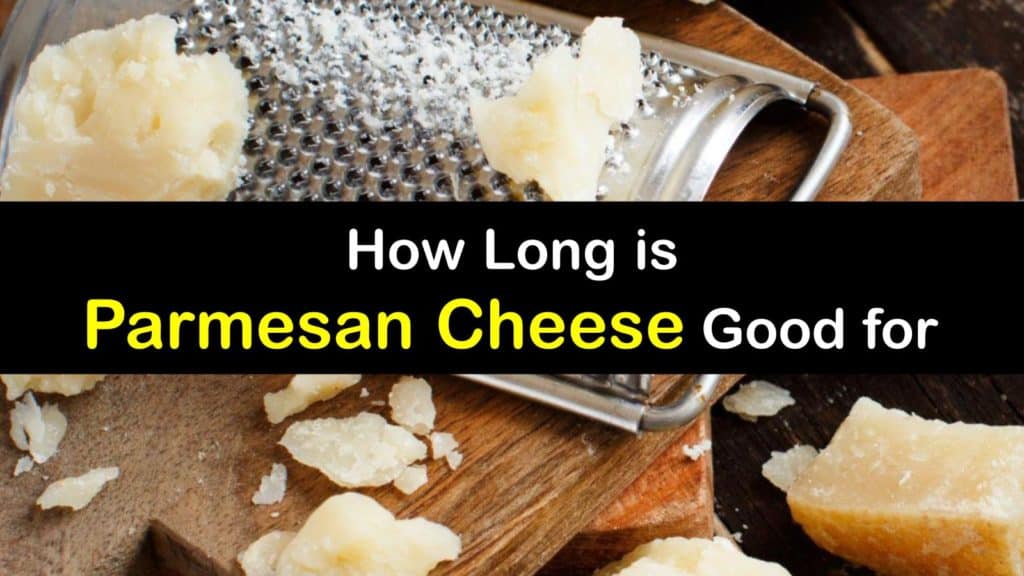 Does Parmesan Cheese Go Bad?
If you've had a block of parm in your fridge for several weeks, you may start asking, "Does parmesan cheese go bad?" The short answer is yes. But not for quite some time.
Under optimal storage conditions, an unopened package of parmesan cheese lasts up to four months. After opening, try to use it within the next six to eight weeks.
Although the names sometimes get used interchangeably, parmesan cheese is not the same as Parmigiano-Reggiano. To have the classification of Parmigiano-Reggiano, the cheese must contain specific ingredients, age for one to three years, and come from the Parma, Modena, or Reggio Emilia region of Italy.
Authentic Parmigiano-Reggiano cheese is prepared exclusively with skimmed cow's milk, salt, and the curdling enzyme rennet.
Parmesan cheese has a similar texture and flavor profile to Parmigiano-Reggiano. However, since the production process isn't as closely regulated, it's usually much more affordable.
When does Parmesan Cheese Go Bad?
Have you ever wondered, "When does parmesan cheese go bad?" Although parmesan cheese has a relatively long shelf life, it doesn't last forever. How long is Brie cheese good for? It's vital to check your cheese for signs of spoilage if it's been in the fridge for a while.
As cheese ages, its flavor intensifies as the live cheese cultures continue developing. Aged parmesan cheese has a distinctly sharp smell and taste. The rind may also darken to yellow or orange.
If you spot a bit of mold on your block of parmesan cheese, don't panic. It's still safe to eat the rest of it after cutting off the moldy part. How long does grated parmesan cheese last? If you have a bag of grated parmesan, throw the whole thing away if mold develops inside.
How long can goat cheese last in the fridge? When does American cheese go bad? The expiration date printed on food packaging indicates the time frame for the best quality, not necessarily how long it's safe to eat. Parmesan cheese often lasts for a week or two past its expiry date.
How Long is Parmesan Cheese Good for Unopened?
The most significant contributing factors for food spoilage are exposure to air and moisture. An unopened package of parmesan cheese lasts considerably longer than an opened bag of grated parmesan.
What about Swiss cheese? How long does sliced Swiss cheese last? Again, unopened lasts longer than opened.
As long as the original package remains sealed and refrigerated, expect your parmesan cheese to last up to four months. Nonetheless, the flavor will be more intense the longer it ages.
Try this savory twist on a traditional homemade macaroni bake if you're looking for an upgrade from Kraft instant mac and cheese.
Start by preheating your conventional oven to 450℉ and greasing a large baking dish with butter. Bring a large-sized pot of salted water to a rolling boil and cook the macaroni according to the instructions printed on the package.
In a heavy-bottomed stockpot or Dutch oven, cook the bacon bits until crisp. Remove the pieces and set them aside for later. Sauté the diced onion in the bacon drippings until they begin to caramelize.
Melt five tablespoons of unsalted butter into the onion mixture. Whisk in the flour, stirring continuously until well-blended. Incorporate the Dijon mustard and gradually pour in the milk and heavy cream, whisking constantly. Add the bay leaf, thyme, and salt. Simmer for about 15 minutes, stirring frequently.
Strain the milk solution into a mixing bowl and discard the solids. Quickly stir in three-quarters cup of each type of cheese along with the bacon bits and chopped parsley. Once the cheese melts, add the cooked macaroni. Keep mixing to coat the noodles, then pour it all into the buttered baking dish.
Combine the remaining cheese with the panko bread crumbs and spread evenly over the macaroni dish. Bake the dish uncovered for 15 to 20 minutes, or until the top is golden brown. Allow your macaroni and cheese to cool for several minutes before serving. Store any leftovers in an airtight container and consume within one week.
Shelf Life of Parmesan Cheese after Opening
Once opened, it's critical to refrigerate parmesan cheese or even freeze grated cheese. Grated cheese spoils faster because more of its surface area is exposed to air, bacteria, and mold spores.
To help your parmesan cheese last as long as possible, only grate or shred as much as you'll be use in one sitting. Use store-bought shredded or grated cheese within five to seven days.
An opened block or wedge of parmesan cheese typically lasts for six to eight weeks when stored properly. Bacteria and mold develop rapidly at temperatures between 40-140℉. Avoid leaving perishable foods sitting out at room temperature longer than two hours.
Next time you're looking for appetizer ideas, give this quick and easy parmesan and prosciutto bruschetta a try. The recipe only takes about twenty minutes to prepare.
Preheat your conventional oven to 350℉. Cream the butter by hand or using an electric mixer in a medium-sized mixing bowl. Stir in the chopped prosciutto, parmesan cheese, pine nuts, herbs, and mustard until well-blended.
Arrange the baguette slices on a large, unlined baking sheet. Heat them in the oven until lightly toasted, around ten minutes. Remove them from the oven and spread approximately one tablespoon of the mixture evenly over each one. Toast for a few more minutes, and allow to cool slightly before serving.
Best Way to Store Parmesan Cheese
Since cheese contains live cultures, it's essential to allow it to breathe. When stored in plastic wrap or sealed in an airtight container, moisture can't escape, and the cheese spoils faster. In addition, aluminum foil and plastic wrap aren't ideal for storing parmesan cheese because the material is absorbed and alters the flavor.
Hard cheeses tend to dry out quickly and develop an unpleasant, granular texture. The best way to store hard cheeses like parmesan is double-wrapped in a breathable layer of parchment paper or wax paper.
If you don't have a cheese drawer in your fridge, put the wrapped parmesan in an open plastic bag or ventilated container to prevent it from absorbing other flavors.
Can you freeze parmesan cheese? If you have a large quantity of parmesan cheese, freezing it is an excellent way to extend its shelf life indefinitely. Wrap your parmesan cheese in parchment paper or wax paper, then place it inside a freezer bag. Frozen dairy products often have a granular texture once thawed and are best in cooked dishes.
If you found a big block of parmesan cheese last time you cleaned out the fridge, you might ask, "Does parmesan cheese go bad?" Parmesan often gets hailed as the king of cheeses. Avoid letting that heavenly parmesan cheese go bad by keeping it refrigerated and storing it properly.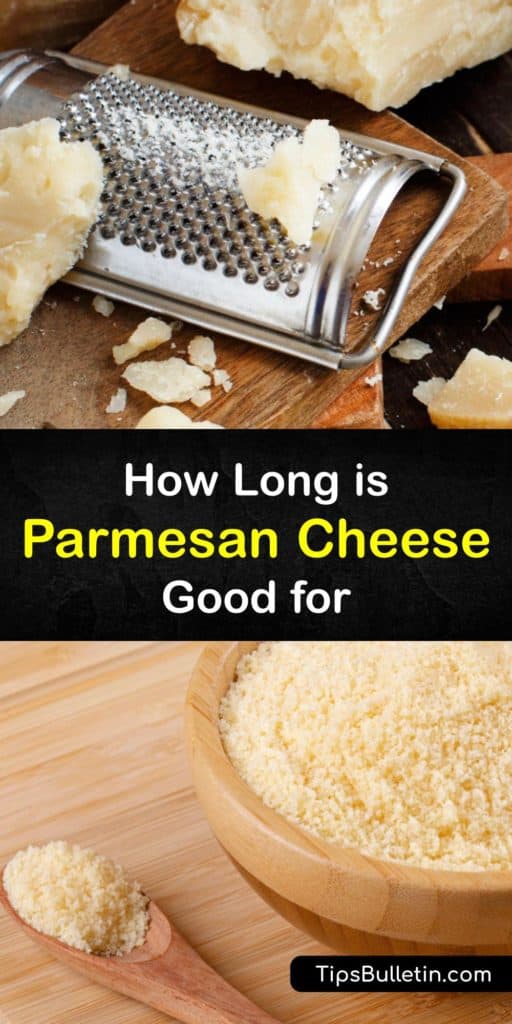 If you found these food storage tips helpful, please share this article about how long is parmesan cheese good for with your friends and family on Pinterest and Facebook who might be asking, "When does parmesan cheese go bad?"