Crunching down on a big salad is one of the most effective ways to get our veggies in, but what truly turns a pile of greens into a mouthwatering meal is the salad dressing that binds it all together. Even though homemade salad dressing is a lot fresher, the bottled kinds are still good and last longer. How long is salad dressing good for?
Does salad dressing go bad at all? Like all other foods, salad dressing won't last forever, and you'll have to look out for some signs of spoilage. Combining olive oil with balsamic vinegar and some herbs is the quickest way to throw together a homemade salad dressing recipe, but what about those who want to eat a variety of flavors? There are numerous types of dressing sold at the grocery store.
Ranch, Catalina, French, green goddess, raspberry vinaigrette, and Italian dressing are only a handful of the dozens of options on the shelves. So when does salad dressing go bad, and how do we know when to ditch the bottle?
What is Salad Dressing?
Salad dressing is similar to a sauce and is used to pour over numerous foods like vegetables, pasta, and meats. Most dressings are either mayonnaise or oil and vinegar-based, which means they are usually creamy and rich or liquidy and tangy.
When home cooks and professional chefs choose a dressing, they decide based on what will best complement the main ingredients of the meal.
Sometimes condiments like ketchup and sour cream also work as a dressing and become the main components in salad dressings.
Not all dressings come bottled and ready to go. Making salad dressing from scratch is a hassle sometimes. Grocery stores also sell dry mixes of dressing that usually only require you to mix them with water or oil.
In a few minutes, you have a delicious sauce that tastes like it was homemade. Regardless of the products you choose to buy, you'll be grateful for knowing how to tell when salad dressing is gone bad.
When does Salad Dressing Go Bad?
If you are buying your dressing at the store, there are three types available. Bottled dressing and dry mixes are the most popular, but there are also some dressings for sale in the refrigerator section of the store.
These dressing often have fewer preservatives, so they don't last as long as the other options, but they are likely to be a healthier choice.
How long is potato salad good for, including the dressing? Eat most salads within a few days of refrigeration, whether homemade or store-bought.
How Long is Salad Dressing Good For?
If you purchase the traditional bottled dressing, then it is easy to tell how long it lasts. Unopened bottles always have a date listed as an expiration date, best before date, or best if used by date.
These dates often indicate how long the dressing lasts for peak quality. An open bottle won't last as long, but they typically stay good for up to four months after opening.
Dry mixed and refrigerated dressings are similar. While the refrigerated kinds are straightforward about their use by date, the dry packets are likely to have dates that are much further in the future because they are free from the ingredients that spoil faster.
Does Salad Dressing Go Bad Fast?
Whenever you purchase a salad dressing from the store, you should check the packaging for directions on how to store the product. Always keep your salad dressing away from sunlight or any heat sources.
The ingredients are perishable, and heating them is only going to encourage bacteria growth. Keeping shelf-stable, unopened dressings in a cool, dry place or at room temperature is the best way to guarantee you stay on track with their shelf life.
Food safety is also crucial for open bottles of dressing. Always wipe away liquids that form around the lid after using it to keep bacterial growth to a minimum.
How long does salad dressing last at room temperature? Storage times decrease drastically if you leave an opened bottle out for more than an hour.
Those times also differ based on the ingredients of the dressing. Refrigeration is your greatest ally with salad dressing regardless of if it was bottled or made from scratch. Freeze salad dressing if you must but use it within three months for the best taste.
Unique Salad Dressing Recipe
Some of our favorite salad dressings are used to marinate meat. The great thing about salad dressing is that they are incredibly versatile and complement dishes in various ways.
This horseradish dressing is excellent when paired with steak and one that you probably haven't tried yet.
Find a small glass bowl and whisk the sour cream, oil, dill, vinegar, and horseradish. Season the horseradish dressing with salt and pepper to taste and serve it with a medium-rare steak.
Dressing for All Foods
Pesto isn't a traditional salad dressing, but it is one of the most mouthwatering condiments to use on chicken, pasta, salads, and sandwiches. It is customizable and one of the most effortless dressings to make.
Add all the ingredients except the oil to a food processor and process them until everything is finely minced.
With the food processor slowly running, slowly drizzle in the olive oil until you reach a smooth texture or until you reach your desired consistency. Store the pesto in the freezer for up to one week or three months in the freezer. Add the pesto to your favorite pasta for a delicious dish.
When does salad dressing go bad? The answer to your need-to-know question is already listed on the packaging of the bottle. Even if you make homemade dressing, look for spoilage signs like strong odors and off-putting tastes and colors.
How long can you keep chicken salad in the refrigerator does depend on the dressing as well as the freshness of the other ingredients. Three or four days is usually the max.
Dressings are one of the greatest inventions in the kitchen. They completely transform a meal, and without it, we wouldn't know what we were missing.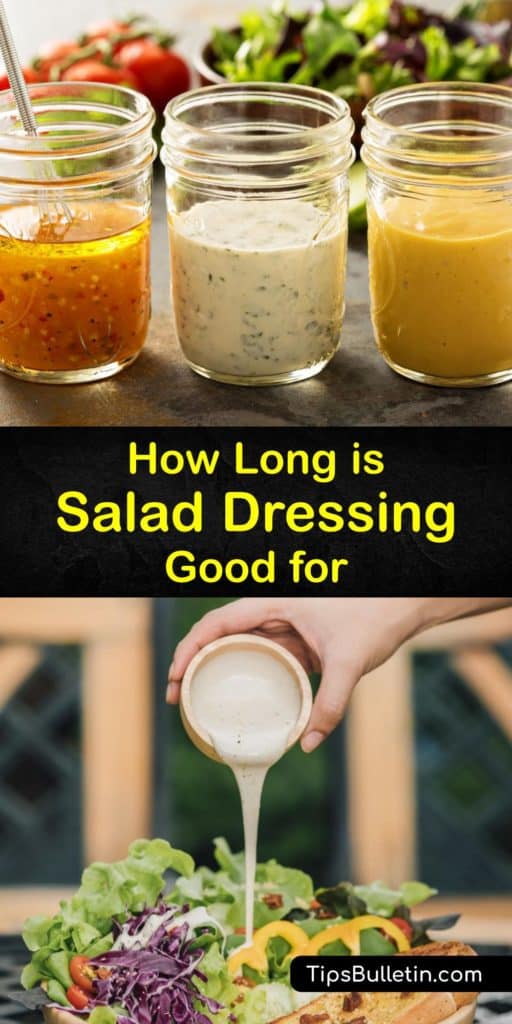 If asking how long is salad dressing good for has shown you how to safely store your opened and unopened bottles, share this advice for making salad dressing last on Facebook and Pinterest.