Biting into a creamy, tangy bite of tuna salad on white bread is something people can't get enough of. Seafood lovers embrace the one-of-a-kind taste of tuna, and turning it into a salad is a mouthwatering way to give our taste buds loads of flavor and our bodies endless health benefits. But how long is tuna salad good for?
Tuna salad is most frequently made from canned tuna, and there are lots of types to choose from. Whether eating albacore or skipjack, different types of tuna fish all go bad at similar rates. When does tuna salad go bad?
Learning how to tell when tuna salad is gone bad takes only a few minutes of research to discover everything you need to know about the fish and its shelf life. While you read, check out our delicious tuna salad recipe that your whole family will devour.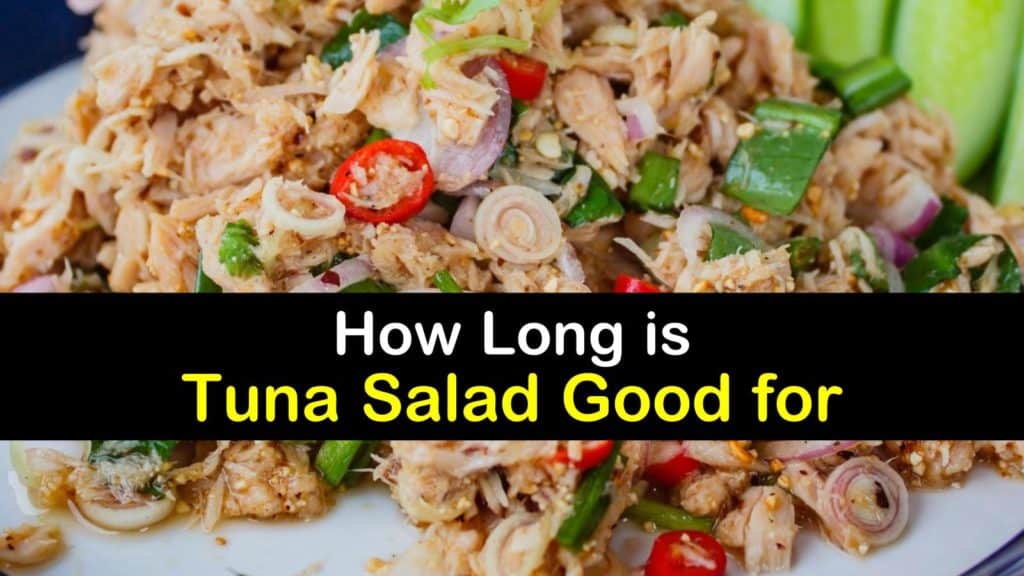 Health Benefits of Tuna
Tuna is a saltwater fish, and some of the most popular are albacore, blue fun, yellowfin, and skipjack. These fish are made into steaks, burgers, and our all-time favorite, a tuna salad sandwich.
Tuna fish are packed with nutrients that our bodies embrace and thank us for. It is rich in omega-3 fatty acids, magnesium, iron, calcium, and potassium. The fish is also loaded with vitamin A, vitamin C, and vitamins B6 and B12.
The fatty acids help reduce cholesterol, which makes it better for your heart and lowering blood pressure.
Tuna is known to improve our immune systems, strengthen our bones, improve our skin, and even aid in weight loss because it has zero carbohydrates. When you combine tuna with other ingredients like fresh veggies, the benefits are even more significant.
How Long is Tuna Salad Good for?
Tuna salad, egg salad, macaroni salad, chicken salad, and other similar recipes all have one thing in common; they use mayo as their main ingredient. Food safety guidelines recommend only leaving mayo out of the fridge for a maximum of two hours.
Combine mayo with proteins, and that time may get even shorter. How long can tuna salad be left on the counter? Does potato salad last the same way?
Only keep tuna salad at room temperature for one to two hours before putting it back in the fridge. The same consideration applies to how long does chicken salad last. Although mayo lasts for long periods in the fridge, tuna has a much shorter shelf life, even in colder temperatures.
When Does Tuna Salad Go Bad?
If you love tuna as much as we do, you want to make sure it lasts as long as possible. How long is tuna salad good for? How long does tuna salad last? That depends on how you store it. Make sure to refrigerate your tuna salad right after you prepare it.
Keeping it in an airtight container in the fridge ensures that it lasts from three to five days. To stay fresh for the full five days, keep the container at the back of the fridge.
The refrigerator doors fluctuate in temperature more than the back because they are frequently being opened and closed. Make sure the temperature is set below 40°F, or you run the risk of bacterial growth.
How long is fruit salad good for in the fridge? Fortunately, this yummy dish does last longer than tuna salad because it usually doesn't have mayonnaise in it.
How to Tell When Tuna Salad is Gone Bad
One of the most frequent questions home cooks have is about food spoilage. Have green beans gone bad? When does tuna salad go bad? Whether yours is homemade or bought from a deli, tuna salad with an unpleasant odor or strange color should be thrown in the garbage immediately. The same applies to when does chicken salad go bad.
If it looks and smells fine but tastes a little off, don't eat anymore and put it in the trash. Never use unopened cans of tuna that have rust, are dented, or leaking, or it could make you seriously sick.
Learning how long foods last at different temperatures can save you from a bad bout of food poisoning. Discover how long cauliflower good for, as well as other veggies, and all kinds of foods to keep your family safe.
Freezing Tuna Salad
Although freezing tuna salad is safe, like freezing macaroni salad, it drastically alters the quality of the ingredients used to make it. Mayo tends to separate in the freezer while veggies, like celery and onion, become limp.
Switching the mayo for Miracle Whip or Greek yogurt is a healthier alternative to mayo that may keep better in the freezer.
If you plan to freeze tuna salad, try freezing only a single serving and then thawing it to see how it turns out before you waste an entire batch. Put a single serving of the salad in a freezer bag or freezer-safe container and allow it to freeze completely.
Once ready to eat it, remove the bag from the freezer and let it thaw at room temperature on the counter. Give it a taste test and, if you're happy with the consistency, feel free to freeze the entire batch.
Top-Rated Tuna Salad Recipe
Finding the perfect tuna salad recipe with a high recipe rating is troubling. We've scoured recipes across the internet and came up with the tastiest tuna salad that combines the creaminess of mayo, tang of vinegar, and crunch of veggies to make the most delectable tuna salad.
Use a can opener to open the tin cans of tuna and drain the water from the can. Dump the tuna in a medium bowl with celery, mayo, red onion, relish, mustard, lemon juice, and garlic.
Season the salad with salt and pepper to taste and stir until well-combined. Spread an even layer of the salad over a slice of bread and top it with another slice. Put the remaining salad in an airtight container and follow the best way to keep salad fresh by storing it in the fridge for up to five days.
You can add some eggs to your tuna salad, too. Keep in mind the lifespan of eggs when storing.
Making tuna salad last as long as possible is the best way to ensure that no food goes to waste. This recipe has become a staple in households worldwide because it satisfies all of our taste buds.
It doesn't matter if you use fresh-caught tuna or canned tuna; you always want to make sure that you're not feeding yourself or your loved ones salad that has gone bad.
After reading this article, you'll stop asking when does tuna salad go bad, and instead, you'll know the signs of spoilage to look out for and toss it when necessary.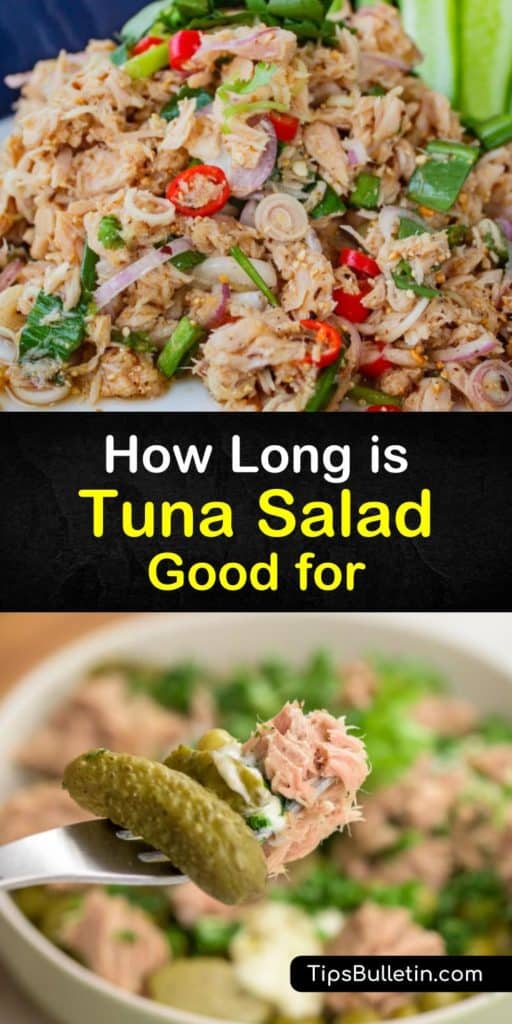 If asking how long is tuna salad good for has saved you from eating spoiled fish, share these tips on how to tell when tuna salad is gone bad on Facebook and Pinterest.