Fresh zucchini is a summer squash that tastes best as a side dish, salad topping, or various recipes. Veggies like zucchini are also excellent low-carb noodles for lasagna or spaghetti, making it an incredibly diverse food. You may be asking, "How long is zucchini good for after I purchase it at the farmers market?"
Search no further to find an answer to your question. We show you how to store zucchini and zucchini bread properly, so each product has the longest possible shelf life. Learn how to store-zucchini in the refrigerator and freezer the right way. When you store any perishable food incorrectly, the food does not last as long and promotes quicker bacteria growth.
In addition to quick and easy storage tips, you will also learn how to identify spoiled raw zucchini and the numerous health benefits zucchini offers. Whether you purchase zucchini at the grocery store or pick the veggies from zucchini plants in your garden, it's important to understand how to make zucchini last the maximum amount of time.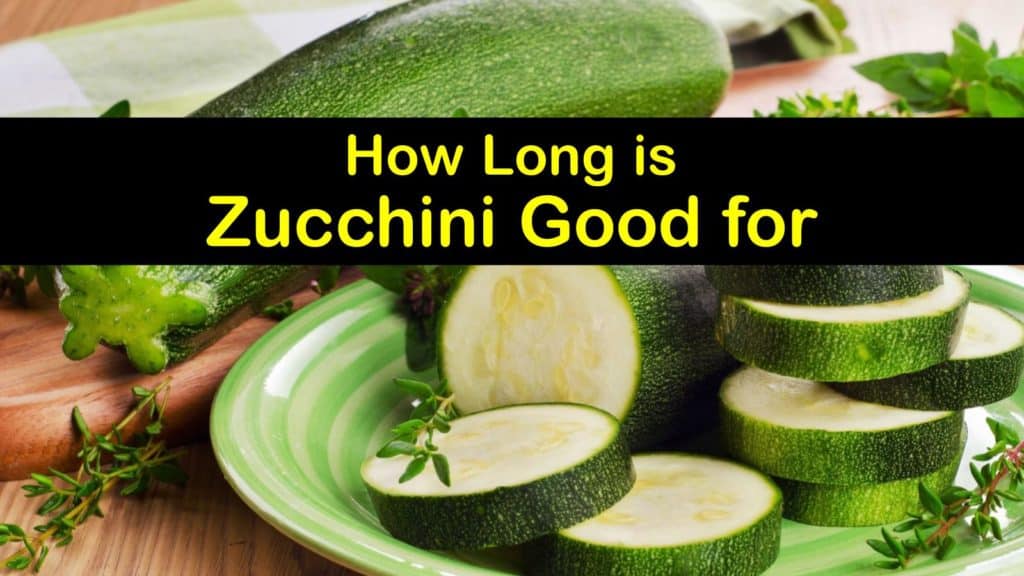 The Many Uses of Zucchini
Unlike growing the birdhouse gourd plant primarily used after it dries out, learning how to keep zucchini fresh is crucial so you do not consume spoiled food. When using zucchini recipes to make foods like zucchini bread, squash blossoms, zoodles, or fritters, it is essential to know the telltale signs zucchini is past its expiration date.
How long does zucchini stay fresh? Whether you are growing zucchini from seeds or buy them from the store, the length of time for storage of different zucchini varieties depends on whether you freeze zucchini or put it in the fridge. The storage system you choose depends on whether you want to eat your zucchini right away or keep it fresh for months at a time.
How Long is Zucchini Good for in the Freezer?
Can you freeze fresh zucchini? To keep zucchini or courgette fresh for up to six months, freezing is the best storage method. To prevent freezer burn, store frozen zucchini under the right conditions.
When you place zucchini in the freezer, the cold temperature slows down the rate at which enzymes move, effectively slowing down the rate spoiling occurs.
When does zucchini go bad in the freezer? With correct preparation, zucchini stays fresh for several months.
After growing zucchini and ending up with a large harvest, cut your zucchini into slices about ¼ of an inch thick. Fill your pot about ⅔ full and wait until you have boiling water before tossing in your zucchini slices. Blanching the zucchini kills any bacteria on the veggie.
After about one minute, transfer your zucchini into the bowl of ice water for two minutes. Drain the water and dry the zucchini with a paper towel before setting the slices on a baking sheet.
Set the sheet in the freezer until the pieces are frozen, then transfer your zucchini into freezer bags and seal them tightly.
When does Zucchini go Bad in the Fridge?
If you plan on eating your zucchini within a week, the best zucchini storage option is the refrigerator's crisper drawer.
The crisper drawer promotes airflow for veggies and fruits while also providing cold temperatures to slow down unwanted bacteria growth. There are plenty of options when keeping zucchini fresh in the fridge.
Before implementing any storage method, make sure you blanch your zucchini to prevent loss of flavor and growth of microorganisms. Place the zucchini in the bag of your choice with one end open to promote air circulation.
Another quick trick that helps your zucchini stay fresh is to wrap it in a cloth dampened with cold water. When does zucchini go bad in the fridge? The veggie stays fresh for up to one week in the refrigerator.
How to Keep Zucchini Bread Fresh
One popular way to add zucchini to a tasty recipe is with zucchini bread. The sweet treat is delicious, and it also has nutritional benefits because of the zucchini.
If you plan to eat zucchini bread within a few days after baking it, store the bread in an airtight container and set it at room temperature.
Wrap your zucchini bread tightly in either aluminum foil or plastic wrap to ensure every part of the loaf is covered. Wrapping the bread prevents premature staleness and helps keep the moisture inside.
Place the loaf in a plastic bag, squeeze out all the air as you seal it, and place it in the fridge. How long is zucchini good for with this storage technique? Your zucchini bread stays fresh for at least a week.
Identifying Spoiled Zucchini
Whether you buy them at a grocery store, farmers market, or grow them in your garden at home, it is essential to understand spoilage signs to avoid eating rotten food.
Consuming spoiled fruits and vegetables comes with unpleasant and unwanted side effects from food poisoning.
How do you know if a zucchini is bad? When the vegetable has numerous blemishes, wrinkled skin, or feels mushy, your zucchini is spoiled.
If the exterior skin appears clear, make sure you cut into the vegetable to check for spoilage. If you cut into zucchini and the insides are stringy and filled with seeds, the product is spoiled.
Health Benefits of Fresh Zucchini
Zucchini is a multipurpose summer squash that tastes great whether raw, fried, sauteed, or as a pasta or potato replacement. Because the veggie is low in calories, fat, and sugar, zucchini is a perfect addition to any meal.
With all the beneficial vitamins, nutrients, and antioxidants zucchini offers, it is necessary to know how to store fresh zucchini correctly. If you are unsure whether your zucchini is spoiled, it is best to play it safe and avoid eating the veggie.
When does zucchini go bad? The rate at which zucchini spoils depends on what kind of storage technique you choose. In the refrigerator, zucchini stays fresh for a week or two.
Keeping zucchini in the freezer allows you to have fresh zucchini for up to six months. No matter what method you decide to help store your zucchini, never consume spoiled zucchini.
If we answered your question about zucchini, "How long is zucchini good for?" share this article with your gardening friends and family members on Pinterest and Facebook.