There's nothing more decadent than a perfectly cooked egg to complement a meal. While eggs are great when fried or turned into deviled eggs, one of the most flavorful recipes that embrace this tasty ingredient is egg salad. Knowing how long to boil eggs for egg salad depends on the eggs' size and how you like them cooked.
Even though eggs seem like a simple ingredient, cooking them perfectly is a complex challenge to master. If you've never done it before, learning how to boil eggs for egg salad may seem a bit daunting.
There are a few important factors to ponder, and you don't want to over or undercook them. Hard boiled eggs aren't something to fear regardless of if this is your first time cooking them. With this straightforward guide, you'll soon discover that there are many ways to cook eggs, and you get to choose which one works best for you.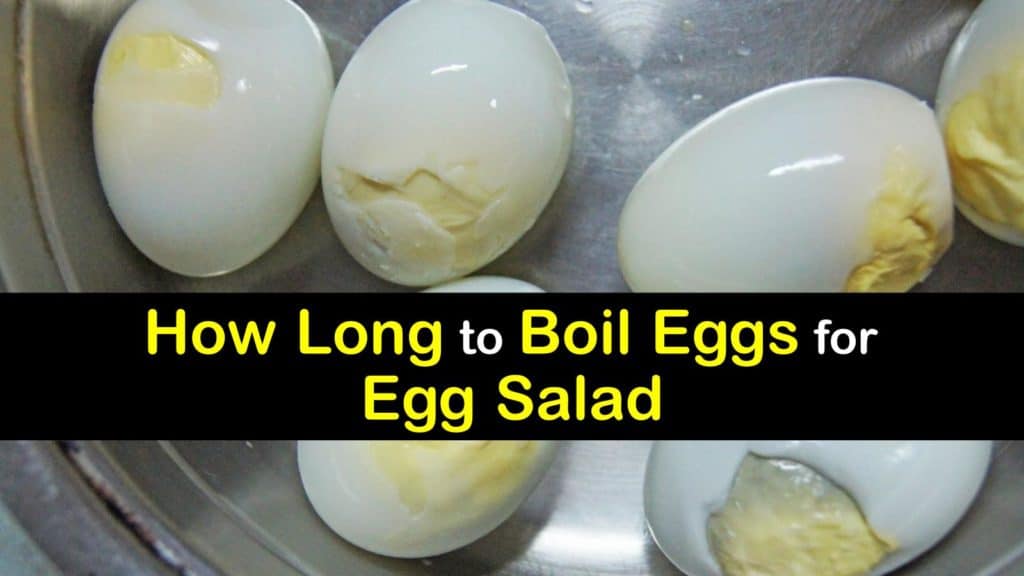 Why Eat Eggs?
An egg salad sandwich is delicious on its own, but there are a lot of myths about the egg that often turn people away from them.
You may have heard that they are bad for our health because of the cholesterol or that they are dirty, but neither of these statements is true. In fact, eggs are highly nutritious and offer lots of benefits.
Cooked eggs are full of nutrition, vitamins, and minerals, and some people are considering them a superfood. A single large egg has vitamin A, B, D, E, and K and folate, potassium, calcium, phosphorus, and selenium.
The egg whites themselves contain little nutrients and zero carbohydrates. Instead, the golden yellow yolk is full of healthy fats that, although high in cholesterol, don't negatively impact our health.
The high cholesterol full of omega-3 fatty acids is beneficial to our cell membranes and has been linked to reducing the overall risk of heart disease and strokes.
Eating up to three eggs a day is perfectly safe, which means we get to savor every delicious egg we encounter.
Storage is different when you compare store-bought eggs and those from the farm. The container from the store has a best by date but when do farm fresh eggs expire is not the same. Farm eggs can last up to five weeks when kept in the fridge.
Making the Perfect Hard Boiled Eggs
Boiling eggs is a common practice at Easter, but don't let those fresh eggs go to waste. Turning your boiled eggs into an egg salad recipe is a simple way to use them up without throwing them away.
When you hard boil the eggs, know that it is much easier to peel hard boiled eggs when you use older eggs. If they are at least a week or two old, the shell slips off the cooked whites better than if you recently bought them. Either way, both are fine to use.
When do hard boiled eggs go bad after cooking or using them in a recipe? Hard boiled eggs last for about a week in the refrigerator.
How Long to Boil Eggs for Egg Salad
One of the most important things to keep in mind when learning how to make perfect hard boiled eggs is the size of the eggs. There are small, medium, large, and extra-large eggs, and all have different cook times.
Small eggs have a cook time of 13 minutes in hot water, medium eggs cook for 14 minutes, large eggs cook for 15 minutes, and extra-large eggs cook for 17 minutes. Ensure that both the egg whites and yolks are cooked all the way through.
How to Boil Eggs for Egg Salad
Learning how long to boil eggs for egg salad is easy once you do it, but you have to be cautious not to overcook the eggs. To avoid this, turn the heat off once you drop the eggs and don't allow the hot water to continue to boil.
Bring a big pot of fresh tap water to a rolling boil over high heat. Gently drop the eggs into the boiling water in a single layer, being careful not to crack them.
Once all the large eggs are in the pot, shut the burner off and cook the eggs according to the specified cooking time listed earlier. While the eggs cook, prepare a large bowl of ice water.
Use a large slotted spoon to lift each egg from the water and give them an ice bath right away. If you don't have an ice bath prepared, set the eggs in a strainer and place them under cold running water for two minutes. The cold water makes the eggs easier to peel.
Once the eggs have cooled slightly in the ice water, gently crack them on the surface of your counter and use your fingers to peel away the shells. Either throw the shells away or put them in your compost to add to your garden.
Cooking Eggs in the Instant Pot
Pressure cookers and Instant Pots are becoming more and more popular among home cooks, and you might be pleasantly surprised to hear that it is possible to cook hard-boiled eggs in them too.
Fill your Instant Pot with the minimum water amount required by the manufacturer. Place a steamer basket in the pot and set the eggs in the basket.
Seal the lid of the pot and bring the pressure to low. Cook the eggs on low pressure for six minutes and then release the pressure for five minutes. Set the eggs in ice water and peel them once they cool.
A Delicious Recipe for Egg Salad
Although there are dozens of recipe variations out there, nothing quite beats the classic egg salad on white bread that we all know and love. This is one of the best egg recipes out there and is traditional, so that you know that everyone will love it.
Peel the hard-boiled eggs and give them a rough chop. Add the chopped eggs to a bowl and stir in the mayo, relish, chives, mustard, salt, and pepper.
Once everything is thoroughly mixed, spread the egg salad over four slices of white bread and put the remaining portions on top.
How long does egg salad last in the refrigerator? Fresh egg salad is usually good for up to a week when stored in the fridge.
Can you freeze hard boiled eggs or egg salad? Yes, you can. After freezing egg salad, the texture after thawing will not be quite the same but eggs store quite well in the freezer.
Egg salad is rich, creamy, and a guilt-free lunch that you and your family will love. Once you know how long to cook each egg size, you will cook them perfectly every time and can add these nutritious ingredients into your regular meal rotation.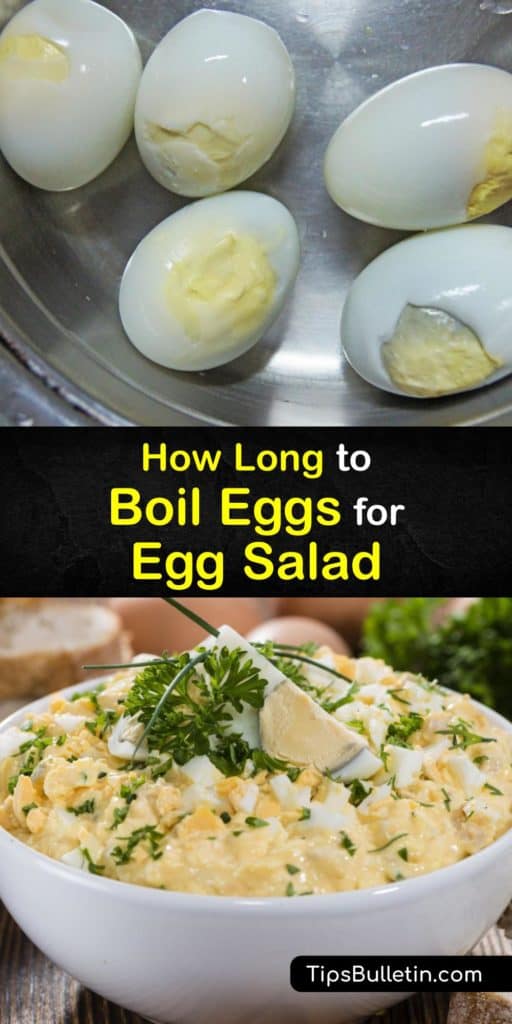 If learning how long to boil eggs for egg salad has helped you create the perfect egg salad recipe, share these tips on how to boil eggs for egg salad on Facebook and Pinterest.