The global pandemic rapidly transformed the traditional workplace, propelling telecommuting to the forefront.
As businesses faced lockdowns, remote work shifted from a luxury to a vital necessity, emphasizing its benefits and leading many organizations to reevaluate their long-term strategies.
Contents
Current Number of Telecommuters in the U.S.
Remote Worker Demographics
Best State for Telecommuting
Top U.S. Cities for Remote Work
Best Companies for Telecommuters
Remote Workers (2023 Stats)
12.7% of full-time employees work from home.
28.2% work in a hybrid model, splitting their time between working from home and in an office or other location.
43% of full-time employees worked at home in 2020, almost double the 22% reported in 2019.
In 2022, 34% of workers over age 15 reported working at home.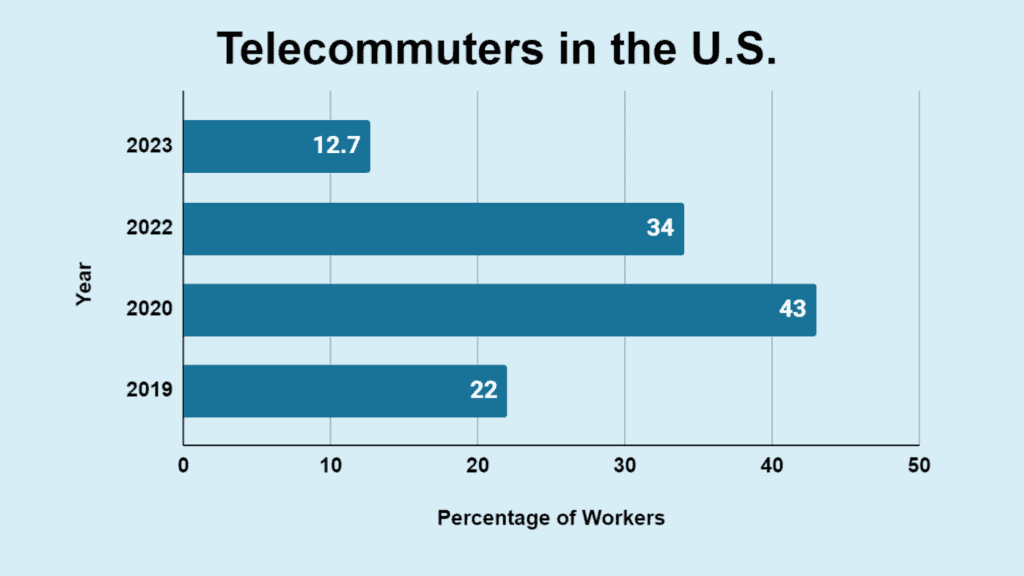 | Year | Percentage of Remote Workers |
| --- | --- |
| 2019 | 22% |
| 2020 | 43% |
| 2022 | 34% |
| 2023 | 12.7% |
As of the latest data, 12.7% of full-time employees have fully embraced remote work, operating entirely from their homes. In contrast, a more substantial portion, 28.2%, have adopted a hybrid working model, dividing their time between their homes, offices, or other work locations.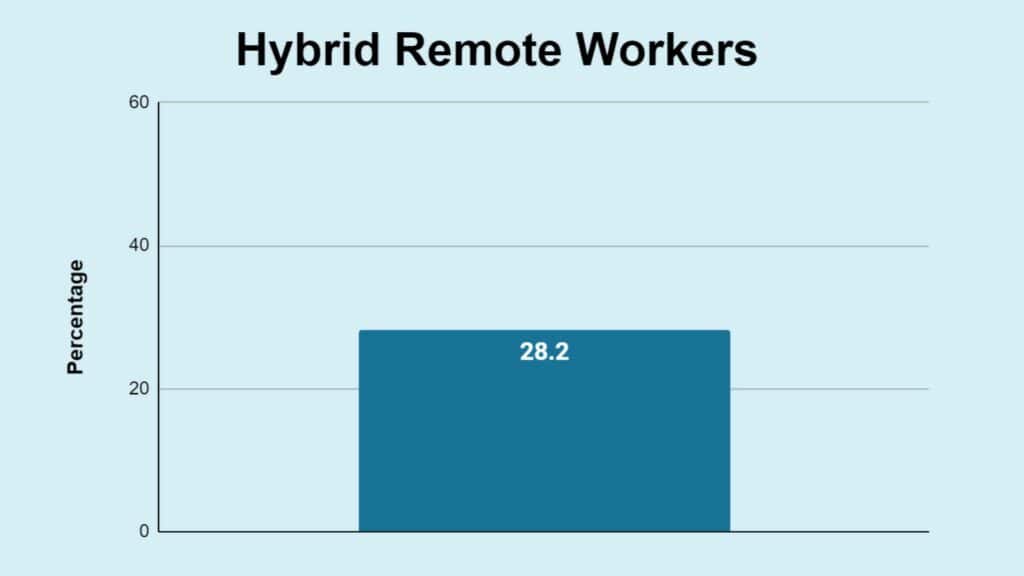 This shift toward remote work was most pronounced in 2020 when a staggering 43% of full-time employees worked from home, nearly doubling from the 22% reported in the preceding year, 2019.
However, by 2022, the enthusiasm for complete remote work seemed to wane slightly. 34% of workers over the age of 15 reported working from home, showing a modest decline from the previous year.
Sources: Forbes Advisor, salemnews.com
This trend suggests a recalibration as businesses and employees balance remote and in-person work in the post-pandemic era.
Demographics
The 24-35-year-old age group represents the most significant demographic working from home in 2023.
39% have full-time remote work, and 25% work part-time from home.
38% of men work remotely full-time, and 23% part-time.
30% of women telecommute full-time, and 22% part-time.

Remote workers, on average, earn $19,000 more than in-office workers.

Remote workers make an average of $74,000, while in-office workers typically have an average salary of $55,000.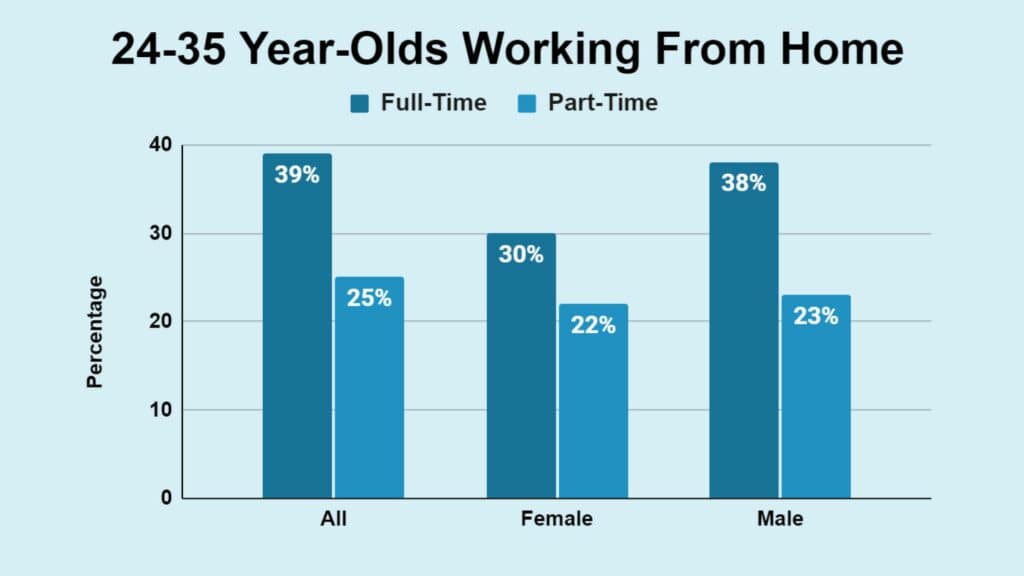 | Gender | Full-Time | Part-Time |
| --- | --- | --- |
| All | 39% | 25% |
| Female | 30% | 22% |
| Male | 38% | 23% |
These figures suggest a gender gap in remote work, highlighting the need for more inclusive remote work policies to ensure equal opportunities.
The modern workplace is evolving, with distinct patterns emerging in remote work preferences across various demographics. The age group of 24 to 35 shows a notable inclination toward remote work.
When viewed through the lens of gender, there's a discernible difference in preferences. Men appear more drawn to remote work than women.
Additionally, remote work isn't just about flexibility and convenience; it also offers a financial advantage.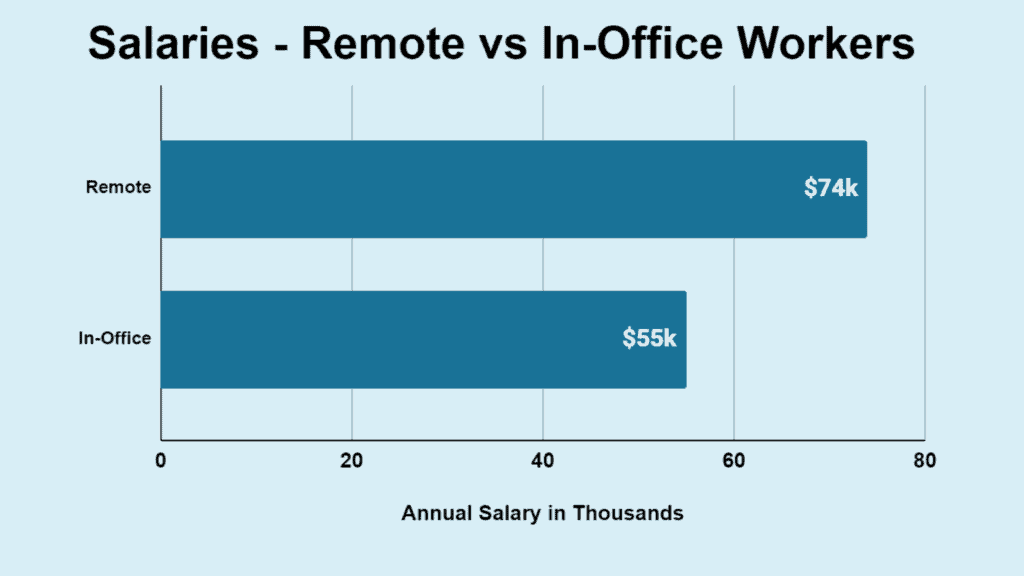 | Type of Employee | Annual Salary |
| --- | --- |
| Telecommuter | $74k |
| In-Office | $55k |
Remote workers, on average, earn more than their in-office peers, highlighting the increasing allure and economic benefits of remote work in the contemporary professional world.
Remote Worker Data for 2022
Female Telecommuters 46%.
Male Remote Workers 39%.
34% of women and 37% of men completed hybrid work.
19% of women worked in-office and men 24%.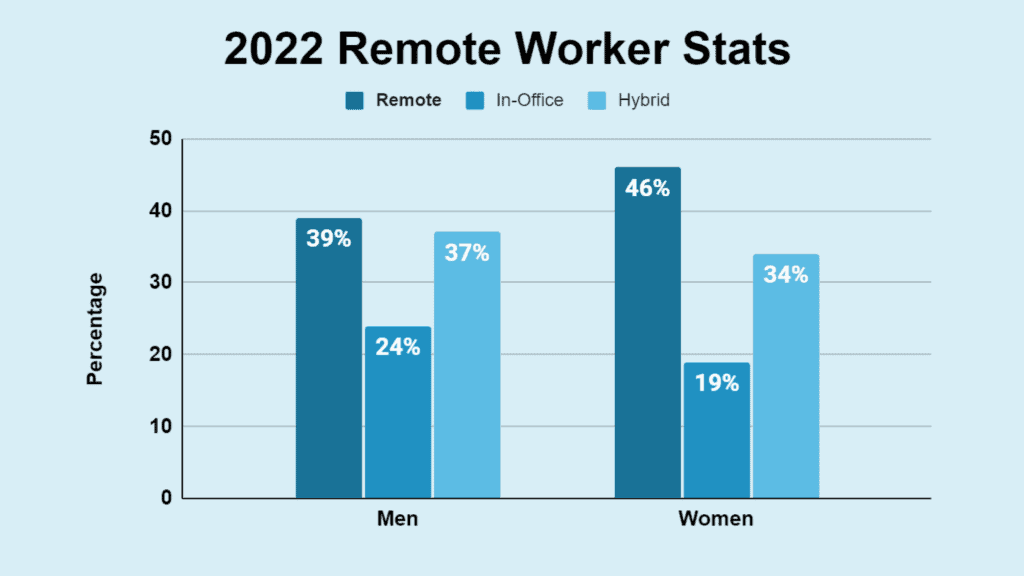 | Category | Female | Male |
| --- | --- | --- |
| Telecommuters | 46% | 39% |
| Hybrid Work | 34% | 37% |
| In-Office Work | 19% | 24% |
In 2022, a notable portion of the workforce embraced remote work, with women slightly outpacing men in fully telecommuting roles. Additionally, a significant number of both genders opted for a hybrid work model, blending both in-office and remote work.
Sources: Owl Labs, Forbes Advisor
However, in strictly in-office roles, men were more likely than women to work in traditional office settings. This data underscores the evolving work preferences and the growing acceptance of flexible work arrangements across different genders.
Best State for Remote Workers
Delaware was considered the best state for working from home in the United States, scoring 66.15. This score is a weighted average across 12 metrics divided into two major categories.
Source: LawnStarter
Metrics such as the share of workers working from home pre-COVID-19 and cybersecurity fell under the work environment category. Other metrics, such as internet cost, were considered part of the living environment metric.
Top Cities for Telecommuters
The rise of remote work has spotlighted cities that best cater to the needs of digital professionals.
Their scores include the availability of spacious homes, the highest broadband coverage, low crime rates, and significant financial metrics.
Plano, TX – 67.1
Frisco, TX – 67.0
Tampa, FL – 65.7
Atlanta, GA – 64
Seattle, WA – 63.5
Durham, NC – 63.3
Austin, TX – 63.1
Kansas City, MO – 62.6
Jacksonville, FL – 62.2
Charlotte, NC – 62.1
The Southern region dominates the top 10 list, with eight cities from the South making the cut. This region is recognized for its budget-friendliness, expansive spaces, and reliable connectivity.
| City and State | Score |
| --- | --- |
| Plano, TX | 67.1 |
| Frisco, TX | 67.0 |
| Tampa, FL | 65.7 |
| Atlanta, GA | 64.0 |
| Seattle, WA | 63.5 |
| Durham, NC | 63.3 |
| Austin, TX | 63.1 |
| Kansas City, MO | 62.6 |
| Jacksonville, FL | 62.2 |
| Charlotte, NC | 62.1 |
Some cities offer financial aid to attract remote workers. For instance, Rochester, NY offers a $19,000 bonus, followed by cities like Murfreesboro, TN; Tulsa, OK; Baltimore; Buffalo, NY; and Savannah, GA.
Source: LawnStarter
It's worth noting that while these cities rank high for remote work, individual preferences and needs may vary. Personal lifestyle, family considerations, and specific job requirements can influence the best location for any individual.
Top 5 Companies for Remote Workers in the US
The remote job market has seen significant growth since 2020, and many companies have adapted to this trend by offering more remote opportunities. FlexJobs, a membership service for job seekers, identified the top businesses hiring for remote jobs in 2023 based on their listings from January to December 2022.
Liveops: Based in Scottsdale, Arizona, this virtual call center company offers positions such as cloud engineer, instructional designer, and learning facilitation specialist.
Working Solutions: Located in Plano, Texas, this customer service-focused company has roles like customer support representative, GDS travel agent, and bilingual customer support response specialist.
TTEC: With its headquarters in Englewood, Colorado, TTEC is an outsourcing company that lists positions such as healthcare customer service representative, security architect lead, and corporate counsel.
CVS Health: Based in Woonsocket, Rhode Island, this healthcare giant offers roles like pharmacy billing adjudicator, clinical program consultant, and clinical pharmacist.
Kelly: Located in Troy, Michigan, this staffing company has positions like IT service desk analyst, customer service representative, and technical support representative.
These companies offer remote positions and emphasize a positive work culture, employee growth, and a professional and personal life balance.
The remote job listings saw a 20% increase in 2022 compared to 2021, with growth observed in sectors like marketing, accounting, finance, HR, and recruiting. About 62% of these listings catered to intermediate or experienced-level professionals.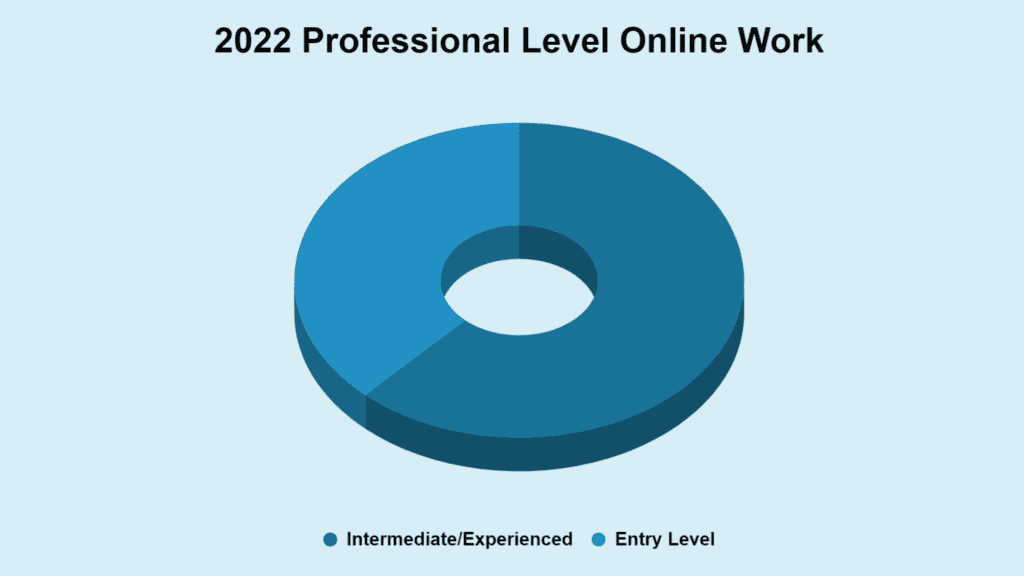 Several major companies have consistently ranked in the top 100 for remote jobs since FlexJobs began ranking in 2014. These companies include CVS Health, Elevance Health, Kelly, Parexel, SAP, Stride, and UnitedHealth Group, all recognized for their commitment to job flexibility and promoting a healthy work-life balance.
New entrants to the list in 2023 include Airbnb, Reddit, and Lyft, reflecting a broader industry shift toward remote work.
Source: CNBC
Conclusion
The global pandemic accelerated the shift to telecommuting, transforming traditional work norms. As businesses navigated these challenges, remote work emerged as a viable long-term strategy.
This change is reflected in the rise of remote workers and cities optimizing for such conditions. Leading companies now see the advantages of remote work in employee satisfaction and efficiency, indicating its lasting role in the future work landscape.
For Further Research
The increasing number of people working from home is particularly relevant when thinking about the growing trend of pet ownership. The shift toward telecommuting highlights the evolving relationship between work, living situations, and our pets.
The financial implications of these lifestyle choices include the potential savings and benefits of making eco-friendly selections throughout our daily lives.