The shift toward eco-friendly and sustainable living has seen a significant rise in adopting natural cleaners. As more households make the switch, a common question arises: How much can you save?
Let's explore the financial benefits of this green transition.
Contents
Natural Cleaner Savings in 2023

Save by Switching to Organic Cleaners

Cost Comparison: DIY vs. Store-Bought Natural Cleaners

Impact on the Environment

Health-Related Savings From Using Natural Cleaners

Global Spending On Natural Cleaners
Saving Money With Natural Cleaners (2023 Insights)
Households can save over

$800

annually by switching to natural cleaning alternatives.

DIY natural cleaner recipes can be up to 95% cheaper than commercial products or only 5% of the cost of standard cleaners.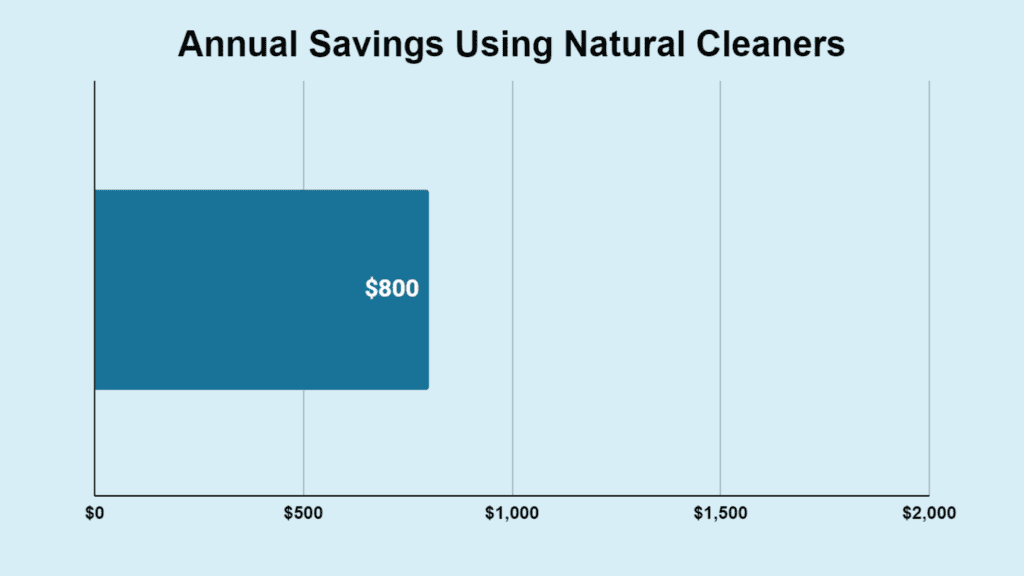 | Type of Cleaner | Cost Percentage |
| --- | --- |
| Natural Cleaning Products | 5% |
| Commercial Cleaning Products | 95% |
Households have the potential to save more than $800 each year by opting for natural cleaning alternatives.
Notably, do-it-yourself natural cleaner recipes can be significantly more cost-effective, up to 95% less expensive than their commercial counterparts. This means that these DIY solutions can cost as little as 5% of the price of traditional cleaning products.
Sources: Little Things, Household Management 101, Utama Spice Bali, Rescue My Time Cleaning Service
Savings From Switching to Natural Cleaners
Switching to natural cleaners is both eco-friendly and cost-effective. Green products last longer, and making cleaners from household ingredients like baking soda and vinegar further boosts savings, ensuring a healthier and more economical lifestyle.
Average annual savings: $800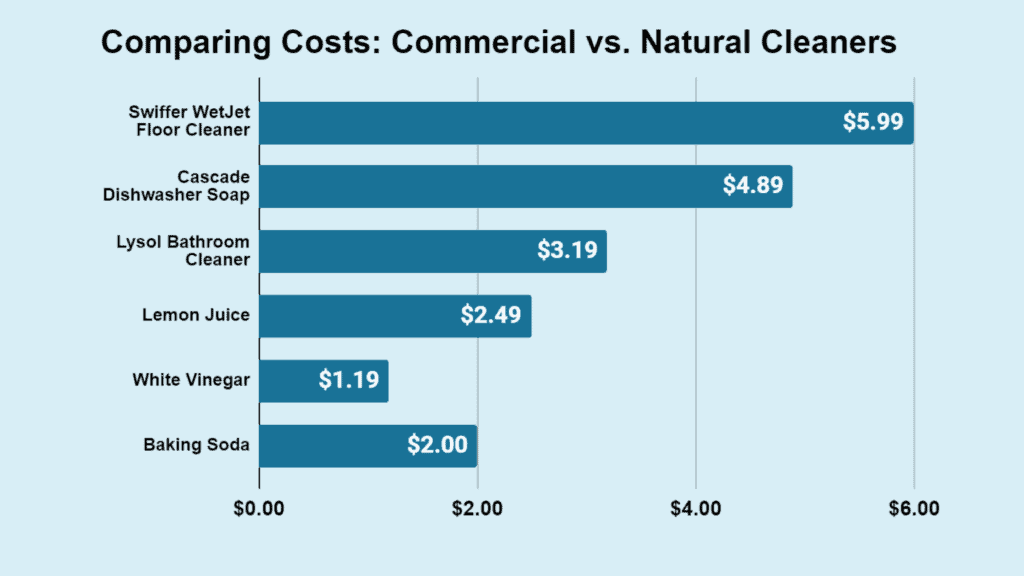 | Product | Cost | Size |
| --- | --- | --- |
| Baking Soda | $2.00 | 16 oz |
| White Vinegar | $1.19 | 16 oz |
| Lemon Juice | $2.49 | 15 oz |
| Lysol Bathroom Cleaner | $3.19 | 29.3 oz |
| Cascade | $4.89 | 75.2 oz |
| Swiffer WetJet | $5.99 | 1 gal |
Transitioning to natural cleaning solutions is not only environmentally friendly but also economical.
Eco-friendly products tend to have a longer lifespan, and crafting cleaners from common household items such as baking soda and vinegar amplifies the cost savings. This approach promotes a lifestyle that is both healthier and more budget-friendly.
Sources: Pacesetter Homes, Household Management 101, Little Things, Clean Green Homemade Cleaners, Bob Vila, Kroger, The Pricer
Environmental Impact
The environmental impact of using fewer chemicals is cost-effective and has many other benefits.
Healthcare
Reduced pollution from fewer chemicals decreases pollution-related illnesses and deaths, lowering healthcare costs.
Air pollution, increased by using chemical cleaners with VOCs (volatile organic compounds), contributes to 107,000 premature deaths annually in the U.S.
This costs the country $820 billion in healthcare bills.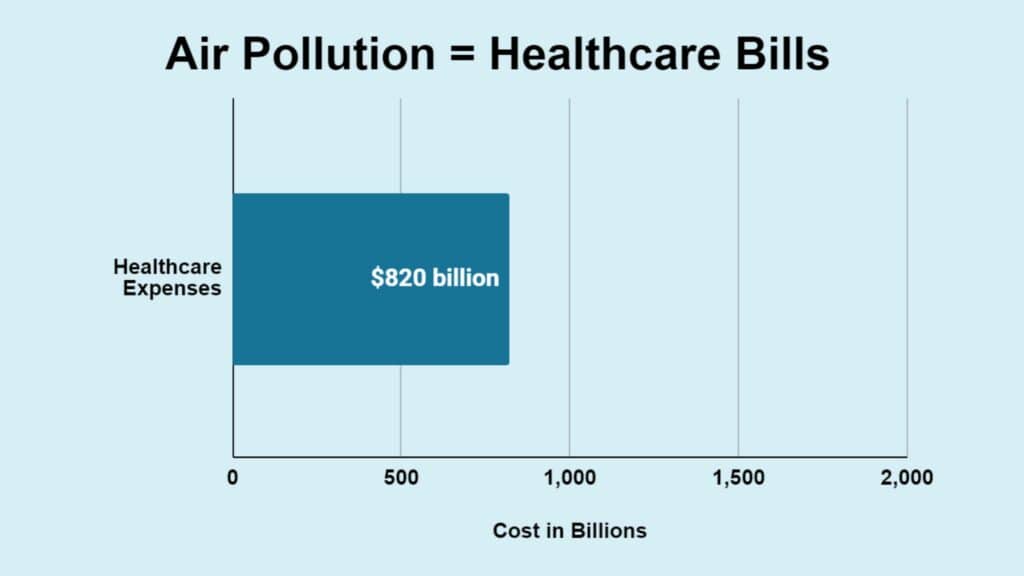 Ecosystem
A balanced ecosystem supports better crop yields and healthy fisheries with economic value.
Manufacturing eco-friendly cleaners conserves 6.2 billion lbs of chemicals and preserves 30 million trees.
Infrastructure
Less strain on water treatment facilities results in lower maintenance costs.
Reduced hazardous household waste decreases special disposal expenses.
Green cleaning products are good for the environment, and plant-based cleaning products tend to conserve resources.
Economic Productivity
A healthier population from reduced pollution means fewer sick days and increased productivity.
Clean environments can boost tourism, benefiting local economies.
Property and Future Benefits
Clean areas often have higher property values.
Investing in a clean environment now saves future cleanup costs.
Using natural rather than chemical cleaners can lead to significant long-term health, societal, and economic savings.
Sources: Utama Spice Bali, Kitchener Clean, Healthline, EPA, CBF Clean Air Fund, Environmental Consortium, NRDC, World Economic Forum, NCBI
Health-Related Savings When Using Natural Cleaners
Using eco-friendly cleaners free from dangerous chemicals can save individuals between $1,000 and $26,000 in annual medical costs.
Natural cleaners reduce exposure to harmful chemicals.
| Metrics | Natural Cleaners | Commercial Cleaners |
| --- | --- | --- |
| Cost Savings | Up to 95% cheaper in the long run | Cheaper upfront but potential long-term health and environmental costs |
| Reduction in Health Issues | Fewer allergens, reduced risk of respiratory or sinus irritation | May cause respiratory problems, skin irritations, and other health risks |
| Environmental Impact | Eco-friendly, biodegradable, free from toxins | Contribute to soil, water, and air pollution; harmful manufacturing and disposal effects |
Using eco-friendly cleaners can save individuals up to $26,000 annually in medical expenses by reducing exposure to harmful chemicals.
Natural cleaners are up to 95% more cost-effective over time, offer fewer health risks, and are environmentally friendly. In contrast, while cheaper initially, commercial cleaners can lead to health issues and have a negative environmental impact.
Sources: WebMD, JACI Online, Rescue My Time Cleaning Service, Maid4Condos, NY.gov, Puracy, Kitchener Clean
Global Spending On Natural Cleaners
The global market value for natural cleaners in 2020 was $4.15 billion.
The current projected global market value in 2023 is $7.08 billion.
By 2026, the global natural cleaner market is expected to be $10 billion.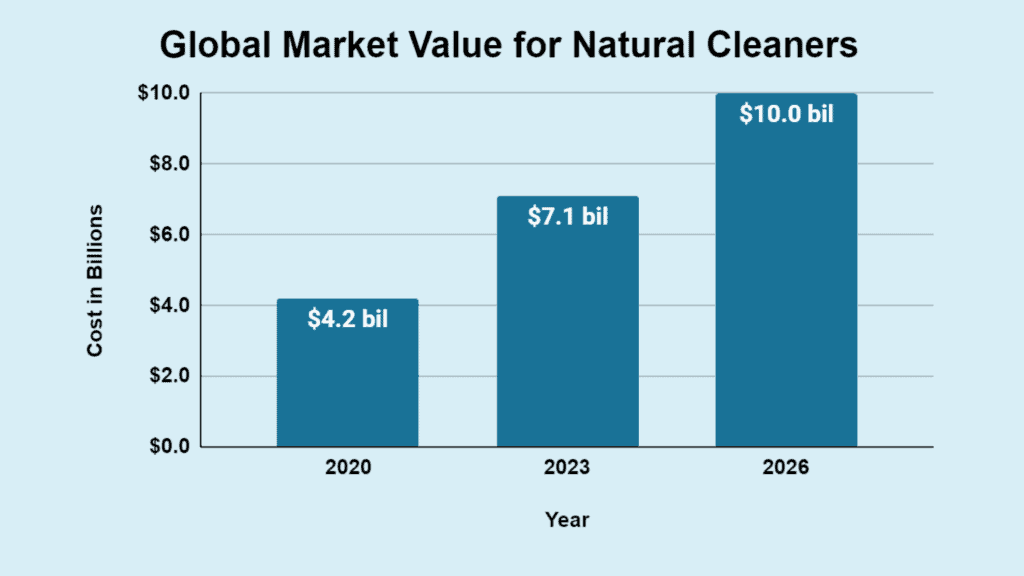 | Year | Global Market Value in Billions |
| --- | --- |
| 2020 | $4.2 billion |
| 2023 | $7.1 billion |
| 2026 | $10.0 billion |
In 2020, the worldwide market for natural cleaners stood at $4.15 billion. Fast forward to 2023, and this value is anticipated to reach $7.08 billion by the end of the year. By 2026, the global market for natural cleaners is forecasted to hit the $10 billion mark.
Sources: Statista, Grand View Research
Conclusion
Switching to natural cleaners offers households significant financial savings, both directly and indirectly.
With the potential to save hundreds of dollars annually and reduce health-related expenses, the move towards natural cleaners is not only environmentally beneficial but also economically wise.
As the global market for natural cleaners continues to grow, it's evident that more households are recognizing and reaping the benefits of this sustainable choice.
Supplemental Research
The increasing number of renters in today's society has significant implications for the growing community of pet owners. Many renters face unique challenges regarding pet ownership.
There is also a growing awareness of the necessity of maintaining a clean and healthy living environment, especially in shared or multi-unit housing. Exploring the advantages and potential savings of using eco-friendly cleaning products is particularly relevant for pet owners concerned about the impact of harsh chemicals on their furry friends.